You are here
From the Governor March 2015
From the Governor March 2015

| | |
| --- | --- |
| March 2015 | Eileen Barrett, MD, MPH, FACP, ACP Governor |
---
---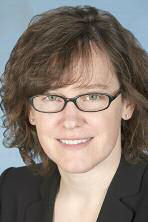 Dear colleagues,
I hope this newsletter finds you well and enjoying 2015!
I'm pleased to be able to ask you to join me in congratulating Reg Strickland, MD, MACP, who is the recipient of the Chapter Centennial Legacy Award. This award celebrates ACP's centennial by recognizing one seminal chapter member whose service to the chapter had a significant impact on the chapter's viability. Dr Strickland was selected for exemplifying ACP's core values including leadership, excellence, respect, compassion, professionalism, and responsibility. He will receive this award at the Annual Scientific Meeting this fall, and I hope you join me in thanking him for his years of service and leadership.
Congratulations are also due to our new Fellows, including Heather Brislen, MD, FACP, Gustavo Espino, MD, FACP, Sepehr Khashaei, MD, FACP, Alisha Parada, MD, FACP, Patrick Rendon, MD, FACP, and Kevin Rosenberg, MD, FACP, all of Albuquerque. It's an honor and privilege to have so many accomplished physicians in our chapter.
Looking nationally, there have been many changes for the better with the ABIM's Maintenance of Certification Program (with details, and ACP's response). I'm proud of the work ACP leadership did to work with ABIM to make this process easier and more relevant, and look forward to continuing a productive dialog to achieve a much more improved MOC process. Please continue to provide feedback to the ABIM and to ACP about how board certification can be relevant, timely, and meaningful. That these changes occurred and reflect what we said we wanted shows that our opinion matters; I thank you for sharing yours.
Most of us are aware of the epidemic of burnout among physicians, and are concerned about physician wellness. In the last year of my term as chapter Governor (before I'm succeeded by Betty Chang, MDCM, PhD, FACP), I'm looking forward to continuing to work with our council and with colleagues throughout the state to provide meaningful and valuable activities on reducing burnout and promoting wellness, as well as promoting and restoring increased satisfaction in medical practice. For a start, please find a list of resources for individuals and for practices on physician wellness and reducing burnout on our chapter website.
Additionally, ACP, UNM, and the Medical Society are collaborating on a Grand Rounds series throughout the month of June devoted to this important topic. The title of the series is 'Taking Our Own Pulse: Physician Wellness as a Personal, Institutional, and Political Imperative.'
The series includes:
June 4 - Dr. Cathy Cheng, addressing personal approaches to enhance resilience and reduce burnout
June 11 - Dr. Doris Gundersen, speaking on what Colorado is doing to promote physician wellness
June 18 - Dr. Derek Puddester, speaking on Canada's work to reduce physician burnout
June 25 - Dr. Mark Linzer, addressing evidence-based methods to reduce burnout and increase satisfaction through practice redesign
All talks will be held from 12:30-1:30 at UNM and are available everywhere via webcast and archive. It's my hope that as many as possible physicians across the state can watch this live to take advantage of these nationally and internationally renowned speakers. CME credit is available for onsite and also remote viewers if you submit an attendance sheet at the conclusion of the particular talk to Jackie Patton in Internal Medicine at UNM via fax at (505) 272-4628.
I'm so grateful to Liz Lawrence, MD, FACP, Arti Prasad, MD, FACP, and our colleagues at the New Mexico Medical Society for their work on this endeavor! Please let me know what other programming you are interested in to help support you in your practice.
In closing, please keep in touch. Thank you again for your commitment to your practices, your patients, your colleagues, and to internal medicine.
Sincerely,
Eileen Barrett, MD, MPH, FACP
Governor, New Mexico Chapter of the American College of Physicians
---
Resolutions
Please read the resolutions that will be discussed at the Spring Board of Governors meeting and provide your feedback either to NM ACP or directly to ACP via the link on the bottom of each resolution.
---
Save the Date!
The New Mexico Chapter's Annual Scientific Meeting will be held November 5-7th at the Sheraton Uptown in Albuquerque.
Interested in judging a medical student or resident poster?
Judging a poster is an extremely rewarding and fun process for all of those involved! Judging will involve being present from the hours of 4-6pm on November 5th, 2015. Poster categories include High Value Care, Clinical Vignettes, Clinical/Basic Science Research and Quality Improvement for both medical students and residents. Judges will receive a badge and certificate for their participation in the judging process. Please contact Patrick Rendon or Alisha Parada for more information. Thank you for your interest in trainee education.
---
Guest Columnist Series: Taking Our Own Pulse
Dear Colleague:
Welcome to "Taking Our Own Pulse," a new feature in our ACP newsletter focusing on physician health and wellness.
What comes to mind when you think of the phrase "physician health and wellness?" Do you imagine a group of new age physicians doing downward dog on a beach at sunrise? Do you picture yourself running a 5K? Do you feel you don't have the time or the need to read about this topic?
To be sure, the phrase does embrace many concepts. The physician health movement began in 1973 by focusing on the needs of impaired physicians, but it has evolved over time to encompass the mental and physical well-being of all practicing physicians. "Burnout" is the current buzzword in the field, and I imagine that most of us have seen one study or another reporting that about half of us are burned out. Those of us working in physician health address many additional issues, including physician aging, depression, disability, professionalism, and resiliency.
My own thinking about physician health and wellness has matured since I started medical school. Twenty-five years ago, I probably would have argued that self-care was a luxury for which I did not have time. I have, however, since learned that we need to care for ourselves in order to continue providing high quality patient care over time. Burned out physicians are less empathetic, more disruptive, more prone to make medical errors, and less likely to stay in practice. Conversely, physicians identified as feeling emotionally well and as finding meaning in their work are more likely to communicate effectively with patients, to provide higher quality care, to continue to practice clinical medicine in their chosen field, and to model healthy behaviors successfully for their patients.
Please help me to understand what physician health and wellness means to you. I am interested in the barriers you face to self-care and your strategies for resiliency and wellness. I would like to know what sustains you in your practice. Please send me your thoughts, and I will try to address your concerns in upcoming columns. By learning from each other, and by caring for each other and ourselves, we can deliver the best possible care to our patients.
Liz Lawrence, MD, FACP
Dr. Lawrence is a general internist practicing at La Familia Medical Center in Santa Fe and is on the faculty at UNM. She can be reached at Elawrence@salud.unm.edu.
---
Medical Jeopardy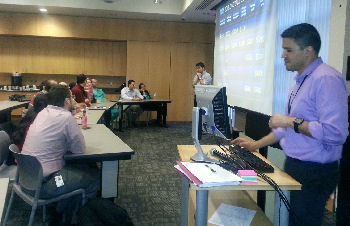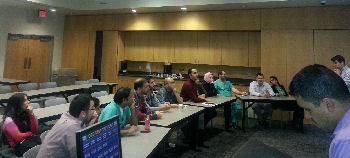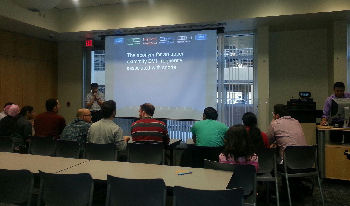 The resident medical jeopardy competition was held February 12 at UNM. There were a total of 4 teams and the participants included: Soumya Reddy, Pradeep Mitta, Justin Miller, Ihab Ajaaj, Sara Matani, Prathima Guruguri, Omar Abu Nabaa, Barakat Altamimi, Husam Bader, Alberto Aguayo, Alex Neuwelt, and Navneet Sidhu.
After a heated competition, the winning team included Ihab Ajaaj, Sara Matani, and Prathima Guruguri. Please join us in congratulating them!
Orwah Al-Khalili, MD, a UNM internal medicine graduate and former medical jeopardy participant was in attendance and is coaching the team before their upcoming competitions in Colorado and at the national ACP meeting in Boston. Many thanks to Dr. Al-Khalili and also to Alisha Parada, MD, FACP, and Patrick Rendon, MD, FACP for coordinating the competition.
---
Rural Provider Tax Credit
Physicians, NPs, PAs, and other clinicians who practice in a rural area may be eligible for a $5000 tax credit for 2014. Check to see if you qualify. You may also submit retroactively for previous years.
---
Special offer:
ACP members can receive free affiliate membership in the American Medical Women's Association
Like the ACP, the American Medical Women's Association (AMWA) is celebrating its 100-year anniversary this year. ACP and AMWA have developed a collaborative relationship to celebrate our respective achievements during this collective anniversary year, and to highlight the important contributions that women have made in medicine over the last 100 years. As part of this new partnership, AMWA is offering current ACP members a complimentary one-year Affiliate membership. Learn more about AMWA and take advantage of this Affiliate membership offer.
---
Free Member Benefit: High Value Care Coordination Toolkit
ACP's High Value Care Coordination Toolkit features resources to improve referrals and care coordination between primary care physicians and specialists, eliminate waste and duplicative care, and create more efficiency in care delivery.
The High Value Care Coordination Toolkit includes 5 components:
A checklist of information to include in a generic referral to a subspecialist practice.
A checklist of information to include in a subspecialist's response to a referral request.
Pertinent data sets reflecting specific information - in addition to that found on a generic referral request - to include in a referral for a number of specific common conditions to help ensure an effective and high-value engagement.
Model care coordination agreement templates between primary care and subspecialty practices, and between a primary care practice and hospital care team.
An outline of recommendations to physicians on preparing a patient for a referral in a patient- and family-centered manner.