You are here
From the Governor June 2015
From the Governor June 2015

| | |
| --- | --- |
| June 2015 | Eileen Barrett, MD, MPH, FACP, ACP Governor |
---
---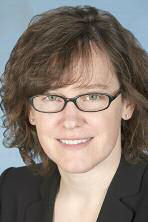 Dear Colleagues,
I hope this note finds you well and enjoying the colors and warmth of Spring! I am writing after just having returned from the national ACP conference in Boston. In addition to attending engaging, timely, and informative talks, I had the pleasure of meeting many NM attendees including at Convocation, at the chapter reception (cohosted with UT, CO, and NV), and during the resident and poster competitions.
Please join me in congratulating our new Fellows who participated in Convocation: Virginia Corpus, MD, FACP, from Las Cruces, George Laws, MD, FACP, from Alamagordo, and Maricruz Merino, MD, FACP from Gallup. We were accompanied at Convocation by Chapter Centennial Legacy Award Winner Reg Strickland, MD, MACP of Albuquerque, as well as national ACP Community Service and Volunteerism Awardee Larry Crook, MD, FACP of Shiprock and Seattle.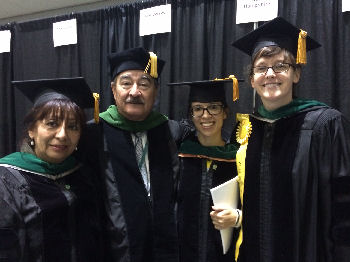 New Mexico Chapter Fellows at Convocation
Our chapter's residents and students demonstrated their academic prowess in poster competitions, the Doctor's Dilemma medical jeopardy competition, and as educators. Congratulations to residents Prathima Guruguri, Ihab Ajaaj, and Sara Matani, who won the first round of the Doctor's Dilemma competition, and to students Jessica Zimmerberg-Helms and Barbara Vidal who presented scholarly posters in the juried student competition. Congratulations are also in order for Ben Deaton, Christopher Bailey, Kristen Gonzalez, and Alberto Aguayo Rico for their instructive posters that were selected for the highly competitive national resident poster competition - and also to Chris Bunn, who was selected as one of the winners of the national competition!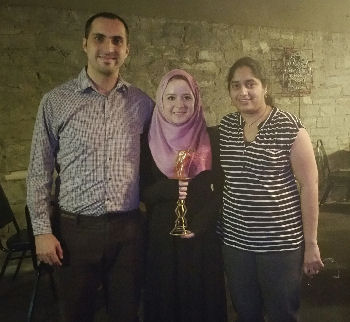 Prathima Guruguri, Ihab Ajaaj, and Sara Matani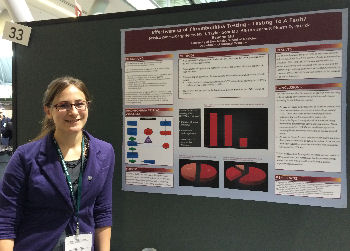 Jessica Zimmerberg-Helms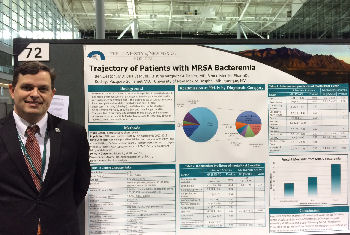 Ben Deaton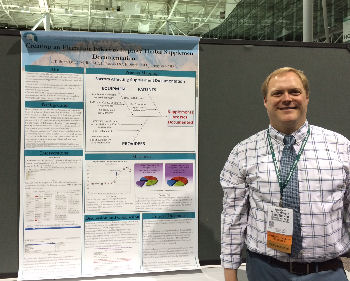 Chris Bunn
Nationally, the big news in medicine is that with the Senate's vote for HR2, the SGR has been repealed and reauthorized CHIP, NHSC, and numerous medical programs. Since I cannot say it better than ACP's Bob Doherty does, I'll add his quote:
"Like any law, H.R. 2 is imperfect-there are parts of it that we know will be quite challenging for our members. We will have to influence its implementation by CMS, especially the selection of measures and the criteria for alternative payment models. We will have to work to ensure that it doesn't just add more complexity and more administrative burdens on physicians. And if CMS doesn't do what's needed, we may have to seek legislative changes later on. And we have a whole host of other issues that need attention from Congress-and getting rid of the SGR give us the opportunity to do so, instead of spending almost all of our political capital on one issue, the SGR, year after year after year."
And in that spirit, I'd like to hear what concerns YOU about what the future of Medicare should look like. Please contact me with your concerns and suggestions for what ACP should work on. I need to hear from you and will look forward to doing so.
Sincerely,
Eileen Barrett, MD, MPH, FACP
Governor, New Mexico Chapter of the American College of Physicians
---
Save the Date!
The New Mexico Chapter's Annual Scientific Meeting will be held November 5-7th at the Sheraton Uptown in Albuquerque. Lectures and workshops are expected to include hospital and outpatient medicine updates, treatment of common infections, movement disorders, women in medicine, physician assisted suicide, and health policy - among others.
---
New Mexico Resolution to Study Issues Challenging Rural Hospitals is Adopted by the Board of Governors
Many thanks to Jemery Kaufman, MD (Taos), who researched and wrote a resolution advocating for study of the complex issues threatening rural hospitals across the hospital. The Board of Governors unanimously voted in favor of adopting this resolution and, hopefully this will help lead to a lifeline for NM's rural hospitals.
---
NM Leadership Day Delegation is Headed to DC
Cynthia Arndell, MD, MPH, FACP (Albuquerque), Heather Brislen, MD, FACP (Albuquerque), Mike Kaufman, MD, FACP (Taos), Tobore Kokoricha, MD, FACP (Clovis), and Sam MacBride, MD (Gallup) are headed to Washington, DC, later this month to join other ACP members for Leadership Day. They will first receive an intensive review of health policy and advocacy, then meet with our Senators and Representatives to advocate for responsible changes to public policy. Likely topics of discussion will be resurrecting Medicaid Pay Parity, advocating for appropriate funding for Graduate Medical Education, and renewing the primary care payment incentive program.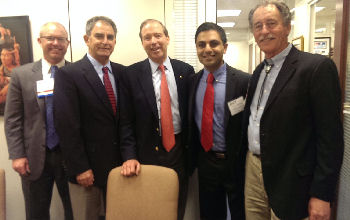 Senator Udall with Sam McBride, Julio Munoz, and Mike Kaufman
---
UNM Residents Win 'The Golden Chile' at Interstate Doctor's Dilemma Competition
For the first time in chapter history, the NM Doctor's Dilemma team competed in an regional interstate Doctor's Dilemma competition. In March, Ihab Ajaaj, Sara Matani, and Prathima Guruguri competed against Parkview Medical Center Internal Medicine Residency - and won!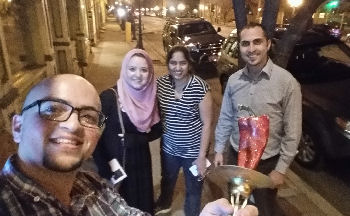 Residents after winning the Golden Chile
---
ACP and Other Leaders Call for Policies to Reduce the Rate of Firearm Injuries
More than two dozen organizations have so far joined the ACP, seven other national health professional organizations, and the American Bar Association in calling for policies to help mitigate the rate of firearm injuries and deaths in the United States.
Read the article here: Firearm-Related Injury and Death in the United States: A Call to Action from 8 Health Professional Organizations and the American Bar Association.
---
Interested in judging a medical student or resident poster?
Judging a poster is an extremely rewarding and fun process for all of those involved! Judging will involve being present from the hours of 4-6pm on November 5th, 2015. Poster categories include High Value Care, Clinical Vignettes, Clinical/Basic Science Research and Quality Improvement for both medical students and residents. Judges will receive a badge and certificate for their participation in the judging process. Please contact Patrick Rendon MD, FACP, or Alisha Parada MD, FACP, for more information. Thank you for your interest in trainee education.
---
Guest Columnist on Physician Wellness: Physicians as Patients
A layperson could be forgiven for thinking that doctors would make good patients. We physicians are a well-educated group, after all. We recognize the value of preventive medicine, we appreciate the importance of early diagnosis and intervention for illness, and we know our way around the health care system.
But the layperson would be wrong. Physicians are notoriously bad patients. We delay seeking care, we self-diagnose and self-prescribe, and we go to work when we are ill. Why?
Embarrassment is a powerful impediment to physicians seeking medical consultation. We may worry that the doctors we see will disagree with our self-diagnoses or think our complaints trivial. We may feel reticent about revealing personal habits to colleagues with whom we regularly interact. We may be concerned about seeing our own patients in a waiting room. We may not trust our colleagues and their office staff to maintain our confidentiality. We may fear our colleagues will perceive us as not committed to our patients if we take time to care for our own needs.
Another barrier doctors face in seeking care is choosing which doctors to see, particularly if we are living and working in rural communities. We may hesitate to "impose" on other busy clinicians. Our choice of whom to consult may be limited by reluctance to see a physician who is a former mentor, a former student, or a current partner. We may be confused by the ethics of seeing doctors who are also already our patients. We may have strong opinions about consultants based on the care they have given to our patients or based on prior professional disagreements. We tend to ask for perfection in ourselves, and we may be overly critical about the quality of care provided by our peers.
The biggest barrier of all to seeking care might be our own fear of actually being sick. In order to take care of patients without being overwhelmed by the disease and trauma we see, we do make a necessary distinction between "us" (the physicians) and "them" (the patients). Accepting that we can be ill and therefore can be one of the "them" can seriously threaten our professional identity and our idea of self. Being a patient means relinquishing the control most of us relish having. We may have to confront the realities of what an illness has the potential to bring: pain, isolation, stigma, loss of income, and an inability to continue practicing medicine.
Embarrassment, difficulty finding the right doctors, and fear of being sick are just some reasons why we physicians do not often make good patients. Have you faced other obstacles in seeking medical care? How have you dealt with those obstacles? I would very much like to hear your stories.
In the meantime, pick up the phone. Today. You know you are overdue for that colonoscopy.
Liz Lawrence, MD, FACP
Dr. Lawrence is a general internist practicing at La Familia Medical Center in Santa Fe and is on the faculty at UNM. She can be reached at .
---
NM Chapter Residents and Students at the National ACP Meeting
"I feel very fortunate for the opportunity of being able to go to the National ACP meeting in Boston to represent UNM as well as the New Mexico Chapter. I participated with a Poster Presentation of a Clinical Vignette and I was impressed with all the other participants who also assisted from different institutions. The talks and workshops that I was able to assist were great , I particularly enjoyed the Waxman Center for clinical skills. I had a fantastic time supporting out teammates on the Doctor's Dilemma contest. I met several other internists from Colorado, Utah and Nevada on the gathering for the regional ACP and had great advice for my future professional career. I am convinced that this was a great opportunity. In the future I will continue assisting our local ACP chapter and hopefully the national as well." Poster presenter Alberto Aguayo-Rico, MD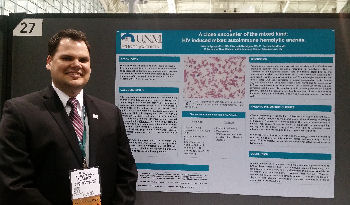 Alberto Aguayo Rico
---
Grand Round Series
The NM Chapter of the ACP is partnering with the UNM Department of General Internal Medicine and The NM Medical Society to present a special Grand Round series on physician health and wellness
Taking Our Own Pulse: Physician Wellness as a Personal, Institutional, and Political Imperative 12:30 to 1:30 pm on June 4, June 11, June 18 and June 25*
*available via archived webcast at this link*
UNM Health Sciences Center, Domenici Auditorium **
June 4: Put Your Own Mask On First: A Resilience Review for Physicians
Cathy Cheng, MD, FACP, General Internist, Northwestern Medical Group and Northwestern University Feinberg School of Medicine.
*available via archived webcast at this link*
June 11:The Colorado Physician Health Program: Physicians Helping Physicians
Doris Gunderson, MD, Psychiatrist, Medical Director of the CO Physician Health Program
*available via archived webcast at this link*
June 18: Northern Reflections: Canadian Approaches To Physician Health Challenges
Derek Puddester, MD, Psychiatrist and the Associate Medical Director of the Physician Health Program for the Ontario Medical Association
*available via archived webcast at this link*
June 25: The Epidemic Of Physician Clinician Burnout: We Can Turn This Around!
Mark Linzer, MD, FACP, General Internist, Director of GIM at the Hennepin County Medical Center
*CME credit is available for attendance.
**Out-of-town physicians can watch a live or archived broadcast for CME credit
All non-UNM physicians viewing the presentations by watching the live broadcast either in group setting or on their individual PC who wish to receive CME credit must contact Kathy Breckenridge, Program Coordinator for Continuing Medical Education in advance of the scheduled talk. Email or call 505-272-0883 Kathy for program registration and CME information.
Anyone can view any of the archived presentations after the live presentation has concluded, via this link. CME credit will not be provided for viewing archived presentations.
Off-site UNM Physicians will need to either attend the live broadcast at Domenici or go to an already set up viewing site such as SRMC, VA, or the South West Mesa Clinic to receive CME credit.