You are here
From the Governor July 2014
From the Governor July 2014

| | |
| --- | --- |
| July 2014 | Eileen Barrett, MD, MPH, FACP, ACP Governor |
---
---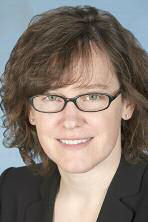 Dear Colleagues,
I hope this note finds you well and enjoying early summer! I'm writing weeks after an inspiring and invigorating national ACP meeting in Orlando, Florida. I enjoyed the Board of Regents meeting and Board of Governors meeting, and also numerous outstanding lectures. Although there were many rewarding meetings and talks, among the most rewarding experiences was participating in Convocation. I was honored to walk in Convocation with new Fellows Molly Vosburg, MD, FACP, of Los Alamos, Irene Krokos, MD, FACP, of Albuquerque, and Atif Siddiqui, MBBS, FACP, of Carlsbad. Please join me in congratulating them on advancing to Fellowship!
Congratulations are also in order for our chapter's residents! Ahmad Allaham, MD, Omar Abu Saleh, MD, and Omar Abu Nabaa, MD, won the first round of the resident Doctor's Dilemma™/Medical Jeopardy competition, and Mariam Salas, MBBcH, and Leona Ebara, MD, presented their fascinating clinical vignette cases in the juried Resident Poster Competition. Dr. Salas' case was submitted to ACP Hospitalist and published in March.
---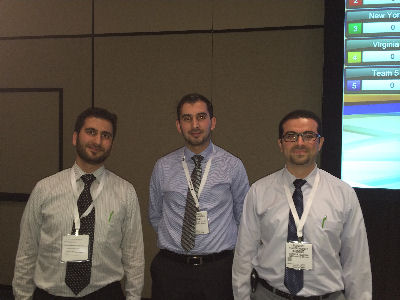 Omar Abu Nabaa, Omar Abu Saleh, & Ahmad Allaham after winning the first round of Medical Jeopardy

UNM Jeopardy team
---
Back at home, our chapter is pleased to welcome Dr. Keshab Paudel as our newest Councilor and chair of our Membership Committee. Dr. Paudel is a hospitalist and Medical Director of the Lovelace Westside Hospital, and came to New Mexico from New York. Please join me in welcoming him.
I'm pleased that our chapter was awarded an ACP Chapter Development Fund grant to help support a pilot program for increasing compassionate care. ACP member Mia Lozada, MD, started a multidisciplinary group that brought Schwartz Center Rounds to Gallup, and the first session was this month. Schwartz Center Rounds is a national model used across the country to promote compassionate care and lessen the effects of moral distress. The first Gallup session had a standing room only crowd, and I'm proud our chapter and that ACP could support this. If you have an idea for a project to increase collegiality, improve education, avoid burnout, or enhance compassion, please let me know. I'd be delighted to discuss ways that the chapter could help support this type of work.
Speaking of avoiding burnout, Maintenance of Certification ("MOC") is frustrating for all of us. (And if you're not yet sure why or would like guidance on what to do, information is available). I'm pleased that our ACP leadership is so active in advocating for members for meaningful reform, but wish that MOC was more relevant so that we didn't have to be so strident. Please know that ACP is listening to your concerns about the how onerous the process is, how expensive it is regardless of whether you use the ABIM MOC knowledge assessment modules or not, the byzantine rules, the low pass rate for the exam, and how opaque communications from the ABIM have been about the process. I hope you consider reading the recent Annals submission by senior ACP leaders and that you continue to give both ABIM and me your feedback. It is my sincere hope that MOC can be amended so that it is relevant to our professional lives and a tool for professional growth. Please also contact me if you'd like me to come to your group or practice to give a presentation on MOC and ACP services that help you complete your MOC requirements.
Lastly, and on a very positive note, it was an honor and pleasure for me to attend the UNM Internal Medicine Residency Program Awards Banquet, and to present our chapter's first ever resident award to Dr. Alberto Aguayo. This award was created to recognize a resident who embodies the values of the College, including mentoring, leadership, advocacy, community service, and/or dedication to reducing health disparities. It is clear from speaking with Dr. Aguayo's mentors and colleagues that he embodies the best of these traits.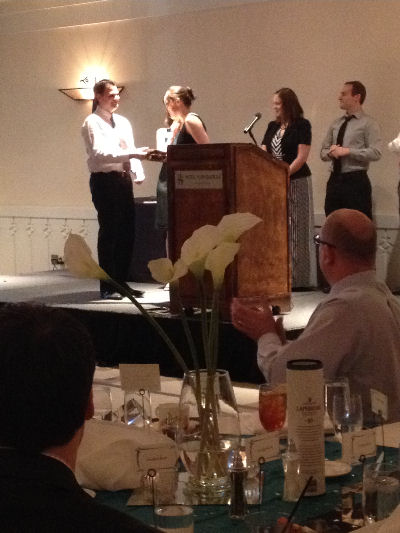 Alberto Aguayo, getting ACP resident award
In closing, thank you again for your commitment to your practices, your patients, your colleagues, and to internal medicine. Please keep in touch.
Sincerely,
Eileen Barrett, MD, MPH, FACP
Governor, New Mexico Chapter of the American College of Physicians
Internist/Hospitalist - Gallup
---
ACP Releases a Position Paper on Reducing Firearm-Related Injuries and Deaths
A new policy paper released by the College in April offers nine strategies to address the societal, health care, and regulatory barriers to reducing firearms-related violence, injuries, and deaths in the United States. Reducing Firearm-Related Injuries and Deaths in the United States was published in the peer-reviewed medical journal, Annals of Internal Medicine. Principal among ACP's nine strategic imperatives is the recommendation to approach firearm safety as a public health issue so that policy decisions are based on scientific evidence. As such, ACP strongly supports universal criminal background checks to keep guns out of the hands of felons, persons with mental illnesses that put them at greater risk of harming themselves or others, people with substance use disorders, and others who current regulations prohibit from owning guns.
Survey results suggest that ACP's position is supported by internists. Eighty-five percent of internists surveyed believe that firearm injury is a public health issue and 76 percent support stricter gun control legislation. An overwhelming majority of respondents favor mandatory background checks, mandatory registration of all firearms, and bans on assault weapons, high capacity magazines, and armor-piercing bullets. A full report of the survey of internists is available in Annals of Internal Medicine.
---
Recognize Outstanding Members and Nominate Them for the 2014 Laureate, Excellence in Teaching, or Community Service/Volunteerism Award
Do you know a New Mexico ACP member deserving of recognition for her/his track record of distinction and service? The New Mexico ACP Awards Committee would like your help identifying members for the 2014 Laureate, Excellence in Teaching, and Community Service/Volunteerism Award Recipients. Please send your nominations for award recipients to nmacp@msn.com by July 17, 2014. Awards will be presented at the New Mexico Chapter Annual Scientific Meeting, November 6-8, 2014.
---
News for Hospitalists - Exploring a NM Society of Hospital Medicine Chapter
Dr. Keshab Paudel has started the process of establishing a Society of Hospital Medicine (SHM) New Mexico Chapter. A petition was submitted in March 2014 with signatures of the hospitalist physicians. SHM reviewed the application and started the process towards recognizing for provisional status. We had a planning meeting at SHM and decided to hold the first meeting on 7/22/14 that will be organized in Albuquerque. Venue and time will be announced shortly.
Interested full- or part-time hospitalists are welcome to attend this meeting. Please contact Keshab Paudel, MD, MBA, FHM, FACP with questions.
---
Do You Still Need 5 Hours of CME on Pain Management to Maintain Your NM License?
ACP has partnered with Pri-Med to provide CME to members, including a CME module on safe opiate prescribing that meets the NM Medical Board's requirement. These modules are free and online.
---
Save the Date!
Save the Date for the Annual Scientific Meeting to be held November 6-8, 2014. Like last year, it will be held at the Sheraton Uptown in Albuquerque. Attendees can look forward to updates in outpatient medicine, hospital medicine, diabetes therapeutics, medical marijuana, and more.
---
Free CME Course Helps Physicians Identify and Care for Patients With Liver Disease
The ACP, Project ECHO, the CDC, the Department of Veterans Affairs, and the American Association for the Study of Liver Diseases has developed ACT-First, a free, online CME course that will help clinicians improve their knowledge and clinical skills in hepatology.
---
Write for ACP Hospitalist
ACP Hospitalist accepts many kinds of articles from physicians and medical student writers, including opinion pieces, patient case summaries, and expert analyses of diseases. Please read about the types of articles published from readers. Submissions are accepted on a rolling basis. Please note that articles are unpaid, that ACP Hospitalist is not a peer-reviewed publication, and that articles published in ACP Hospitalist are not indexed on PubMed.