You are here
From the Governor December 2014
From the Governor December 2014

| | |
| --- | --- |
| December 2014 | Eileen Barrett, MD, MPH, FACP, ACP Governor |
---
---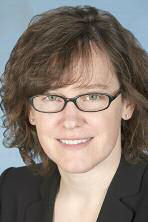 Dear colleagues,
I hope this note finds you well and staying warm despite the polar vortex. I am writing while filled with gratitude to our council and members for a phenomenally successful Annual Scientific Meeting that was held in Albuquerque November 6-8. First, I commend Julio Munoz, MD, FACP, who is both President of the chapter council and Scientific Program Chair, for his vision and dedication. And the entire Scientific Program Committee did a fantastic job, and I am grateful to them all: Cindy Arndell, MD, MPH, FACP, Boud Atterbury, MD, FACP, Brianna Cowan, MD, FACP, Dana Fotieo, MD, FACP, Alisha Parada, MD, Patrick Rendon, MD, and Rush Pierce, MD, MPH, FACP. Many thanks also to Sylvia Burns, our Chapter Coordinator, for her dedication and helping everyone feel welcome and taken care of during the meeting. We will soon be meeting to discuss next year's meeting, and if you'd like to participate in these plans, please email me.
For those who did attend, speakers' slides may be found on our chapter website and anyone who forgot to turn in their CME form may mail it to ACP on the address listed on the form.
In addition to dynamic and educational talks, we also had our Annual Business Meeting. Although we bid farewell to departing councilors Darryl Williams, MD, FACP, Justina Trott, MD, MPH, FACP, and Brianna Cowan, MD, FACP, we did vote for and welcome our new Treasurer Sepehr Khashaei, MD, new Secretary Alisha Parada, MD, and new councilors at large LaWanda Jim, MD, and Daniel Freese, DO. Boud Atterbury, MD, FACP, stepped down as Secretary, but graciously continues to serve as a councilor at large. I am dearly grateful to all of our councilors for their dedication, service, and inspiration, and will miss the collegiality and contributions of our departing councilors.
Although the Governor election was not held during this Business Meeting, since our conference we did learn the results of this election. I wish to congratulate Betty Chang, MDCM, PhD, FACP, on winning the Governor's election! She will begin her official term as Governor-Elect in May 2015, and will succeed me as Governor in May 2016. I wish also to thank Keshab Paudel, MD, MBA, FACP, FHM for also running, and appreciate his on-going commitment to the chapter.
During our meeting, we recognized several colleagues. Please join me in congratulating Allen Adolphe, MD, PhD, FACP who was recognized as Chapter Laureate, Kendall Rogers, MD, FACP, SFHM who was recognized for Excellence in Teaching, Maricruz Merino, MD, FACP, who received our Community Service and Volunteerism Award, and Elizabeth Rodriguez, who received our Student Award for Leadership and Service. They are remarkable people, and please join me in thanking them to their service to their colleagues, their patients, and to internal medicine in New Mexico.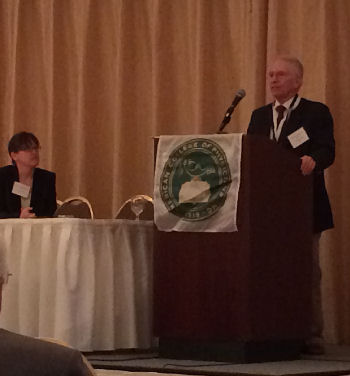 Allen Adolphe, MD, PhD, FACP
Maricruz Merino, MD, FACP

Kendall Rogers, MD, FACP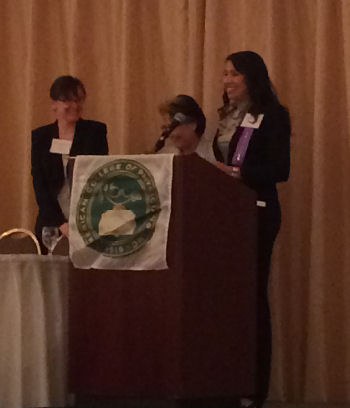 Elizabeth Rodriguez
Congratulations are also in order for the winners of our resident and student competitions:
Resident oral vignette competition (1st place clinical) - Alberto Aguayo-Rico
Resident 2nd place clinical case presentation - Pradeep Mitta
Resident research poster 1st place - Benjamin Deaton
Resident research poster 2nd place - Josh Duchesne
Student research poster - 1st place - Jessica Zimmerberg-Helms
Student clinical case poster -1st place - Barbara Vidal
Many, many thanks to councilors Alisha Parada, MD, and Patrick Rendon, MD, as well as ex-officio councilor Jenny Jernigan, MD, FACP, for their hard work that made the resident and student competitions a success. They are truly indefatigable!
Now that we've had a successful meeting, I'm looking forward to continuing to work with our council to provide meaningful and valuable activities to our members. Please stay tuned for updates on the resident Medical Jeopardy competition, educational programming on reducing burnout and promoting wellness, promoting and restoring increased satisfaction in medical practice, and resources to help you meet Maintenance of Certification. We're making plans to partner with colleagues at the University and also in the community (including with Liz Lawrence, MD, FACP, of Santa Fe, on physician wellness), and would benefit from your passion and experience, too.
And, in closing, please keep in touch. Thank you again for your commitment to your practices, your patients, your colleagues, and to internal medicine.
Sincerely,
Eileen Barrett, MD, MPH, FACP
Governor, New Mexico Chapter of the American College of Physicians
---
Early Career Physician and Hospitalists Breakfast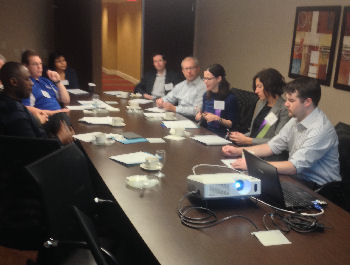 At the annual meeting of the NMACP, early career physicians and hospitalists held a joint breakfast meeting. Attendees shared interests and advice with their colleagues. Dr. Brianna Cowan outlines resources of the college and how to access these, including: clinical practice resources, CME, practice management tools, MOC support, career connections, and leadership day and other advocacy opportunities -- including openings on the chapter's council. Dr. Rush Pierce outlined current organizing efforts of New Mexico hospitalists, including the re-establishment of the New Mexico chapter of the Society of Hospital Medicine and its meeting to follow NMACP. He also discussed the New Mexico Patient Safety Task Force and led a discussion on improving the state's health outcomes. - by Heather Brislen, MD, councilor and co-facilitator
---
National Awards
Please join us in congratulating Sanjeev Arora, MBBS, MACP, FACG, for being selected as one of solely 55 physicians being recognized as a new Master in the College. Masters are selected because of "personal character, positions of honor, contributions towards furthering the purposes of the ACP, eminence in practice or in medical research, or other attainments in science or in the art of medicine." They are highly accomplished individuals, and must be distinguished by the excellence and significance of their contributions to the field of medicine.
We also wish to congratulate Larry Crook, MD, FACP, (2012 NM ACP Community Service and Volunteerism Awardee, practicing in Shiprock) for receipt of the Oscar E. Edwards Award for Volunteerism and Community Service, and Tom Sequist, MD, FACP, whom our chapter helped nominate for the Rosenthal Award for innovations in health care delivery for his work with the Brigham and Women's IHS Outreach Project.
---
ACP Supports Medicaid Pay Parity
The ACP, along with numerous other specialty societies, supports Congress voting to continue Medicaid Pay Parity so that physicians who provide care to Medicaid patients will be reimbursed for primary care services at the same rate as Medicare rates. More information on this important issue may be found here and also in these two articles co-authored with Keshab Paudel, MD, MBA, FACP, FHM, president of the NM chapter of the Society for Hospital Medicine:
Insuring Access Primary Care for Women and Children
If you provided primary care to NM Medicaid patients in 2013 or 2014, it is not too late to file with the state to receive higher payments. Please complete the short form and fax it back to NM Human Services Division (contact information is on the form).
---
MOC Navigator
The College recently launched the MOC Navigator to help you determine what is required for ABIM Maintenance of Certification. This free and easy to use tool helps to determine what is due and when.
---
Free CME and MOC points: Managing Conflicts of Interest
The latest ACP High Value Care module, part of ACP's High Value Care curriculum, offers three 10-minute lectures covering basic topics and three "unfolding cases" for in-depth learning about direct-to-consumer drug advertising, industry sponsorship of clinical trials, and the art of communicating with patients about sample medication. All content is accessible via desktop, laptop, tablet, or mobile device. Free online CME credits and MOC points are available for both the lectures and cases. Access the High Value Care module on Managing Conflicts here.
---
Rising to the Challenge of Embracing Diversity in Practice through Interprofessional Collaboration
Justina Trott, MD, FACP
Cynthia Arndell, MD, FACP
November 8, 2014
The overarching objectives of this session were to:
Define interprofessional collaborative practice (IPC)
Discuss the attributes of an effective team
Describe ways to improve IPC in your current practice setting
While this was a small group of physicians, it was a healthy discussion about who we identify as team members in our current practice setting, what is working well and what the challenges are from a team and patient-centered perspective.
Through reflection on how to improve interprofessional collaborative practice, one physician described how team members in his practice meet separately-physicians, nurses, medical assistants and clerks have their own meetings weekly. He realized that everyone meeting together on a weekly basis would potentially improve communication, patient flow and team morale. Another physician described how she could do a better job of communicating with the medical assistant before clinic starts to clarify expectations.
Participants unanimously expressed the importance of addressing team dynamics in practice settings to improve morale and patient outcomes. One physician described the critical need for ongoing discussion around collaborative practice-challenges and solutions.
Our hope is to continue the important discussion of what interprofessional collaborative practice is and it's impact on our patients, team morale and healthcare systems.
---
Resources on Ebola
As the situation with the Ebola virus outbreak continues to evolve, please be aware of resources to help you and your health care teams.
We encourage you to visit the CDC Ebola website for the most updated information on the Ebola virus outbreak and to share this information with your colleagues and networks. The CDC recently posted the following resources to help practicing physicians and health care teams best identify risks related to Ebola and treat accordingly:
As a reminder, ACP has free clinical information and resources available to all members of the health care community and the public at large. Annals of Internal Medicine has published several articles about the virus on an emergency access initiative page. ACP Smart Medicine, the College's Web-based clinical decision support tool, includes a module on Ebola and Marburg viruses that contains evidence-based information about prevention, diagnosis, and therapy. The Ebola module is designed to help physicians advise patients who present with symptoms and who traveled to rural sub-Saharan Africa or had occupational exposure. ACP's website also includes links to information on volunteer opportunities with AmeriCares, USAID, and Medical Teams International.
---
MKSAP Study Hall
Are you seeking more structure while studying for your boards? Our colleagues in the Illinois chapter have very generously offered that New Mexico chapter members may participate in a weekly webcast of their chapter's wildly popular MKSAP Study Hall. These are every Tuesday evening, and available to people who have MKSAP 16 Digital. Read more about this fantastic benefit and register.