You are here
From the Governor August 2015
From the Governor August 2015

| | |
| --- | --- |
| August 2015 | Eileen Barrett, MD, MPH, FACP, ACP Governor |
---
---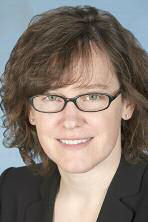 Dear Colleagues,
I hope this newsletter finds you well and enjoying late summer and the occasional afternoon summer storm that provides some respite from the heat. Now in my last year as chapter Governor, I'm reflecting on how grateful I am for our dedicated and conscientious Councilors that have worked hard to promote the values of the College and the value of ACP membership:
Governor-Elect: Betty Chang MDCM, PhD, FACP
President: Julio Munoz, MD, FACP
Treasurer: Sepehr Khashaei, MD, FACP
Secretary: Alisha Parada, MD, FACP
Councilors at Large:
Boud Atterbury, MD, FACP
Cynthia Arndell, MD, MPH, FACP
Dana Fotieo, MD, FACP
Daniel Freese, DO
Elizabeth Rodriguez
Heather Brislen, MD, FACP
Jemery Kaufman, MD
Keshab Paudel, MD, MBA, FACP
Kimberly Marie Benavidez
LaWanda Jim, MD
Manish Pandya, MBBS
Patrick Rendon, MD, FACP
Rush Pierce, MD, FACP
Theresa Kurtz
Tobore Kokoricha, MBBS, FACP
Ex-Officio and Governors Emeriti:
Barbara McGuire, MD, MMM, FACP
Dick Honsiger, MD, MACP
Jenny Jernigan, MD, FACP
Mike Kaufman, MD, FACP
Reg Strickland, MD, MACP
Sara Walker, MD, MACP
We will have elections on the council in November, for Councilors at Large and for President. If you are interested in serving, please email me. However, if you don't have time to commit to serving on the council but would like to serve in another capacity, our chapter has numerous committees. Some are more active than others, and we'd welcome your ideas and commitment on any of them. Presently, our committees and their chairs include:
Scientific Program Planning - Chair, Julio Munoz, MD, FACP
Residents and Students - Co-Chairs, Alisha Parada, MD, FACP and Patrick Rendon, MD, FACP
Physician Wellness - Chair, Liz Lawrence, MD, FACP
Awards - Chair, Howard Gogel, MD, FACP
Hospitalists - Chair, Rush Pierce, MD, MPH, FACP
Finance - Chair, Sepehr Khashaei, MD, FACP
Health and Public Policy - Chair, Julio Munoz, MD, FACP
Membership - Chair, Keshab Paudel, MD, MBA, FACP
Centennial Art Exhibition Committee - Chair, Barbara McGuire, MD, MMM, FACP
Serving on an ACP committee or on the council is a rewarding and valuable experience, and a great way to direct the future of the College and of internal medicine. I hope to hear from you.
One of our newest committees, Physician Wellness, just coordinated a successful grand rounds series with UNM on 'Taking Our Own Pulse: Physician Wellness as a Personal, Institutional, and Political Imperative.' Talks are available via archive and slides are available on our website. Many thanks to Liz Lawrence, MD, FACP, for her leadership on this collaboration, and to Arti Prasad, MD, FACP, and Alisha Parada, MD, FACP, as well as colleagues at UNM and the NM Medical Society for their support.
Our Resident and Student Committee is actively seeking judges for the resident and student poster competition to be held on Thursday, November 5th at the Sheraton Uptown in Albuquerque. Judging will involve being present from the hours of 4-6pm on November 5th, 2015. Poster categories include High Value Care, Clinical Vignettes, Clinical/Basic Science Research and Quality Improvement for both medical students and residents. Judges will receive a badge and certificate for their participation in the judging process. Please contact Patrick Rendon MD, FACP, or Alisha Parada MD, FACP, for more information, and many thanks to them for their leadership in our expanded resident and student programming.
Our chapter is indebted to Sylvia Burns, who will complete her service as our Chapter Coordinator later this month. Those who attend our annual scientific program know she is always smiling and helpful, working hard to trouble-shoot any problems or concerns. We are grateful for her dedication and service, and wish her all the best in her future endeavors!
Lastly, please join me in congratulating our chapter's new Fellows: William Abeyta, MD FACP, of Albuquerque, Oladipo A Adeniyi, MBBS FACP of Albuquerque and Gallup, Gustavo A Espino, MD FACP of Albuquerque, Anneliese Flynn, MD FACP of Shiprock, Sepehr Khashaei, MD FACP of Albuquerque, Thomas E Robinson, MD, FACP of Gallup, and Kevin M Rosenberg, MD FACP of Albuquerque.
In closing, please let me know how our chapter and the ACP in general can support you in your practice. I hope to hear from you.
Sincerely,
Eileen Barrett, MD, MPH, FACP
Governor, NM Chapter
Hospitalist, Albuquerque
---
Register today! The Annual Scientific Meeting will be November 5-7th
The New Mexico Chapter's Annual Scientific Meeting will be held November 5-7th at the Sheraton Uptown in Albuquerque. We are honored to welcome two national leaders, Dr Timothy Quill speaking on "Palliative Care, Hospice, and Last Resort Options" as well as Representative Michelle Lujan Grisham speaking on Health Care in New Mexico. Lectures and workshops will address hospital and outpatient medicine updates, treatment of common infections, movement disorders, physician assisted suicide, and health policy - among others. Register online today!
---
Free Educational Event: Practice Redesign and Tools to Reduce Burnout and Increase Practice Satisfaction, on Saturday September 26th
The NM Chapter of the ACP is pleased to partner with Presbyterian Healthcare Services to welcome two nationally recognized speakers, Drs. Bruce Bagley and Carrie Horwitch on Practice Redesign and Other Tools to Reduce Burnout and Increase Satisfaction in Medicine on Saturday, September 26, 2015. This event will be held from 10AM - 12:30PM at The Cooper Center, 9521 San Mateo Blvd, NE, Albuquerque. Light refreshments will be provided. There is no charge for this event.
Contact the chapter with questions.
---
Leadership Day
Many thanks to Cindy Arndell, Heather Brislen, Tobore Kokoricha, Mike Kaufman, and Sam MacBride for demonstrating their commitment to advocacy by participating in this year's Leadership Day in Washington, DC. They met with our elected representatives to discuss the Medicare primary care incentive program, Graduate Medical Education, and work force issues.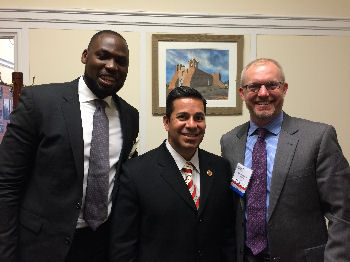 Dr. Tobore Kokoricha, Rep. Ben Ray Lujan, and Dr. Sam MacBride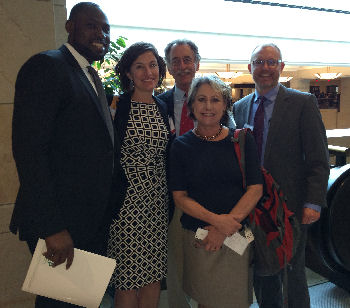 Drs. Tobore Kokoricha, Heather Brislen, Mike Kaufman, Cindy Arndell and Sam MacBride at Leadership Day
---
Research, Innovation, and Clinical Vignette Juried Poster Competition for Early Career Physicians
NM ACP and the NM chapter of the Society of Hospital Medicine are collaborating on our first joint early career physician poster competition to be held Saturday, November 7th, at 1PM. More details are available here.
Presenters must be a member of ACP or SHM, be within 16 years of graduating from medical school, and have completed residency/fellowship or must be within 16 years of finishing PA/NP training. The deadline for submissions is October 2, 2015
---
Centennial Art Exhibition
In recognition of the ACP's Centennial Celebration, our chapter is sponsoring an Art Exhibition during the Annual Fall Scientific Meeting, Nov. 5-7, 2015, at the Sheraton Uptown in Albuquerque. Members are invited to submit 2-D, 3-D art and poetry for the juried show, and submissions may be drawing, painting, photography, sculpture, woodcarving, fiber arts, metal work, or short poems.
There is no entry fee and items will not be for sale during this 2 day exhibition at the meeting. Ribbons and Prizes and will be awarded by independent judges and members' votes. Submissions are accepted only by e-mail and digital photograph or .pdf of artwork or poetry. Please contact Barbara McGuire with questions.
---
ACP Book Club
NM ACP will be hosting an ACP Book Club for members to read and discuss "Being Mortal" by Atul Gawande. The inaugural meeting will be September 22, in Albuquerque. If you are interested in participating (including receiving a copy of the book), please contact Heather Brislen. If you live outside of Albuquerque and would like to host an ACP book club meeting on "Being Mortal" in your community, please email Dr. Barrett.
---
Guest Columnist on Physician Wellness: Writing & Wellness
This past week in Taos, I co-facilitated the 16th Annual University of New Mexico Taos Writing and Wellness Retreat for Health Professionals. Writing and wellness: two words that may not intuitively seem to belong together in the same sentence, let alone as complementary conference themes. I returned from the retreat, however, more convinced than ever that reflective writing is one of the most valuable tools we have to maintain our well-being as practicing physicians.
Resilient physicians use three general strategies to prevent burnout. They find meaning in their work, set clear boundaries between work and the rest of their lives, and have clear priorities about what is important to them in life. In terms of the first category, we can find meaning in the connections we make with our patients, in service, in teaching and mentoring, in professional development, and in promoting positive change in the health systems in which we work. Sometimes, however, even when we engage in these activities, we lose site of their significance and get caught up in the hassles of daily practice: one more patient overbooked, one more prior authorization needed, one more committee meeting to attend.
Pausing for just ten minutes each day to jot down reflections about medical practice in a notebook can allow us to focus on what was inspirational, surprising, or meaningful in the past 24 hours. Making note each day of one aspect of our work for which we are grateful can remind us of why we chose medicine as a career. Writing can also promote wellness by encouraging creativity, by allowing us to process challenging experiences in new ways, and by providing a means to express the emotions triggered by difficult encounters. Writing can make our work easier by enhancing our observation and communication skills.
Dr. Rita Charon defined narrative medicine in 2001 (JAMA. 2001;286:1897-19012):
The effective practice of medicine requires narrative competence, that is, the ability to acknowledge, absorb, interpret, and act on the stories and plights of others. Medicine practiced with narrative competence, called narrative medicine, is proposed as a model for humane and effective medical practice. Adopting methods such as close reading of literature and reflective writing allows narrative medicine to examine and illuminate 4 of medicine's central narrative situations: physician and patient, physician and self, physician and colleagues, physicians and society. With narrative competence, physicians can reach and join their patients in illness, recognize their personal journeys through medicine, acknowledge kinship with and duties toward other health care professionals, and inaugurate consequential discourse with the public about health care.
At the conference in Taos, my fellow healthcare professionals and I wrote pieces about the dual identities we have as relative and doctor when someone we love is dying, about the trauma of anatomy class, about the shame of being sued for malpractice, about memories of blood, and about the joy of caring for grateful patients. We also wrote pieces about non-medical topics, including rocks and strawberries, music and politics. The sharing of these pieces at our retreat promoted compassion for ourselves and for each other, and a better understanding of what it means to be in a healing profession.
You can incorporate writing and literature in your daily practice by journaling as described above, by starting a meeting or rounds with a short poem, or by asking your learners to write briefly in response to a prompt. You might be surprised by what you learn about yourself, your colleagues, and your wellness.
Liz Lawrence, MD, FACP. Dr. Lawrence is a general internist practicing at La Familia Medical Center in Santa Fe and the Director of Physician Wellness for the UNM School of Medicine.
---
Nominate a Student for the New Mexico ACP Chapter Medical Student Leadership & Service Award
Recipients of the New Mexico ACP Chapter Medical Student Leadership & Service Award must demonstrate dedication and contributions in the field of Internal Medicine through scholarship, education, research and/or community service. First through fourth year medical students are eligible. Recipients must also be members in our local ACP chapter.
Nomination letters of support should clearly identify in detail how the nominee meets the following criteria: How does this nominee demonstrate longstanding commitment to Internal Medicine? Please provide specific examples that demonstrate this nominee's contributions which should include a minimum of 2 of the following criteria:
vignette or poster presentation at a local or national conference
publication(s)
student mentoring
leadership and advocacy
involvement in student interest groups, particularly internal medicine student interest group
volunteer community service
a commitment to patient care as demonstrated during clinical rotations or continuity clinic
Nominations should be submitted to the New Mexico ACP by September 5th.
---
We Welcome New Members to Our Chapter
Aswani Kumar Alavala, MBBS, Prajit Arora, MBBS, Christopher Bunn, DO, Elizabeth Sage Colombo, MD, Nicholas Cutrufello, MD, Leona Y Ebara, MD, Lisa K Ereifej, MBBS, Lida Fatemi, DO, Diego I Florentin, MD, Kavitha Ganta, MD, Prathima Guruguri, MD, Christina M Haaland, MD PhD, Jairon M Johnson, DO, Kiran N Khan, MBBS, Alex Neuwelt, MD, Christina M Rea, MD, Edward Ripley, MD, Justin J Roesch, MD, Mary J Seiler, MD, Susan Showers, MD, Teodora Topalovski, MD, Joy Wortham, MD, and Mohamed Zghouzi, MBChB.
---
MKSAP Study Hall
Are you seeking more structure while studying for your boards? Our colleagues in the Illinois chapter have very generously offered that New Mexico chapter members may participate in a weekly webcast of their chapter's wildly popular MKSAP Study Hall. These are every Tuesday evening, and available to people who have MKSAP 16 Digital. Read more about this fantastic benefit and register.
---
Diabetes Collaborative Registry Seeks Primary Care Participants
ACP has partnered with the American College of Cardiology to participate in the Diabetes Collaborative Registry. By joining the registry, you will be able to:
Track adherence to national performance measures
Compare your performance to national benchmarks
Improve performance against evidence-based diabetes metrics
Data is collected from your electronic health record and fed to the DCR electronically, and is designed to be automated, fit into your practice workflow, and minimize burden. The first 10 practices to sign up for the Diabetes Collaborative Registry will also have the opportunity to earn up to $2,500 for their practices. If you are interested in participating, or would like more information, please contact Selam Wubu.
---
ACT-First: free online Liver Disease CME Program
The American Association for the Study of Liver Diseases (AASLD) has partnered with ACP, Project ECHO, the CDC, and the Department of Veterans Affairs to offer ACT-First, a free, online CME course to help physicians improve their knowledge and clinical skills in hepatology.
CME on HCV, HBV, and cirrhosis offer a total of 24 AMA PRA Category 1 Credits™, with future modules planned that will include interpreting abnormal liver tests, nonalcoholic fatty liver disease, alcoholic liver disease, drug-induced liver disease, and liver masses. For more details and to create a free account, go online.