You are here
Nevada Governor's Newsletter November 2017
Nevada Governor's Newsletter November 2017

---
---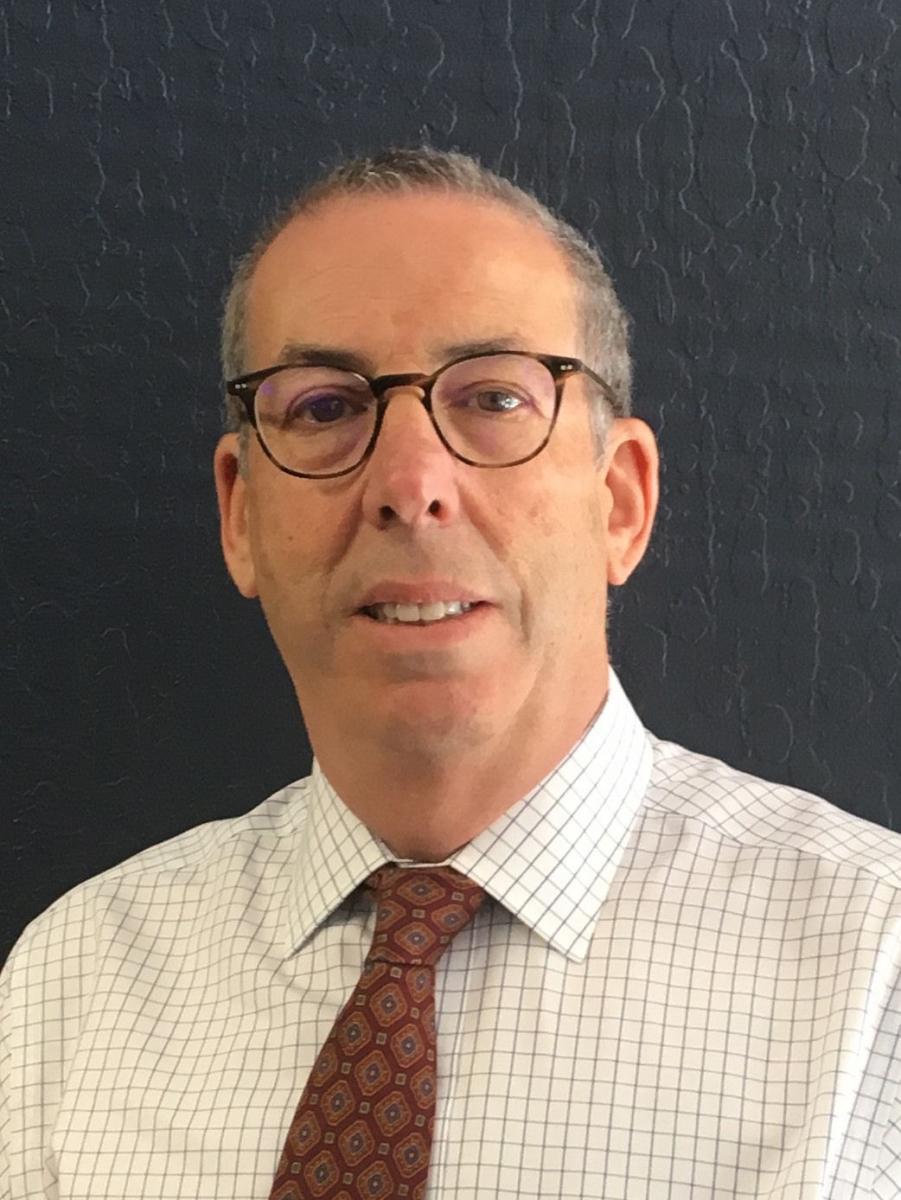 Evan M. Klass, MD, FACP, FACE, ACP Governor
---
Governor's Newsletter
The holiday season is fast approaching and I wanted to extend my best wishes to all of our Chapter members. We are 867 strong with 3 Masters, 190 Fellow, 307 Members, 199 Resident/Fellow members, and 165 medical student members. We recently reached a critical level of participation of 30% of UNR Med students as members of the Internal Medicine Interest Group which will entitle them to a higher level of support from ACP. On November 1, we were delighted to learn that Dr. Stan Shane had been awarded the distinction of becoming a Master of the College. And our Chapter was again recognized with the Chapter Excellence Award for 2017.
We had an excellent Chapter Annual meeting on October 13th and 14th at the M Resort in Las Vegas. Over 100 Chapter members participated and had an opportunity to hear from national ACP leaders Ana Maria Lopez, President-elect of the College as well as Bob Doherty, Sr. Vice President for Advocacy and Policy. The meeting was built around a theme of Women's Health and the updates on a variety of subjects including heart disease in women, osteoporosis, post-menopausal hormone replacement therapy were superb. An important presentation on human trafficking revealed the scope of the problem and its relevance to medical practice. The panel discussion on Friday night, following an excellent dinner, was truly inspiring and addressed empowering women in the workplace in general and in medicine in particular. I can't thank our presenters and panel members enough for the work that went into preparing for the meeting.
We had a record number of posters submitted this year from our 4 Internal medicine residencies and 3 medical schools. Category winners will be travelling to New Orleans to present at the ACP Annual Meeting this coming April 19-21. Likewise, our Doctors Dilemma winning team from the UNLV Med program will compete in New Orleans.
And by the way, it's not too soon to start planning to attend the ACP Annual Meeting. New Orleans is, perhaps, the best place to go for a meeting. That was where I attended my first ACP meeting in 1980!
Planning for next year's Chapter Annual meeting has already begun. We welcome suggestions from all of you on ways to make the program more compelling. We would also love suggestions on potential sponsors for the meeting- the meetings are ever more expensive and supporting travel for our students and residents is costly.
Finally, I want to thank Jeanne Tremaine, our Chapter Executive Director for her outstanding work in insuring that the meeting came off without a hitch and to Dr. Sandhya Wahi-Gururaj, chair of the program planning committee for her vision and incredible energy in creating the program, identifying speakers and subbing in for me as host for the Saturday program.
Our Chapter award winners this year were exceptional. I would like to thank the Awards Committee under the leadership of Dr. Ellen Cosgrove for their efforts in identifying our awardees. They were:
Lisa Calvo, MD, FACP – Teacher of the Year Award
Laura Culley, MD, FACP - Community Engagement Award
Catherine Goring, MD, FACP - Women Physician of the Year Award
Jeff Murawsky, MD, FACP- Chapter Laureate
Ranjit Makar, MD, FACCP- Outstanding Young Physician Award
Aditi Singh, MD, FACP - Teacher of the Year Award
Bishwas Upadhyay, MD, FACP - Outstanding Young Physician Award
John Varras, MD, FACP - Distinguished Mentor Award
Sandhya Wahi-Gururaj, MD, FACP - Women Physician of the Year Award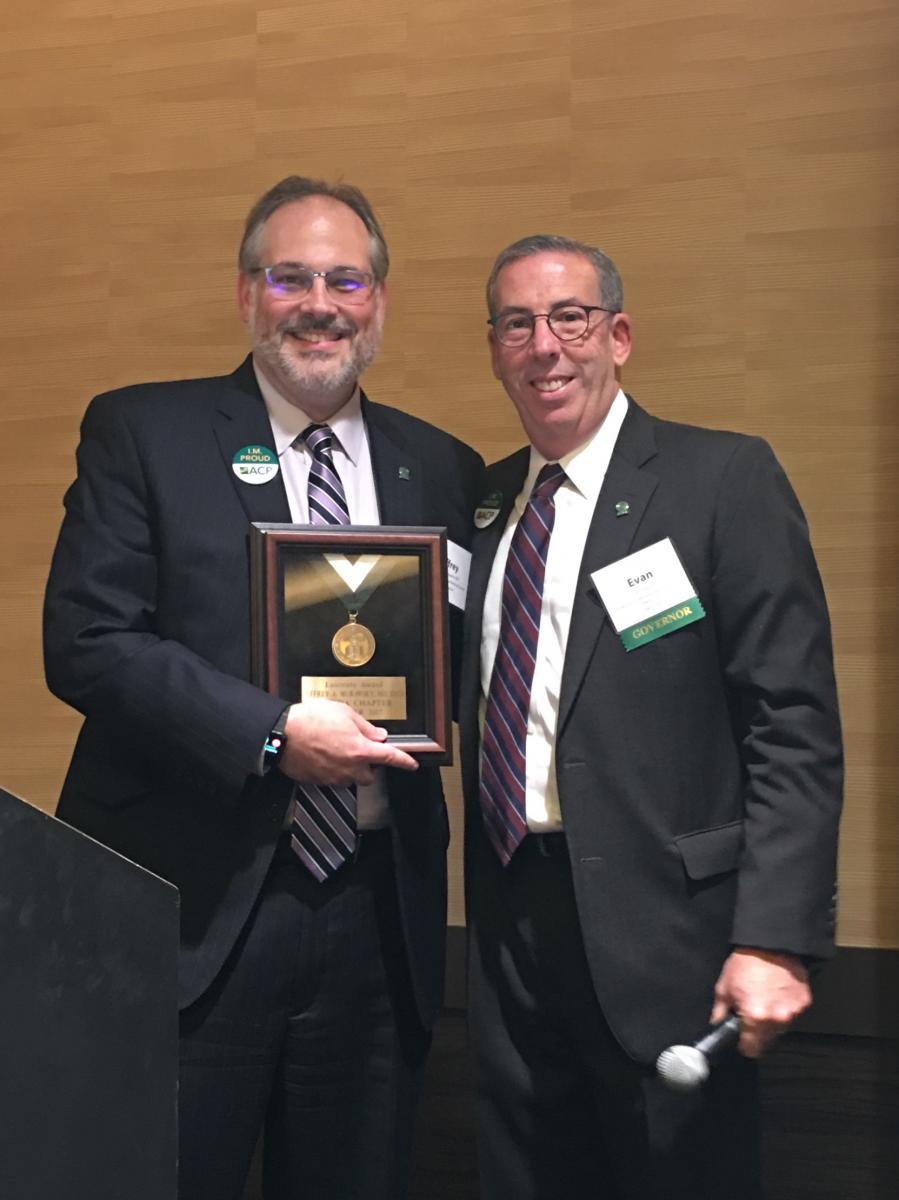 Jeff Murawsky, MD, FACP, Chapter Laureate Awardee and Governor, Evan Klass, MD, FACP
Poster Winners:
Resident Clinical Vignette – UNLV
Arhama Malik, Pallavi Sataluri, Wen Yuan Yu, L. Medina Garcia, S. Asad - A Fatal Case of Donor Transmitted Tularemia in a Renal Transplant Recipient
Resident Research – UNLV
Harmeet Mashiana, Banreet Dhindsa, Mahendran Jayaraj, Xibel Liu, Babu Mohan, Mohamed Azab, Gordon Ohning - Safety of ERCP in Elderly Patients: A Systematic Review and Meta-Analysis
Student Clinical Vignette – UNR-Med
Trent Irwin, Mohit Rishi, Bishwas Upadhyay
A Peculiar Case of Asymptomatic Spontaneous Pneumomediastinum
Student Research – UNR-Med
Erika Mauban, Daniel Montgomery, Eva Kline-Rogers, NP, Kim A. Eagle, MD
Number of imaging studies required to diagnose aortic dissection correlates with negative in-hospital outcomes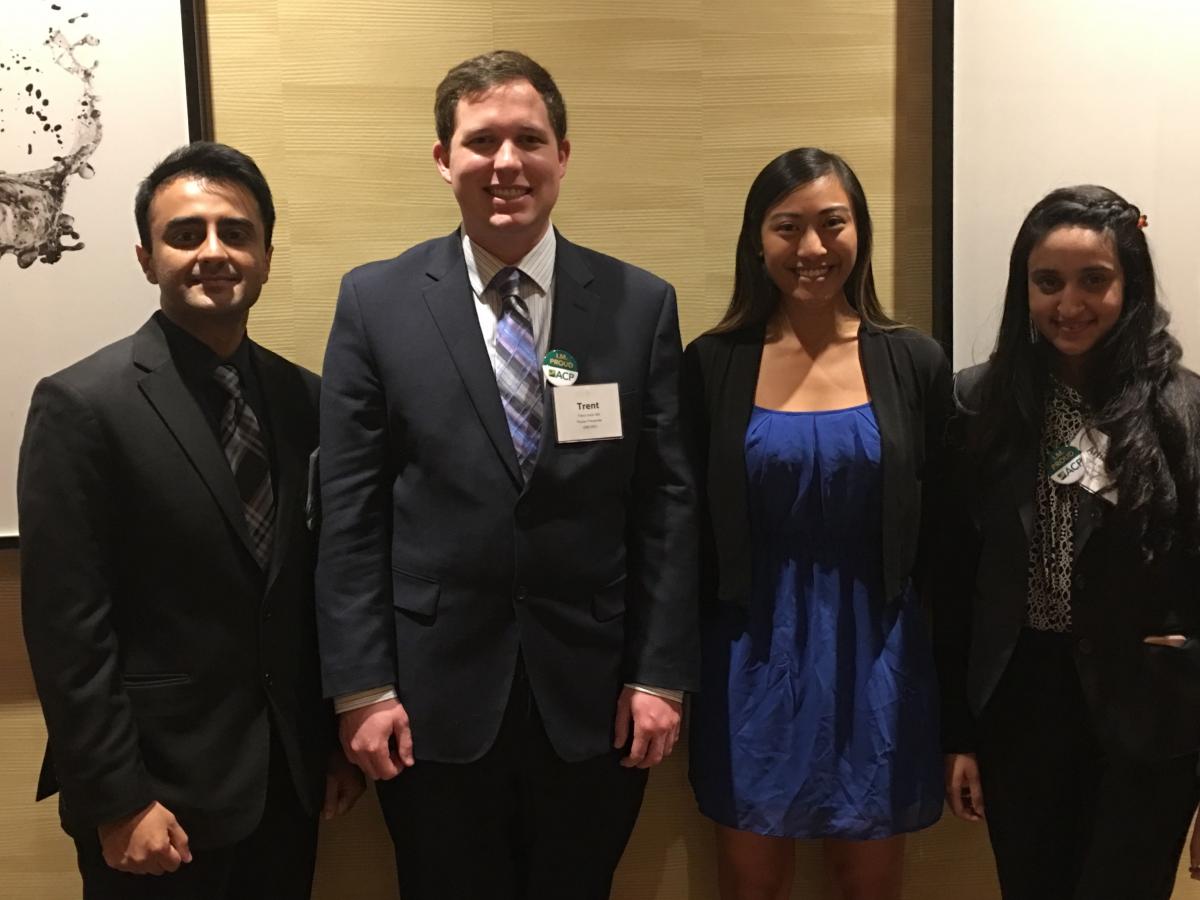 Winners of our Doctors Dilemma Competition: UNLV, team included:
Abdullah Alali, MD, Ammar Yousif, MD, and Leo Zacks, MD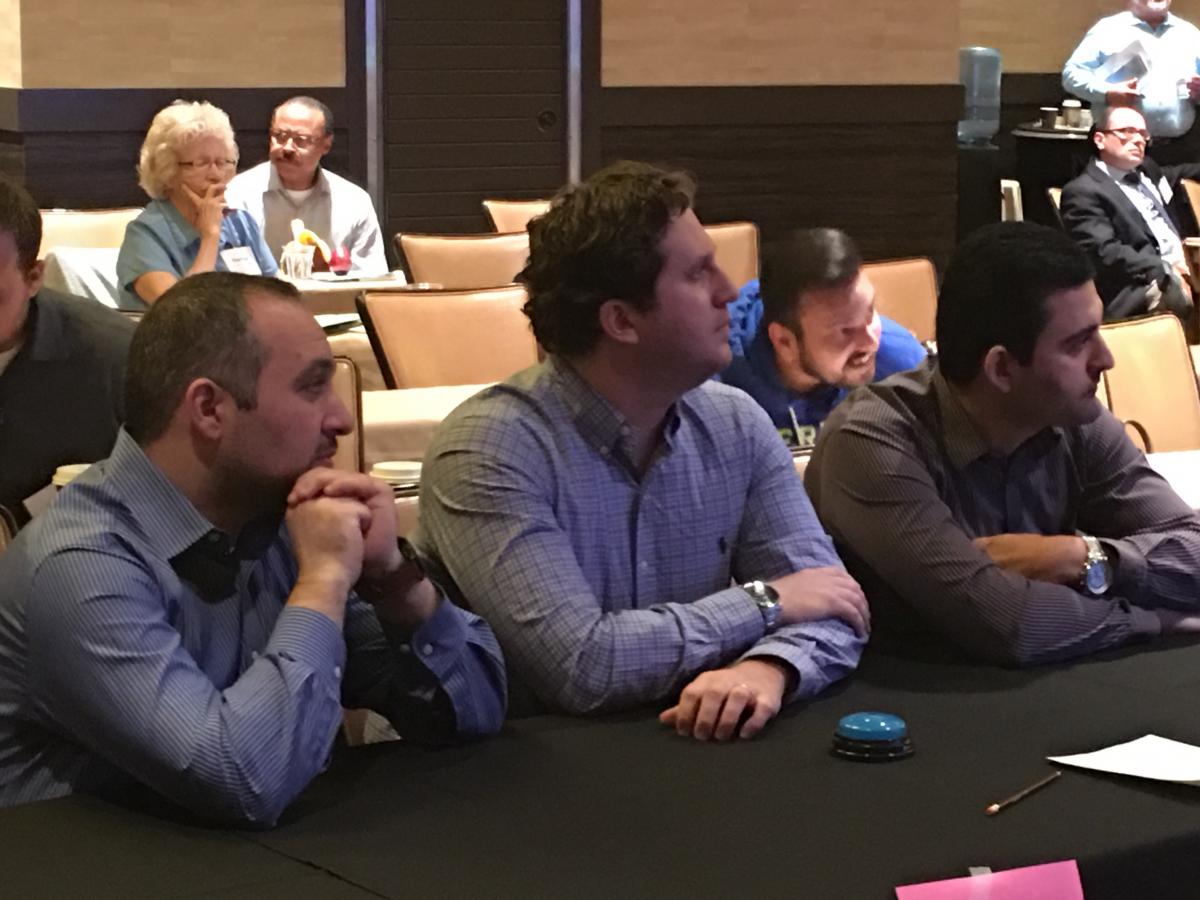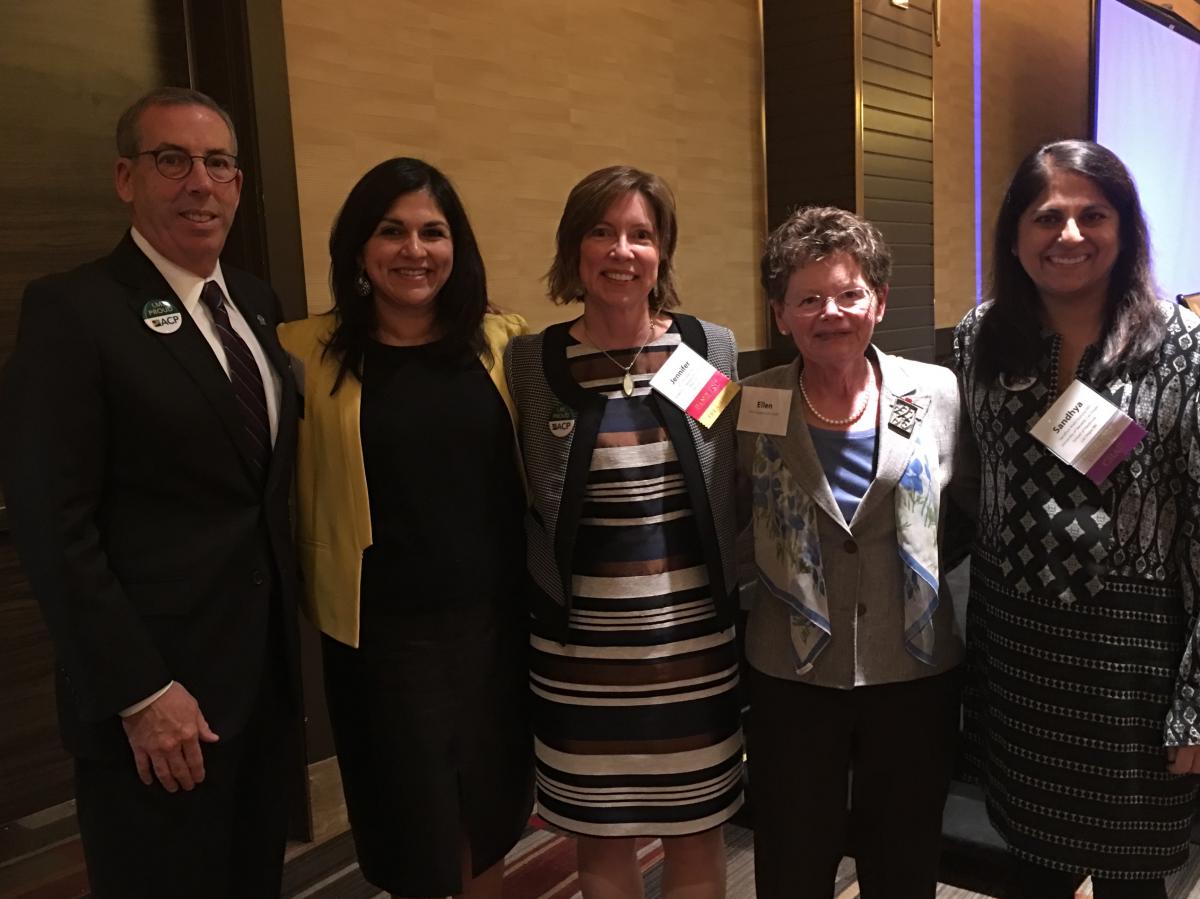 Governor Evan Klass, MD, FACP; Panel Presenters: Sheila Bangalore, Jennifer Hagen, MD, FACP; Ellen Cosgrove, MD, FACP and Sandhya Wahi-Gururaj, MD, MPH, FACP, Program Planning Chair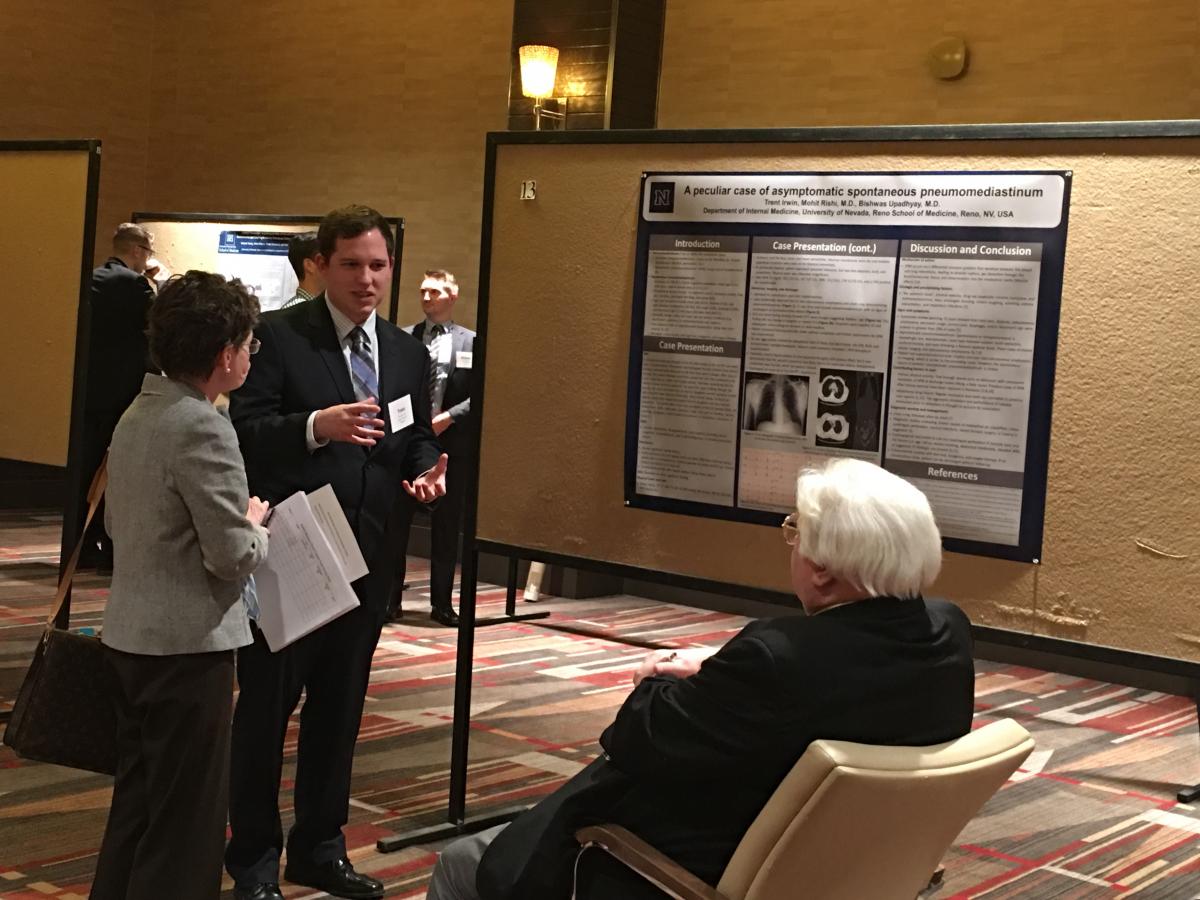 Poster presenter Trent Irwin with poster judges, Ellen Cosgrove, MD, FACP, UNLV School of Medicine and Warren Evans, MD, FACP.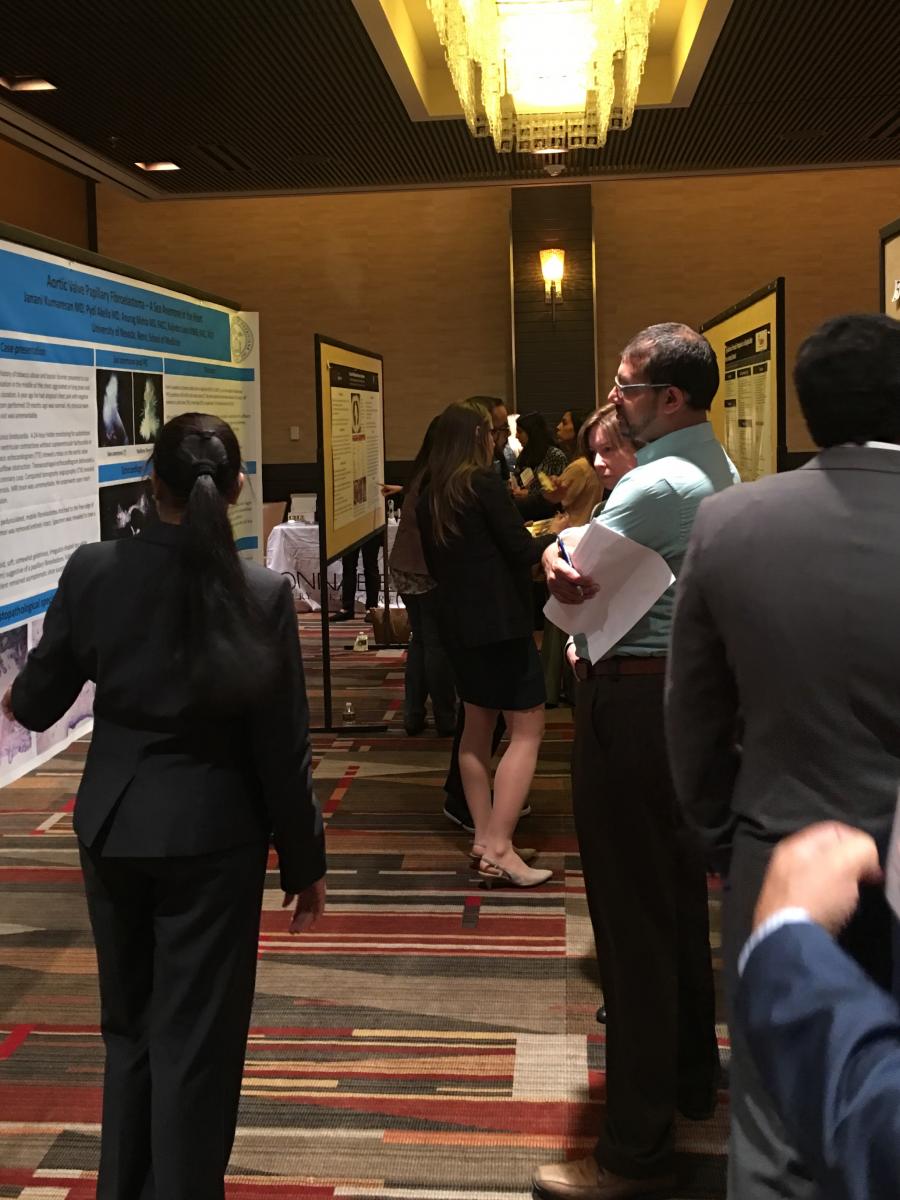 General poster picture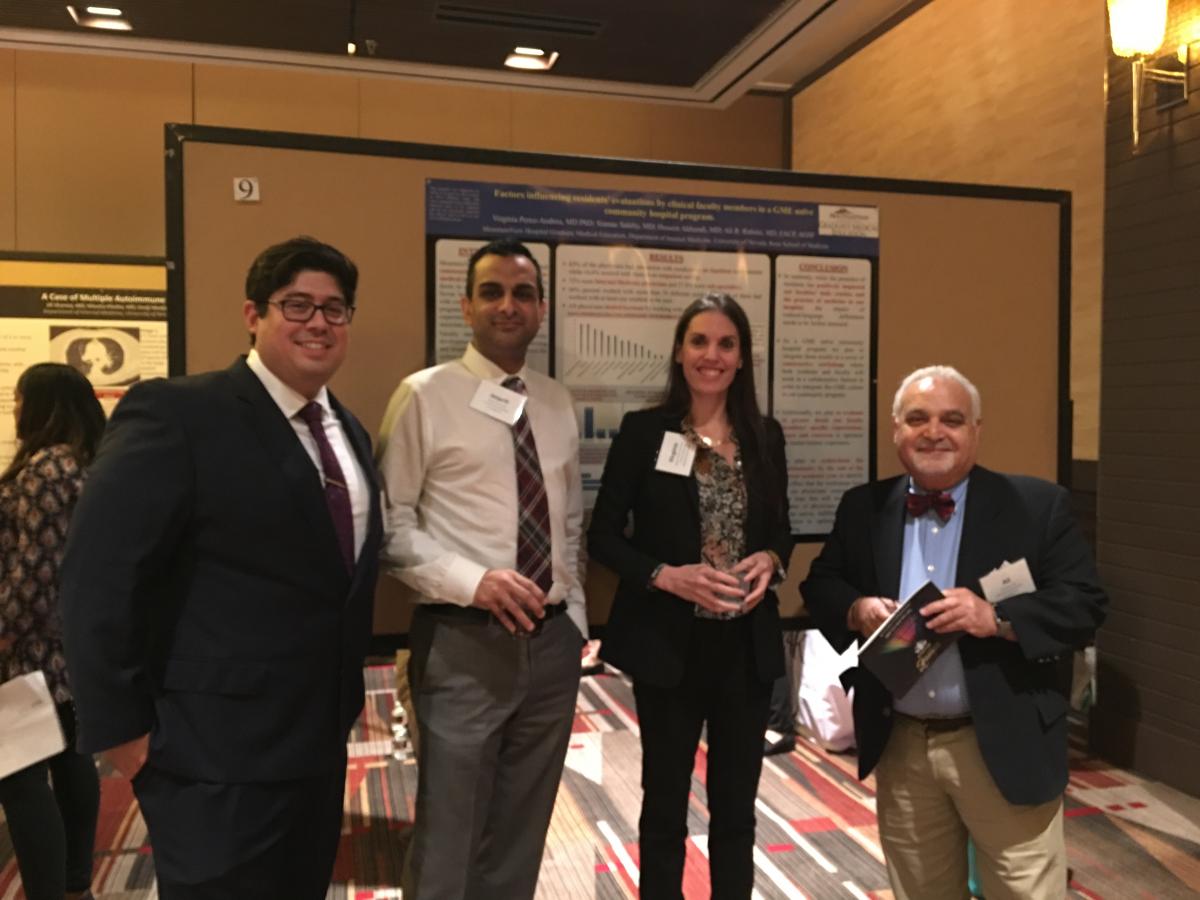 Poster presenters from Mountain View with Ali Rahimi, MD, FACP, AGSF, Mountain View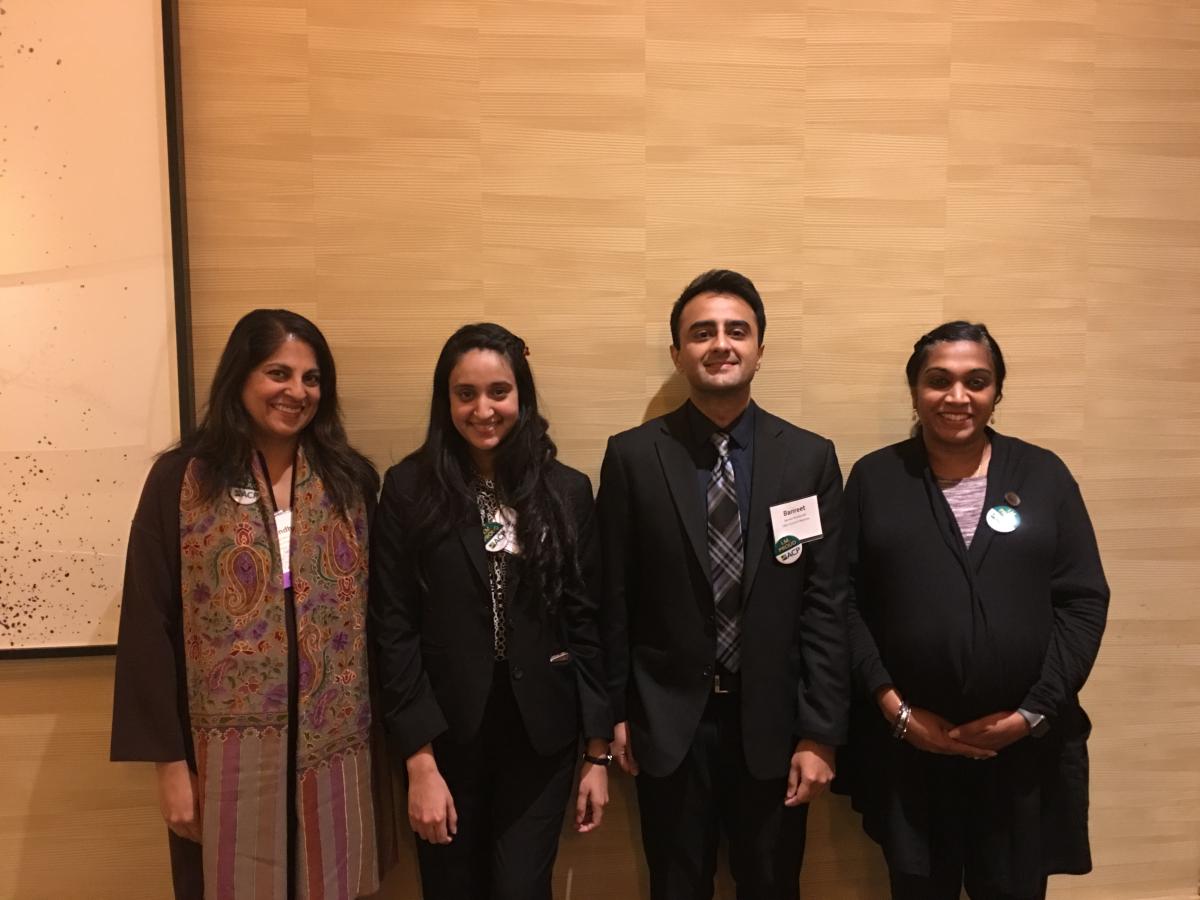 Sandhya Wahi-Gururaj, MD, FACP, UNLV School of Medicine, Arhama Malik, UNLV Resident poster winner, Banreet Dhindsa, UNLV Resident poster winner and Aditi Singh, MD, FACP, UNLV School of Medicine.
---
Meet Our New Governor-elect, T. Brian Callister, MD, FACP
Meet Our New Governor-elect
Congratulations to T. Brian Callister, MD, FACP our new Governor-elect. Our new Governor-elect (GE) will do a year of training as a Governor-elect and then will start his four-year term as Governor in the spring of 2019. As Governor, Dr. Callister will serve as the official representative of the College for the Nevada Chapter, providing a link between members at the local level and leadership at the national level.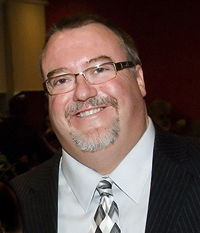 ---
Make ACPOnline Your Own: MyACP
Several new enhancements to MyACP make it even more useful for organizing your ACP work and streamlining access to the ACP resources and content you value most. From this page, you can view recent activity in the Member Forums to which you've subscribed, access your CME portfolio, track product purchases, and view or update your member profile information. You can also customize the icons in your MyACP Launchpad, which is accessible from the green MyACP button in the top right side of the page throughout the site. Now you can also pin icons to your Launchpad directly from key resources, such as the new Online Learning Center. For more information on how to take full advantage of this new tool, follow the links at the top of the page to "Take the Tour" and see the instructions for adding an icon to your mobile device for "one-touch" access.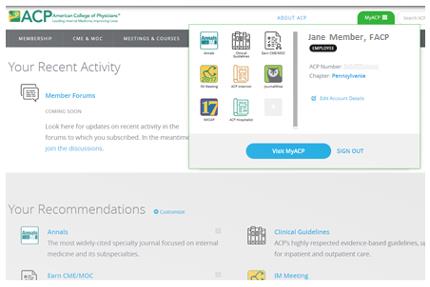 ---
ACP Innovation Challenge 2018: Re-Imagining the Practice of Internal Medicine
Respond by:
Sunday, December 31, 2017
Are you an innovator in healthcare? Do you have a project idea that improves patient outcomes, cuts unnecessary costs, or allows physicians to collaborate more effectively? If so, ACP wants you to enter the ACP Innovation Challenge!
ACP Internal Medicine Meeting 2018, being held April 19 - 21 in New Orleans, LA, will be hosting the third "Shark Tank"- styled competition where finalists will present their projects to a distinguished panel of judges in front of a live audience. Project ideas may be submitted by physicians or medical students and should focus on transforming clinical practice. A Grand Prize winner will receive $20,000 in funding for project development, and an Audience Choice prize of $5,000 will also be awarded. All finalists are eligible to receive complimentary meeting registration and travel funds to attend ACP Internal Medicine Meeting 2018.
Read more about the competition and submit an application by December 31, 2017.
Please feel free to distribute this information to anyone who may have a project eligible for submission.
For questions regarding this event, contact Patty Moore.
---
Leadership Day
ACP has announced the dates for Leadership Day, 2018. It will take place in Washington, DC on May 22-23. This is a remarkable event and a wonderful opportunity to meet with our Nevada Legislative delegation. Last year we were well represented with 3 Chapter members attending including, for the first time, one of our IM residents. It would be terrific if we could send a substantia delegation again in 2018. Participation in advocacy efforts is more important than ever. Please let myself (evan.klass@gmail.com) or Jeanne Tremaine (jeannetremaine4@gmail.com) know if you are interested in participating.