You are here
GOVERNOR'S NEWSLETTER June 2014
GOVERNOR'S NEWSLETTER June 2014

---
---
Message From the Governor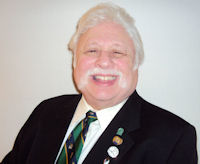 Warren H. Evins, MD, PhD, FACP, Governor
Your Governor attended the Spring 2014 Board of Governors (BOG) meeting of the American College of Physicians (ACP) and the Internal Medicine (IM) 2014 meeting in Orlando Florida. Several residents and medical students presented research and clinical vignette posters. One medical student's presentation won a first-place award. The Doctor's Dilemma ™ team from the University of Nevada School of Medicine (UNSOM) Reno won its quarterfinal competition round, but lost to the eventual overall winner in the semifinals.
Several Nevada Chapter members advancing to Fellowship were eligible to walk with the Governor at the convocation, but none did. Dr. Mitchell D. Forman, founding Dean at Touro University College of Osteopathic Medicine was installed as one of the forty two 2014 Masters of the College.
At the ACP Business meeting on April 13, 2014, Dr. Evan Klass was installed as the Nevada Chapter Governor-Elect. He will become Governor of the Nevada Chapter on May 2, 2015, after the 2015 Business meeting of the ACP in Boston, and will serve a four-year term as Governor, running from 2015 to 2019. Dr. Klass will then become a member of the Governor's class of 2019.
Please see additional articles for more information about the above events.
---
Dr. Evan Klass takes office as Governor-Elect of the Nevada Chapter of the American College of Physicians
We are delighted to welcome Dr. Evan Klass, who on Saturday, April 13, 2014, was installed as the Governor-Elect of the Nevada Chapter at the end of the ACP business meeting. We all wish him a successful and rewarding term. Here is his biographical sketch and vision statement which was penned in June 5, 2013, as a candidate for Governor-elect.
---
2014 Chapter Annual Meeting
Save the Date
The next Nevada Chapter annual meeting will be in Las Vegas in early January 2015 probably January 10 or 11, 2015. Please save the date.
We anticipate having talks on Advancement to Fellowship and Mentoring, Ethics, Legislative Update, Doctor's Dilemma™ competition, What's the Future for Diabetes Treatments, Chronic Renal Failure, Neurology, Top 10 Articles of 2014, Update of Medicine in Nevada, a College Update, and a visit by a top ACP officer.
---
Dean Mitchell D. Forman installed as Master of the American College of Physicians
The 2014 ACP Convocation Program reported:
"Dr. Forman, founding Dean and Professor of Medicine at Touro University - Nevada College of Osteopathic Medicine, is a practicing founding Fellow of the American Colleges of Rheumatology in Osteopathic Rheumatology and a rheumatology professor at several medical schools. He has been active in the College since 1975 and served as committee Chair, Treasurer, Governor's Councilor, Leadership Day, and is active in the medical community. Dr. Forman has been the President of the Clark County Medical Society (CCMS) and is currently the President of the Nevada State Medical Association (NSMA). He was a clinical researcher with numerous competitive research grants, peer-reviewed publications, and worldwide educational lectures and served on two editorial boards. Dr. Forman has received numerous awards, including the American College of Osteopathic Internists' Internist of the Year Award, NSMA Distinguished Physician of the Year Award, the Nevada Chapter Laureate Award, President's awards, the CCMS President's award, Healthcare Heroes Award, and the Nevada Osteopathic Medical Society's Carrison Award. He is an accreditor for the AOA - COCA, serves with nonprofits, and provides free medical care."
A master of multiple worlds, Dean Mitchell D. Forman, DO, FACP, FACR, FACOI, is a superb clinician, a powerful, successful, and omniscient founding medical school Dean, an active community participant, an extraordinary and caring rheumatologic academician, a contributing and active ACP Chapter officer, supporter, and member who also serves on the National ACP Postgraduate/Chapter Education Committee, a strong graduate medical education (GME) proponent, an ethicist, an influential health care advocate and a highly ethical/ moral physician. He has been appointed by each Governor of the State of Nevada to state committees and commissions.
We are delighted that he is the first Nevada physician elected to ACP Mastership while still practicing in Nevada.
---
Joshua Gabel MS III at UNSOM wins ACP National Poster Competition
Joshua Gabel, a third year Medical student at the University of Nevada School of Medicine was the first place winner in the Medical student Clinical Vignette category at the ACP Nevada Chapter Annual Meeting in Reno. He was nominated by the Chapter to participate in the IM 2014 ACP Medical Student Abstract Poster Competition. He was one of five winners in the clinical Vignette category, for which we offer him our congratulations.
Internal Medicine 2014 Medical Student Abstract Competition Poster Winners
Clinical Vignette
Joshua Gabel, University of Nevada School of Medicine
Hepatocellular Carcinoma in an HIV/HCV Co-Infected Patient: A Call for Increased Surveillance.
Joshua writes:
"I am running in the 2014 NYC Marathon to raise funds for 'Doctors Without Borders' and have used the prize money awarded from the National ACP Conference as the initial donation. I drafted a short blurb that will be used in our school's newsletter:
Joshua will be using the financial award from the poster competition as a personal contribution towards fundraising for his charity run in the 2014 NYC Marathon as part of the Doctors Without Borders (Medicines Sans Frontiers) team. If you are interested in supporting this cause or would like more information please contact the student at gabelj@medicine.nevada.edu or visit http://tinyurl.com/runformsf."