You are here
Governor's Column
Governor's Column

| | |
| --- | --- |
| April 2013 | Warren H. Evins, MD, PhD, FACP, Governor |
---
Governor's Column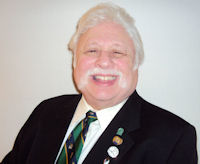 The focus of this newsletter is to encourage attendance at the Internal Medicine 2013 ACP National Annual Meeting in San Francisco and the Convocation for new Fellows, Masters, and awardees, the Doctor's Dilemma™ competition, and the poster and abstracts competitions. Another focus is to report on the January 2013 Nevada chapter annual meeting in Las Vegas at the Las Vegas Simulation Center.
The Nevada Chapter is planning to have two smaller 2014 Annual Meetings: one in Las Vegas and one in Reno. This will be the first ever ACP Annual Meeting in Reno, which I hope will occur on a January 2014, Saturday morning, from perhaps 8 AM to 1 PM, with breakfast included. We need volunteers from the Reno area for the Northern Nevada Program and Planning Committee. Please contact Dr. Warren Evins, Nevada Governor, or Susan Lynch, Executive Director.
I would also like to have a January 2014, Las Vegas meeting on a Sunday morning at Touro University, with breakfast. We need members to help with the Southern Nevada Program and Planning Committee.
The Chapter will continue to have resident and medical student poster competitions in Northern and Southern Nevada. The Doctor's Dilemma™ competition will also be continued, if there are teams that want to participate.
---
Internal Medicine 2013
Program and Pre-Session
The 2013 Internal Medicine Meeting will be held at the San Francisco Convention Center on April 11 to 13, 2013 (Thursday through Saturday). Pre-Session courses will be held on April 9 to 10 (Tuesday and Wednesday), as is the Spring Board of Governors Meeting, which I and our Chapter's Executive Director Susan Lynch will attend. There are many different tracks that one can attend or follow at the IM meeting, ranging from field or specialty, to Leadership Development and practice management talks, to specialty topics. Waxman Clinical Skills Center sessions can also be scheduled, if you sign up early enough at the IM meeting. Types of sessions include Updates, Small Feedings on a few special topics, Meet the Professor sessions, Award talks, PowerPoint presentation slides on dermatologic lesions, imaging studies, urinalysis and diagnostic testing topics, patient management, etc. topics.
Convocation
The Convocation starts around 6:00 to 6:30 PM Thursday. New Fellows are inducted, Awards and Masterships are conferred, and visiting dignitaries are introduced. The new Fellows and Awardees march in and march out of the Convocation in a processional.
Doctor's Dilemma™, Poster, and Abstract Sessions
The Nevada Chapter has entered a Doctor's Dilemma™ team from Reno, the team that won the statewide playoffs, who will compete in a tournament during the IM Meeting. The final round is late on Saturday afternoon around 5:30 to 6:00 pm.
The Nevada Chapter has also entered two resident and two medical student poster entrants, who were the first place winners in our four statewide Poster Competition categories: Resident/Associate Clinical Vignettes, Resident/Associate Research, Medical Student Clinical Vignettes, and Medical Student Research. The first place winners are 1) Associate Research: Dr. Kasaiah Makam, Associate Clinical Vignette, Dr. Faisal Siddiqui, Student Research, Krystle Tuano, Student Clinical Vignette, Dalia Hawwass.
The Poster Competition involves making, displaying, and presenting medical posters. The Abstract Competition is a separate event that involves Resident/Associate presentations of a medical PowerPoint slide clinical vignette or research project. Both events occur throughout the IM meeting.
Another way to participate in the Poster or Abstract Competition is to directly submit the abstract to the ACP, designated for either the poster or abstract competition. Then these abstracts are evaluated by Judges (I was one) and rated. About 15% of the submitted poster abstracts submitters were invited to participate at the ACP IM Meeting.
Chapter Reception
The combined Nevada - Colorado Reception, to honor our new Fellows and to provide a social opportunity for Nevada physicians, is scheduled to occur Friday, April 12, 2013, at 5:30 - 7:00 pm at the ACP Headquarters Marriott Hotel, near the San Francisco Convention Center. Some food and beverages will be served. Come meet and greet other Chapter members and the new Fellows. Often the Nevada attendees go out for dinner after the Chapter Reception. Please attend.
---
2013 Nevada Chapter Annual Meeting
The January 2013 Annual Meeting of the Nevada ACP Chapter had several components. Dr. Molly Cooke, ACP President-elect, came to Las Vegas on Thursday afternoon and met with medical students, residents and medical school faculty on Thursday and Friday at the two Las Vegas medical schools University of Nevada School of Medicine (UNSOM) - Las Vegas and Touro University and the two internal medicine residency programs at UNSOM - Las Vegas and Touro University/Valley hospital medical center. She presented Grand Rounds at UMC on Friday morning and attended a dinner with the Chapter program's speakers and judges Friday evening. Dr. Evins, Nevada Governor, escorted Dr. Cooke. Bob Doherty, ACP Senior Vice President of Government Affairs and Public Policy also gave a very informative talk.
SEP - MOC
A Cardiovascular Diseases Self Evaluation Program - Maintenance of Certification (SEP - MOC) presentation was licensed by the Chapter from the American Board of Internal Medicine (ABIM) for a single presentation, which occurred at UNSOM - Las Vegas on Friday afternoon. The Chapter also presented a heart sound simulation program, with several simulators and modules, at the Saturday meeting at the Las Vegas Simulation Center, which was well received. Several cardiologists taught and supervised the session.
Medical Bingo
Dr. George Sarka, Immediate Past Governor of Southern California Region II conducted a Medical Bingo game with cash prizes at the end of the Saturday program. The questions were based on the scientific presentations at our meeting. This was our Chapter's first ever Medical Bingo Contest and it was great! Unfortunately, it was not very well attended.
Doctor's Dilemma™ - Poster Competition
The finals of the Poster Competition were held Saturday morning at the Annual Meeting. Chief Judge George Sarka, Judge Michael Bloch, and Judge Nicholas Vogelzang officiated. The first place winners in each of the four categories presented ten minute PowerPoint slide presentations to a Plenary Session followed by a question-and-answer session. The first, second, and third place winners all received an ACP published medical book, purchased by the Chapter. First place winners were invited to present their posters at the San Francisco Internal Medicine 2013 Meeting, with up to $1000 provided by the Chapter for expenses. Chapter first place winners don't have to go through a pre-judging application process in order to be able to present a poster at the National ACP Meeting.
The winners were:
1) Associate Research:
1st place: Kasaiah Makam
2nd place: Keerthi Gadam
3rd place: Ruihong Luo
2) Student Research:
1st Place: Krystle Tuano
2nd place: Brooks Beal
3rd place: Kristi Jones
3) Associate Clinical Vignette:
1st place: Faisal Siddiqui
2nd place: Rajeswari Jayaraman
3rd place: Sunayana Reddy
4) Student Clinical Vignette:
1st place: Dalia Hawwass
2nd place: Marc Cerruti
3rd place: Zackary Johnson
Chapter Awards
A luncheon was held at midday followed by a Town Hall discussion featuring ACP President-elect Molly Cooke, MD, FACP; ACP Senior Vice President of Government Affairs and Public Policy, Bob Doherty; Governor Warren Evins, MD, PhD, FACP; Treasurer Mitchell D Forman, D.O., FACP, FACR, FACOI; and Sandy Wahi-Gururaj, MD, MPH, FACP, Program Chair.
Nicholas J. Vogelzang, MD, FACP received the Chapter Laureate Award, a beautiful plaque and an engraved medallion. Sohail U. Anjum, MD, FACP, FACC, received the Chapter Volunteerism and Community Service Award, a certificate, and a book published by the ACP Press signed by the editors.
Exhibitors, Sponsors, and Grants
Exhibitors, sponsors, and grants have been declining markedly over the past four years for our Chapter's Annual Meetings. This meeting we had NO grants, NO sponsors, and only ONE exhibitor from a pharmaceutical company.
Meeting Costs
Our meetings are quite expensive. Continuing Medical Education (CME) credits and the Las Vegas Simulation Center rental were purchased from UNSOM, for about $4000. Food cost about $5000, including speakers and judges meals. We also covered travel and hotel for the speakers and judges, and hotel and local transportation costs for the out-of-town Poster Presenters and Doctor's Dilemma™ competitors (WHO WERE CHAPTER MEMBERS, as was required for participation in the competitions). Prizes for Poster and Doctor's Dilemma™ winners (first, second, and third places) was about $6000, not including judging costs. We also had printing, mailing, signage, supply, SEP - MOC, and other costs. So the meeting cost around $20,000 and the Chapter usually receives around $22,000 to $24,000 in membership dues. Residents pay significantly reduced dues and most retired and medical student members paid no dues. The Chapter also pays for a very part-time Executive Director, and receives a partial stipend to reimburse a portion of our part-time Executive Directors expenses.
Meeting Attendance
Despite our exceptional program, total meeting attendance was down for the third year. The percentage of attendees staying to the end of the program was up a little, probably due to the exciting Medical Bingo program, but was still disappointing.
We are all perplexed as to the reason for this. Perhaps, it's because we offer too many CME credits and have a meeting that is, consequently, too long. I don't know!
The SEP - MOC program which we offered for free to all meeting registrants costs the Chapter a one-time use licensing fee, but has not been well attended either. The maximum attendance over the past two years (cardiovascular diseases and gastrointestinal diseases - GI) was only seven.
That's why I'm going to try to have a shorter, less expensive program in 2014, both in Las Vegas at Touro University on a Sunday morning and in Reno on a Saturday morning.
---
Volunteers in Medicine of Southern Nevada (VMSN)
VMSN is a free, Las Vegas based federally certified clinic offering primary care medical services to under-insured and uninsured non indigent patients. VMSN is an ACP Nevada Chapter designated Volunteerism project, that I participate in. Medical personnel are covered for malpractice insurance under the Federal Tort Claims Act, if they apply through VMSN.
More volunteers are needed. A few primary care physicians are volunteers, but very few specialty and subspecialty physician have volunteered. The clinic offers primary care medical care, many laboratory services, many imaging studies, and medications, often through the pharmaceutical manufacturers (PAPs) Patient Assistance Programs (a paperwork intensive application).
---