| | |
| --- | --- |
| June 2013 | Warren H. Evins, MD, PhD, FACP, Governor |
---
Election of the Next ACP Nevada Chapter Governor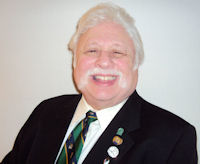 The Nevada ACP Chapter will elect its next Governor in August 2013, who will serve as Governor-elect designee until April 12, 2014 (after the IM 2014 meeting), then become Governor-elect. I will retire as the Nevada Governor after the 2015 Internal Medicine Meeting in Boston, Massachusetts. The newly elected Governor will take office after the IM 2015 Meeting on May 2, 2015, ACP's Centennial year (as ACP was founded in 1915), and will serve a four year term ending in 2019.
I am delighted to announce that our chapter has selected founding Dean Mitchell D. Forman, DO, FACP, FACR, FACOI, of Touro University, and Associate Dean Evan M. Klass, MD, FACP, of the University of Nevada, Reno, to be our candidates for the position of Governor-elect. This Newsletter has a vision statement and a bio-sketch of each candidate, in alphabetical order.
---
Mitchell D. Forman, DO, FACR, FACOI, FACP
Vision Statement
As Governor of the Nevada Chapter of the ACP, my Vision will be to carry the torch lit by my predecessors. I will endeavor to bring internal medicine in Nevada to the next level by strengthening the relationship between the ACP and its membership including medical students, residents, fellows, practicing internists and academic physicians. Facilitating their membership and active participation is critically important to the growth, effectiveness and in assuring the future of the Nevada Chapter. Making the Nevada ACP Chapter more relevant to its members will empower them. There is strength in numbers, particularly at a time when the future of healthcare and the practice of medicine is rapidly changing. I will be a strong advocate for the growth of internal medicine, not just its survival, by keeping ACP members informed of the relevant political, economic developments and health laws that affect healthcare and their practices, by soliciting their opinions, and in communicating more effectively with the ACP National leadership.
Bio
Mitchell D. Forman, D.O., FACR, FACOI, FACP, is the founding Dean of Touro University Nevada College of Osteopathic Medicine, the largest medical school in Nevada. Dr. Forman has been active in the Nevada Chapter of the ACP since moving to Nevada, being the current Nevada Chapter Treasurer, Chair of the Finance Committee, and Assistant Vice-Chair of the Governor's Advisory Council. He has been a speaker/faculty member for every Nevada Chapter Annual Meeting since his relocation to Nevada, presenting outstanding talks on Ethics & Professionalism, as well as topics in rheumatology. Dr. Forman serves on the National ACP Postgraduate/Chapter Education Committee. He was influential in making SOIMA (Student Osteopathic Internal Medicine Association), Touro University's IMIG (Internal Medicine Interest Group), a Nevada Chapter affiliated active participant. Dr. Forman has been a leader of every group in which he has been active. He is the Nevada State Medical Association (NSMA) President - elect for 2013 - 2014 (the 2nd DO in its 111 year history), on the Board of Directors of the American College of Osteopathic Internists, a member/evaluator of the American Osteopathic Association's Commission on Osteopathic College Accreditations, past President of the Clark County Medical Society, and a Board Member of Health Insight. Dr. Forman has earned many awards including the 2012 ACP Nevada Chapter Laureate Award, the NSMA's 2009 Distinguished Nevada Physician-of- the Year Award, 2006 Healthcare Heroes Award, Best Doctors in Las Vegas for the past three years, the American College of Osteopathic Internists Internist of the Year, among others. Prior to becoming Dean, Dr. Forman was an active researcher and academician, who published in many peer-reviewed journals. He served on several Journal Editorial Boards. He has been appointed by each Governor of the State of Nevada to state committees and commissions. Dr. Forman is a Board Certified Rheumatologist and continues to practice rheumatology in Clark County.
---
Evan M. Klass, MD, FACP
Vision Statement
I am honored to be nominated for the Governorship of the American College of Physicians Nevada Chapter. Being an ACP member and Fellow for 35 years I consider ACP to be my professional home. My current role as Associate Dean for Statewide Initiatives at the University of Nevada School of Medicine has provided me with an extraordinary opportunity to observe and impact the education and training of the next generation of Internists. I have also recognized the staggering disparities in health care availability in rural Nevada and within our largest population centers.
The 21st Century internist will be significantly different from the 20th Century internist. As a community physician for the first 25 years of my career, I have a wonderful perspective from which to contribute to this evolution. My professional experience and commitment to working to build the Nevada healthcare workforce motivates my seeking the Governorship of our Chapter.
Bio
BORN: New York, NY; MD: New York Medical College, 1976; INTERNSHIP/RESIDENCY: Internal Medicine, 1976-1979. Long Island Jewish Medical Center; CHIEF RESIDENT: Internal Medicine, 1979-1980. Long Island Jewish Medical Center; FELLOWSHIP: Endocrinology/Metabolism, 1980-1982. George Washington University Medical Center, Washington Hospital Center, V.A. Medical Center- Washington, D.C., National Children's Medical Center; CERTIFICATION: Internal Medicine, 1979. Endocrinology/Metabolism, 1983; PRESENT POSITIONS: Associate Dean, Office of Statewide Initiatives; Program Director, Project ECHO-Nevada; Chief, Division of Endocrinology, Diabetes and Metabolism; Associate Professor of Medicine, University of Nevada School of Medicine; ACP FELLOWSHIP: 1990; CHAPTER ACTIVITY: 2012- Annual Meeting Poster Competition Judge; 2014- Annual Meeting Planning Group; HOSPITAL/COMMUNITY SERVICE: Attending Physician, Renown Regional Medical Center; Community Advisory Board, Renown Regional Medical Center; Medical Advisor/Faculty, St. Mary's Medical Center Community Diabetes Education Program, 2008-present; Renown Regional Medical Center Institutional Review Board, 2010-2013; OTHER APPOINTMENTS: Interim Chairman, Internal Medicine, University of Nevada School of Medicine-Reno, 2010-2012; Board Member, Nevada Chapter, American Association of Clinical Endocrinologists; PROFESSIONAL INTERESTS/EXPERTISE: Management of thyroid cancer; Thyroid imaging; Management of pituitary tumors