The Chapter Centennial Legacy Award celebrates ACP's centennial by recognizing one seminal chapter member whose service to the chapter had a significant impact on the chapter's viability. This individual should exemplify ACP's core values including:

Leadership
Excellence
Respect
Compassion
Professionalism
Responsibility
Read about the state awardee and join us in congratulating him.
---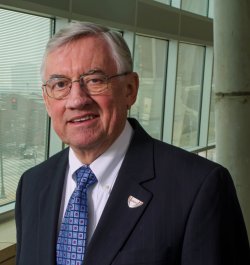 The Nebraska Chapter is proud to nominate Rowen Zetterman, MD, MACP for the Chapter Centennial Legacy Award. He served as Nebraska Chapter Governor from 1992-1996 and then Chaired the Board of Governors. His following six years on the Board of Regents culminated as chair. He currently is an ACP Delegate to the AMA. He has supported internal medicine in Nebraska in numerous ways including leadership positions at both Medical Schools and the Omaha VA. He was President of both the Metropolitan Omaha Medical Society and the Nebraska Medical Association. He presently leads a group convened by the State Legislature studying transformation of Nebraska's healthcare system.
Particularly admired for his professionalism and integrity, Dr. Zetterman is a thoughtful, compassionate physician who has always put the patient first. He exemplifies the qualities embodied by this award.
More about the Chapter Centennial Legacy Award:
Award Booklet - full listing of winners
Press Release Template - for Chapter use