You are here
Nebraska Governor's Newsletter September 2016
Nebraska Governor's Newsletter September 2016

---
---

Marvin J. Bittner, MD, FACP, ACP Governor
---
From the Governor
The American College of Physicians must face a paradox.
Consider this: We describe ourselves as a "College." Our formal convocation at our annual national meeting is marked by processions in academic gowns. Our criteria for special recognition of our members as Fellows are criteria that emphasize medical knowledge. We have a bevy of activities—starting with meetings and publications—centered about the dissemination of knowledge. Stated simply, the ACP is knowledge organization.
In the era of the Internet, though, we must ask ourselves: What's the point of having an organization to disseminate knowledge? Why edit journals when anyone can create a blog or set up a website like KevinMD.com? Why have face-to-face meetings when anyone can have webinars?
Why not fold our tents . . . and let internists exchange information on the Internet? What's the value of what we do as an organization?
Experiences of the past few months have shown me some of the answers to these questions.
Recently, we had an opening in our infectious diseases fellowship program. We got the word out that there was an opening, and we looked for applicants. We used word of mouth. We used the Internet. We even paid for ads in an old-fashioned medium, a print journal, the ACP Hospitalist. Just a few weeks ago, we interviewed an applicant, and he signed a letter of intent. How did he find us? Through the ACP's old-fashioned paper publication, the ACP Hospitalist.
Thinking about that success story, I realized that the Internet does not replace all other previously known methods of disseminating knowledge. Different people have different learning styles. Some people will access MKSAP online. Others will study it at a desktop computer. Still others will thumb through the paper version—which I see again and again in the hands of internal medicine residents with whom I work. We found a prospective ID fellow who was comfortable with a paper publication.
There are some things that the Internet does very well. Think about our traditional journal, Annals of Internal Medicine. The Internet accelerates the process of submitting and editing manuscripts. Delays for the postal service to deliver paper manuscripts and critiques are a thing of the past. There are other situations, though, where traditional approaches have advantages. At our Nebraska chapter annual meeting, we're attempting to demonstrate point of care ultrasound. The hands on experience, I think, will mean a lot more than watching videos. While I can't promise that every lecture at our annual meeting will be a gripping, inspiring experience, I know that some lecturers can communicate in a way that no two-dimensional video can ever do. I still remember some of the inspiration I got from attending a Michigan ACP meeting when I was a resident.
What I've come to realize is that the Internet does not supplant the traditional activities of the ACP in strengthening internal medicine as a knowledge-centered field. On the contrary, it is a tool that can make our organization even more productive than ever.
---
Health and Public Policy – Mary Huerter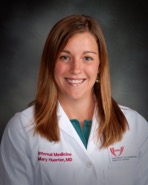 A delegation of eight Nebraska ACP members attended Leadership Day in Washington, DC May 3-4, 2016. The group included some who had attended before - Drs. Bill Shiffermiller, Tom Tape, Mary Huerter, Rich Seitz, and Micah Beachy - as well as members who were new to Leadership Day - Drs. Nathan Anderson, Haitam Buaisha, and Stephanie Windish. Drs. Buaisha and Windish are internal medicine residents at Creighton University who were able to attend thanks to a newly-established grant funded by the Nebraska Chapter which enables up to two house officer members this chance to engage in the ACP and health advocacy.
Leadership Day is ACP's annual advocacy event during which physicians from across the U.S. travel to the nation's capitol to lobby their representatives regarding issues of importance to internists and our patients. The major policy issues addressed at Leadership Day this year were:
Improving chronic care management by improving reimbursement, eliminating cost-sharing, and reducing regulatory burden,
Enhancing usability and interoperability of the electronic health record by reducing the burden associated with meaningful use regulations and clinical documentation requirements,
Eliminating payment and regulatory impediments to the use of telemedicine to improve care and enhance the patient-physician relationship, and
Reducing barriers to the integration of behavioral health into the primary care setting and addressing the deadly impact of opioid abuse.
The physician delegation from the Nebraska Chapter visited the offices of Senators Deb Fischer and Ben Sasse and Representatives Jeff Fortenberry (1st district), Adrian Smith (3rd district), and Brad Ashford (2nd district). The delegation's concerns were well received by the staff for all of our representatives.
Physicians from the 2nd congressional district were heavily represented among this year's delegation. We would love to see the delegation for Leadership Day 2017 include more representation from the 1st and 3rd districts. Your voices are essential to communicate the implications of national health policy for physicians and patients in rural Nebraska.
Leadership Day 2017 will be held May 23-24, 2017 in Washington, DC. Contact Nebraska chapter Executive Director Kris Rahm or (605) 339-9804 to learn more.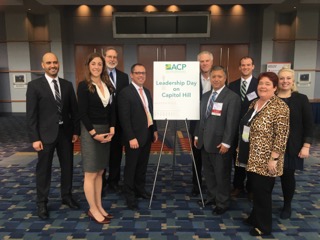 NE ACP members attend Leadership Day – Haitam Buaisha, Mary Huerter, Tom Tape, Micah Beacy, Bill Shiffermiller, Rich Seitz, Nathan Anderson, Kris Rahm and Stephanie Windish.
---
Early Career Physicians – Lauren Nelson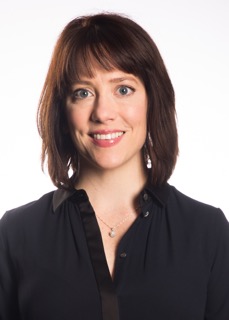 With the end of summer too quickly approaching, the Council of Early Career Physicians is gearing up for a few new events this fall.
Marc LeFebvre, CFA will be presenting "What Every Early Career Physician Needs to Know about a Personal Financial Plan" Tuesday, September 13th at Brix Midtown, 220 S. 31st Ave, Suite 3101, starting at 6:00 pm.
Please join us for drinks and good company while we learn a few useful financial tips to navigate the world beyond school loans. Please see Marc's bio below. We anticipate that this will be a very fun and educational event.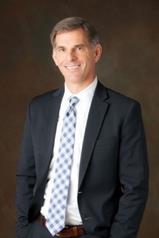 Marc A. LeFebvre, CFA began teaching CFA review courses to the European private banks in 1995. After 22 years of helping candidates achieve their goal of earning the CFA designation, he started LevelUp, LLC. With over two decades teaching CFA curriculum, Marc learned there are no shortcuts to passing the Level III CFA exam. As years of experience accrued, he saw candidates struggle with the complexity of the Level III exam and saw the need for a different approach to preparing the Level III candidate for success. At the same time Marc was teaching CFA review courses around the globe, Marc spent 15 years in the investment profession working in investment banking, strategic development, pension management and private wealth management. He is a CFA Charterholder since 1994. Marc earned his Master's of Finance from Boston College and his BA in Economics with honors from the University of Colorado, Boulder. Marc taught undergraduate and graduate finance courses at a university in Omaha, NE since 2003.
October brings the Nebraska chapter meeting. This year, the CEPC is sponsoring 3 speakers on topics relevant to early career physicians. In addition, we are holding an abstract competition for early career physicians, with the winner giving a 20-minute oral presentation at the conference. Abstracts will be accepted in the categories of basic research, clinical research, cost conscious care, patient safety, and clinical vignettes. Whether you are practicing in an academic or private practice, this is a great opportunity to get involved in ACP, share interesting findings, and even speak at the chapter meeting. For more info.
The CEPC is looking forward to hosting more informative and social events throughout the year, including a happy hour for women in medicine, so stay tuned.
Let us know how you would like to get involved. Please email me at nelson.lauren08@gmail.com.
---
From a Student's Perspective: Organized Medicine - The Other Hidden Curriculum - R. Logan Jones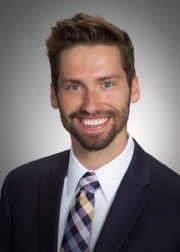 One of the large movements in medical education today is to integrate Health Systems Science into undergraduate medical education. Health Systems Science (AKA the "Third Science", after the basic and clinical sciences) is a term meant to encompass the other sets of knowledge, skills, and attitudes beyond clinical acumen that future physicians will need to draw upon to practice in our ever evolving and complex health system. However, medical schools across the nation are struggling to find ways to create curriculum that effectively inculcates their students with working knowledge in domains such as population & public health, professionalism & ethics, and healthcare policy, economics, & management. While these skills are proving difficult to imbed in a medical school curriculum, established clinicians today have managed to accrue these skill sets without having gained them through formal education. It has been my observation that one of the most effective ways to learn these skills is not through curricular design, or even via the "hidden curriculum" of medical school, rather I've found the best method to be extracurricular – through involvement in organized medicine.
One of my passions in life is education – I plan on pursuing a career in academic medicine at the end of my training. As such, I've spent a significant portion of my free time learning about the problems that face medical educators and helping to find solutions. Naturally, most of my time doing so is spent in the context of organized medicine. Although medical education has been the lens through which I've engaged in these activities, it's not to say that my engagement hasn't also exposed me to broader experiences that have given me insight to the health system sciences. My personal journey has been taught me loads through a medley of varied experiences: gaining knowledge from the countless morning newsletters published that help me to stay informed on important topics in healthcare, refining my leadership skills by working with other leaders at a chapter and national level, beginning to form a sense of professional identity under fantastic mentors, and learning about healthcare policy and economics through advocacy work for our profession and patients. Granted I've learned so much from these great experiences, I cannot overstate how true the old adage "You get out what you put in" rings true with organized medicine.
Unfortunately, my story is atypical. Any survey of a medical school will likely show that the average student's deepest level of engagement with organized medicine is a lunch meeting. If a "free lunch" is all students take away from organized medicine, they are missing the core aspect of what makes it such a powerful learning opportunity and instrument of change. Thus, as our educational system is striving to insure that each of our medical graduates enters clinical practice with a working knowledge of Health System Science, now more than ever is the time to encourage new medical trainees to become involved in organized medicine. As engaged members ourselves, we should be mindful to mentor those behind us along the educational continuum; to find and foster their passions that can translate into sustainable engagement. Ultimately, while the byproduct of participation is professional development and a deeper understanding of Health System Science, the true fundamental purpose of organizations like our ACP is shall always remain to coordinate the efforts of passionate men and women "to enhance the quality and effectiveness of health care by fostering excellence and professionalism in the practice of medicine".
---
Call for Spring 2017 BOG Resolutions
Are you concerned about a practice or clinical issue or have an idea you'd like to suggest? If so, you might consider submitting a resolution to your Governor or chapter council.
Initiating a resolution provides ACP members an opportunity to focus attention at the ACP national level on a particular issue or topic that concerns them. Participating in the Board of Governors resolutions process provides the ACP grassroots member a voice and allows you to shape College policy that impacts the practice of internal medicine.
Members must submit resolutions to their Governor and/or chapter council. A resolution becomes a resolution of the chapter once the chapter council approves it. If effecting change interests you, the deadline for submitting new resolutions to be heard at the Spring 2017 Board of Governors Meeting is September 28, 2016.
Share your good idea with us. Draft a resolution.
---
Congratulations to Our Newest Nebraska Fellows
Joel D. Armitage, MD, FACP, Omaha
Tamara Doehner, MD, FACP, Omaha
Andjela T. Drincic, MD, FACP, Omaha
Lindsay C. Northam, MD, FACP, Omaha
Sarah E. Richards, MD, FACP, Omaha
Abby Shiffermiller, MD, FACP, Omaha
Christopher J Smith, MD, FACP, Omaha
Edward J. Taylor, MD, FACP, Omaha
---
Welcome to our Newest Members
Abd Abdelrahman, MD, Omaha
Anas A. Ahmed, MBBS, Omaha
Amer Alshekh Mousa, MD, Omaha
Mahesh Anantha Narayanan, MBBS, Omaha
Nathan Anderson, MD, Omaha
Mohamed Ayan, MBBCh, Omaha
Ashley K. Bansal, MD, Omaha
Priyanka Borah, MD, Omaha
Brady Bulian, Omaha
Jodi Cantrell, MD, Omaha
Mohammed A.R. Chamsi-Pasha, MD, Omaha
Lorinda Covell, MD, Omaha
Brittany R. Folks, MD, Scottsbluff
Melissa Hernandez, MD, Omaha
Gina J. Huss, MD, Omaha
Umajyothi Indukuri, MBBS, Omaha
Nikhil Jagan, MBBS, Omaha
Amjad Kabach, MD, Omaha
Nabin Khanal, MBBS, Omaha
Afoma J. King, MD, Omaha
Rajesh Kunadharaju, MBBS, Omaha
Jill Lagrange, MD, Omaha
Akshai Lakhanpal, MD, Omaha
Toufik Mahfood Haddad, MD, Omaha
Kara Markin, MD, Omaha
Mohsin M. Mirza, MBBS, Omaha
Kailash Mosalpuria, MBBS, Omaha
Chelsea R. Navarrette, MD, Omaha
Tosan F. Oyowe, MD, Omaha
Steven Paulmeyer, MD, Omaha
Samuel J. Pierre, MD, Omaha
Keenan Taylor, MD, Omaha
Smrity Upadhyay, MBBS, Omaha
Noah A. Wiedel, MD, Omaha
Ming Zhao, MD, Omaha
---
Important Dates – Mark your Calendars
September 13 - Early Career Physicians Meeting, Brix Midtown
October 26 - Fall Council Meeting Sheraton, Omaha
October 26-28 - Chapter Scientific Meeting Sheraton, Omaha
March 30 - April 1 - IM 2017 San Diego, CA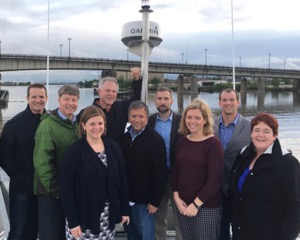 Nebraska members enjoy cruising the Potomac during Internal Medicine 2016 in Washington, DC.
---
Annual Scientific Chapter Meeting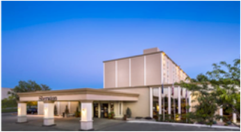 Meeting Brochure & Registration
October 26-28, 2016
Meeting Site:
Sheraton Omaha
655 N. 108th Ave.
Omaha, NE
Reservations: 402-496-0850
Rooms Released September 26, 2016