You are here
GOVERNOR'S NEWSLETTER August 2015
GOVERNOR'S NEWSLETTER August 2015

---
---
From the Governor

William A. Shiffermiller, MD, FACP, ACP Governor
Dear Nebraska Colleagues,
Nothing seems to be status quo in medicine any longer. And the more things change the more the value of the ACP, which speaks powerfully for internists as well as our patients, becomes apparent. You can be proud to be members, fellows and masters in the college!
Marvin Bittner's encouragement to weigh in contained in this newsletter has never been more important! I look forward to seeing you at the combined South Dakota/Nebraska chapter meeting in Omaha this fall (see details below).
Please take a moment to look at the offerings noted below that seem especially useful in moving our professional education along.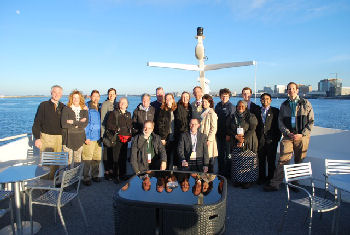 Boston 2015 Reception
---
From the Governor-Elect

Marvin Bittner, MD FACP, Governor-Elect, Nebraska ACP
Some of you know that, nearly two years ago, I accepted a seven-month assignment to fill in as Acting Chief of Staff at the VA Medical Center. That assignment gave me a close look at physician credentialing (and re-credentialing).
Much of credentialing was the accumulation of large collections of documents for each physician. The size of the collections impressed me. So did the care with which our key staff member assembled each collection and made sure it was complete.
I suspect you're already familiar with aspects of credentialing if, like most of us, you are on a hospital staff. You know that it involves a lot of forms, whether paper or electronic.
Why do we do all that work?
Frankly, I think re-credentialing is largely a waste. I've got my doubts about the initial credentialing process, too. This year I paid attention to the initial credentialing process for one of our fellows who transitioned to faculty status. You'd think this transition, in the same institution, would be a snap. Yet the credentialing path was so tortuous that weeks passed from the last day of the fellowship to the first day he could legitimately see patients as an attending physician.
Why does the credentialing process need to be so elaborate? Why does re-credentialing need to occur every two years? Couldn't it be less frequent? Why?
You want to know the answer? Look in the mirror.
Much of the credentialing and re-credentialing process is mandated by the Joint Commission. What is the "Joint" in "Joint Commission"? The "Joint" refers to the corporate members of the Joint Commission: the American Medical Association, the American Hospital Association, the American College of Surgeons, the American Dental Association, and-pay attention-the American College of Physicians. That's right-us!
In the words of Walt Kelly's old "Pogo" comic strip: "We have met the enemy and he is us."
Do you realize that the ACP-in addition to its important educational and scientific roles-has an important advocacy role? We have an opportunity to speak out nationally in a voice much louder than that of any of us speaking as just one physician. Wearing our advocacy hat, we have a special opportunity to rein in the excesses of the Joint Commission. We are part of the "Joint." ACP's resolutions have impact.
In this edition of the newsletter, you can read about some resolutions under consideration at the national level. Want to contribute to the debate? Send your comments to Bill or me. Want to develop a resolution yourself? Do you want the ACP, for example, to call for replacing biennial re-credentialing with quadrennial re-credentialing?
Speak up . . . and get the voice of one of the largest physician organizations in the country on your side!
---
Health & Public Policy Update
Each year, ACP Services organizes an advocacy event in Washington DC that helps ACP members meet with their Senators and Congressmen/women to discuss internal medicine health policy. ACP Services, an entity funded separately from ACP itself, provides advocacy and related services to internist-members. This year's Leadership Day took place on May 21st. Nebraska internists were again well-represented but we still lacked a colleague from district 3, a shortcoming we hope to remedy in 2016. Our group consisted of two traditional practice internists, three academic internists, one private hospitalist, one infectious disease specialist, one resident, and a sophomore medical student. The group included our Governor, Dr. William Shiffermiller, Chair-elect of the ACP Board of Regents, Dr. Thomas Tape, and ACP's 2015 advocacy intern, Dr. Mary Huerter (click for Mary's perspective).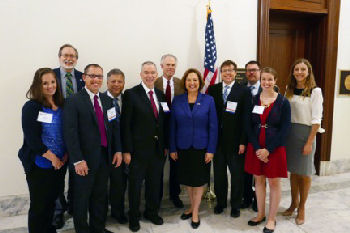 Nebraska Delegation with Senator Fischer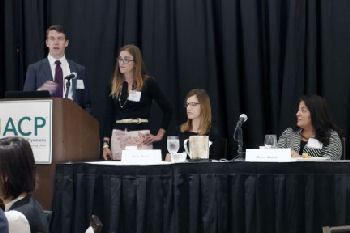 Leadership Day Student/Resident Orientation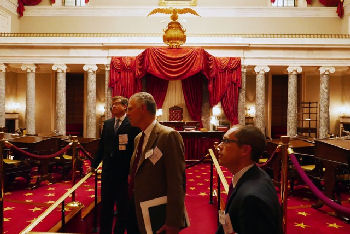 Jason Shiffermiller, Bill Shiffermiller and Micah Beachy
In April of this year, about a month prior to Leadership Day, the Medicare Access and CHIP Reauthorization Act of 2015 (MACRA), H.R. 2, was passed by the Senate and signed into law. This new law eliminated the SGR formula that had been the primary focus of our advocacy activity for the past 10 years. MACRA replaced the SGR with an ACP-supported plan for transition to alternative payment systems over the next 5 years. An outline of the new payment models, including an explanation of MIPS and APMs, can be found on Bob Doherty's ACP Advocate newsletter.
Despite elimination of the SGR, there are a number of issues that need the attention of our federal legislators. At the end of last year, only about two years after it went into effect, Medicaid pay parity expired. As of this year, Medicaid is again paying just 76% of Medicare rates for primary care services in Nebraska. At the end of this year, the Medicare Primary Care Incentive Program will also expire. Since 2011, Medicare has been paying a 10% bonus on primary care services. Taken together, these two expiring programs will result in a significant decrease in primary care reimbursement. Because another major cut to reimbursement (the SGR) was just eliminated, these payment issues received a fairly unenthusiastic response from our lawmakers. An issue that our Senators and Congressmen were more interested in discussing was reform of graduate medical education (GME) funding. Residency positions are currently funded primarily by Medicare and there is no mechanism for distributing the slots in a way that addresses the needs of the physician workforce. ACP has developed a policy that recommends funding of GME by all stakeholders and distribution of residency slots based on specialty shortages.
If you wish to contact your Senator or Congressman concerning any of these issues, more detail can be found on the ACP Services website.
Elimination of the SGR and the bipartisan support that MACRA generated serve as evidence that our advocacy efforts do have an impact. I personally invite any of you who are interested in federal healthcare policy to attend Leadership Day in 2016.
Jason Shiffermiller, MD, FACP, Chair, NE ACP HPPC
---
Student Member Attends Leadership Day
This May I had the opportunity to attend ACP Leadership Day as Nebraska's student representative. I came upon this opportunity after serving as one of UNMC's Internal Medicine Interest Group presidents where one of my priorities was to develop a closer relationship between the group and the ACP. We were able to hear from our Governor, Dr. Bill Shiffermiller at our September meeting where he spoke to medical students both about the opportunities within internal medicine and the benefits of being an ACP student member. Hopefully this tie between the ACP and the UNMC students will continue to grow, as the newly elected leaders of the interest group are planning to continue building this relationship during the upcoming academic year.
Attending Leadership Day served as my first time in Washington and my first dabble in politics. The two-day event was incredibly student-friendly and kicked off with morning sessions that were specifically designed to bring students and residents up to speed on the current relevant legislation followed by an afternoon hearing from leaders of the ACP and from influential people on Capitol Hill. I felt extremely humbled to have the opportunity to hear these individuals speak in preparation for our meetings with our state senators and representatives that would take place the following day. We also had the opportunity to role-play positive and negative scenarios in order to prepare for the meetings.
The following day began with a meeting with Deb Fischer. It was intimidating to begin the day with the elected official herself, instead of an office staff member, but it was a positive experience. The experienced physicians I was with did their best to keep the meeting on track and to state the ACP's views on pertinent bills, but having such a limited amount of time with the senator left a few topics untouched. The rest of the day was spent meeting with Ben Sasse's staff and with the staff members of the Representatives. All of the meetings left me wondering if our legislators viewed our push for extending GME funding as an important change or if we were just one of the many groups who lobby on Capitol Hill every year to no avail. One of the physicians I was with made a point that really stuck with me though, stating that if you don't tell your elected officials what you want to see them support, they will think that you, along with everyone else, agree with their decision making. Even if we weren't contributing to immediate changes, at least we were planting the seed for physicians and students at future Leadership Days to promote the same legislation.
The most important thing that I learned from the past year working with the ACP is that it's never too early to actively engage in healthcare politics. As a medical student, it's easy to leave the big issues for someone more experienced to handle, but I've learned that the changes that groups like the ACP are trying to make are going to have the most impact on my generation of physicians who have our entire careers in front of us. If we want to practice in a functional, economically sustainable healthcare system that meets the needs of our patients, and ourselves then we need to speak up and contribute to the positive changes that the ACP is lobbying for.
Samantha Pilmaier, MSIII
---
Early Career Physician Council Update
I hope everyone's summer is going well. It's hard to believe that school will soon be starting again. With the passing of the summer means the chapter meeting is quick approaching. This year the ECP Council is sponsoring a welcome reception at Midtown Crossing - 200 S. 31st Ave. Come and mingle with fellow internists from Nebraska and South Dakota alike as we kick off the meeting activities.
Other items the ECP council is working on include re-evaluating the value of membership and revitalizing the structure of the chapter meeting. Are there services you would like ACP to evaluate for partnership such as student loan consolidation or personal finance? What type of content encourages you to attend the chapter meeting? Would you like to have more interactive sessions such as workshops during the meeting? The ECP council is interested in hearing your thoughts. Send comments. I hope to see many of you this September at the chapter meeting in Omaha.
Micah Beachy, DO FACP, Chair, Council of Early Career Physicians
Council of Early Career Physicians: Regan Taylor, MD FACP,Christopher Smith, MD, Chad Reade, MD, Lauren Nelson, MD, Jason Lambrecht, MD, Trek Langenhan, MD
---
Retain and Recruit
100 excellent years in advocating for patients and physicians wellbeing and the ACP continues continue to keep giving. With more than 140,000 active members, the ACP is one of the strongest medical associations in the US and the number one supporter of Internal Medicine physicians. The latest accomplishment being the Medicare's archaic physician payment formula, known as the Sustainable Growth Rate (SGR), has been repealed in spring of 2015.
Nebraska ACP chapter is one of the strongest nationwide chapters with the percentage of physicians who are active members. It has organized successful and very well received scientific meetings over the years, where members and guests engage in a very educational seminars presented by expert physicians in their fields, in addition to offering points for maintenance of certification "MOC" and CME.
This year we celebrate the launch of a new membership committee, with a purpose to keep the Nebraska chapter strong and active. On behalf of the Nebraska ACP council I like thank the elite group of physicians who joined the committee from all over the state; Dr. Melvin Campbell, Dr. Rade Neamu, and Dr. Lisa Scheppers for being the first members of the committee, and their commitment for the Nebraska ACP chapter mission in reaching to our colleagues state wide elaborating and expanding the Nebraska ACP membership.
National ACP has created a new website that explains the benefits of joining ACP to help recruit and retain members.
In addition, a new ACP recruiting program offers the following recruitment benefits until March 15, 2016:
Receive a $100 credit toward your 2016-17 annual dues when you recruit one member
$200 credit toward your 2016-17 annual dues when you recruit two new members
$300 credit toward your 2016-17 annual dues when you recruit three new members
Free membership in 2016-17 when you recruit four or more new members. For more details.
We encourage members who are planning to attend the scientific meeting this year to invite guests to attend, non-members guests benefit from special registration fees. For more information, please contact Kris Rahm.
To celebrate the multidisciplinary approach of modern medicine, ACP now offers Affiliate membership to non-physician health care professionals; this includes nurses, nurse practitioners, physician assistants, and other health care providers. All members benefit from access to unlimited educational resources and evidence based guidelines.
Last but not least, the membership committee takes on the responsibility of identifying and advancing nominations of physicians who are eligible for ACP fellowship. Please reach out to the committee members for nominations of our colleagues who are active members of ACP, and resemble the role model providers that the ACP aspires for, to be advanced to fellowship. More information.
---
Annual Scientific Meeting - September 16-18, 2015 - Omaha, NE
It's that time of year again…..time to start planning to attend the Nebraska ACP Scientific Meeting. This year we are partnering with South Dakota, and I want to personally invite each of you to our joint meeting on September 16-18 in Omaha.
Meeting highlights include:
ABIM MOC module on Geriatrics.
ACP Regent Bob Centor provides a College update and speaks on "Cognitive Psychology of the Diagnostic Process".
MACP Donna Sweet presents "HIV & Primary Care" and "What Is, and Who Defines, Quality Medicine."
ACP Sr. Vice President Bob Doherty speaks on the latest in ACP advocacy efforts.
Other great sessions and topics include Doctor's Dilemma, Have I Got A Case For You!, Liver Diseases and Their Treatment, Rheumatology Update, Cutaneous Manifestations of Systemic Disease, Physician Burnout, Update in Hospital Medicine, COPD Diagnosis and Management and Clinical Management of Patients with Ebola, and more.
Many opportunities to network and share ideas. Meeting details can be found in our brochure.
Here is a direct link to the registration site.