You are here
Montana Governor's Newsletter November 2016

---
---

Pam Hiebert, MD, FACP, ACP Governor
---
From the Governor
We had a fantastic fall 2016 ACP Montana Chapter Scientific Meeting in Helena.
We started with three very interesting case presentations by Helena physicians. Dr. Robinson discussing adrenal nodules, Dr. LaClair discussing an interesting case of renal failure after a fever, and Dr. Fenton discussing an interesting case of endocarditis.
Next, Karl Rosston, Suicide Prevention Coordinator with the Montana DPHHS informed us about suicide prevention strategies, screening and treatment. Montana continues to be at the top of the nation with the highest suicide rates per capita. Please contact him if you would like information on tools and posters, (406) 444-3349, krosston@mt.gov.
On Friday morning we had two great lectures on sepsis. Dr. Simpson and Dr. Toman helped clarify all the new confusing guidelines. Early detection is essential for successful management.
Dr. Paauw discussed common medical myths, including the myth that patients on metronidazole should not consume alcohol. There is no data to support this myth and in fact one study was done with medical students with metronidazole plus alcohol with no adverse effects. (They received free beer out of the deal)
Julie Campbell 4th year WWAMI student gave an excellent presentation on her research in Dillon on a successful community wide advance care planning project.
Dr. Carrie Horwitch gave a presentation on physician wellness, with a mindfulness demonstration as well as laughter therapy. Physician wellness is a top priority goal of ACP.
Dr. Winton was almost able to "stump" our esteemed professor Dr. Pappas with a very interesting case of mirantic endocarditis.
Natalie Munger 3rd year WWAMI student gave an inspiring presentation of a case of a patient navigating cancer with the help of palliative care.
Dr. Hollan gave a balanced update of opioid use in non-cancer pain, and the controversies surrounding proper use and abuse of opioids.
Dr. Dietrich gave an excellent presentation on palliative care and prognostication. She describes new tools to help us give patients and families a clearer understanding of the most likely prognosis of their future.
We had an inspiring Awards dinner. Brett Kronenberger, MD, FACP received the Laureate award for her work with ACP and MMA and general advancement of hospitalists in the state, teaching and other achievements. Kathryn Borgenicht, MD, FACP received the Lifetime Achievement award for her state and national work with advance care planning, POLST and hospice care and teaching. Ron Loge, MD, MACP received the lifetime Teaching Award for over 30 years of excellent and inspiring teaching. The award was presented by Julie Campbell a 4th year medical student inspired by his fabulous teaching.
A highlight was Conrad Addison receiving the William A. Reynolds Internal Medicine Student of the Year Award. We were fortunate to have Dr. William Reynolds help present the award and scholarship. Conrad made the trip from Seattle to accept the award. Conrad was gracious and cheerful in spite of adversities. We expect great achievements in internal medicine and life from Conrad.
Dr. Pappas paid a tribute to Robert Alan Kreisberg, MD, MACP, Former Governor of the ACP Alabama Chapter from 1979 -1983 and Former Regent from 1987-1993, who passed away after a short illness on Sunday, August 21, 2016. He was remembered for his contributions to the MT Chapter ACP meetings on a regular basis. The Montana chapter made a donation to the Dr. Robert A. Kreisberg College of Medicine Endowment Fund.
Kale Knudson, a resident with the Billings Clinic Internal Medicine residency, won the abstract poster contest and will receive a stipend to attend the national meeting in the spring.
Katie Woods, MD gave an inspiring summary of her volunteer work with Syrian refugees in Greece.
On Saturday morning we had another great lecture from Dr. Horwitch on excellence in internal medicine and then a refresher on taking a proper sexual history to be sure to look for STIs.
Dr. Phil Steele from Helena gave an enlightening lecture on Nerve Entrapments frequently seen and commonly missed. He has an ultrasound machine that can image nerves much better than MRIs or EMGs. He treats patients that have had normal MRIs, EMGs, surgeries and continue to have pain. He has successfully treated these patients.
Dr. LeBlond gave a great MOC review. It was fun to go through questions together. Since he has been a test writer in the past, he knows how test writers think.
Meeting attendees should visit the chapter website to claim CME and MOC points.
Please contact Carrie Reisig, (406-899-8765) or me if you have further questions.
Thanks,
Pam Hiebert, MD, FACP
Montana Chapter Governor
PS please mark your calendars for Spring ACP 2017 in San Diego March 30 to April 1. Also plan on an excellent Montana Chapter fall conference in Missoula Sept 28, 29 and 30, 2017.
---
ACP Resolutions at the Board of Governors Meeting Fall 2016
I am proud of the Montana ACP chapter for writing resolution 2-S16. The Board of Governors made the recommendation below. ACP members from around the country were grateful that we raised awareness of for profit medical schools. They will now be on the radar nationwide and scrutinized. I appreciated Montana ACP member's involvement in this discussion.
Resolution 2-S16. Monitoring the Formation and Implication of For-Profit Medical Schools
RESOLVED, that the ACP Board of Regents monitors the formation and implication of for-profit medical schools in collaboration with AAMC, COCA, LCME, ACGME as it relates to the effects on the physician workforce and medical education.
Having referred Resolution 2-S16 for study in the spring of 2016, the Board of Governors received a report from the Education and Publication Committee which it considered at its fall 2016 meeting. As a result, the Board of Governors recommended that the Board of Regents adopt a substitute Resolution 2-S16.
Other resolutions that passed
1. Developing Policy to Address the Gender Pay Gap within the Field of Medicine
2. Opposing Rising Out-Of-Pocket Patient Spending
3. Modifying HCAHPS Questions and Eliminating the Financial Incentives to Improve the Safety of Opioid Prescribing
6. Advocating for Formal Infrastructure to support Expansion and Sustainability of the Wellness Initiatives.
Please let me know if you want more information about the resolution process or if you have an idea. Resolutions may involve any issue related to health care or physicians. It is a grassroots process. 144,000 ACP members worldwide have a strong voice.
Other topics we discussed at the fall meeting:
1. Climate Change Tool Kit (the general public still trusts physicians and we can educate people about the adverse health effects of climate change)
2. MACRA resources
3. Patients before paperwork initiative and advocating for physician wellness or joy in medicine
4. Payment reform and increased reimbursement for cognitive service.
Thanks,
Pam Hiebert, MD, FACP
Montana Chapter Governor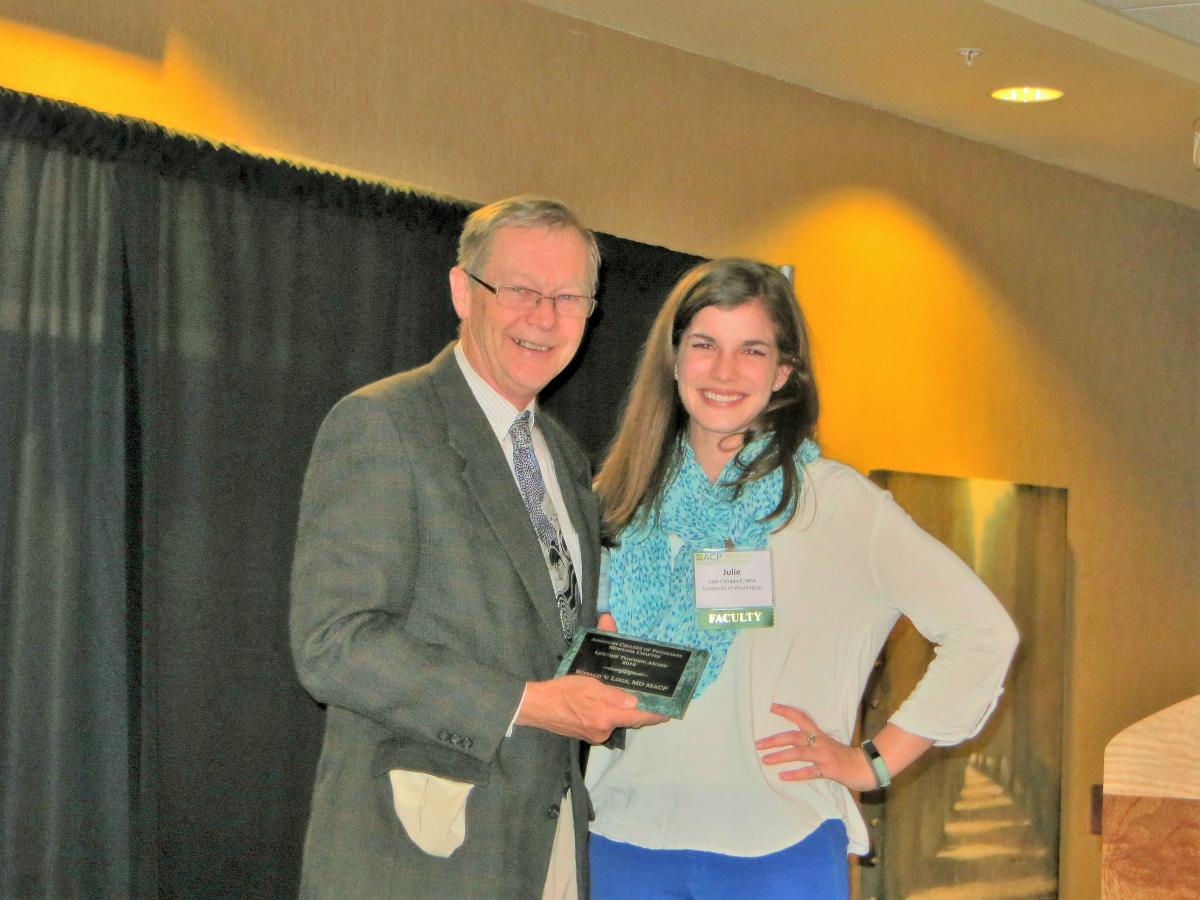 Dr. Ron Loge (recipient of the Lifetime Teaching Award) and Julie Campbell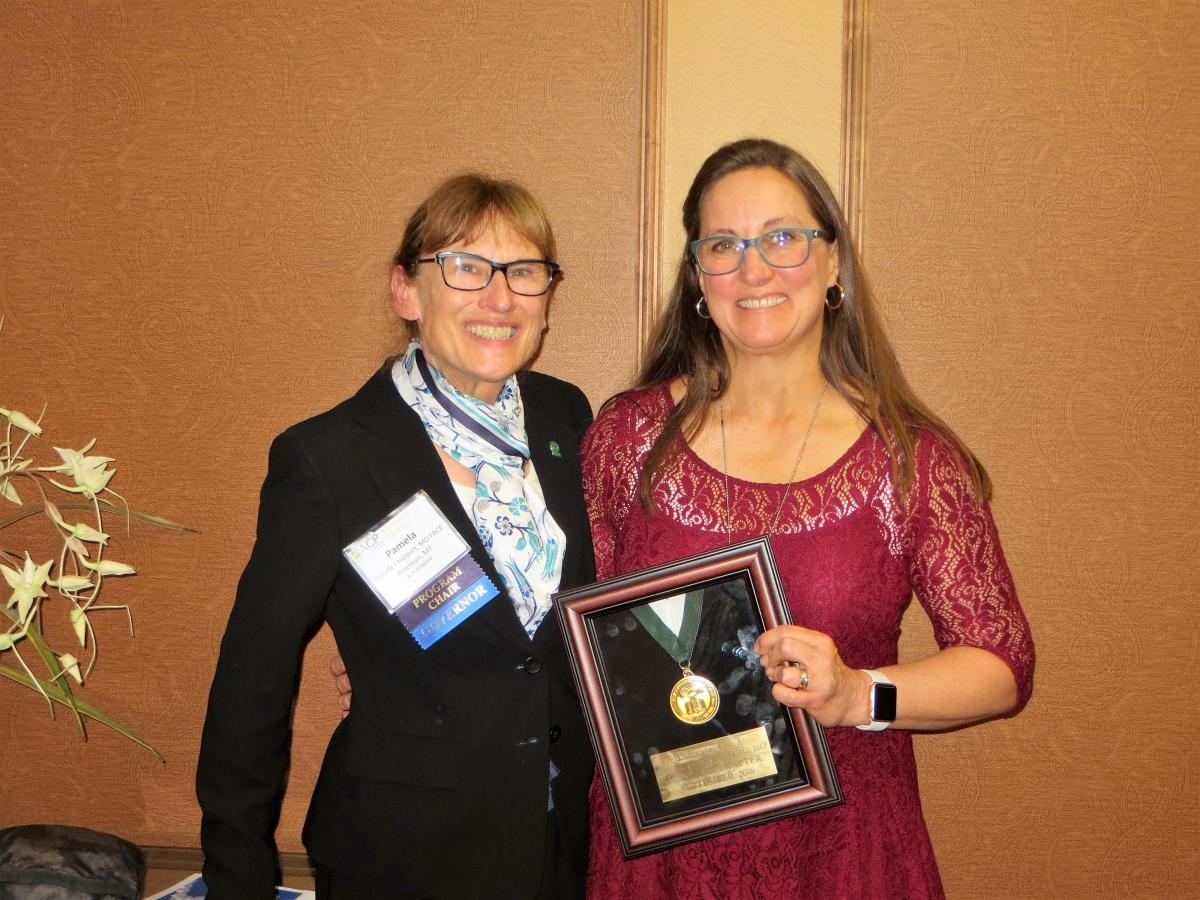 Dr. Brett Kronenberger (recipient of the Laureate Award) with Dr. Pam Hiebert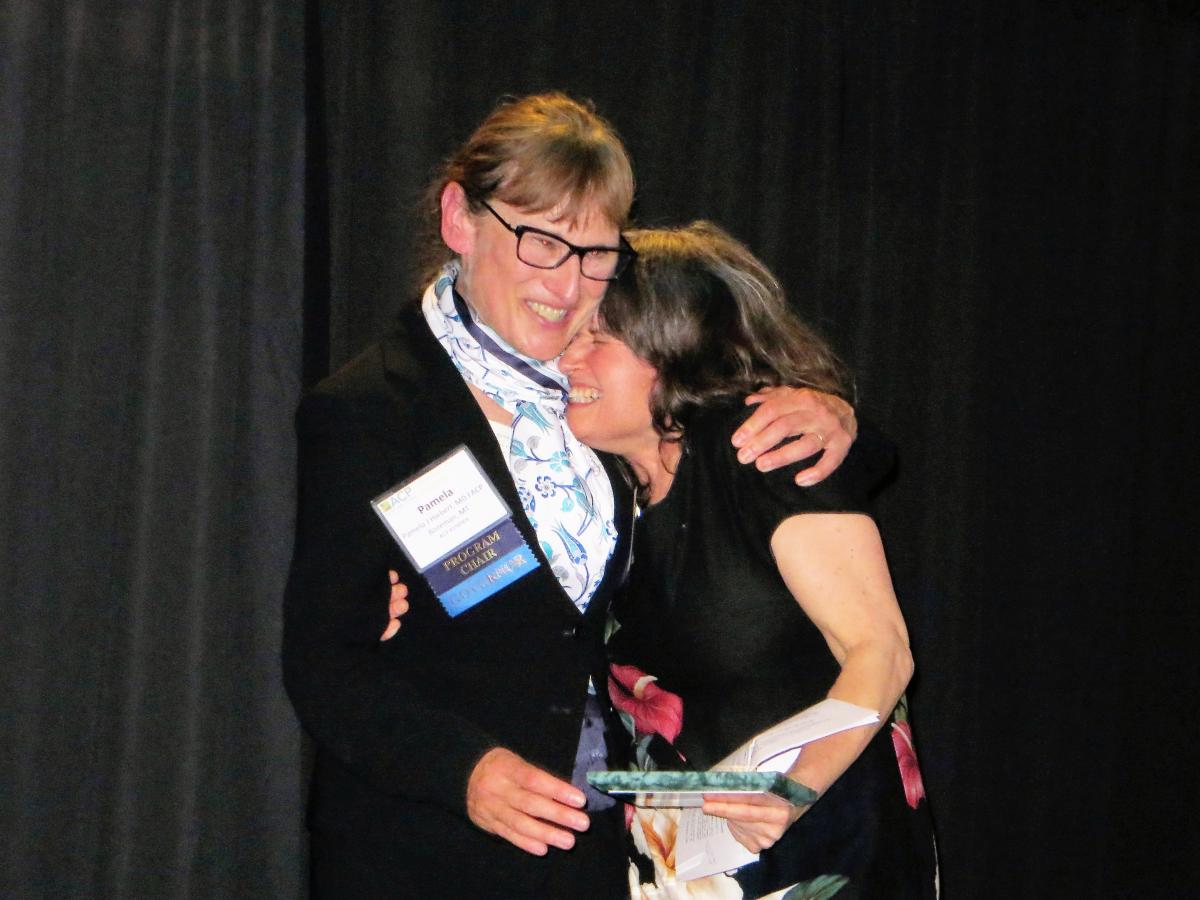 Dr. Pam Hiebert (recipient of the Woman Physician of the Year Award) and Dr. Annie Bukacek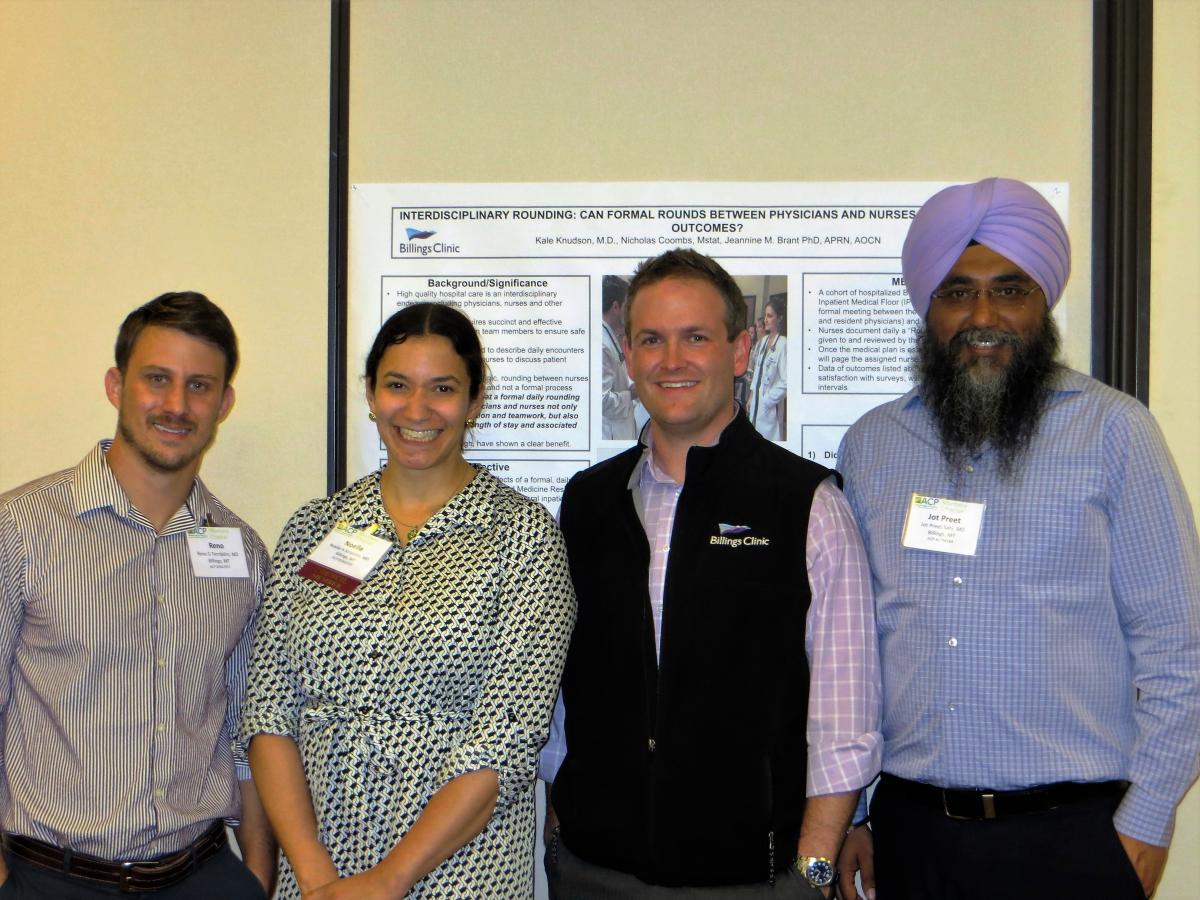 Thanks to Dr. Reno Terribilini, Dr. Noelle Stromme, Dr. Kale Knudson and Dr. Jot Sahi for participating in the Montana Chapter's first resident abstract competition.
---
Save the Date:
2017 Big Sky Hospitalist Meeting
February 16-18th
The Lodge at Big Sky
2017 Internal Medicine Meeting
March 30 – April 1st
San Diego, CA
2017 Montana Chapter Scientific Meeting
September 28-30th
St. Patrick Hospital, Missoula
---
Congratulations to Our New Fellows
David J. Crites, MD, FACP Bozeman
Charlotte R. Nelson, MD, FACP Missoula
Mark G. Ochenrider, MD, FACP Kalispell
---
Welcome New Chapter Members
Elizabeth Gerstner - Billings
Gulara Hajiyeva, MD - Great Falls
Scott D. Price, MD - Billings
Tauqeer Rahat, MBBS - Great Falls
Emma Sargsyan, MD - Great Falls
---
Welcome New Resident Members
Michael Barton, MD - Laurel
Guiset C. Bedoya, MD - Billings
Taylor C. Easley, MD - Billings
Chris J. Lin, MD - Billings
Felipe Villa Martignoni, MD - Billings
Nicholas S. Mills, DO - Billings
Joanne M. Nazareth, MD - Billings
Robert Renjel, MBBS - Billings
Lauren F. Thom, MBBS - Billings
Michael P. White, MD – Billings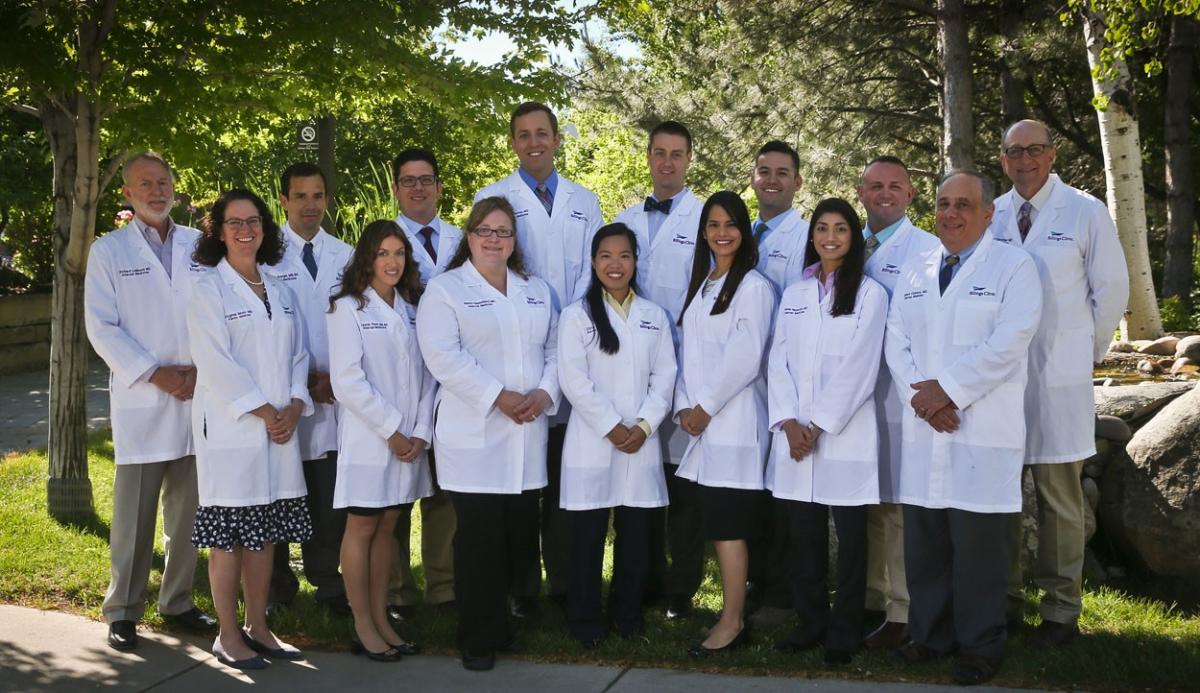 First Row (left to right): Dr. Virginia Mohl - Designated Institutional Officer, Dr. Lauren Thom, Dr. Naomi Hasselblad, Dr. Chris Lin, Dr. Guiset Carvajal Bedoya, Dr. Joanne Nazareth, and Dr. Robert Ficalora - Program Director
Back Row (left to right): Dr. Richard LeBlond - Assistant Program Director, Dr. Robert Renjel, Dr. Felipe Martignoni, Dr. Michael Barton, Dr. Michael White, Dr. Taylor Easley, Dr. Nicholas Mills, and Dr. Steve Gerstner - Associate Program Director
---
Recruit-a-Colleague Program
Recommend ACP membership to your colleagues and earn a significant discount on your membership dues or even free membership. Now you have the opportunity to provide your colleagues with the same clinical support and educational resources that you have enjoyed as an ACP member.