You are here
Montana Governor's Newsletter August 2017

---
---

Pam Hiebert, MD, FACP, ACP Governor
---
Governor's Message
I had the privilege of attending the very first commencement of the Internal Medicine Residency program at Billings Clinic on June 23, 2017. There were eight graduates in internal medicine. The program has been thriving since its inception three years ago. Dr. Ficalora is the Director and has a top notch faculty. The program is meeting its goals to excel in medical education, to provide state-of-the art health care to the citizens of Montana and to serve those in rural communities. The residents are highly qualified, chosen out of 2,000 to 3,000 applicants. Kudos to the Billings Clinic for starting the first internal medicine training program in Montana.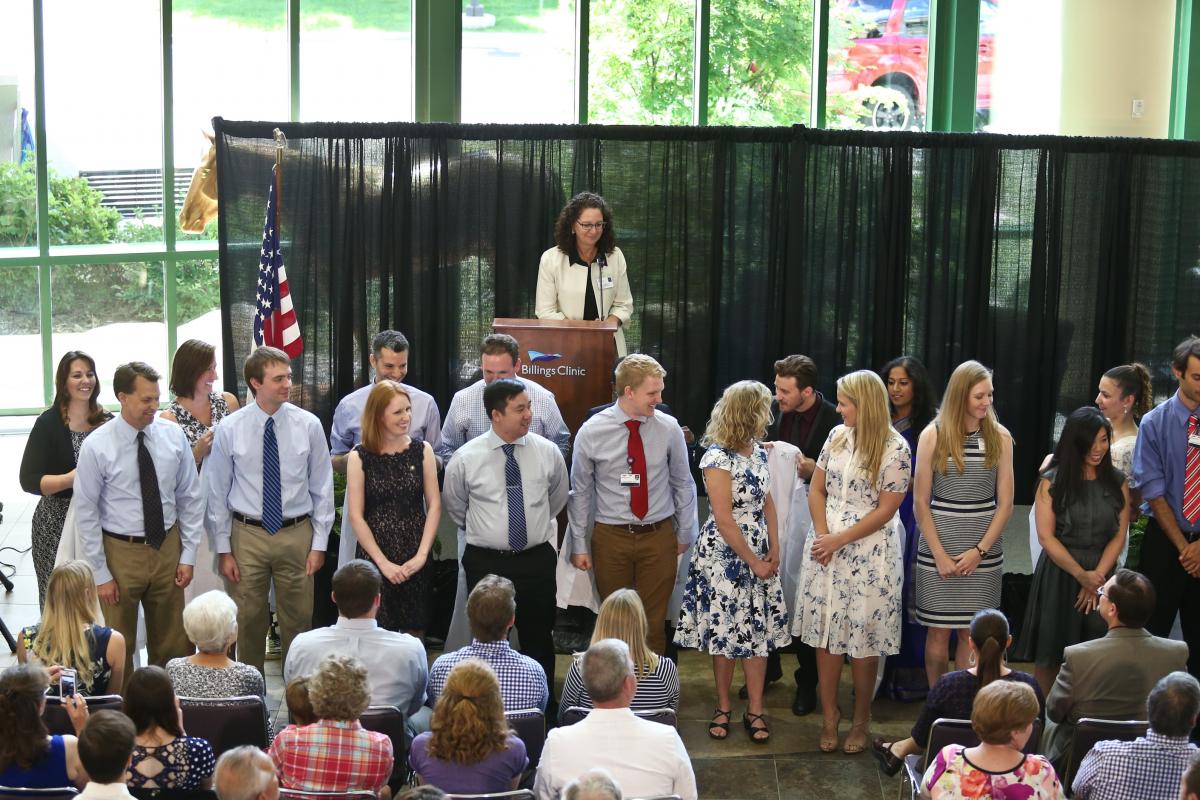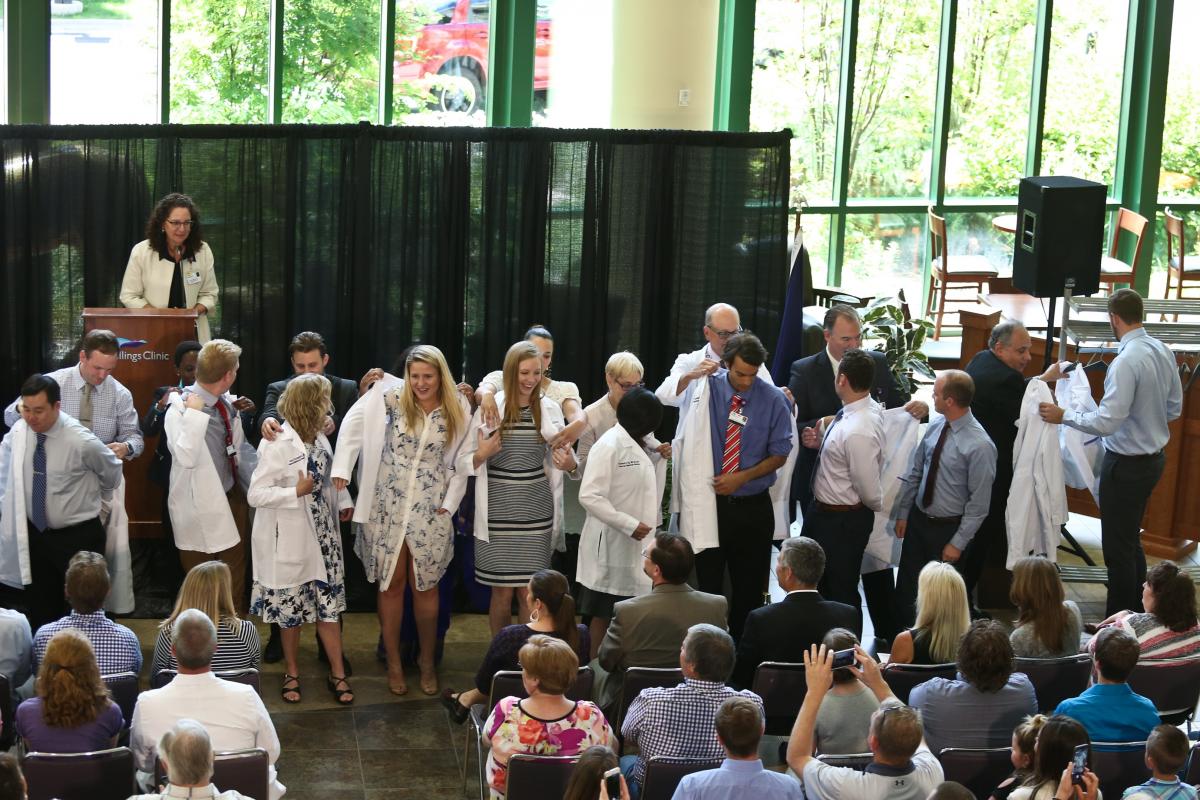 ---
Faculty Teacher of the Year Award
This year's faculty attending of the year award went to Dr. Gerstner. About Dr. Gerstner the nominating resident's wrote:
"He is always supportive and positive. He provides great teaching,"
"He is an excellent clinician and enjoyable to work with," and
"Dr. Gerstner's passion for medicine and teaching are inspiring. He brings positive energy to the work environment every day, and his patient's truly adore and appreciate him. We are lucky to learn from him."
---
2017 Montana Chapter Meeting
Registration is now open for the 2017 Montana Chapter Meeting! The meeting will be held September 28 - 30 at St. Patrick Hospital and Health Sciences Center in Missoula.
Highlights include:
Updates in diabetes management
Palliative care panel
Prescription drug abuse panel
Residents' poster presentations
Awards dinner with presentation – Guatemala – The Stories behind the statistics
To view the full meeting program and for registration information, visit the Chapter Website.
Look forward to seeing you in Missoula!
---
Call for Abstracts
We are pleased to announce the Call for Abstracts for the 2017 ACP Montana Chapter Meeting.
This is an ACP Resident/Fellow Members' competition. The first author and presenter must be an ACP Resident/Fellow Member with current membership status. The winner will be invited to present their work at the national competition held at the Internal Medicine Meeting in New Orleans, LA, April 19-21, 2018 and will be eligible for a cash scholarship.
Each abstract will be ranked by scientific merit, originality, presentation, and clinical application.
Abstracts must be submitted electronically here
Deadline for entries is September 1, 2017.
If you have any questions, please contact Carrie Reisig via email or call 406-899-8765. We look forward to your participation.
---
New Patient Education Programming via the Wellness Network
ACP and The Wellness Network are partnering to deliver new patient education programming that will be available via The Wellness Network's Patient Channel, an in-hospital TV network and online portal.
ACP members will have access to the Patient Channel library of over 107 disease and medication management, wellness and patient safety videos that can be viewed by patients during an office visit or at home. Programming topics include heart failure, diabetes, hypertension, COPD, joint replacement, hospital safety, and more.
You can access Patient Channel programs anytime online here . Use this password: 24510
To promote the Patient Channel in your office to your patients, feel free to download these materials:
---
ACP's 2016-17 Annual Report from the EVP and CEO
ACP's Annual Report from the Executive Vice President for 2016-2017 is available online. The report serves as a review of ACP's activities, accomplishments, guidelines, clinical standards, public policy, practice support, and more over a 12-month period.
In all that we do, ACP is striving to change burdensome systems and requirements so our members can refocus on the core elements of why we chose internal medicine as a profession: caring for patients and developing relationships. From the development of educational resources, to partnering with like-minded stakeholders to help strengthen our positions on reducing regulatory tasks that don't add value, we are committed to doing whatever we can to help physicians get back to the bedside, and re-instill the sense of community in healthcare and value the power of human connection. Relationships matter, and no relationship matters more than the one between patients and physicians.
---
Senate Votes Down "Skinny" ACA Repeal Bill
The GOP-led effort to "repeal and replace" the Affordable Care Act (ACA) might just have been dealt its death blow. After 20 hours of debate on the Senate floor, and countless amendments being offered, a majority of the U.S. Senate (by a vote of 49-51 ) voted down legislation to repeal the ACA in what might have been its last attempt. In the end, three Republican senators, Murkowski (R-AK), Collins (R-ME), and McCain (R-AZ) along with all Democrats voted against the measure, the bare minimum needed to kill the bill. ACP applauded the vote outcome that finally came at 1:24 am ET. See ACP's statement here.
This legislation, and other versions like it, was disastrous from the start with tens of millions of Americans at risk of losing health insurance coverage and all Americans at risk of losing critical patient protections. ACP, along with so many others, did not stand idly by but fought against any and all attempts to dismantle the ACA over the past seven months.
While it is still unclear if this failed bill is the end of the story in the GOP effort to undo the ACA, the odds of any such viable legislation emerging from this aftermath are extremely remote. While we will always remain vigilant in this fight, we can and should rejoice collectively in the outcome of this failed vote last night. The unprecedented advocacy effort put forth by you, our Advocates, our allied coalition, ACP's chapters and governance was a true demonstration of the power and influence we can have on legislation when medicine comes together with a unified voice. Please take the time to thank your senators who voted against H.R. 1628 on July 28th; it is a gesture that takes little time but means so much. See here for how your senators voted.
ACP now urges Congress to turn its focus onto the types of improvements that ACP outlined earlier this year in our Prescription for a Forward-Looking Agenda to Improve American Health Care. As ACP stands ready to do our part in helping to improve upon our current-law health care system, today we can take pride in this long-fought effort to protect coverage and benefits for patients everywhere. We thank you.
The ACP Washington Office provides advocacy support and services to ACP members on a multitude of issues. Learn more about the programs and resources available to you.
---
Montana Medical Association Meeting
The Montana Medical Association along with the Montana ACP is hosting an exciting summit on Health Care Innovations and Physician Wellness at Big Sky, September 22-24. The focus is on The Quadruple Aim. For more information visit here.