You are here
GOVERNOR'S NEWSLETTER June 2015

---
---
Governor's Corner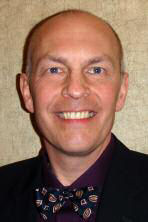 Jay L. Larson, MD, FACP
Internal Medicine Meeting in Boston
The year 2015 marks the 100th anniversary of the ACP. The College celebrated its Centennial during the annual meeting in the historic city of Boston, the event was marked by the largest meeting attendance ever in the history of the college.
I would invite you to celebrate ACP's Centennial by exploring an online timeline featuring historical facts, images, and anecdotes about the organization in a decade-by-decade format. Plus, watch a video that explores 100 years of ACP.
A Chapter Centennial Display at Internal Medicine was created to showcase key facts and spotlight the activities and accomplishments of chapters throughout the College's 100-year history.
Thanks to the chapter members who attended the Northwest Regional Reception (Montana, Oregon, Washington and Alaska).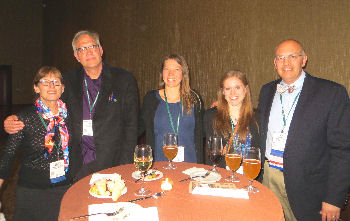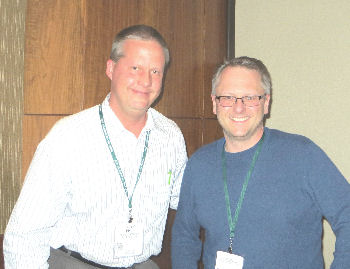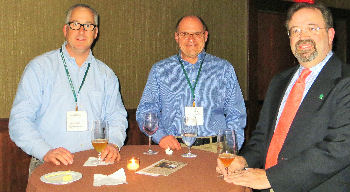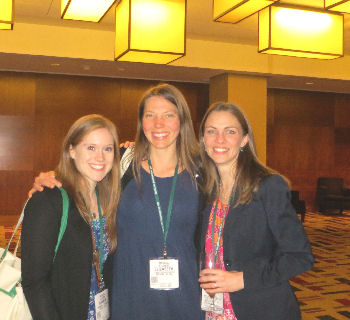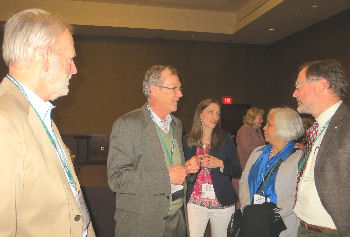 Congratulations to Kathleen Blair, MD, FACP, Charles A. Wittnam, MD, FACP and Claude A. Tonnerre, MD, FACP for their advancement to Fellowship and for participating in the Fellowship Convocation Ceremony.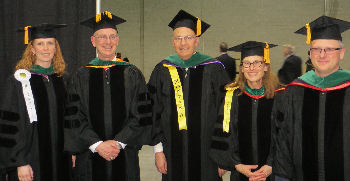 Kathleen Blair, MD, FACP, Charles A. Wittnam, MD, FACP Jay L. Larson, MD, FACP, Pamela J. Hiebert, MD, FACP, Claude A. Tonnerre
---
Meetings
Register Now!
Montana Chapter Scientific Meeting will take place at the Alice Fortin Health Conference Center located at the Billings Clinic Hospital, September 24-26, 2015. Jim Yturri, MD, FACP and Rebecca Kellum, MD have an excellent meeting planned with great topics for inpatient and outpatient care. Registration is now available. Here are the meeting brochure and registration.
The WWAMI pizza party, which was organized by Pam Hiebert, MD, FACP and Ellie Schiedermayer was a great success. It was attended by 17 enthusiastic and appreciative first year medical students all interested in ACP. There was also an excellent faculty attendance, dean of the med school, Martin Teintze, Ph.D., Michael Spinelli, MD, FACP, Michael Herring, MD, FACP, Michael Vlases, MD, FACP, Mark Winton, MD, FACP, Andrew Sullivan, MD, Dane Sobek, MD and Pam Hiebert, MD, FACP.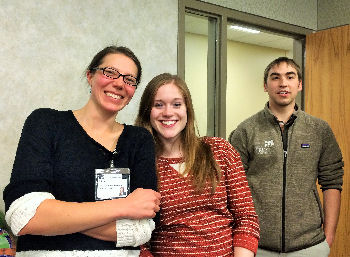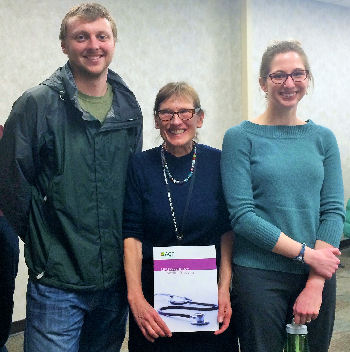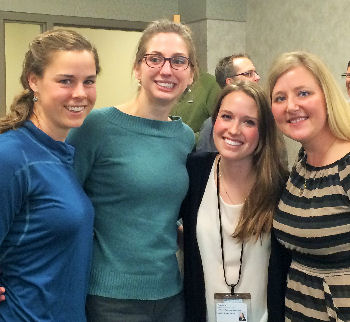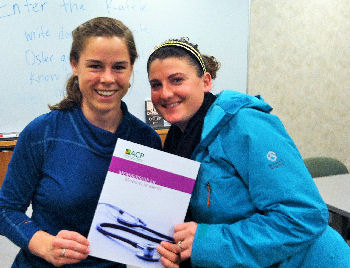 ---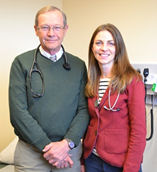 In honor of ACP's Centennial, My Kind of Medicine: IM Family is a new series of physician profiles featuring multi-generational internists. The stories showcase how a tradition of caring and a passion for internal medicine are passed from one generation to the next. The February edition had a fabulous article featuring Ronald Loge, MD, MACP and Anna Loge, MD: My Kind of Medicine: IM Family: Ronald V. Loge, MD, MACP & Anna S. Loge, MD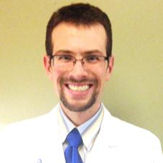 Jared Bozeman, son of Pam Hiebert MD, FACP and Tom Bozeman also had a great article published in the March edition of ACP Impact: Medical Student Perspectives: On Being The Match by Jared Bozeman, Medical College of Wisconsin, Class of 2016
---
The Great Wide Past
By Ellie Schiedermayer
When I look at you I try not to think
about my grandfather
Arnie, he was your age
yet I can't help but wonder if you
had his same wink or wit
had his same love of coffee, children, or the symphony.
When I look at you
I try not to think about
my dad
lying as you do
cold and chemical-soaked
but exposed as you are,
you are also adored
in the unique way
reserved for the dead.
I wish I knew more about you
so that I wouldn't think about Dick,
my sister-in-law's dad
who fell and hit his head
on Coumadin
and never woke up.
He wanted to donate his organs
and body
but the heart-lung death ruined them
they said-
at 6 foot 7
he was simply too big.
When she married my brother this summer
her very tall brothers walked her
down the aisle
and sat next to two empty chairs-one
for Dick, and one for her mother
also gone
long ago from cancer.
So no, I don't want to think about
anyone else when I'm in here.
I'd rather think about you
but I need more information.
Did you like fiction?
You could be a the star character
in my medical school drama:
a stoic rancher, 4th generation in this valley,
a loving husband, devoted for 63 years,
or a former professor,
still teaching even now.
Or maybe just what you are-
A man with a gift,
a philanthropist,
my cadaver guide.
I will try to honor you as I honor
the others,
who are always with me.
You will enjoy our little troupe, I think,
maybe as much
as you enjoyed
the sun rising
over the mountains
and the crisp air
of a perfect fall day
back in the great wide past.
---
Leadership Day 2015
The Montana Chapter was represented by resident Noelle Thomas, MD, and medical students Hannah Dysinger and Ellie Schiedermayer.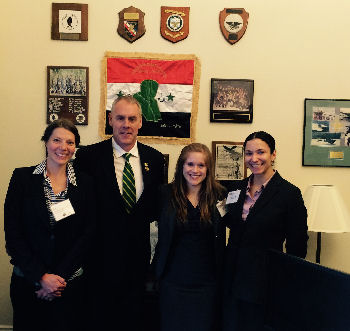 Hannah Dysinger, Congressman Ryan Zinke, Ellie Schiedermayer and Noelle Thomas, MD