You are here
Mississippi Chapter E-NewsletterVolume 2, Issue 1November 2014
Mississippi Chapter E-NewsletterVolume 2, Issue 1November 2014

---
---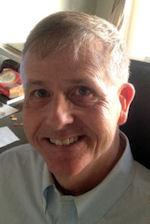 Dan Woodliff, MD, FACP, ACP Governor
Chapter Meeting
All of the reviews are in and we had a hugely successful Educational/Scientific Meeting September 4-6. From our all-star cast of regional speakers to our national guests, Dr. Patrick Alguire and Dr. Bob Centor, we took home a wealth of practical information on the new hypertension and lipid guidelines, obesity, advances in anticoagulation, handheld ultrasound, maintenance of certification (MOC), clinical decision making, and much more.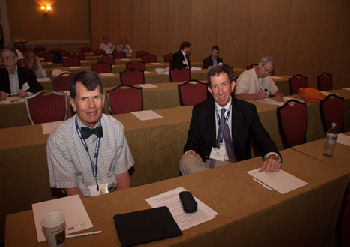 Many thanks to our Program Chair Dr. Calvin Thigpen and our Executive Director Nancy Youngblood for a fantastic meeting in Point Clear. The Mississippi Chapter was honored to receive the Chapter Excellence Award and to be acknowledged for winning the Evergreen Award this year. Also, kudos to our resident winners in the oral and poster competitions (from left to right in photo below):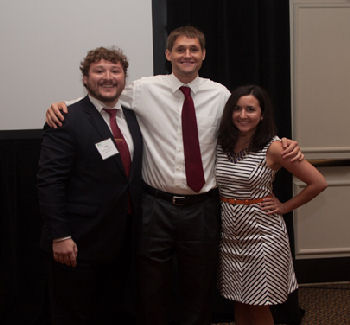 Wes Aldred, M.D., PGY-2 University of Mississippi - Clinical Vignette category
Ben Horton, M.D., PGY-2, University of Mississippi - Quality Improvement & Patient Safety category
Anna Pavlov, M4, University of Mississippi - Clinical Research category
Last but certainly not least, our Chapter Laureate Winner was the very deserving Dr. Bob Brahan.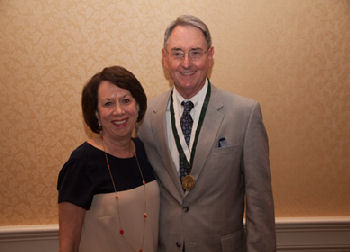 Dr. Brahan is our immediate past Governor and an internist at the Hattiesburg Clinic. Dr. Brahan has been a member of the American College of Physicians since residency. He was elected as Governor Elect in 2008 and served as Governor from 2009 to 2013. He was on the Medical Informatics Committee from 2011 to 2014 and has been on the Mississippi State Medical Association Legislative Committee since 2008. He is currently chairman of the chapter membership committee and is a member of the chapter council. Dr. Brahan is pictured above with his wife Ree.
---
Board of Governors
The Fall Board of Governors Meeting was held in Chicago, and I would like to mention two highlights that are of interest to all of our members. First, the ACP has identified reducing administrative complexities or hassles as a priority for our members. The College has a new initiative called Patients Before Paperwork that is focusing on decreasing hassles in the practice of medicine, and we want your suggestions. Please email me with your ideas and I will pass them on to this very important committee. Second, MOC continues to be a priority for the ACP, which is specifically working with ABIM to make this process more reasonable, affordable, and user friendly. Significant progress has been made and details can be found on the ACP Website.
---
Fund Raising
We want to thank Dr. Van Lackey, again, for heading up our every other year fund raising effort. We will have our last push with UMMC ACP Abstract Day (see below), for which our Council of Residents and Students has done a stellar job of gathering support for the event from vendors. If you know of any likely donors please contact Nancy Youngblood.
---
UMMC ACP Abstract Day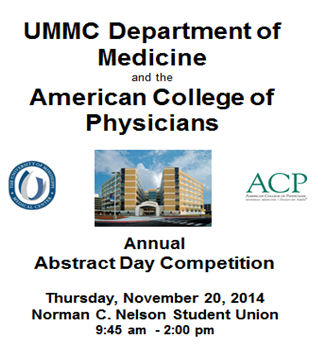 Abstract Day is coming, and we want to invite everyone to attend. This is an exciting time for students, residents, and fellows to showcase their scholarly work. It is a great opportunity for clinics and hospitals to meet and recruit them.
We invite all chapter members to attend UMMC ACP Abstract Day, which will take place from 9:45 AM - 2:00 PM on Thursday, November 20th at the UMMC student union. Our students, residents, and fellows from UMMC and our residents from Keesler Air Force Base will present a total of 57 abstracts in the four categories of clinical vignettes, clinical research, basic science research, and quality improvement. The atmosphere at this event is consistently high energy with a tremendous amount of fascinating medicine on display. Poster judging will take place in the morning hours in the lower level gymnasium, and the oral presentations will occur on the 2nd floor from 12:00 - 1:00 before lunch is served at 1:00. The winners from the event will go on to present their work at the MS/LA regional meeting in February and will submit their work for at large entry to the 2015 National Abstract Competition in Boston April 30th - May 2nd.
---
IM 2015

We hope that all of you are making plans now to attend IM 2015 in Boston, Massachusetts, April 30th through May 2nd. This year promises to be a special national meeting, as we celebrate 100 years of the American College of Physicians. You can register for the meeting and book your hotel here on the ACP website.