You are here
Mississippi Chapter E-Newsletter April 2015
Mississippi Chapter E-Newsletter April 2015

---
---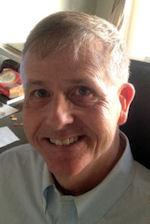 Dan Woodliff, MD, FACP, ACP Governor
MOC Advocacy by ACP Results in Significant Reform
In a candid letter from ABIM President Richard Baron stated "We got it wrong. We're sorry." ABIM made sweeping changes in the reporting, content, timing and requirements for Maintenance of Certification (MOC) that will help make this a more practical process. We still feel that the questions used in the pre-test preparation and test need to be revised to more accurately reflect what the general internist needs to know but this is a huge step in the right direction and we are proud of ACP Leadership for the many hours of hard work that went in to this effort.
---
MS/LA Chapter Meeting 2015
Our friends and colleagues in Louisiana did a fantastic job again, and the Roosevelt Hotel has been renewed to its old splendor. One of the highlights for me was our Dr. Michael Hall's talk on Noninvasive Cardiac Testing. We heard compelling new evidence for Peritoneal Dialysis and outstanding keynote talks from Christine and Thomas Sinsky on ways to bring back the Joy in Practice. I suffered through the MOC Module with my friend and former partner Dr. Gary Nowell. Darilyn Moyer, our Board of Governors Chair, and Dave Sgrignoli, head of Membership Development and Marketing, bravely hopscotched down from the snowy north to share some insights related to how ACP fosters excellence and adds value to the practice of Internal Medicine. Additionally, several residents and students from UMMC and Keesler Air Force Base (listed below) presented posters and gave oral presentations and represented the chapter very well in the process.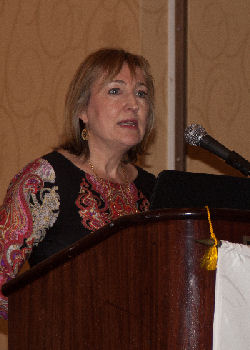 Dr. Darilyn Moyer
Oral Presentations
Blair Laufer
Brandon Lennep
Avnish Tripathi
Poster Presentations
Catherine Lowe
Chelsea Mockbee
David Short
Dave Siegel
Christopher Smith
Arian Teymoorian
Avnish Tripathi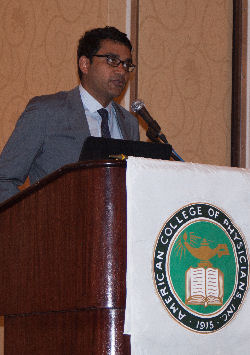 Dr. Avnish Tripathi
---
New Laureate - Dr. Skip Nolan
We are proud to announce Dr. Skip Nolan as our very deserving new laureate and want to thank Dr. Helen Turner for presenting Dr. Nolan at the MS/LA Chapter Meeting in New Orleans and reviewing his outstanding career as a teacher and his devotion to the practice of internal medicine and infectious disease.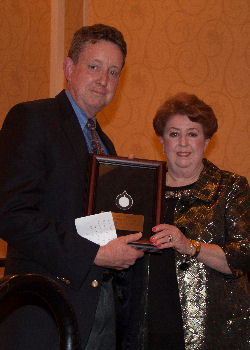 Skip Nolan, MD, FACP receiving the Laureate Award from Helen Turner, MD, MACP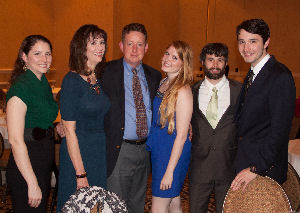 Dr. Nolan and family
---
Leadership Day
Dr. Calvin Thigpen, Dr. Jessie Lavender and Dr. Day Lennep will represent Mississippi at Leadership Day this May. They are excited about learning how to be Advocates for internal medicine and for graduate medical education. They are taking their formidable optimism and speaking skills to Washington D.C., and will meet with members of the House of Representatives and Senate.
---
IM 2015 - 100th Anniversary of ACP
It is time to make those airline and hotel reservations in Boston for April 30th - May 2nd if you haven't already! This promises to be one of the best national meetings ever. ACP continues to offer the premier CME for internists, and this year will be exceptional. We have several members who have recently been elected as Fellows and have been invited to walk at convocation (see below). Additionally, we have several residents and a subspecialty fellow from UMMC who are presenting their work at the abstract competition (see below). Patrick Alguire, who presented at our meeting in Point Clear in September 2014, will give an update on MOC since the recent ABIM announcement on Saturday morning, May 2nd; and many, many others will be on hand to provide updates on the College's activities. It will certainly be a meeting you don't want to miss!
New Fellows
John Cross
Zeb Henson
Eugene Murphey
Suzanne Sanders
Wakkas Tayara
Amy Woods
Mohammad Yousuf Awan
Poster Presenters
Wesley Aldred
Doris Hansen
Ben Horton
Brandon Lennep
Arnaldo Lopez-Ruiz
---
Advocacy Report
Dr. Robert Brahan, Chair of the Advocacy Committee, submitted the folloing report. Please read the report.