You are here
Minnesota Governor's Newsletter October 2017
Minnesota Governor's Newsletter October 2017

---
---

John B. Bundrick, MD, FACP, Governor
---
Updates from the Governor
Colleagues,
As we look ahead to the next year, we are greatly impressed with the candidates running for leadership positions in the Minnesota chapter of the American College of Physicians in 2018. Your votes will be counted in October to help shape the future leadership of our organization.
-Masters, Fellows, Members, and Resident/Fellow Members are eligible to vote for the Governor-elect; and
-all members are eligible to vote for the two Council positions
With regard to gubernatorial elections on the political side, MN-ACP is also co-sponsoring healthcare debates in October in conjunction with the Minnesota Medical Association in Rochester, MN on Oct. 17th (DFL candidates) and Oct. 23rd (GOP candidates).
We are looking ahead to our upcoming annual Scientific Session on Oct. 26-27th at the Minneapolis Convention Center and hope you can join this large gathering of internists — the program is again truly outstanding, and it is always wonderful to reconnect with so many fine colleagues in our state.
Please feel free to contact me with any suggestions, questions, concerns, or simply good news to share about our chapter or profession. I look forward to hearing from you!
John Bundrick, MD, FACP, Governor
---
MN-ACP Mission Statement and Vision
Minnesota ACP Mission
To foster excellence, education and professionalism among all internists in our community and to work together to shape the future of healthcare in Minnesota.
Minnesota ACP Vision
To be Minnesota's recognized leader for patient care, advocacy and education and to enhance career choice, satisfaction and collaboration for specialists and subspecialists in Internal Medicine.
---
MN-ACP Elections
It's already time again to vote for your next Chapter Governor. Those eligible to vote include Masters, Fellows, Members, and Resident/Fellow Members with an election date of 9/1/2015 or earlier. The Governor serves as the official representative of the College for the chapter, providing a link between members at the local level and leadership at the national level.
This year we have two superb candidates who are running for Governor-elect, Dr. Bradley J. Benson and Dr. David R. Hilden. I wanted to acknowledge and thank them both for their enthusiastic work on behalf of our Chapter over the years. To learn more about their background and experience, see their biographies and candidate statements, available here on our MN-ACP Web site .
The election is taking place between September 21st and November 9th. Members can vote online or by mail-in ballot. The ballot that was mailed to you with your ACP Member Number and Election Passcode is required in order to cast a vote.
For replacement ballots and election customer service, send an e-mail or call (866) 909-3549, Monday - Friday, 8:00 a.m. - 5:00 p.m. Central. For general election information, contact Kelley Gordon , Supervisor, BOG Relations, via email or telephone at 215-351-2559.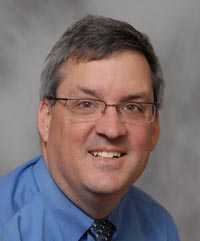 Bradley J. Benson, MD, FACP
Candidate Statement:
I have been involved with the ACP since completion of residency training because of the College's steadfast advocacy for patients and the Physician-Patient relationship. I have been inspired by the previous MN leaders of the organization and their ability to bring the voice of Minnesota doctors to the national debate. I have served in leadership roles throughout our academic health center and in national medical education organizations but am a clinician first and foremost. I believe that the ACP in our state can bring physicians together across the boundaries of clinics, hospitals, and health systems to collaboratively improve the wellbeing of our patients and ourselves. I recognize the many challenges we face (from paperwork overload to primary care shortages to the opioid epidemic), but am energized at the prospect of putting my shoulder to the wheel and thankful for the opportunity to serve.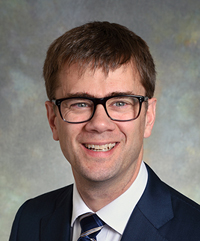 David Hilden, MD FACP
Candidate Statement:
ACP has been my professional home for my entire career and I value its vital role in promoting medical science, advocating for our patients, and in building friendships among our Minnesota family. I have varied experience on which to draw. As Interim Chief of Medicine at HCMC, I lead a department of over 200 providers. As an educator, I guide the next generation of internists from among our 70 residents. As an adviser to MNSure, I have been immersed in the complexities of health care policy. As a visiting professor in the Middle East, I have seen the power of health care as a bridge to peace. And as the host of a weekly radio broadcast, I get to talk with tens of thousands of people each week! ACP is about serious science, passionate advocacy, and a whole lot of fun. I'm honored to be considered for MN-ACP Governor.
---
MN-ACP Council – Elections for Two At-Large Members

Two Council positions will be included in the Fall 2017 MN-ACP elections. Elections are now open. The ballot and biographies of each Council candidates is online at this link .
Candidates for the 2 positions include:
Meltiady Issa, MD, MBA, FACP
Joan Krikava, MD, FACP
Karen Mauck, MD, MS, FACP (incumbent)
Evelyn Ivy Mwangi, MBChB, MPH
---
Congratulations New Fellows!
Achieving ACP Fellowship is a mark of distinction and a milestone in a physician's career.
I'm delighted that we have so many accomplished and dedicated clinicians, and am so pleased to have many advance to Fellowship. Please join me in congratulating the following new Fellows. The following additional new Fellows were named by ACP in the last six months:
Mary L Cameron, MD, FACP of Faribault
Jad G Sfeir, MD, FACP of Rochester
Pankaj Gupta, MBBS,MD, FACP of Minneapolis
Tait D Shanafelt, MD, FACP of Rochester
Michael J Ornes, MD, FACP of Minneapolis
Juan Bowen, MD, FACP of Rochester
Melissa J West, MD, FACP of Minneapolis
Thomas M Jaeger, MD, FACP of Rochester
Paul D Kleinschmidt, MD, FACP of St. Paul
Elise C Carey, MD, FACP of Rochester
Brita M Hansen, MD, FACP of Minneapolis
Julian R Molina, MD, PhD FACP of Rochester
Rose A Quirk, MD, FACP of Minneapolis
Saima Iqbal, MD, FACP of Eden Prairie
Grace A Totoe, MBchB, FACP of Plymouth
Mark J Plachta, MD, FACP of Duluth
Mary E Logeais, MD, FACP of Edina
Manoj K Ray, MBBS, FACP of Minneapolis
Karna K Sundsted, MD, FACP of Rochester
Arya Mohabbat, MD, FACP of Rochester
Alice Gallo De Moraes, MD, FACP of Rochester
Saraschandra Vallabhajosyula, MBBS, FACP of Rochester
Ankit Mehta, MD, FACP of Minneapolis
Make 2017 the year you apply for Fellowship! Fellowship is a high honor and a mark of distinction and professional achievement that is recognized by your peers and your patients. If you are now a member, become a Fellow by reviewing the web link and find which pathway to Fellowship is appropriate for your career path. Links to the requirements for advancing to Fellowship and to the application are also found on this website. In Minnesota, there are over 600 current members who are eligible for a pathway to becoming a Fellow of the American College of Physicians (FACP).
If you have any questions about completing the Fellowship application feel free to e-mail or call ACP at 800-523-1546 ext. 2709.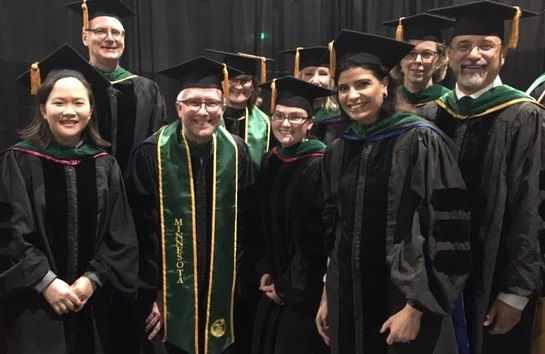 New Minnesota FACPs with MN-ACP Governor Dr. John Bundrick.
---
Health Policy Update 2017 - Mark Liebow, MD, MPH, FACP, MN-ACP Health Policy Chair
Federal:
While "repeal and replace" of the Affordable Care Act (ACA) was the leading issue in Congress for the first nine months of 2017, the ACA is still around. A bill to cut back the ACA substantially passed the House of Representatives by four votes in May after an earlier version, announced in March, was pulled before a vote it would have lost. However, the May bill would have cost 23,000,000 Americans their health insurance over 10 years and Senate Republicans announced immediately they would try to draft a bill that wouldn't be that "mean", a word President Trump used to describe the House bill. In July, a Senate bill came forward but it could not get enough votes even to start debate. A second version was able to get the 51 votes (with Vice-President Pence) needed to open debate but the bill the Senate and House passed in 2015 to repeal the ACA in 2015 (that President Obama vetoed) failed 43-57 this year. Even the "skinny repeal", a more limited bill, only got 49 votes. It looked for a while as if Congress wanted to move on to other areas when it came back in September. However, there remains significant pressure within the Republican Party for "repeal and replace" and Congress's rules meant that the ability of passing "repeal and replace" legislation with only 51 votes expired September 30, so a last-gasp bill sponsored by Senators Lindsey Graham and Bill Cassidy had been proposed. This variation on what had been proposed earlier in 2017 may be the most extreme of this year's bills, but we're not sure, because the Congressional Budget Office wasn't able to estimate how many Americans will lose health insurance before the planned vote on September 28. This, too, was withdrawn when it was clear there weren't 50 votes for it.
Just as no Republican in the House or Senate voted for the ACA, no Democrat voted for any of the repeal bills. Most proposals made deep cuts in Medicaid, some making critical changes in the program that would have shifted ever more costs to the states over time. These changes were severe enough that several Republicans opposed the bills.
The Trump administration has threatened to undercut the ACA using its administrative discretion. It has taken some steps that will make the ACA work less well, but has not yet stopped paying cost-sharing reductions or announced the mandates will not be enforced, either of which would be devastating. However, it could do more in the rest of 2017, such as its announcement it will cut funds for outreach and advertising to get people to sign up for insurance through the exchanges.
The Trump administration budget proposals call for sharp cuts, many 15-20%, in funding for research agencies along with ending some training programs. Congress was unwilling to accept these for Fiscal Year 2017 or for the first three months of Fiscal Year 2018. Final Fiscal Year 2018 appropriations are not yet settled. These must be completed by mid-December or another continuing resolution will be needed for the government to stay open. The latter is more likely. A continuing resolution would likely yield spending similar to the 2017 amounts.
State:
In January, the Legislature passed a plan to pay for about 25% of the cost of 2017 insurance policies for those in the individual health insurance market who weren't eligible for subsidies. This cost over $350 million. Governor Dayton signed this. In March the Legislature passed a bill that gave insurance companies over $500 million as "reinsurance". Dayton let this become law without his signature. That bill required a Federal waiver that would guarantee Minnesota would get as much Federal support for exchange policies as it would have if the reinsurance program didn't exist. Most people expected the waiver would be granted as requested, but HHS recently offered a waiver that would take more money from MinnesotaCare than it would protect for exchange policies. It's not clear if Governor Dayton will accept the waiver. If he does not, there will be a scramble to try to keep insurance costs, especially for those buying individual policies off-exchange, down for 2018.
Attempts to abolish MNsure, the state's health insurance exchange, and MinnesotaCare, the state's program for low-income people who make too much money to qualify for Medicaid, failed. Initially proposed cuts in spending for health and human services ended up not being as severe as feared.
Much of the money to pay for the reinsurance came from the Health Care Access Fund, as did some other spending. An attempt to cancel the 2019 abolition of the provider tax failed. Since that provides the money for the Access Fund, that fund will be empty by 2021, which has implications for MinnesotaCare and other health programs whose money comes from that fund. Had a "repeal and replace" bill passed, the drop in Federal support for Medicaid and MinnesotaCare would hurt future Minnesota budgets badly.
---
Your Input is Needed! Patients Before Paperwork – Administrative Tasks and Best Practices Survey
ACP's Patients Before Paperwork Initiative began in 2015 with the goals of:
Identifying and prioritizing which complexities are of the top concern for ACP members and their patients.
Educating ACP members, other physicians, consumer advocates, and policy makers on what makes up administrative complexities, including the intent of the requirement and how the complexity impacts patients and physicians.
Implementing the most effective advocacy, stakeholder engagement, and practice support approaches to help mitigate or eliminate the top priority complexities and to help ACP members (and other physicians) address those complexities that cannot be eliminated.
Achieving results that reduce physician burn-out, help restore the joy of practice, and reinvigorate the patient-physician relationship.
Earlier in 2017, ACP published a new Position Paper: Putting Patients First by Reducing Administrative Tasks in Health Care , which outlines a cohesive framework for identifying/evaluating administrative tasks as well as detailed policy recommendations to reduce excessive administrative tasks across the health care system. Following this paper, the College is implementing a multi-pronged action plan to operationalize the framework and recommendations outlined in the policy paper. And you can help!
We are asking you to provide direct input into this work via a new online data collection tool . This tool, will allow you to enter either an administrative task or a best practice, and entries will be added to the Administrative Tasks and Best Practices Library. This library will eventually become accessible on ACPOnline, once the data are more robust. It can then serve as a resource for physicians to communicate administrative pain points with ACP staff and share and review best practices to address these issues. It will also serve as a tool for staff to advocate and provide specific examples to the external sources of these tasks, as well as to better serve our members via additional tools and services.
---
Safe Opioid Prescribing - Free Online Course
Minnesota Medical Association in partnership with MN-ACP has Minnesota-specific online Opioid training with CME and MOC. To view the course, follow this link .
---
Atrial Fibrillation Patient Education Resources
September was National Atrial Fibrillation Awareness Month. ACP offers a variety of patient education materials to help you communicate easily and clearly with your patients about Afib. These include:
A self-management guidebook with action plans and medication management worksheets
A video series that highlights an Afib patient's self-management journey
A Patient FACTS two-page takeaway sheet
These resources, along with many others, are available to you for FREE in both English and Spanish and in print and digital formats. Access our Atrial Fibrillation materials and browse all of ACP's patient education resources .
---
How ACP Members can Support Hurricane and Earthquake Aid Efforts
In the wake of recent devastation from hurricanes and the Mexican earthquake, ACP is communicating with our members and regional chapter leadership in the affected areas and will provide any support and resources we can during this difficult time. Visit this ACP website for resources and suggestions for helping those affected by the hurricanes and earthquakes.
---
Save the Dates
Oct. 12, 2017 –I.M. on Tap meeting at 6:30pm at Kieran's Irish Pub in downtown Minneapolis. Mike Burakowski from the Hennepin County Medical Examiner's office will be speaking on "Musings from the Morgue: Working with the Medical Examiner"
October 17, 2017, 7-8:30pm MN-ACP co-sponsored DFL candidate Gubernatorial forums in Rochester, MN
October 23, 2017, 7-8:30pm MN-ACP co-sponsored GOP candidate Gubernatorial forums in Rochester, MN
Oct. 26-27, 2017 for the ACP-MN Annual Scientific Session and Pre-courses, Minnesota IM:2017 at the Minneapolis Convention Center
---
Early Career Physicians
ACP's official definition of an "early career physician" is a physician who has graduated from medical school within the last 16 years AND who is not currently in residency or subspecialty fellowship training Any questions or suggestions, please contact the Early Career Physicians Chairwoman, Amy Holbrook, MD .
---
Advocacy in Action
Eight MN-ACP representatives attended the ACP Leadership Day in Washington DC. Travel scholarships were provided to Mayo Medical student Charlene Gaw and to resident Allison Ducharme-Smith. The focus of the advocacy visits to the Minnesota delegation was the proposed repeal of the ACA (and the need for bipartisan reform ), rising prescription drug costs, and measures to reduce administrative burdens.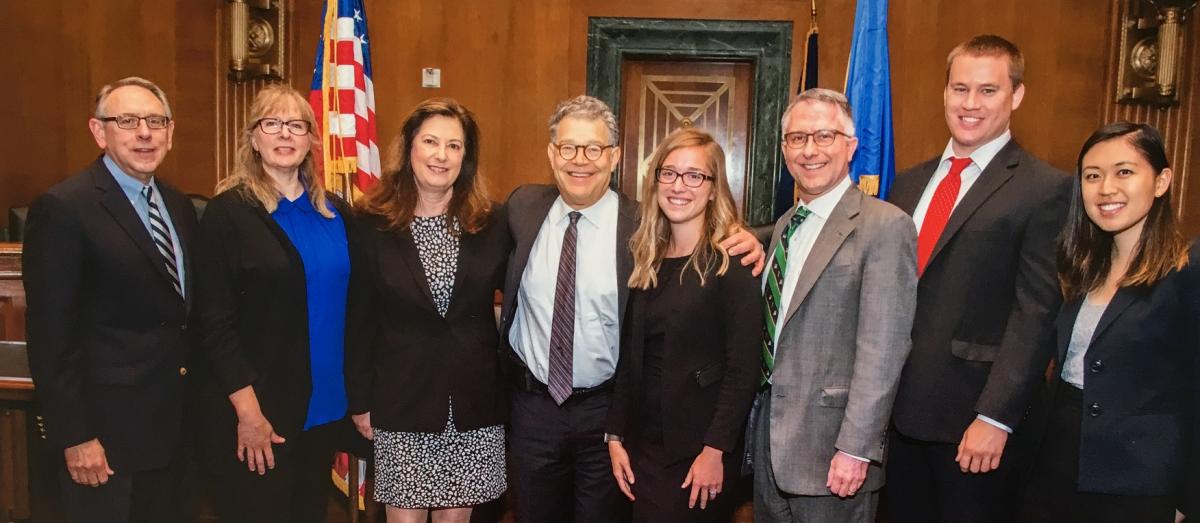 Attendees at ACP Leadership Day 2017 in Washington DC with Senator Al Franken, including Dr. Robert Lohr, Dr. Sally Berryman, Dr, Heather Gantzer, Dr. Allison Ducharme-Smith, Dr. John Bundrick, Caleb Murphy, and Charlene Gaw. [Not pictured: Dr. Mark Liebow]
---
Chapter Vital Statistics—Membership at Record Levels!
Membership of the Minnesota American College of Physicians as of September 2017 demonstrates strong membership growth. The table below shows a comparison of membership over the past five years. Thank you for your membership!
| MN-ACP membership profile | 2013 | 2014 | 2015 | 2016 | 2017 |
| --- | --- | --- | --- | --- | --- |
| Masters | 20 | 20 | 21 | 21 | 21 |
| Fellows | 570 | 571 | 579 | 561 | 573 |
| Members | 972 | 1026 | 1074 | 1125 | 1118 |
| Residents/Fellows | 486 | 391 | 405 | 392 | 473 |
| Medical Students | 234 | 275 | 307 | 334 | 308 |
| Affiliates (MD and non-MD) | 10 | 10 | 12 | 17 | 17 |
| Total members | 2292 | 2293 | 2398 | 2450 | 2510 |
---
Recruit a New Member and Reduce Your Dues!
If you have colleagues who are not yet ACP members-encourage them to join now. The link describes the Recruit a Colleague process by which you can have your dues for the next year reduced by $100 or more. A dues discount is always welcome! However, the real reason to encourage your peers to join is to encourage them to become engaged in the community of Internal Medicine in Minnesota and to strengthen the voice of our profession, increase lifelong learning, mentor medical students and residents, and take advantage of the professional resources national ACP has to offer including education at meetings and on line, insurance benefits, the Annals of Internal Medicine, assistance with choosing an electronic health record and medical home, electronic medical decision making resources, and patient and professional advocacy.
How can we better serve you? Please contact me with questions or thoughts on how the MN-ACP can serve you.
John B. Bundrick, MD, FACP Governor, MN-ACP
---
Welcome New Medical Student Members!
Many thanks to the Internal Medicine Interest Group Leadership at the University of Minnesota Medical School, UM-Duluth Medical School and the Mayo Medical School for their recruitment of new members. We look forward to all medical student engagement in the chapter!
---
New Chapter Members – Last Six Months
| | | |
| --- | --- | --- |
| David Abarbanel, MD | Matthew Jergenson | Sujaythat Paknikar |
| Irfaan A Abid, DO | Tina Johnson, MD | Pierce Peters |
| Claire Aksamit | Whitney Johnson | Abigail E Peterson, MD |
| Hasan Albitar, MD | Bryan Johnson | Jamie Piepenburg |
| Alaa M O Ali, MBBS | Jenna Johnson | Clemencia Rasquinha, MBBS |
| Madia Ampey | Stephanie Ann Joppa, MBBS | Lindsay A. Riordan |
| Derek Anderst, MD | Nycole Joseph, MD | Marvin Rios, MD |
| Mohamed Artan | Matthew J Kalina, DO | Skylar A. Rizzo |
| Brandon Barrett | Abdul-Malik Kassim | Londyn Robinson |
| Elin Beck | Christopher D Knapp, MD | David A. Rollins |
| Mylan R Blomquist | Catherine G. Knier | Astia Roper-Batker |
| Shannon Renee Boyle, MD | Sushma Kola, MD | Jason Sakizadeh |
| Claire Brutocao | Joel Kruse | Arshia Sandozi |
| Faith Buchanan | Manoj Kumar, MBBS | Paige Selvey |
| Rynn Burke, MD | Cole Laber, MD | Laura Serafim |
| Courtney Jillaine Burnett, MD | Rachel Lanasa | Hayley Sharma |
| Nicole Cairns | Margaret E. Lang | Richard Silbert, MD |
| Marilia Campos, MD | Sydney Larkin | James Sincebaugh, MD |
| Katerine N Chekhovskiy | Sharon Li, MD | Joanne Song |
| Supavit Chesdachai, MD | Kevin Lin | Rebecca Spurr |
| Justin J Choe | Kimberly Lundeen | Jennifer St Peter |
| Grace Choong, MD | Cory Lundeen | Andrew Stone |
| Marisa Christinia, DO | Kathleen Mahan, MD | Ethan Frederick Stortz, MD |
| Jennifer C. Dens Higano | Salman B Mahmood, MBBS | Nathan S Stratton |
| Emma Difilippo | Mackenzie Maki | Linnea Swanson |
| Minna Ding | Deepthi Malepati, MD | Sarah Tawfic |
| Kenneth Dodd, MD | Himanayani Mamillapalli, MD | Mouaffaa Tello, MD |
| Michael Downey | Alan Manivannan | Cullen Trangsrud |
| Ifunanya Hilda Ejebe, MD | Esteban Martinez | Allie Trudel |
| Priyal P. Fadadu | Elizabeth Marvin, MD | Prowpanga Udompap, MD |
| Elizabeth Fairbairn | Luke Matzek, MD | Kabao Vang |
| Maggie Flint | Stuart McCarter, MD | Mahima Vijayaraghavan, MD |
| Thomas Freeman | Charles Meade, MD | Elena Wahmhoff, MD |
| Anne Gair | Camilo Mejia | Robalee Wanderman, MD |
| Elliot James Graziano, MD | Patrick Mellors, MD | Lauren M. Webb |
| Bruce Gregoire | Joe Menigo | Taylor M. Weiskittel |
| Brett M Grieb, MD | Paul Mester, MD | John P. Welby |
| Barite Gutama | Matthew Mooberry, MD | Daniel Wells |
| Kelly Hallowell | Carlos Gustavo Moscoso, MD PhD | Kristen Westenfield |
| Matthew Hardman, DO | Daphne Moutsoglou, MD PhD | Georgianna Whiteley |
| Amal Hassan | Bhavana Nallamothu | Jason Wiederin |
| Alexander Hawkins, MD | Ashley Nelsen | Saranya Wyles, MD PhD |
| Brenda Her | Matthew Novitch | Timothy Xu |
| Alia E. Huang | Makinna Oestreich | Brian Yablon, MD |
| Nilesh Jambhekar, MD | Naoko Onizuka, MD | Siddhant Yadav, MD |
| Carlos Alberto Jaramillo, MD | Eloy Enrique Ordaya Espinoza, MD | Saida Yassin, MD |
| Sara Jaskanwal, MBChB | Evguenia Ouchveridze, MD | Zhenmei Zhang, MD |
| Archana K. Jeeji | Kafayat A. Oyemade | |