You are here
Minnesota Governor's Newsletter July 2016
Minnesota Governor's Newsletter July 2016

---
---

John B. Bundrick, MD, FACP, Governor
---
Welcome from the Governor
Over the past year, the ACP has embarked upon a major initiative known as "Patients before Paperwork" , with the aim of "reinvigorating the patient-physician relationship by challenging unnecessary practice burdens." The critical need for this effort seems to become more acute each day, with levels of physician burnout constantly on the rise – even though the patient engagement at the core of our work has lost none of its intrinsic satisfaction. Just as the continued advocacy of the College on behalf of all internists led to significant reform of MOC with ABIM, these activities are also beginning to bear fruit (even at this early stage) – such as revisions to the "Meaningful Use" program, for example; and the main focus now will be upon continued engagement with CMS to ensure that implementaton of MACRA does not further increase burdens upon physicians. As individuals, these are the sorts of things that have a major influence on our professional satisfaction and well-being but which we generally have little ability to alter at the macro level. It is very encouraging that we have such a strong organization to advocate effectively on behalf of us and our patients.
On the local level, our Program Planning Committee has put together another truly outstanding Fall meeting which will be held Oct 27-28, and I hope to see many of you there. In the meantime, enjoy this wonderful Minnesota summer (which is always too short)!
---
ACP Spring 2016 Highlights from the Minnesota Chapter
IM2016 Highlights
Internal Medicine 2016 was held in Washington, DC on May 3-7, 2016 in conjunction with ACP Leadership Day. We had over 135 Minnesota internists and residents joining thousands of internists from across the country. Minnesota physicians were well represented among the speakers at many of the most popular talks and a team of Mayo residents competed in the Doctor's Dilemma™.
Doctors Dilemma Team
The Minnesota team performed admirably through the second round, amidst fierce competition. Team members included: Dennis (Mike) Bierle, MD, Justin Fiala, MD, Alan Sugrue, MD, Justin Moser, MD— with coaches Chris Stephenson, MD and Will Schouten, MD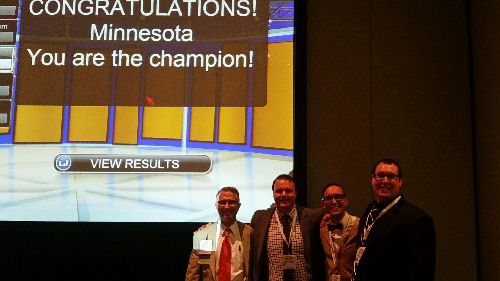 Poster Winners at IM2016
An important part of the National Meeting is the presentation of posters by medical students and Resident/Fellow members. Several Minnesota medical students and Residents presented posters at the Annual Meeting. It is an honor to present a poster, this means that the presenter either won at the Minnesota Chapter Meeting or gained entry via the at-large National Abstract Competition.
This year there were three National Poster Competition winners from Minnesota:
Resident/Fellow Research Poster Winners–′Increasing High-Value Venous Thromboembolism Prophylaxis: a Win-Win Situation Melissa K Myers, MD Mayo Graduate School of Medicine Program, Rochester, MN
Resident/Fellow Clinical Vignette Poster Winners–′A Rare Diagnosis That's Hard to Swallow Allison L Yang, MD Mayo Graduate School of Medicine, Rochester, MN
Medical Student Research Poster Winners-′-Seeing Eye to Eye with Patients: Meeting Community Need for Medical Specialty Care. Elaine Downie University of Minnesota Medical School, Minneapolis, MN
---
Welcome to Fellowship
ACP Internal Medicine 2016 – Convocation Recognitions
New Fellows are invited to march in at the convocation within the first two years of being elected to fellowship. ACP Fellowship adds value to your professional life. It is a mark of distinction from colleagues who recognize accomplishments and achievements over and above the practice of medicine. Fellowship honors those physicians who have made contributions to medicine, to their community, or to ACP. The photo below highlights those new Minnesota Fellows who were recognized at the 2016 Convocation.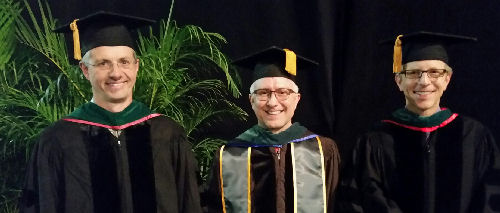 New Fellows at Convocation
New Fellows of the American College of Physicians (FACP) participating in the 2016 Convocation in Boston included:
David E. Beck, MD, FACP
David M. Casement, MD, FACP
Syed Ahsan Mujtaba Rizvi, MBBS
Congratulations New Fellows!*
Achieving ACP Fellowship is a significant milestone in a physician's career.
I'm delighted that we have so many accomplished and dedicated clinicians, and am so pleased to have many advance to Fellowship. Please join me in congratulating the following additional new Fellows who were advanced by ACP within the past year.
Briar L Duffy, MD FACP -Minneapolis
Muhamad Y Elrashidi, MD FACP – Rochester
Kurt A. Elting-Ballard, MD FACP – Ham Lake
Amy K Holbrook, MD FACP - Little Canada
Frederick W Hund, MD FACP - Willmar
Salma Iftikhar, MD FACP - Rochester
Anya Lukasewycz Jamrozy, MD FACP - Minneapolis
Sheetal Kaul, MD FACP - Saint Paul
Erin E Krebs, MD FACP - Minneapolis
Emil Lou, MD PhD FACP - Minneapolis
Peter G Lund, MD FACP – Minneapolis
Benji K. Mathews, MD FACP – Minneapolis
John C. OHoro, MD, FACP-Rochester
Andrew P Olson, MD FACP - Minneapolis
John F Rotilie, MD FACP - Saint Paul
Joyce L Sanchez, MD FACP - Rochester
John F Schwerkoske, MD FACP - Saint Paul
Sonja S Short, MD FACP - Inver Grove
Jacob J. Strand, MD, FACP- Rochester
Michael S. VanScoy, MD, FACP- Duluth
Kevin J. Whitford, MD FACP – Rochester
Jianping Yang, MD FACP- Bloomington
Make 2016 the year you apply for Fellowship- Fellowship is a high honor and a mark of professional achievement that is recognized by your peers and your patients. If you are now a member- become a Fellow by reviewing the web link and find which pathway to Fellowship is appropriate for your career path. Links to the requirements for advancing to Fellowship and to the application are also found on this website. In Minnesota, there are over 600 current members who are eligible for a pathway to becoming a Fellow of the American College of Physicians (FACP)
Complete your Fellowship application before Dec. 31st so that you can participate in the Convocation ceremony in San Diego, CA at Internal Medicine 2017. If you have any questions about completing the Fellowship application feel free to email or call ACP at 800-523-1546 ext. 2709
---
ACP Leadership Day
Leadership Day was held May 3rd and 4th, in Washington, DC with eleven Minnesota internists and medical students attending. Visits to our congressmen and senators to advocate for: opiate prescribing education, funding to enhance access to primary care for patients on Medicaid and Medicare; expanding graduate medical education funding; behavioral health and adult primary care; improving health information technology; reducing the cost of prescription medications; and other ACP priorities were included. Minnesota was represented by eleven attendees including: Drs. Heather Gantzer, John Bundrick, Mark Liebow, Robert Lohr, Sally Berryman, Eric Beck and medical students Patrick Boland, Katelyn Madigan and Caleb Murphy. MN-ACP staff Katherine Cairns also attended. Pictured below is the MN-ACP delegation and other scenes from the meeting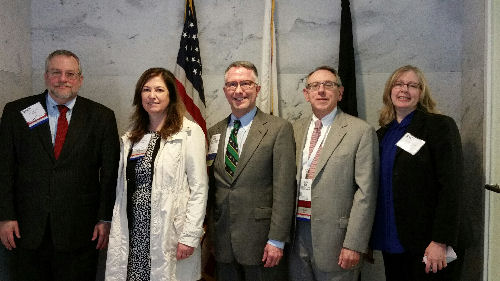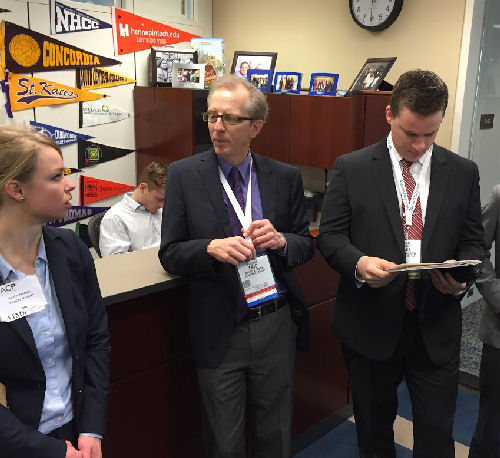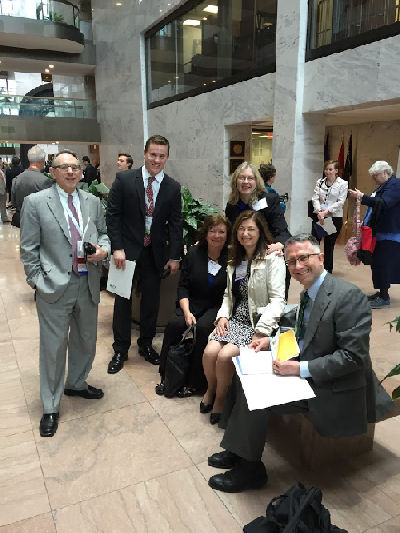 ---
Minnesota Chapter Reception
The Chapter reception was held on Friday night (May 6) at the Marriott Hotel near the Convention Center. It was a great event and over 85 Chapter members attended! Once again, MN-ACP collaborated with ND-ACP and the Mayo Alumni Association to host the event. We welcomed ND-ACP Governor Dr. Neville Alberto, several North Dakota internists and Mayo alumni now living in Texas, Alaska and other states to the event.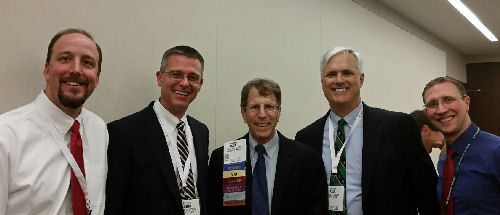 ---
Awards
Please remember to nominate your colleagues for an award. There are many national awards as well as two state awards listed below. The deadline is July 1 each year for National Awards and Masterships. The entire booklet which explains requirements for each National ACP award may be found on the ACP Web site. The State/Chapter Award Nominations can be sent to Minnesota.ACP@gmail.com no later than August 1, 2016. Please include a short informational bio on the nominee and why you feel they are deserving of the award. Minnesota award nominations are accepted for:
Laureate award′- is designed to honor those Fellows and Masters of the College who have demonstrated, by their example and conduct, an abiding commitment to excellence in medical care, as well as education, and/or research, and service to their community, their chapter, and the ACP. A Laureate nominee is usually a senior physician who has been a Fellow or Master of the College for at least 15-20 years and meets all other categories of eligibility.
Community Service award′- recognizes the work of members who are involved in volunteerism and community service activities. This award enables our Chapter to raise the level of awareness and promote dialogue and action in volunteerism within our state.
---
Annual Crawfish Boil
The annual Crawfish Boil held in Rochester and was hosted by Dr. Jamie Newman and attended by medical students of Mayo as well as Mayo internal medicine residents, and faculty. MN-ACP continues to support the internal medicine interest groups at the two medical schools in Minnesota (and have now added a third-see below!), and the IMIG groups are increasingly active in stimulating students' interest in internal medicine as a career.
---
Outreach to U of M-Duluth medical students
A community meeting to launch the first U of MN-Duluth Internal Medicine Interest Group was held on March 3rd in Duluth. It was hosted by Dr. Andrew Olson and a core group of medical students interested in internal medicine and primary care. It was attended by Duluth medical students, Dr. Alan Johns, an internist and Medical School Dean, as well as internal medicine physicians from the Duluth and Grand Rapids area. Our chapter is delighted to join with our colleagues in Duluth in this new initiative!

---
Spring Governor's Council Meeting Updates
Your Governor's Council met on May 18, 2016 in Bloomington, MN. Updates were provided by all committee chairs and by representatives from each medical school and residency program. The organization's bylaws allow for annual elections for one new Council member. The meeting also reviewed the objectives set out by the MN-ACP Strategic Plan. The financial report and budget for FY2017 were reviewed and approved. Chapter dues are scheduled to increase by $5 in the new fiscal year to cover increasing outreach and communication costs. Membership outreach plans were discussed as was an update on national and state legislative issues. The remainder of the meeting focused on the status and additional work to be done on the fall Scientific Session program.
---
Health IT Updates – Electronic Medical Record Transparency
By Deepti Pandita, MBBS, FACP Chair of the MN-ACP Health IT committee
Nationwide there has been a growing movement towards full transparency of the Electronic Medical Record and the next step to achieve this is the concept of "open notes" which gives patients instant access to their visit notes through online patient portals. Institutions have grappled with which notes to make available and there is a lot of apprehension regarding this from Clinicians. The Organization leading this charge nationally is www.opennotes.org/ where details can be found. The ACP mentions this in their recent position paper on clinical documentation
Additionally, ACP hospitalist published a paper on this which discusses this notion in the inpatient setting.
All the major health systems in MN have either gone live or contemplating going live with open notes. Some have been live with this in Ambulatory setting and not inpatient and some have gone live with inpatient only. There is also the debate on which note types should be released especially in terms of behavioral health. In MN it is anticipated most institutions will be live with Open Notes in one form or the other by end of 2017.
---
Save the Dates
I.M. on Tap meeting on Sept. 13, 2016 at 6:30pm at Kieran's Pub in downtown Minneapolis- "LGBT Medicine" will be the topic with Dr. Andy Hamp leading the discussion
Abstracts due on Sept. 23, 2016 Info at MN-ACP abstract competition.
Minnesota Internal Medicine: 2016 meeting on October 27-28, 2016, Minneapolis Convention Center
Internal Medicine 2017 ACP meeting on March 28 to April 1, 2017 in San Diego, CA. Please plan to attend!
---
Health and Public Policy Committee
By Mark Liebow, MD, MPH, FACP, and Chair of our Health and Public Policy Committee
Not Much Happening On Health Policy in Minnesota Legislature, Congress
The Minnesota Legislature's 2016 regular session ended late in May without much happening in health policy. Attempts to extend the provider tax beyond 2019, abolish MinnesotaCare, or get rid of MNsure all failed. The $ 66.7 million dollar bonding request to build a Health Sciences Education Facility on the University of Minnesota's Minneapolis campus did not make it into the bonding bill, which ultimately failed anyway. A provision in the tax bill would have unlinked tobacco taxes from rising at the rate of inflation and lowered e-cigarette taxes, but Governor Dayton vetoed the bill.
A few things made it into law, including an extension of the authority of Minnesota Department of Health to use the All-Payers Claim Database (APCD) for the analysis of health care cost, quality, and utilization baseline and trend information for targeted populations and communities. Also, prescribers who have a DEA number are required to register and create an account with the state's Prescription Monitoring Program (PMP), though there is no penalty for failing to register. While use of the PMP remains voluntary, legislators hope mandatory registration will increase the number of prescribers who use it.
Things are moving even less in Washington. Usually policymaking slows in a Presidential election year because Congress has extra time off for party conventions as well as for campaigning, but the annual appropriations process is dragging, making it again unlikely we can avoid funding medical research programs in a continuing resolution at least through November.
---
Membership update
The membership committee of Minnesota ACP wants to hear from you: What can we do better? What do you want or need from MN ACP? To help figure these questions and others out, please fill out a brief membership survey that will be sent to you in a separate email.
Please help us out by filling out the survey. For those of us who are members of ACP, the benefits and reasons to be a member are obvious. We need to get our fellow colleagues, internists, friends in the medical profession to also join, to make MN ACP more robust and stronger. I'd also be happy to take any concerns or comments you have by email.
Katie Helgen, MD, FACP-Chair, Membership Committee
---
Vote for Council member
Elections are now open for the one open position on the MNACP Council. Please vote .
---
Early Career Physicians
The Early Career Physicians Group (formerly the Young Physicians), will meet for "Internal Medicine on Tap" at Kieran's Irish Pub in Minneapolis on Sept. 13th with Dr. Andy Hamp from Park Nicollet's Gender Services leading a discussion on "LGBT Medicine"
ACP's official definition of an "early career physician" is a physician who has graduated from medical school within the last 16 years AND who is not currently in residency or subspecialty fellowship training
Any questions or suggestions, please contact the Early Career Physicians Chairwoman, Amy Holbrook, MD
---
MKSAP 17
MKSAP 17 is available for order. Take advantage of the 10% discount on group purchases of 10 or more.
---
American College of Physicians and American Medical Women's Association Affiliate Membership Agreement
The American College of Physicians (ACP) and the American Medical Women's Association (AMWA) last year announced an affiliate membership agreement. ACP members can become AMWA Affiliate Members as part of their ACP membership and at no additional charge under this new umbrella agreement. ACP is the first organization to offer our members AMWA Affiliate Member status.
The American Medical Women's Association (AMWA) is an organization that functions at the local, national, and international level to advance women in medicine and improve women's health. Founded in 1915, AMWA is the oldest multi-specialty organization of women in medicine. AMWA's programs help provide leadership, advocacy, education, mentoring and strategic alliances. As the vision and voice of women in medicine for nearly a century, AMWA empowers women to lead in improving health for all, within a model that reflects the unique perspective of women.
Benefits of AMWA Affiliate Membership include access to AMWA publications, opportunities to gain national leadership experience on one of AMWA's committees, networking, mentoring, and special discounts to AMWA local and national events.
Nicole Sandhu, MD, PhD FACP, longtime Minnesota ACP member, is the current Chair of the Membership Committee of AMWA and would be happy to answer any questions regarding this excellent organization.
Click here for more information on AMWA.
---
Congratulations, Dr. Mathews!
Congratulations to Benji Mathews, MD, FACP , President-Elect of the Minnesota Chapter of the Society of Hospital Medicine, and MN-ACP member.
---
ACP Launches New ACPonline.org Website
ACP has launched a newly rebuilt and redesigned https://www.acponline.org. The site features a contemporary design that incorporates task-based navigation and provides quicker access to features that ACP members use most.
Whether members want to find ACP's clinical or policy recommendations, access CME and MOC resources, renew their membership, or register for an event, the content they need to find is just a few clicks away. Additionally, as part of this project, the ACP chapter websites hosted by the College (>60) have also been redesigned and better integrated into the overall site.
The new site is also mobile- and touch-friendly, with a responsive interface that automatically optimizes for all devices (e.g., desktop, smartphone, tablet). We will continue to update and refine our new site to fully leverage these new technologies and opportunities. We're already planning many additional enhancements, including a more personalized experience for members.
Take a moment to explore the new site today.
---
MN-ACP Abstract Competition
The Minnesota Chapter of the American College of Physicians will hold its Minnesota Internal Medicine:2016 meeting on October 27-28, 2016 at the Minneapolis Convention Center. We are pleased to announce a Call for Abstracts for the meeting (the competition will take place on Friday, October 28, 2016). We invite ACP Medical Student members and Associate (resident and fellow) members to submit a research, clinical vignette, or quality improvement abstract for the competition. Please note that all abstracts must be submitted electronically, and that the person submitting the abstract must be the primary author. For the 2016 competition, you may be the primary author/presenter on only one abstract, but you may assist with additional abstracts/posters. Abstracts are due Sept. 23, 2016.
For information on the abstract competition
Electronic abstract submission form
For questions, contact olso5714@umn.edu or Minnesota.ACP@gmail.com
---
Save the Date: Minnesota ACP Internal Medicine 2016: October 27-28, 2016
The Minnesota Internal Medicine Update is the largest gathering in the state of internists, family physicians and APRNs focusing on adult medicine. The 2016 meeting will take place on October 27-28, 2016 at the Minneapolis Convention Center in Minneapolis, MN. Pre-courses on Oct. 27th will offer training on Pain Management and two ABIM SEP modules for MOC credit. We will again be offering tracks for both Outpatient and Hospital Medicine, as well as a robust resident and student poster session, Thieves Market, Doctors Dilemma, and more. We have planned our scientific sessions to provide another great experience for all. Watch for the registration and program materials in July.
---
New Online Opioid Education Modules, Video Now Available
ACP developed online training modules, with Pri-Med, to educate clinicians about best practices when prescribing opioids to patients and to help prescribers manage risk for abuse and inappropriate use. With approximately 100 million adults in the U.S. suffering from chronic pain, the nonmedical use of prescription opioids has become a public health issue, and prompted the U.S. Food and Drug Administration to establish the Risk Evaluation and Mitigation Strategy (REMS) mandate.
The REMS training modules provide comprehensive educational information for primary care clinicians, and can be completed, without charge, for CME credit. Access the online modules for additional information.
How can we better serve you? Please contact me with questions or thoughts on how the MN-ACP can serve you.
John B. Bundrick, MD, FACP Governor, MN-ACP