You are here
Minnesota Governor's Newsletter February 2017
Minnesota Governor's Newsletter February 2017

---
---

John B. Bundrick, MD, FACP, Governor
---
Updates from the Governor
Colleagues,
It is my hope that over the recent winter season you have been able to find some time to enjoy your family and loved ones and reflect with some satisfaction over your past work in service to your patients.
As Mark Liebow outlines for us below, the results of the 2016 election have thrown a considerable degree of uncertainty into projections for health care policy going forward, at both the federal and state levels. This has necessarily led to a need for change in ACP strategy in order to navigate this new political landscape. However, as a non-partisan organization, it is reassuring that the principles and positions of the College have not changed (nor will they with any election) and will continue to guide our advocacy efforts on behalf of all of us and our patients. If you have not yet had a chance to do so, I would encourage you to read ACP President Dr. Nitin Damle's letter which reviews these issues in more detail.
We held our Minnesota Internal Medicine: 2016 Scientific Session in late October. With too many highlights to mention here, I simply wish to thank our planning committee for all of their hard work, extend a warm congratulations to our award recipients (see section below), and invite each of you to the Minneapolis Convention Center for our next annual Scientific Session on October 26-27, 2017.
As we look to the year ahead, please contact me with any suggestions, questions, concerns, or simply good news to share about our chapter or profession. I look forward to hearing from you!
John Bundrick, MD, FACP, Governor
E-mail Governor Bundrick
---
Mission Statements
Minnesota ACP Mission: To foster excellence, education and professionalism among all internists in our community and to work together to shape the future of healthcare in Minnesota.
Minnesota ACP Vision: To be Minnesota's recognized leader for patient care, advocacy and education and to enhance career choice, satisfaction and collaboration for specialists and subspecialists in Internal Medicine.
---
Minnesota Internal Medicine: 2016 at Minneapolis Convention Center
The annual Scientific meeting chaired by Mary Miley, MD, FACP, Jason Szostek, MD, FACP, and Andrew Olson, MD, FACP was held on October 27-28, 2016 and drew 385 meeting registrants. Over 350 attendees came from across Minnesota as well as Wisconsin, Kansas, Canada, and North Dakota.
A session on Pain Management filled the room with internists seeking practical answers to patient questions and opioid clinical concerns. This session was also videotaped and is available here . Speakers encouraged internists to become registered users of the Minnesota Prescription Monitoring Program (PMP) and provided registration information
The two SEP module sessions on the same day drew a group which filled the room, intent on hearing discussion of the two topics from specialists in hospital medicine and out-patient medicine. Attendees left the session with twenty points of MOC Medical Knowledge and with a deeper understanding of the issues covered.
Friday, October 28th began early with the Internists' Breakfast discussion on "Implications of evolving language of the "PCP" moderated by Sally Berryman, MD, FACP . The rest of the morning included presentations on specialty areas and featured con-current sessions on out-patient and hospital medicine.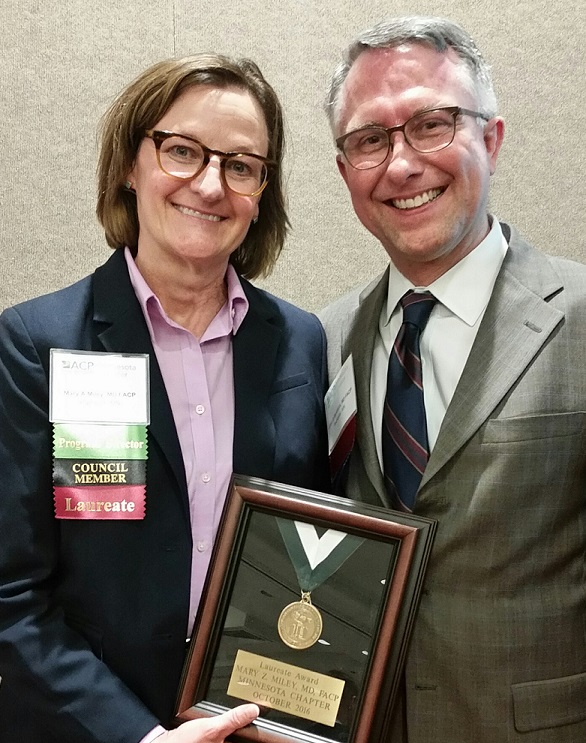 At the Awards lunch we honored our 2016 Laureate Mary Miley, MD, FACP.
Dr. Miley graduated from the University of Minnesota Medical School and completed her residency in Internal Medicine at Hennepin County Medical Center. She also completed a Post-Residency Fellowship in Internal Medicine Research at Hennepin County Medical Center. Dr. Miley was an active staff physician in Internal Medicine at Hennepin Faculty Associates, and currently at Park Nicollet Clinic and Methodist Hospital. Dr. Miley has a rich experience in medical education, planning multiple conferences for her health care system, and for St. Benedict/St. John's University over the past twenty-five years. Her work co-chairing the Annual Scientific Session of the MN-ACP has been invaluable and the chapter has seen increasing attendance and success of the meetings under her leadership. She teaches at the individual level as a mentor to U of M medical students, is preceptor for HCMC residents at Methodist Hospital, and is a clinical preceptor for nurse practitioner students at her clinic.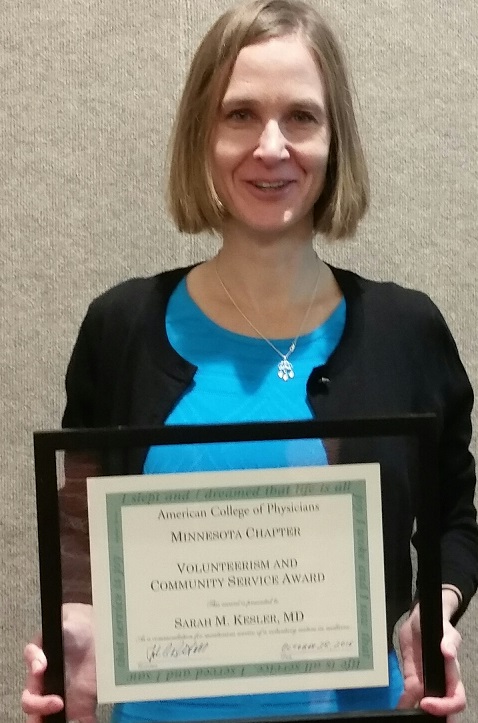 We also honored Sarah Kesler, MD with the 2016 Community Volunteer Award. For nearly six years, Dr. Sarah Kesler worked regularly for Doctors Without Borders in Sudan, South Sudan, Uganda, Chad and the Philippines and is thus being honored for her international health community service. Dr. Kesler attended St. Olaf College. She subsequently worked as a teacher in Namibia and returned to Minnesota for medical school. She completed both a residency in Internal Medicine and a fellowship in Critical Care at Hennepin County Medical Center. Currently, Dr. Kesler is Assistant Professor in the UMN Pulmonary, Allergy, Critical Care and Sleep Medicine department, and Critical Care Physician specializing in internal and critical care medicine. She is an MPA student at the Humphrey School of Public Affairs and director of the University of Minnesota International Humanitarian Crisis Simulation, which includes a Humphrey School of Public Affairs-School of Public Health course as part of a multidisciplinary project offered by four academic units at the U of M.
Dr. Kesler requested that the $1000 check which accompanies the MN-ACP Community Volunteer Award be given to the Minneapolis-based Northside Achievement Zone (NAZ) Variety was the word of the afternoon of October 28th: specialty lectures; the ever-popular Update in Inpatient and Outpatient Internal Medicine by Drs. A. Scott Keller and Steven Hillson reviewing key journal articles of the past year; viewing and judging of 155 posters of residents and medical students. A new twist to the afternoon session of Thieves' Market, moderated by Dr. John Bundrick, were the case presentation teams lead by chief residents at each of the Internal Medicine residency programs.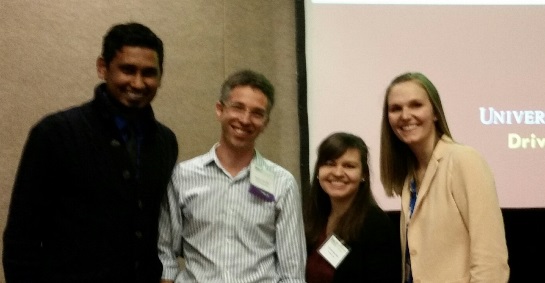 Culminating the afternoon were the Internal Medicine Residency teams of Abbott Northwestern, Mayo, HCMC and the University of Minnesota demonstrating the encyclopedic knowledge of Internal Medicine in the Doctor's Dilemma competition. The future patients of these team members can rest assured they are in good hands with their physicians' knowledge base. Presentations can be seen on the chapter website . Photos from the meetings are also linked on the same page.
The Minnesota Chapter of the ACP expresses heartfelt thanks to the efforts of the Program Committee and Faculty who worked tirelessly to make the MN-ACP 2016 Scientific meeting a resounding success. The Program Committee was co-chaired by Drs. Mary Miley, Jason Szostek and Andrew Olson. Committee members included: Drs. Chris Aakre, Brad Benson, John Bundrick, Heather Gantzer, Katherine Helgen, Steve Hilson, Amy Holbrook, Meltiady Issa, Anya Jamrozy, Jim Langland, Kyle Lehenbauer, Benji Mathews , Catherine Nguyen, Charles Reznikoff and Joyce Sanchez.
We are also very grateful to our faculty presenters for sharing their time and expertise with the 350+ in attendance. Faculty included:
Charles Reznikoff, MD, FACP, Hennepin County Medical Center
Erin Krebs, MD, FACP, VA Medical Center
Ankit Mehta, MD, Health Partners-Regions
Paul Kleinschmidt, MD, University of Minnesota
Meltiady Issa, MD, FACP
Heather Thompson, MD, FACP
Sally Berryman, MD, FACP, University of Minnesota
Paul Sorajja, MD,FACC,FAHA, Abbott Northwestern
Marc Pritzker, MD, FACC, University of Minnesota
Michael Shaw, MD, Park Nicollet
Kristine Ensrud, MD, MPH, FACP, VA Medical Center
Areef Ishani, MD, VA Medical Center
Carrie Thompson, MD, Mayo Clinic
William Browne, MD, University of Minnesota
Karen Mauck, MD, FACP, Mayo Clinic
Khuong Vuong, MD, Health Partners
Eduardo Colon, MD, Hennepin County Medical Center
David M. Tierney, MD, FACP, Abbott Northwestern
Jamie Newman, MD, FACP, Mayo Clinic
Robert Doherty, American College of Physicians
Heather Gantzer, MD, FACP, Park Nicollet and the American College of Physicians
Corey Martin, MD, Allina Health System-Buffalo Clinic
Steve Hillson, MD, FACP, Hennepin County Medical Center
A. Scott Keller, MD, FACP, Mayo Clinic
Andrew Olson, MD, FACP, University of Minnesota
David R Hilden, MD FACP, Hennepin County Medical Center
John Bundrick, MD, FACP, Mayo Clinic

Abstract competition winners
With a continued high number of abstracts and posters (155) in the medical student and resident poster exhibition, competition was fierce and we all appreciated the high quality of work presented by the participants. Winning abstracts lead authors will receive a travel scholarship to present their abstract at IM2017 in San Diego, CA this spring. The following were the winners of the poster competitions:
Clinical Vignette: Jonna Maas, MD,"HIT in the absence of heparin?" (University of Minnesota)
Clinical Vignette Finalists:
Sravya Vinnakota, MD,"Linear IgA Bullous Dermatosis: A Rare Manifestation of Vancomycin Hypersensitivity", (Mayo)
Breanna Zarmbinski, MD, "When Slow Flow Needs Fast Action: A Case of Hyperviscosity Syndrome and Waldenstrom Macroglobulinemia", (ANW)
Jordan Gunn, MD, "Takotsubo, An Annual Recurrence", (Mayo)
Guilherme Piovezani Ramos, MD, "Binge Correction", (Mayo)
Second Round Resident Vignette Advancement – Mohammad Bashir MD, Justin Brandler MD, Daniel Childs MD, Stephen Groves MD, Justin Grunwald MD, Alexandra Higgins MD, Isabel Hujoel MD, Dam Idossa MD, Daniel Johnsrud MD, Kacia Lee MD, Caroline Lochungvu MD, Melissa Myers MD, Salma Patel MD, Michael Richter MD, Tsi Chung Sang MD, Michelle Schmugge MD, Brooke Settergren MD, and Xin Zhang MD.
Research/ Quality Improvement: Anthony Prisco, MD,"Impact of LVAD Implantation Site on Ventricular Blood Stagnation " (U of M)
Resident Research/QI Finalist:
David Flood, MD, "Use of control charts to assess for longitudinal diabetes panel improvement: A quality report from a resource-limited setting", (University of Minnesota)
Medical Student Clinical Vignette: Frédérique St-Pierre,"Psychic Moans: An Unusual Presentation of Hypercalcemia from Multiple Myeloma" (Mayo)
Medical Student Research/QI:
Lauren Ward,"Analysis of the intracellular niche of a phagosomal pathogen in the context of Salmonella enterica infection in mice" (University of Minnesota)
Medical Student Research/QI Finalists:
Charlene Gaw,"Exploring primary care physicians' readiness for clinical integration of evidence-based health promotion programs in communities", (Mayo)
Kristin Larson, "Increasing Primary Care Physicians' Understanding of Agent Orange Exposure and Type 2 Diabetes Mellitus in Vietnam Veterans", (University of Minnesota)
Winners of the Clinical Vignette, Quality Improvement/Research and Medical Student poster competitions were awarded a $200 prize and travel scholarship to attend the national ACP meeting in San Diego, CA in Spring 2017 representing Minnesota to compete nationally. Finalists in each category were recognized at the annual meeting and presented with a prize. Winners will have their abstract published in a statewide publication in early 2017. A list of all abstracts submitted is electronically published here
Doctors Dilemma takes center stage
Four teams of internal medicine residents enjoyed friendly competition at the 2016 Minnesota Doctors Dilemma. Team members and their institutions were as follows:
A close final round between the Mayo Clinic Team and the HCMC team resulted in the HCMC team taking 2016 honors. All team members were recognized and received an "I Think therefore I.M." mug in recognition of their participation. The winning team goes on to represent our chapter at the Internal Medicine:2017 in San Diego, CA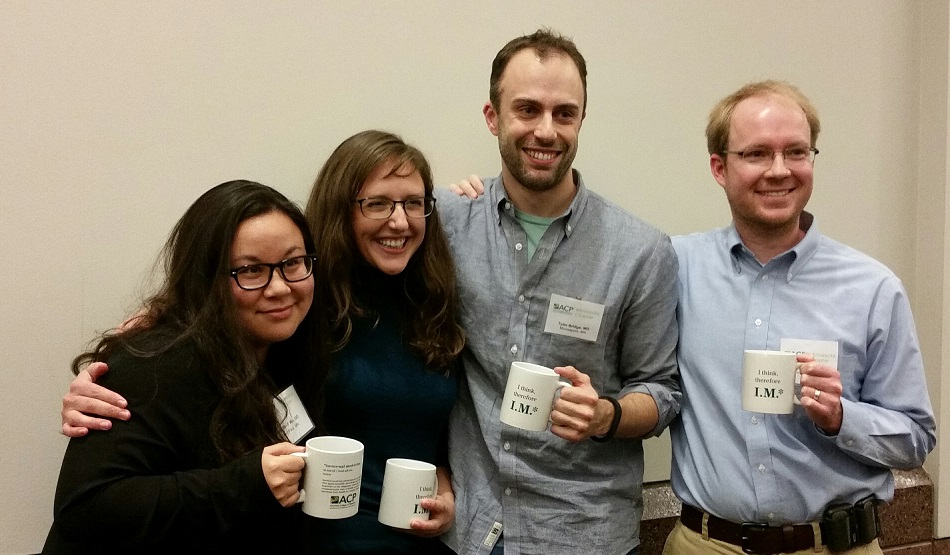 Hennepin County Medical Center Team— Tyler Bridge MD, Brianna Johnson-Rabbett MD, William Sinnett MD and Jennifer Wu MD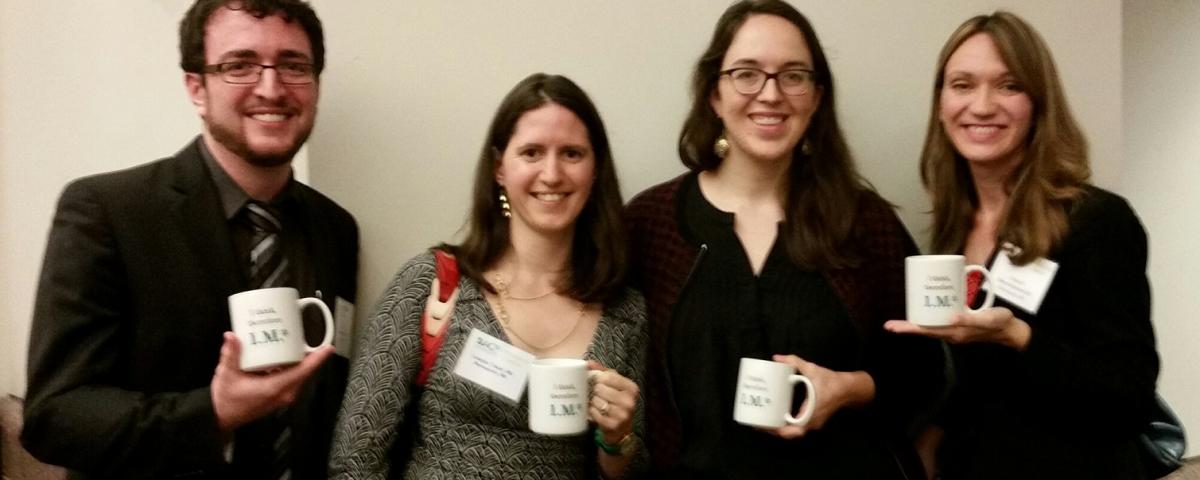 Abbott Northwestern Team— Aaron Goldish DO, Christina Thaler MD, PhD, Jean Porter MD, and Grace Skemp-Dymond DO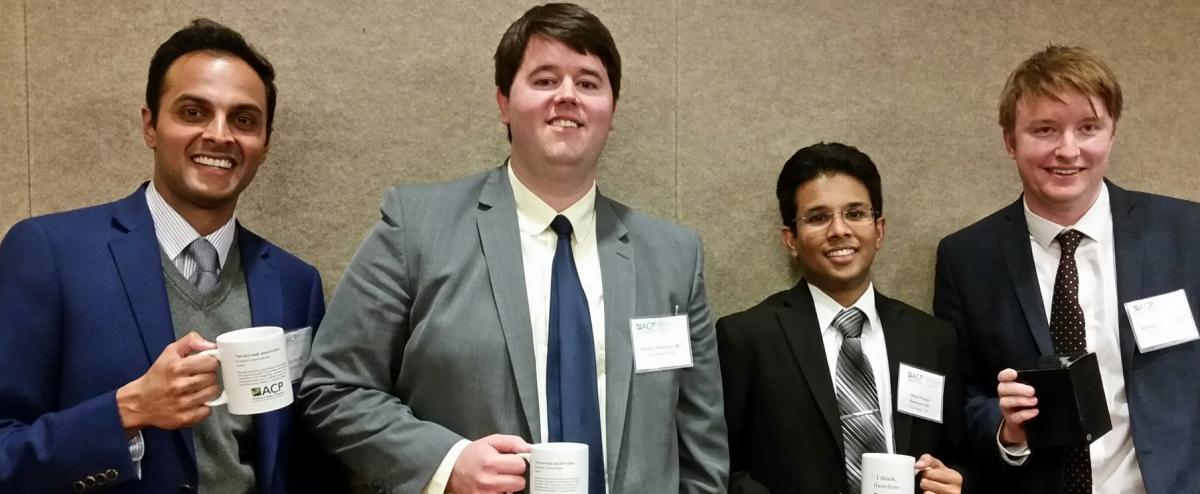 Mayo Clinic Team— Praful Ravi, MBBS, Dan Reynolds MD, , Jithma Abeykoon MD Alan Sugrue MBBS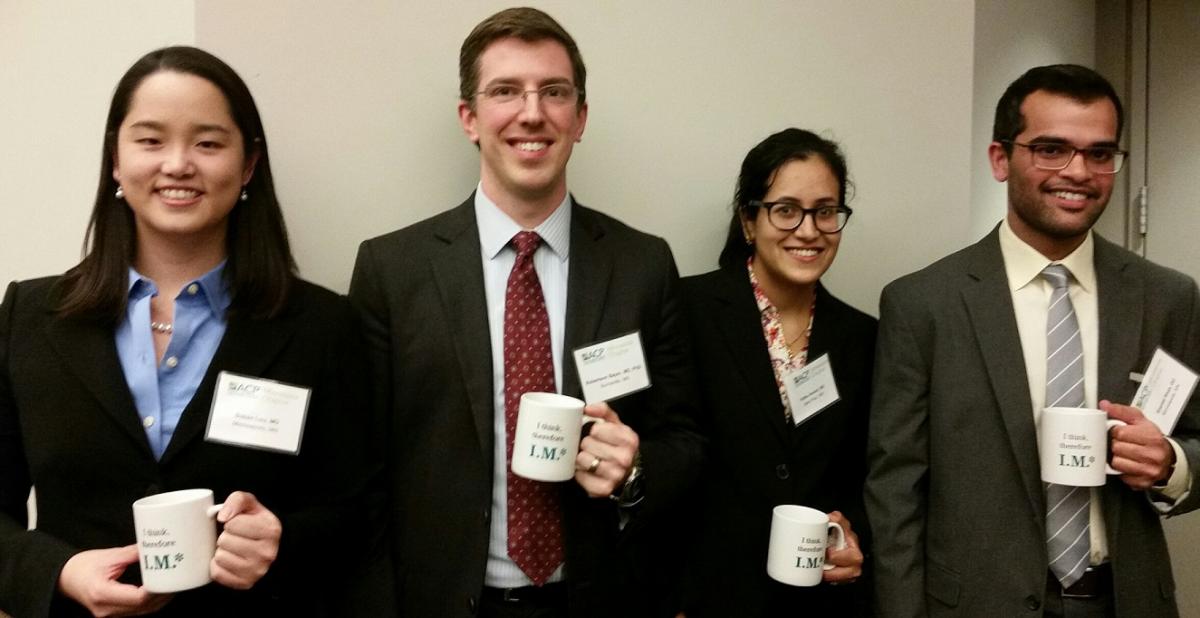 University of Minnesota Team— Robertson Bayer MD, Susan Lou MD, Shemal Shah MD, Vidhu Anand MD
---
Election Results Add Uncertainty to Health Policy
By Mark Liebow, MD, MPH, FACP
MN-ACP Policy Chair
Though Hillary Clinton barely carried Minnesota in November, Republicans gained seats in the Minnesota House and Senate. They gained six seats net in the Senate and, much to most people's surprise, gained control of the Senate by 1 vote. In the House, Republicans picked up 4 seats net to solidify their control. This is the first time Republicans will have four-year control of the Minnesota Senate in 50 years and the largest margin Republicans will have in the House since 2003-04. Two physicians, one DFL and one Republican, were elected to the Senate, so there will be physicians in the legislature for the first time in 14 years. The DFLer, Matt Klein, is an internist.
Republican control of the legislature and Mark Dayton's last two years as Governor promise serious contention and a high chance of gridlock. Efforts to reform the prior authorization process are not likely to go anywhere. Republicans will be torn between permitting the provider tax to go away, as it is scheduled to do in three years, and using the money the tax provides as an alternative to raising other taxes. If the Affordable Care Act is repealed or Medicaid is block-granted, Minnesota will have to deal with the substantial state-level consequences that will follow.
The Minnesota Medical Association has its Day at the Capitol on the afternoon of Wednesday, February 15. I hope more internists will attend and talk with their legislators.
Donald Trump is now President and Republicans control both houses of Congress, though by smaller margins than in 2015-16. There are all kinds of proposals being floated for next year. There will be a serious attempt to repeal the Affordable Care Act right away, though "repeal and replace" won't be happening right away. For technical reasons, Senate Democrats can hold up complete repeal and there may be a substantial political price to pay if millions of people lose health insurance while wealthier people get a substantial tax cut. Trump's only solid campaign promise in this area was converting Medicaid to block grants, which would likely throw more burden on states or cut services to Medicaid beneficiaries (and so reduce hospital and practice revenues). Converting Medicare to a premium-support system has again been floated. This has ominous implications for internists in a few years if it happens. There has been discussion of cutting Medicare GME funding, but that is not the front-burner issue.
---
MN-ACP Council Updates

Your Governor's Council met on Oct. 27, 2016 in Minneapolis, MN. Updates were provided by all committee chairs and by representatives from each medical school and residency program program and much of our time was spent reviewing the Fall member survey. A number of key themes emerged from the survey, and overall it was gratifying to see the many reasons listed as motivating factors for involvement in ACP and our chapter, which included:.
Provision of excellent CME
Provides a professional home
Resonates with policy priorities
Relationships and networking
Overall quality of ACP and pride in the organization
Remaining updated and "in the loop" on issues affecting medicine
As far as priorities that survey respondents would like to see MN ACP address in some fashion, those ranked most highly included:
Workforce development to increase primary care clinicians
Universal access to healthcare
Reducing health disparities
Supporting efficient use of the EMR
Reform of the prior authorization process and other paperwork reduction
Of course, many of these issues are complex and determined by multiple factors beyond the scope of our control. However, we will work to identify areas of focus where we are likely to have the most significant impact at the state level, and proceed accordingly.
Climate Change and Public Health
As detailed in an ACP policy paper in Annals of IM last year, climate change and fossil fuel related pollution are expected to have progressively increasing negative effects on human health. Recently members of Health Professionals for a Healthy Climate, an organization of Minnesota doctors, nurses and health professions students, distributed a letter to Minnesota legislators which urged them to take important steps in order to help mitigate these effects – primarily by advancing Minnesota's progress toward a clean energy future and by making provision for individuals and communities that are particularly vulnerable to climate extremes. While our key legislative priorities remain centered around preserving access to care for our patients and reducing administrative burdens on clinicians, MN-ACP is also pleased to weigh in on this important public health issue by joining 13 other Minnesota healthcare organizations who signed onto this letter. For further information on this excellent organization and their work, please visit http://www.hpforhc.org/.
---
Save the Dates
February 15, 2017–MN Medicine and MN-ACP Day at the Capitol. Register online
February 28, 2017- Deadline for medical student and resident travel scholarship to ACP Leadership Day in Washington DC. Application on line here.
March 30 - April 1, 2017–Internal Medicine 2017 ACP meeting in San Diego, CA. Register online Please plan to attend!
March 31, 2017 at 6-7:15pm –MN-ACP, Mayo Alumni and ND-ACP reception at Marriott Marquis San Diego Marina Room: San Diego Ballroom C
April 12, 2017–I.M. on Tap meeting at 6:30pm at Kieran's Irish Pub www.kierans.com in the Poet's Corner in downtown Minneapolis- with speaker John Egan, MD discussing "Does M.D. mean Money Dumb? How to win the student loan game." RSVP to Minnesota.ACP@gmail.com
May 23-24, 2017 –ACP Leadership Day in Washington, DC. Registration online
Oct. 10, 2017 –I.M. on Tap meeting at 6:30pm at Kieran's Irish Pub in downtown Minneapolis.
Oct. 26-27, 2017 for the ACP-MN Annual Scientific Session and Pre-courses, Minnesota IM 2017 at the Minneapolis Convention Center
---
Congratulations New Fellows!
Achieving ACP Fellowship is a mark of distinction and a milestone in a physician's career.
I'm delighted that we have so many accomplished and dedicated clinicians, and am so pleased to have many advance to Fellowship. Please join me in congratulating the following new Fellows from the last six months. The following additional new Fellows were named by ACP in the last six months:
Tracy C. Blichfeldt, MD FACP of Tenstrike, MN
Sara L. Bonnes, MD FACP of Rochester, MN
Saurabh Gupta, MD FACP of Minneapolis, MN
Laura J. Lehmann, MD FACP of Edina, MN
Mumtaz Mustapha, MD FACP of Minneapolis, MN
L. James Nixon, MD FACP of Minneapolis, MN
Adam P. Sawatsky, MD FACP of Rochester, MN
Daniel Schnobrich, MD FACP of Minneapolis, MN
Nate Scott, MD FACP of Minneapolis, MN
Melissa M. Simonson, MD FACP of Duluth, MN
Heather A. Thompson Buum, MD FACP of Saint Paul, MN
Pritish K. Tosh, MD FACP of Rochester, MN
Cherie Y. Zachary, MD FACP of Minneapolis, MN
Make 2017 the year you apply for Fellowship- Fellowship is a high honor and a mark of distinction and professional achievement that is recognized by your peers and your patients. If you are now a member- become a Fellow by reviewing the web link and find which pathway to Fellowship is appropriate for your career path. Links to the requirements for advancing to Fellowship and to the application are also found on this website. In Minnesota, there are over 600 current members who are eligible for a pathway to becoming a Fellow of the American College of Physicians (FACP)
If you have any questions about completing the Fellowship application feel free to e-mail or call ACP at 800-523-1546 ext. 2709
---
New MACP- Dr. David Midthun
Mastership in the ACP is one of the highest honors bestowed by the College and aims to recognize those who have achieved eminence in internal medicine, in conjunction with some degree of service to the ACP (at the chapter or national level). Over the last 50 years, Minnesota has had thirty recipients of the MACP designation, and we have now added another!
David Midthun, MD MACP is a Consultant in the Division of Pulmonary Diseases and a Professor of Medicine at the Mayo Clinic College of Medicine and is known nationally as an expert in pulmonary nodules and lung cancer screening. He has been a frequent presenter at the National ACP meeting. Dr. Midthun continues an active practice as well as teaching residents and fellows at the Mayo Clinic. Please join me in congratulating him on a richly deserved honor!
---
Early Career Physicians
ACP's official definition of an "early career physician" is a physician who has graduated from medical school within the last 16 years AND who is not currently in residency or subspecialty fellowship training
Any questions or suggestions, please contact the Early Career Physicians Chairwoman, Amy Holbrook, MD .
---
ACP Advocacy in Action – Day at the Capitol
Minnesota ACP is a co-sponsor of the Minnesota Medical Association Day at the Capitol in St Paul on the afternoon of Feb. 15, 2017. It is a chance to review state issues relevant to physicians in Minnesota, then to meet with your senators and representatives to discuss these issues from an internist's point of view. You need not be a member of the MMA to participate. For more information and registration click here
---
Chapter Vital Statistics—Membership at record levels!
Membership of the Minnesota American College of Physicians as of December 2016 demonstrates record levels, especially of members, medical students and affiliates. The table below shows a comparison of membership over the past five years. Thank you for your membership!
MN-ACP Membership Profile
| | 2012 | 2013 | 2014 | 2015 | 2016 |
| --- | --- | --- | --- | --- | --- |
| Masters | 20 | 20 | 20 | 21 | 21 |
| Fellows | 571 | 570 | 571 | 579 | 561 |
| Members | 976 | 972 | 1026 | 1074 | 1125 |
| Associates (Residents) | 494 | 486 | 391 | 405 | 392 |
| Medical Students | 240 | 234 | 275 | 307 | 334 |
| Affiliates (MD and non-MD) | 6 | 10 | 10 | 12 | 17 |
| Tota members | 2,307 | 2292 | 2293 | 2398 | 2450 |
---
ACP Issues Comprehensive Statement on U.S Immigration Policy
ACP released a statement on January 31st in reaction to the recent executive order on immigration. The statement details ACP's opposition to discrimination, religious tests, refugee bans, and denial of entry to persons with legal visas, and expresses grave concerns about the implications of the executive order on medical education, access to health care services, public health and families.
---
2016 Chapter Excellence Award
The Minnesota chapter of ACP has received the 2016 Chapter Excellence Award. The award recognizes chapters which successfully meet the standards for managing a chapter. In order to achieve the Chapter Excellence Award, chapters must meet all basic criteria and seven optional criteria. Criteria include such activities as formulating an effective Governor's Council and committees, communicating frequently with membership, providing educational opportunities, recruiting and advancing members and celebrating membership through local awards.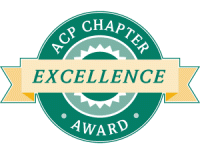 ---
Welcome New Medical Student Members!
Many thanks to the Internal Medicine Interest Group Leadership at the University of Minnesota Medical School, UM-Duluth Medical School and the Mayo Medical School for their recruitment of new members. We especially welcome the new UM-Duluth medical students. We look forward to all medical student engagement in the chapter!
---
Recruit a New Member and Reduce your Dues
If you have colleagues who are not yet ACP members-encourage them to join now, particularly anticipating the 2017 national ACP meeting in San Diego, CA. The link describes the Recruit a Colleague process by which you can have your dues for the next year reduced by $100 or more. A dues discount is always welcome! However, the real reason to encourage your peers to join is to encourage them to become engaged in the community of Internal Medicine in Minnesota and to strengthen the voice of our profession, increase lifelong learning, mentor medical students and residents, and take advantage of the professional resources national ACP has to offer including education at meetings and on line, insurance benefits, the Annals of Internal Medicine, assistance with choosing an electronic health record and medical home, electronic medical decision making resources, and patient and professional advocacy.
How can we better serve you? Please contact me with questions or thoughts on how the MN-ACP can serve you. John B. Bundrick, MD, FACP Governor, MN-ACP.