| | |
| --- | --- |
| December 2014 | Heather E. Gantzer, MD, FACP, Governor |
---
Minnesota ACP Mission: To foster excellence, education and professionalism among all internists in our community and to work together to shape the future of healthcare in Minnesota.
Minnesota ACP Vision: To be Minnesota's recognized leader for patient care, advocacy and education and to enhance career choice, satisfaction and collaboration for specialists and subspecialists in Internal Medicine.
---
In this Issue
---
MN-ACP Progress on Strategic Plan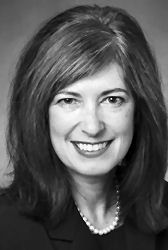 Over the past six months, how is Minnesota ACP progressing toward the goals set in the Vision Statement?
Steps in leadership for patient care: Multiple presentations in the November meeting addressed a patient and family -centered approach to care, particularly the both thoughtful and practical discussion by Dr. Rosemary Quirk on managing chronic pain in hospitalized patients, and presentation by Dr. Deborah Rhodes on the complex discussion between physician and patient regarding the implications of dense breasts on mammogram as indicated in 2014 Minnesota law.
Steps in advocacy: MN ACP has written letters of support to a variety of towns across the state who have considered regulating e-cigarettes in their jurisdiction, particularly with concerns about the possibility of increasing nicotine addiction in adolescents and young adults. Almost 20 cities now have restrictions in place. Dr. Mark Liebow, MN ACP Public Policy chair, gave an update on current health issues in the state and our chapter's involvement, particularly regarding the August 1 implementation of "Steve's Law" which encourages people to call for help (without delay due to fear of prosecution) if witnessing an overdose and allows first responders to carry naloxone as an emergency antidote. Charlie Reznikoff, MD, FACP spearheaded the effort which resulted in the successful passage and ongoing implementation of this lifesaving bill.
Steps in education: The Annual Scientific Meeting was held November 6-7 with an engaged and enthusiastic attendance of 352. There were a wide-ranging variety of topics as described separately in this newsletter.
Steps in career choice: With the support of MN ACP, the University of Minnesota Medical School Internal Medicine Interest Group held their annual Residency Dinner at Coffman Union on Wednesday October 29th. Led by IMIG leaders Caleb Murphy, Erica Levine and Lucas Dingman, Molly Goodier and colleagues, the dinner was attended by 80 medical students there to learn more about the characteristics of the Internal Medicine Residency Programs in Minnesota. The panelists consisted of leaders from the Internal Medicine residency programs of Abbott-Northwestern Hospital, Hennepin County Medical Center, Mayo, and the University of Minnesota, as well as the Internal Medicine/Pediatrics program at U of M and the Internal Medicine/ER program at HCMC. Chief residents were there to offer their perspectives as well. The energy in the room boded well for the future of Internal Medicine in Minnesota.
Steps in career satisfaction: Dr. Amy Holbrook continues to lead the increasingly popular "IM on Tap" series. The most recent event was at Kieran's Irish Pub on Sept. 9th with Dr. Joel Greenwald speaking on Financial Planning for Early Career Internists (defined by ACP as internists who have completed training but are within 16 years of medical school graduation.) The next I.M. on Tap event will be January 20, 2015 with Charlie Reznikoff, MD, FACP speaking on medical marijuana. Sally Berryman, MD, FACP led the Women Internist's breakfast on November 7th with a discussion of the challenges of managing a professional career in many settings. With multiple women physician leaders in participating in the breakfast, there was thoughtful talk of how physicians can mentor their younger colleagues, and of how incorporating the knowledge of some business practices and negotiating skills can help strengthen physician autonomy.
Steps in collaboration for specialists and subspecialists in internal medicine: Specialists of diverse areas participated in the Annual Scientific meeting. In particular, lectures focused on Hospitalist Medicine lecture focus were well attended. In the past six months internists of a wide variety of specialties have joined the MN ACP Our chapter membership now stand 2,293 members strong.
If you have thoughts of additional ways the ACP can serve Minnesota internists and their patients, and if you would like to be further involved in these efforts, please email me.
MN-ACP Council Members - 2014
---
Minnesota Chapter Scientific Meeting
November 6-7, 2014, Minneapolis Convention Center
The Scientific meeting chaired by John Bundrick, MD, FACP and Mary Miley, MD, FACP drew 352 meeting registrants. Attendees came from across Minnesota as well as Wisconsin, Iowa, Illinois, North Dakota, Washington DC and Canada.
On November 6th doctors Anjali Bhagra, David Tierney and Daniel Schnobrich introduced attendees to POCUS (point of care ultrasound) with multiple opportunities to learn and practice ultrasound examination of the heart, lungs, kidneys, veins and aorta on live models. Equipment was state of the art, with some of the tablets literally entering the market, so we had the opportunity to gain a hands-on knowledge of what lies ahead in the field of bedside ultrasound for the internist.
The two SEP module sessions on the same day drew a group which filled the room, intent on hearing discussion of the two topics from specialists in infectious disease, Dr. Cristina Baker and Dr. Joyce Sanchez, and Hospice and Palliative Medicine, Dr. Molly Feely and Dr. Jacob Strand. Attendees left the session with twenty points of MOC Medical Knowledge and with a deeper understanding of the issues covered.
Friday, November 7th began early with the Women Internists' Breakfast discussion on succeeding on one's profession by Sally Berryman, MD, FACP. The rest of the morning included presentations on specialty areas, general medicine, and hospital medicine, as well as topics intersecting this with legislative issues such as e-cigarettes and breast density patient notification. The morning session featured con-current sessions on general internal medicine and a hospitalist track which greatly added to the choices for participants. Robert Lohr, MD, FACP, a former Governor of our chapter and a current member of the ACP Board of Regents, updated us on the actions of ACP nationally and how they affect our members in Minnesota. He particularly addressed the ongoing efforts of ACP in addressing MOC, by working toward changes in the ABIM requirements and processes, as well as the new Navigator online available to ACP members to clarify how to meet their MOC requirements. He also spoke of the high priority of the ACP Initiative "Patients Before Paperwork" to reduce the burden of administrative/clerical tasks upon physicians to allow them to practice the profession to which they are committed.
At the Awards lunch we honored our 2014 Laureate Paul S. Mueller, MD, MPH, FACP. Dr. Mueller is chair of the Division of General Internal Medicine at the Mayo Clinic, has authored hundreds of articles, has served on ethics committees, has led the American Osler Society, has volunteered in the Hurricane Katrina efforts and has been a tireless advocate for the ACP. We also honored David R. Hilden MD, MPH, FACP with the 2014 Community Volunteer Award. Dr. Hilden practices at Hennepin County Medical Center but serves the community in a wide variety of additional ways: at the Phillips Neighborhood free clinic, at presentations to the public in nursing homes and health care facilities, in Louisiana with the Hurricane Katrina volunteers and in the Middle East with the Peace through Health program. He directed the check which accompanies the MN ACP Community Volunteer Award to the Hennepin County Health Care for the Homeless which operates medical clinics at 11 different shelters and drop-in centers in Minneapolis.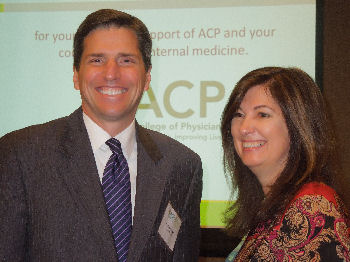 2014 Laureate Award winner, Paul S. Mueller, MD, MPH, FACP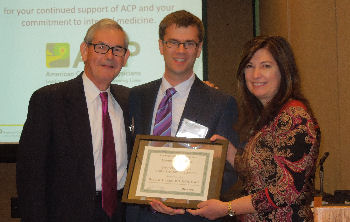 2014 Community Service Award, David R. Hilden, MD, MPH, FACP with David Williams, MD, MACP
Daniel Schnobrich, MD selected as one of the top 10 hospitalists in the nation in 2014 by the American College of Physicians
Variety was the word of the afternoon of November 7: specialty lectures; the ever-popular Update in Inpatient and Outpatient Internal Medicine by Dr. Steven Hillson reviewing key journal articles of the past year; viewing and judging of 171 posters of residents and medical students; and culmination of the afternoon with the Internal Medicine Residency teams of Abbott Northwestern, Mayo, HCMC and the University of Minnesota demonstrating the encyclopedic knowledge of Internal Medicine in the Doctor's Dilemma competition. The future patients of these team members can rest assured they are in good hands with their physicians' knowledge base, including the name of the device that uses 4 rather than 2 wavelengths of light to detect oxyhemoglobin, deoxyheoglobin, carboxyhemoglobin and methemoglobin (co-oximeter) , the parasitic cutaneous infection transmitted by the sandfly (Leishmaniasis) and the predominant protein comprising the matrix of urinary casts (Tamm-Horsfall mucoprotein.)
Presentations and photos from the 2014 Annual Scientific Session.
The Minnesota Chapter of the ACP expresses heartfelt thanks to the efforts of the Program Committee and Faculty who worked tirelessly to make the MN-ACP 2014 Scientific meeting a resounding success.
Program Committee:
Co-Chairs
John Bundrick, MD, Mayo Clinic
Mary Miley, MD, Park Nicollet Clinic
Jason Szostek, MD, Mayo Clinic
Mayo Clinic
Park Nicollet
Richard Adair, MD, FACP, Abbott Northwestern
Sally Berryman, MD, FACP, University of MN
Brad Benson, MD, FACP, University of MN
Heather Gantzer, MD, FACP, Park Nicollet
Katherine Helgen, MD, FACP, Mayo Clinic
Amy Holbrook, MD, Abbott Northwestern
Robert Lohr, MD, FACP, Mayo Clinic
Charles Reznikoff, MD, FACP, Hennepin Co. Med Center
Craig Roth, MD, FACP, Veterans Admin Med Center
Andrew Olson, MD, University of Minnesota
Jim Langland, MD, University of Minnesota
Anya Jamrozy, MD, Abbott Northwestern
Benji Mathews, MD, University of Minnesota
Katherine Cairns, MN-ACP
Faculty:
Anjali Bhagra, MBBS, FACP, Mayo Clinic
David M. Tierney, MD, Abbott Northwestern
Daniel J. Schnobrich, MD, University of Minnesota
Joyce Sanchez, MD, Mayo Clinic
Cristina Baker, MD, Park Nicollet
Molly Feely, MD, FACP, Mayo Clinic
Jacob Strand, MD, Mayo Clinic
Sally Berryman, MD, FACP, University of Minnesota
Anne Joseph, MD, MPH, University of Minnesota
Deborah Rhodes, MD, Mayo Clinic
Pankaj Shah, MD, Mayo Clinic
Charles Reznikoff, MD, Hennepin Co. Med Center
Pritish Tosh, MD, Mayo Clinic
Amy Holbrock, MD, Abbott Northwestern
William Browne, MD, FACP, University of Minnesota
M. Chadi Alraies, MD, FACP, University of Minnesota
Rosemary Quirk, MD, Hennepin Co. Med Center
Brad Benson, MD, FACP, University of Minnesota
Peter Melchert, MD, Abbott Northwestern
Jeanne Huddleston, MD, FACP, Mayo Clinic
Paul Huddleston, MD, Mayo Clinic
Tamara Buechler, MD, Mayo Clinic
John Bundrick, MD, FACP, Mayo Clinic
Aaron DeVries, MD, MPH
Arnold Vang, DrPH, MSPA, MPH, PA Centers for Disease Control and Prevention (CDC)
William Stauffer, MD, MPH, DTM, University of Minnesota, CDC
Robert H. Lohr, MD, FACP, Mayo Clinic and American College of Physicians Board of Regents
Aleksandra Kukla, MD, University of Minnesota
Steve Hillson, MD, FACP, Hennepin Co. Med Center
David Hilden, MD, FACP, Hennepin Co. Med Center
---
Navigator helps guide you through Maintenance of Certification

While continuing to work for the improvement of the American Board of Internal Medicine Maintenance of Certification process, the ACP has simultaneously launched a Navigator for members on the website acponline.org. The Navigator helps you understand the impact and implications of MOC, assists you in making a decision about participation in MOC (both the implications of not participating and the incentives to participate,) reviews the detailed requirements, shows you how to enroll, guides you in selecting ways to meet the requirements, and provides information about the secure exam and ways to prepare for it.
Your own personal individual MOC status (how many points earned when) remains on the secure ABIM website, but the Navigator helps guide you through the general process and helps you better understand your options.
Or, go to www.acponline.org, then under the Education and Recertification section in the top banner and choose ABIM Maintenance of Recertification under the dropdown menu, then under the section "What if I Still Don't Know Where to Start?" click on MOC Navigator.
For specific questions about your own MOC status, call the ABIM at 1-800-442-2246 Monday through Friday 8:30 am to 8pm ET and Saturday 9am-noon ET. If you need answers regarding the general MOC process, you can call ACP at 1-800-523-1546, x2600 Monday-Friday 9am-5pm ET.
---
Please Vote on Our New Proposed Bylaws
The Council of the Minnesota American College of Physicians developed and approved an update of our chapter Bylaws, which the Board of Regents has now approved. This update awaits MN-ACP membership approval to go into effect. Here is the electronic ballot to vote on whether or not you approve of the Bylaws changes.
The primary motivation for the changes in the Bylaws was to ensure the chapter Council includes a variety of perspectives of the internists in our state. The changes include the following.
• There will be an ex-officio Council position for the director (or their designate) of each of the Internal Medicine and Internal Medicine/Pediatrics Residency programs of Minnesota.
• There will also be four at-large elected positions which will be three years each (after beginning in staggered fashion: so the very first election will be for one one-year term, two two-year terms, one three year term, then as those terms expire all three year terms.) The process of submitting a name to the Nominations Committee will be sent you in the coming year, if the bylaws are approved. The goal is to have the four at-large elected members being able to attend the November 2015 Council meeting.
• Permits the use of electronic communication rather than mailing all meeting notices to Council or members;
Significant effort has gone into the Bylaws update. When you review your ballot and accompanying information I hope you will thoughtfully consider the potential positive impact on our chapter. Here is the Bylaws ballot. For additional information on the MN-ACP Bylaws.
Thank you for your membership in ACP and the Minnesota chapter of ACP.

ACP YouTube video
****************************************************************
2014 ACP Minnesota Award Winner
John Phillips Memorial Award for Outstanding Work in Clinical Medicine
Robert A. Kyle, MD, FACP
Rochester, MN
---
Consider Becoming a Preceptor for 3rd and 4th Year Medical Students
Consider having a 3rd or 4th year medical student join you in your primary care clinic. Clerkships last four weeks and you can work one-on-one with the student, or share precepting with your office colleagues. Because your commitment is only for one rotation (four weeks) at a time, you could try once and see how it goes.
Potential benefits to you: rekindling your enthusiasm for Internal Medicine as you introduce the student to the complexities of diagnosis, chronic disease management "real world' medical practice, and nurturing future colleagues-in-training. For precepting University of Minnesota medical students you will be granted the title of Adjunct Clinical Assistant Professor, gain access to the University's Biomedical Library and be able to attend University CME programs at a discounted rate.
Potential benefits to students: refining their clinical skills by while seeing patients with a practicing physician, fulfilling a graduation requirement and developing an appreciation for the tremendous variety of Internal Medicine in the ambulatory setting.
For more information on the options and logistics of medical student preceptorship, contact: Dr. Sally Berryman at the University of Minnesota Medical School. Pager 612-899-6801.
The Mission of the Minnesota Chapter of the ACP is "To foster excellence, education and professionalism among all internists in our community and to work together to shape the future of health care in Minnesota." Introducing an upper-level medical student to outpatient Internal Medicine would be in complete alignment with our mission.
---
Upcoming Events
December 31, 2014 ACP Fellowship application due for review before IM2015 Convocation Ceremony
January 20, 2015- Internal Medicine on Tap for Early Career Internists (ACP members within 16 years of graduating from medical school) at 6pm at Kieran's Pub in the Poet's Corner, at 6th St. and 1st Ave. in Minneapolis. Charlie Reznikoff, MD will be speaking on "Medical Marijuana"
April 14, 2015- - Internal Medicine on Tap for Early Career Internists (ACP members within 16 years of graduating from medical school) at 6pm at Kieran's Pub in the Poet's Corner, at 6th St. and 1st Ave. in Minneapolis.
April 30-May 2, 2015 Internal Medicine 2015 in Boston
Sept. 29, 2015- - Internal Medicine on Tap for Early Career Internists(ACP members within 16 years of graduating from medical school) at 6pm at Kieran's Pub in the Poet's Corner, at 6th St. and 1st Ave. in Minneapolis.
---
Congratulations New Fellows!
Achieving ACP Fellowship is a mark of distinction and a milestone in a physician's career. I'm delighted that, we have so many accomplished and dedicated clinicians, and am so pleased to have to many advance to Fellowship. Please join me in congratulating the following new Fellows from the last six months:
Jorge A Brenes Salazar, MD, FACP, Rochester
Charles S Collins, MD, FACP, Rochester
Nerissa M Collins, MD, FACP, Rochester
John M Davis, MD, FACP, Rochester
Susan J Diem, MD, FACP, Minneapolis
Brian Dougan, MD, FACP, Rochester
Ziad M El-Zoghby, MD, FACP, Rochester
Lynne C Fiscus, MD, MPH, FACP, Minneapolis
James R Gregoire, MD, FACP, Rochester
Katherine E Helgen, MD, FACP, Northfield
Ankur Kalra, MD, FACP, Minneapolis
Prashant Kapoor, MD, FACP, Rochester
Victor M Montori, MD, FACP, Rochester
Carlos E Morales, MD, FACP, Winona
Primepares G Pal, MD, FACP, North Oaks
Ayesha Rashid, MBBS, FACP, Apple Valley
Charles P Reznikoff, MD, FACP, Minneapolis
Patricia J Sullwold, MD,FACP, New Brighton
Majken Textor Wingo, MD, FACP, Rochester
Rajanshu Verma, MD, FACP, Rochester
Salman Waheeduddin, MBBS, FACP, Minneapolis
Make 2014 the year you apply for Fellowship- Fellowship is a high honor and a mark of distinction and professional achievement that is recognized by your peers and your patients. If you are now a member- become a Fellow by reviewing the web link and find which pathway to Fellowship is appropriate for your career path. In Minnesota, there are 630 current members who are eligible for a pathway to becoming a Fellow of the American College of Physicians (FACP).
Complete your Fellowship application before Dec. 31st so that you can participate in the Convocation ceremony in Boston at Internal Medicine 2015. Requirements for advancing to Fellowship are listed here. Here is a link to the application for Fellowship is at: If you have any questions about completing the Fellowship application feel free to email or call ACP at 800-523-1546 ext. 2709.
---
Internal Medicine 2015
Internal Medicine 2015 will be held in Boston on April 30 to May 2, 2015, with Pre-courses on April 28-29, 2015. It is a chance to learn about advances in your own field and related fields from top experts in the country, in the company of fellow internists of all specialties. Look at the program and register.
Minnesota ACP will be holding a reception jointly with the Mayo Alumni Foundation and the North Dakota Chapter of the ACP 6pm on Friday, May 1st; we look forward to seeing you there.
Also note that Convocation in Boston on Thursday, April 30th at 6pm is a meaningful gathering time, with plenty of pomp and circumstance, acknowledging the new Masters and Fellows of the College. Fellows elected since 2012 and not yet inducted are invited to the Convocation ceremony.
---
ACP Advocacy in Action
Minnesota ACP Participates in the Minnesota Medical Association Day at the Capitol in St Paul Wednesday, March 11, 2015. It is a chance to review state issues relevant to physicians in Minnesota, then to meet with your senators and representatives to discuss these issues from an internist's point of view. You need not be a member of the MMA to participate. Please register.
---
Chapter Vital Statistics
There are 2,293 members of the Minnesota American College of Physicians as of December 2014. The table below shows a comparison of membership over the past three years. Thank you for your membership in ACP and MN-ACP!
| MN-ACP Membership Profile | 2011 | 2012 | 2013 | 2014 |
| --- | --- | --- | --- | --- |
| Masters | 19 | 20 | 20 | 20 |
| Fellows | 567 | 571 | 570 | 571 |
| Members | 950 | 976 | 972 | 1026 |
| Resident Fellow Members | 461 | 494 | 486 | 391 |
| Medical Students | 222 | 240 | 234 | 275 |
| Affiliates (MD and non-MD) | 3 | 6 | 10 | 10 |
| Total members | 2,222 | 2,307 | 2292 | 2293 |
---
2014 Chapter Excellence Award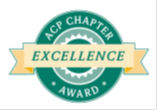 The Minnesota chapter of ACP has received the 2014 Chapter Excellence Award. The award recognizes chapters which successfully meet the standards for managing a chapter. In order to achieve the Chapter Excellence Award, chapters must meet all basic criteria and seven optional criteria. Criteria include such activities as formulating an effective Governor's Council and committees, communicating frequently with membership, providing educational opportunities, recruiting and advancing members and celebrating membership through local awards.
---
Welcome New Medical Student Members!
Many thanks to the Internal Medicine Interest Group Leadership at both Minnesota Medical Schools for their recruitment of new members. The U of M IMIG registered 141 new ACP/IMIG student members and the Mayo IMIG registered 60 new medical student IMIG/ACP members. We welcome our new student members, and look forward to your engagement in the chapter!
---
Abstract Competition Winners
With a continued high number of posters in the medical student and resident poster exhibition, competition was fierce and we all appreciated the high quality of work presented by the participants. The following were the winners of the poster competitions:
Clinical Vignette- Cyril Varghese, MD (Mayo) "Pneumonia Masquerading as a Rash"
Clinical Vignette Finalists-
Umana Adil, MD (HCMC) "Recurrent pneumothoraces: are we missing something?"
Sarah Kiel, MD (U of M) "The Real Air Bud: The Importance of Canines in Diagnosing Blastomycosis"
Misoor Goueli, MD (Mayo) "A Voice for the Voiceless"
Neil Majithia, MD (Mayo) "When It's Not Just the Sniffles: A Case of Unilateral Rhinorrhea"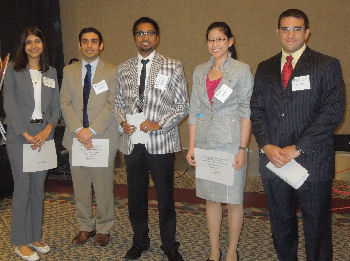 Clinical Vignette Winners and Finalists
Quality Improvement-
Joel Beachey, MD (Mayo) "Reducing Unnecessary Routine Lab Tests for Hospitalized Medical Patients"
Research-
Vidhu Anand, MD (U of M) "Ofatumumab for Rheumatoid Arthritis: A Cochrane Systematic Review and Meta-analysis"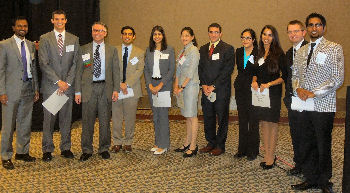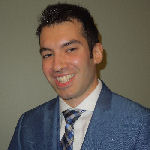 Abstract Award Winners
Medical Student Clinical Vignette
Justin Shipman (U of ND) "Atypical Tularemia Presentation with Primarily Gastrointestinal Symptoms"
Medical Student Research/QI
Prakriti Gaba (Mayo) "Deep Brain Stimulation of the Nucleus Accumbens for Patients with Central Post-Stroke Pain"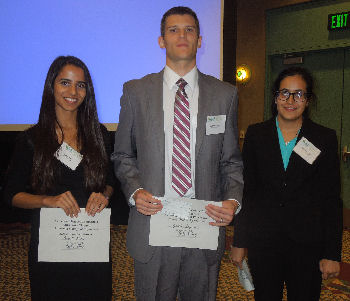 Justin Shipman, Clinical Vignette and Prakriti Gaba, Research/QI
Winners of the Clinical Vignette, Quality Improvement, Research and Medical Student poster competitions were awarded a $200 prize and travel scholarship to attend the national ACP meeting in Boston in April 2015 representing Minnesota to compete nationally. Finalists in each category were recognized at the annual meeting and presented with a prize. Winners will have their abstract published in Minnesota Medicine in early 2015. A list of all abstracts submitted is electronically published.
---
Doctors Dilemma Takes Center Stage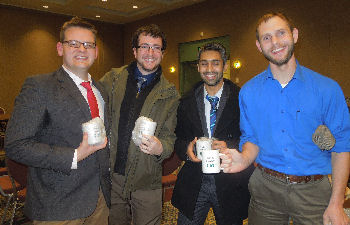 Doctor's Dilemma participants with ACP Mug- "I think, therefore I.M."
Four teams of internal medicine residents enjoyed friendly competition at the 2014 Minnesota Doctors Dilemma. Team members and their institutions were as follows:
HCMC-Bishara Nassir, MD, Eric Winkel, MD, Faraz Kazmi, MD, and Johanna Bischof, MD
U of M-- Fateh Bazerbachi, MD, Vidhu Anand, MD, Maggie Kappelman, MD, Kyle Mairose, MD
Abbott Northwestern-- Brent Ekstrom, MD, Colt Edin, MD, Ameet Doshi, MD, Aaron Goldish, MD
Mayo Clinic-- Vaibhav Vaidya, MD, Brittany Dykstra, MD, Lisa Daniels, MD, Kostas Siontis, MD
A close final round between the Abbott Northwestern team and the Mayo Clinic team resulted in the Mayo Clinic team taking 2014 honors. All team members were recognized and received an "I Think therefore I.M." mug in recognition of their participation.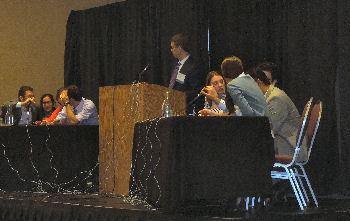 Doctors Dilemma in Action
---
Recruit a New Member and Reduce Your Dues
If you have colleagues who are not yet ACP members-encourage them to join now, particularly anticipating the 2015 national ACP meeting in Boston. Check out the Recruit a Colleague process by which you can have your dues for the next year reduced by $100 or more. A dues discount is always welcome! However, the real reason to encourage your peers to join is to encourage them to become engaged in the community of Internal Medicine in Minnesota and to strengthen the voice of our profession, increase lifelong learning, mentor medical students and residents, and take advantage of the professional resources national ACP has to offer including education at meetings and on line, insurance benefits, the Annals of Internal Medicine, assistance with choosing an electronic health record and medical home, electronic medical decision making resources, and patient and professional advocacy.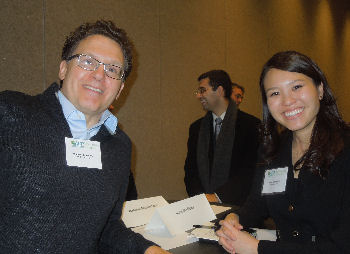 ---
Does Your Clinic Want Help with MNSure Enrollment of Uninsured Patients?
A new outreach initiative of the MNSure program this year will bring a navigator and a broker to your clinic/hospital and provide local media promotion during the months of December and January. This additional outreach is especially targeted to greater Minnesota clinics. If your clinic/hospital is interested in designating a health care enrollment day or early evening event, please contact Minnesota.ACP@gmail.com to be connected with this special program for partnering with physicians.
****************************************************************
How can we better serve you? Please contact me with questions or thoughts on how the MN ACP can serve you. Heather E. Gantzer, MD, FACP, Governor, MN ACP.