You are here
Governor's Message
Governor's Message

---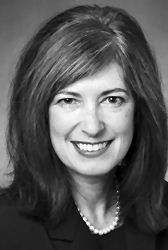 Minnesota ACP Mission: To foster excellence, education and professionalism among all internists in our community and to work together to shape the future of healthcare in Minnesota.
Minnesota ACP Vision: To be Minnesota's recognized leader for patient care, advocacy and education and to enhance career choice, satisfaction and collaboration for specialists and subspecialists in internal medicine.
Governor's Message
Over the past six months, how is Minnesota ACP progressing toward these goals set in the Vision statement? The annual chapter meeting propelled us forward.
Steps in Leadership in Patient Care and Education:
Many efforts culminated in the success of the 2013 Minnesota Chapter Scientific Meeting November 7th and 8th at the Bloomington Marriott Hotel with 349 in attendance. The MN ACP is grateful to John Bundrick, MD, FACP and Mary Miley, MD for their willingness to lead this very large endeavor; to Charlie Reznikoff, MD, Andrew Olson, MD and Benji Mathews, MD who directed the medical student and resident poster session with 169 posters presented; and to the planning committee of Drs. Richard Adair, Sally Berryman, Kimberly Cochran, Katherine Helgen, James Langland, Robert Lohr, Anya Jamrozy, Andrew Olson, Craig Roth and Jason Szostek. The slides for the 2013 Minnesota Chapter Scientific meeting and Pain Management pre-session are at http://www.acponline.org/about_acp/chapters/mn/news_meet.htm
An extraordinary event, a Point-of-Care Ultrasound pre-course, was held at the annual meeting November 7 by Drs. Anjali Bhagra of the Mayo Clinic, Dan Schnobrich of the University of Minnesota and David Tierney of Abbott Northwestern Hospital. Step by step, in a completely understandable way, they led the audience of physicians through how the ultrasound machine works ("knobology") to its focused purpose for the internist, to hands on experience with live models and two to three learners per model and faculty member. By the end of the day we had learned how to identify hydronephrosis, how to evaluate cardiac pump function, how to distinguish pulmonary edema from pneumonia, and more, all with bedside ultrasound. It opened up a whole new world to many of us, and brought back the joy of the physical exam. We appreciated SonoSite for the use of their equipment.
Many members earned MOC points in an enjoyable and educational way at the SEP module sessions on Thursday, led by Drs. Amit Ghosh, Robert Lohr, and Jason Szostek. An interactive format made the session come alive. Special thanks go to Mayo Clinic for the use of their equipment for the SEP Module session.
Early Career Physicians started the day Thursday with Dr. Amy Holbrook "Navigating the Maze of Recertification: What You Actually Need to Know in 15 Minutes." The Women Physicians of the ACP were led at Friday morning's breakfast by Dr. Sally Berryman in a discussion of Sheryl Sandberg's book "Lean In" and women internists of all ages, specialists, backgrounds and areas of specialty were able to share their expertise.
Throughout the program Friday we were honored to have as our guest Sue Hingle, MD, FACP, of Illinois, Chair of the Board of Governors of ACP. She also described the features of ACP Smart Medicine to us; be sure to download the Smart Medicine app on your phone, and bookmark it on your computer, as it is a free benefit to ACP members. It is an evidence-based information resource, and it also allows you to accrue CME while using it.
We want to also recognize our poster judges and oral vignette judges who helped determine our outstanding winners. Special thanks to Charlie Reznikoff, MD, Andrew Olson, MD, and Benji Mathews, MD for coordinating the resident and medical student competition. Kudos to all of our presenters and our judges.
Poster/Abstract Judges included: Drs. Anne Pereira, Shama Bhan, George Sarosi, Sally Berryman, Dietlind Wahner-Roedler, Mary Miley, , Heather Buum, Mark Liebow, Richard Adair, Loren Bosmans, Laxmana Godishala, Benji Mathews, Paul Kleinschmidt, David Tierney, Jeff Rubins, Anita Udayamurthy, Nacide Ercan-Fang, Lauren Drevlow, Amy Holbrook, Tom Hauth, Dan Schnobrich, , Chaitanya Anand, John Song, Meghan Walsh, Mumtaz Mustapha, Loren Bosmans, Kristen Kopski, Robert Lohr, Brad Benson, Wendy Miller, David Williams, Anya Lukasewycz, Sam Ives, Christine Schwab, Aaron Rutzick, Peter Lund, Michael Rhodes, Jennifer McEntee, Alison Wing, and Brian Duffy.
Lastly, the Friday session concluded with Doctor's Dilemma™. Teams from the residency programs at Abbott Northwestern, Hennepin County Medical Center, Mayo Clinic and the University of Minnesota battled with their wits answering challenging internal medicine questions. All team members were recognized and received an "I Think Therefore I.M." mug in recognition of their participation. The Mayo team will be representing Minnesota nationally at Internal Medicine 2014 in Orlando.
Steps in Leadership in Advocacy:
MN ACP regularly meets with the leaders of other medical specialty organizations of the state at the Minnesota Medical Association (MMA) headquarters. With the urging of MN ACP, one of the top legislative priorities of the MMA will be ensuring the state appropriately regulates tobacco and nicotine products, including cigarettes but also hookahs and e-cigarettes. While e-cigarettes may or may not be a useful tool for achieving smoking cessation for people already addicted to nicotine, we are concerned that e-cigarettes and hookahs may lead to nicotine addiction in teenagers who are effectively a new market for these products, as well as leading to the re-normalization of pubic smoking. MN ACP has also been in contact with Dr. Ed Ehlinger, Commissioner of the Department of Health in Minnesota, about this issue. We encourage MN ACP members to contact their state representatives and senators urging them to support legislation that would add the use of hookahs and e-cigarettes to the regulations of the Minnesota Clean Indoor Air Act, just as cigarettes are regulated now.
Do plan on attending a MN ACP Advocacy session Thursday, March 13, 2014 10:30 am to 1:30 pm at the State Capitol Room 229 in St. Paul. Led by Mark Liebow, MD, FACP, Chair of the MN ACP Public Policy Committee, we will learn about state legislative issues relevant to our patients and to internists in Minnesota. We will also learn practical tips on how to discuss these concerns and make our points when speaking in person with our legislators. Please contact Kathy Cairns for further details and to register. You can also separately register at the MMA Web site to attend the MMA Day at the Capitol session held later that same day (you need not be an MMA member) and then we round on our legislators for discussion. The ACP and MMA events of March 13 are an excellent way to learn about, and influence, the direction of medicine in Minnesota. It is also excellent preparation for ACP Leadership Day in Washington DC on May 21 and 22, 2014; go to the ACP Web site for registration.
Steps in Career Choice:
October 30, 2013 the University of Minnesota Medical School Interest Group held a dynamic dinner and panel discussion about Internal Medicine Residency programs to a sold-out (meals were paid for by MN ACP but reservations were required) audience of medical students interested in internal medicine as a career.
Steps in Career Satisfaction:
The Early Career Physicians Group, chaired by Amy Holbrook, MD, met for "Internal Medicine on Tap" at The Local in Minneapolis the evening of December 3, 2013 and heard Meltiady Issa, MD, FACP, of Mayo speaking on "The Art of Negotiation: Learn how to prepare for a successful contract negotiation, achieve better outcomes at the bargaining table, and recognize the most effective strategies to negotiate the best agreements." ACP describes Early Career Physicians as internists within 16 years of graduation from medical school. Their next "Internal Medicine on Tap" at The Local in Minneapolis will be Tuesday, March 4 at 6:30 pm, on navigating MOC.
Steps in Collaboration for Specialists and Subspecialists in Internal Medicine:
The talks November 8 were applicable across specialty guidelines including Novel Anticoagulants, Clinical Pearls in Women's Health, Palliative Care, HIV Update, and Fatty Liver Disease. Dr. Thomas Stillman's talk was in a category all its own; "As the Beat Goes On," was a multimedia presentation describing the history of the description of cardiac murmurs, their sound in audio and appearance on ultrasound, and their corollaries in famous musical works. ACP on the national and the state level continues to provide a medical home to internists of all specialties, offering breadth of medical education across the filed, as well as advocacy for all internists.
The Minnesota Chapter of the ACP has over 2300 members. If you have thoughts of additional ways the ACP can serve Minnesota internists and their patients, and if you would like to be further involved in these efforts, whether through engagement on Council committees or in other ways, please e-mail me.
Heather E. Gantzer, MD, FACP
Governor, Minnesota Chapter of the American College of Physicians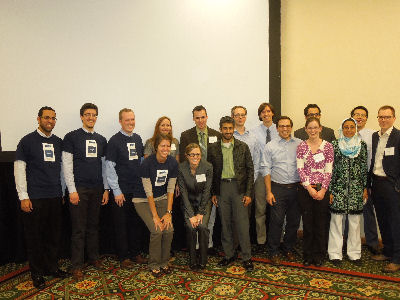 MN Teams competing in Doctor's Dilemma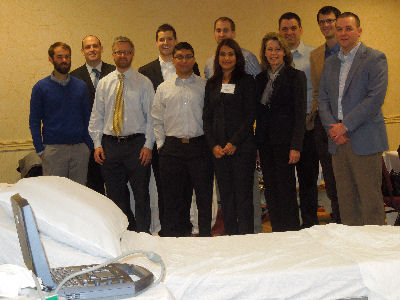 Ultrasound Point of Care faculty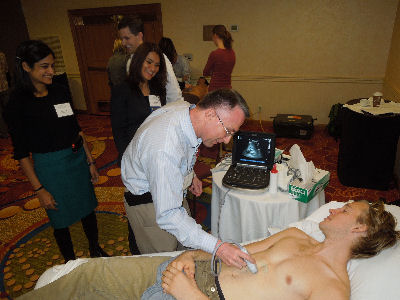 Athletes and U of M IMIG medical students assisted with Ultrasound course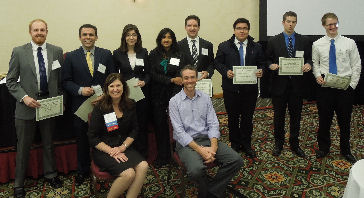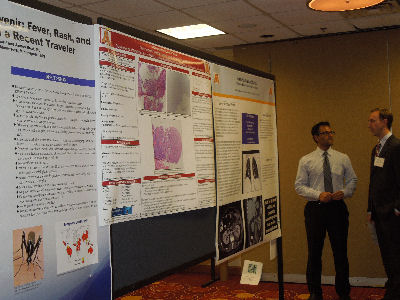 Abstract competition
---
Bundrick Elected as Governor-elect

Congratulations to John Bundrick, MD, FACP on his election as Governor-elect of the Minnesota Chapter of the American College of Physicians. His term as Governor-elect will begin in April 2014, at the conclusion of the ACP Internal Medicine 2014 in Orlando, and his four-year term as Governor begins at the conclusion of Internal Medicine 2015 in Boston.
The Chapter thanks Dr. Bundrick for his dedication to medicine and looks forward to his leadership.
---
MN ACP Member Receives Distinguished Award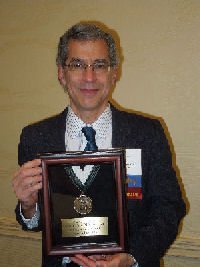 Steven D. Hillson, MD, MSc, FACP was announced the Minnesota ACP 2013 Laureate. Dr. Hillson earned his medical degree from Johns Hopkins University Medical School. He completed his internal medicine residency training at the University of Minnesota and his chief resident internal medicine residency training at St. Paul Ramsey Medical Center. He also received a fellowship in internal medicine from the University of Minnesota. Dr. Hillson joined Hennepin County medical Center (HCMC) in 1995. He is also an Assistant Professor of Medicine at the University of Minnesota.
In addition to his teaching and clinical responsibilities at HCMC, he has been an Associate Professor of Medicine at the University of Minnesota Medical school since 2004, an Associate Member of the Graduate Faculty in Health Informatics at the University of Minnesota for 20 years, and a member of the Graduate Faculty in Health Services Research at the University for over 20 years. He served as the medical school's Assistant Dean for Continuing Medical Education until 2007, and has been a mentor and advisor to numerous students and residents. His research activities, including funded research and publication activity have spanned his entire career.
Dr. Hillson has a proven record of service to the College and the profession of internal medicine. He was elected a Fellow of the College in 2001. He has served on the planning committee for the annual scientific session for many years and was chair of the planning committee. His "Update in Internal Medicine" has been presented for ten years at the annual scientific session by popular request and is always a highlight of the meeting.
He has served as a peer reviewer for the Journal of the American Medical Association, the American Journal of Public Health, the Journal of General Internal Medicine, and the Journal of Health Services Research.
---
Abstract Competition Winners
With continued high number of posters in the medical student and resident poster exhibition, competition was fierce and we all appreciated the high quality of work presented by the participants. The following were the winners of the poster competitions:
Clinical Vignette
Mathew Goers, MD Miliary Tuberculosis in a Somali Refugee: A New Normal?
Clinical Vignette Finalists-
Nadeen Khan, MD Recurrent bilateral pulmonary infiltrates and differentials
Amina Adil, MD, Rehan M Karim, Gavin Bart Methadone and Prolonged Qtc makes a deadly cocktail
Meera Sridharan, MD, Darcy A. Reed, MD An Uncommon Cause of Recurrent Strokes
Jordan Schaefer, MD, Mark Enzler, MD Fung-eye: An Atypical Cause of Ophthalmodynia and Stroke
Quality Improvement
Bradley Anderson, MD, Laura Greenlund MD, PhD, Andrew C. Greenlund MD, PhD Ignition: Exposing facial hair as a danger in home supplemental oxygen use
Research
Gustavo Andres Cortes-Puentes, MD, Kenneth Gard, Joseph Keenan, Alexander Adams, David Dries, John J. Marini Positional Effects on Lung Volumes and Transpulmonary Pressure during Unilateral Mechanical Asymmetry
Medical Student
Ben Meyer, Elizabeth Goldsmith, MD, Mumtaz Mustapha, MD Fever of Unknown Origin: Differentiating Paraneoplastic Syndrome from Primary Rheumatologic Disease
Winners of the Clinical Vignette, Quality Improvement, Research and Medical Student poster competitions were awarded a $200 prize and travel scholarship to attend Internal Medicine 2014 in April, held in Orlando, representing Minnesota to compete nationally. Finalists in each category were recognized at the annual meeting and presented with a prize. Winners will have their abstract published in Minnesota Medicine in early 2014.
---
ACP Leadership Academy
In October 2013, ACP launched the ACP Leadership Academy to provide internists with training and resources specific to leadership in a healthcare setting. The Academy mainly focuses on preparing early career internists for leadership roles, however it also offers opportunities for existing leaders to enhance their skills or refresh their knowledge. An additional component of the Academy is the ACP pre-course offered during Internal Medicine 2014, "The Art of Leadership". Focusing specifically on leadership within internal medicine, pre-course topics include management skills, building effective work teams, and more. To register, visit the registration page.
Moreover, ACP is working on additional programs and resources, including live local workshops and online modules.
Enhance Your Skills Locally
Don't forget - you can always hone your leadership skills further by participating in local chapter committees. Contact us if you are interested. For more details about the ACP Leadership Academy, including updates to program offerings, visit www.acponline.org/lead.
---
Fellows
The Minnesota chapter congratulates Minnesota members awarded Fellowship status in the past six months:
Emmanuel C Gorospe, MD FACP
Ann E. Kearns, MD FACP
Ankit Sakhuja, MD FACP
Kevin J. Sheridan, MD FACP
Richa Sood, MD FACP
Daniela L. Stan, MD FACP
Amy T. Wang, MD FACP
Kenneth K. Wang, MD FACP
Path to Fellowship for current members
If you are now a member- become a Fellow by reviewing the web link and find which pathway to Fellowship is appropriate for your career path. In Minnesota, there are 665 current members who are eligible for a pathway to becoming a Fellow of the American College of Physicians (FACP). Questions about eligibility requirements can be directed to ACP Credentialing at 800-523-1546 ext 2709 or e-mailed.
---
Internal Medicine 2014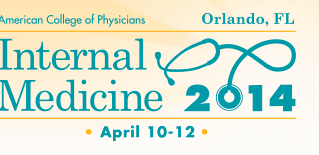 Internal Medicine 2014 will be held in Orlando April 10-12, 2014, with pre-courses April 8th and 9th. It is a chance to learn about advances in your own field and related fields from top experts in the country, in the company of fellow internists of all specialties. Look at the program and register at http://im2014.acponline.org/.
Minnesota ACP will be holding a reception jointly with the Mayo Alumni Foundation and the North Dakota Chapter of the ACP 6pm on Friday April 11th; we look forward to seeing you there.
Also note that Convocation in Orlando Thursday April 10th at 6pm is a meaningful gathering time, with plenty of pomp and circumstance, acknowledging the new Masters and Fellows of the College. Fellows elected since 2011 and not yet inducted are invited to the Convocation and need to complete the Fellowship inductee response form by March 7, 2014.
I encourage you to consider applying for Fellowship at http://www.acponline.org. There are several routes to Fellowship. Fellows approved by March 7, 2014 are invited to the Convocation.
---
Check out JournalWise and More Apps
I encourage you to explore JournalWise. The reviewers of JournalWise at ACP continually follow over 120 journals to bring you the most important articles.
When enrolling, you choose the threshold at which you wish to be alerted of new articles pertinent to your interests. First you choose your fields of interest (geriatrics, cardiology, emergency medicine, oncology, hospital medicine, nephrology, mental health, etc.) You then choose relevance and newsworthiness thresholds. You decide how often you wish to receive alerts: weekly, daily or other frequencies. Look at the estimated number of articles you would receive by alert, and modulate your settings accordingly.
This is a free benefit of your ACP membership and a valuable way to expand your knowledge of medical advances beyond the journals which you usually receive.
If you also have a tablet or a smart phone, I recommend you sign up for extremely useful, and free, ACP apps including Smart Medicine, the Annals of Internal Medicine, ACP Immunization Advisor, and ACP Clinical Practice Guidelines apps.
---
Chapter Vital Statistics
There are 2,312 members of the Minnesota American College of Physicians as of February 2014. The table below shows a comparison of membership over the past years. This represents a 4% growth of our membership in the past several years.
| | | | | |
| --- | --- | --- | --- | --- |
| | 2011 | 2012 | 2013 | 2014 |
| Masters | 19 | 20 | 20 | 20 |
| Fellows | 567 | 571 | 570 | 576 |
| Members | 950 | 976 | 972 | 974 |
| Associates (Residents) | 461 | 494 | 486 | 489 |
| Medical Students | 222 | 240 | 234 | 242 |
| Affiliates | 3 | 6 | 10 | 11 |
| Total members | 2222 | 2307 | 2292 | 2312 |
---
Recruit a New Member and Reduce Your Dues
If you have colleagues who are not yet ACP members-encourage them to join now, particularly anticipating the 2014 national ACP meeting Orlando. The link http://www.acponline.org/membership/recruit/ describes the Recruit a Colleague process by which you can have your dues for the next year reduced by $100 or more. A dues discount is always welcome! However, the real reason to encourage your peers to join is to encourage them to become engaged in the community of internal medicine in Minnesota and to strengthen the voice of our profession, increase lifelong learning, mentor medical students and residents, and take advantage of the professional resources national ACP has to offer including education at meetings and online, insurance benefits, the Annals of Internal Medicine, assistance with choosing an electronic health record and medical home, electronic medical decision making resources, and patient and professional advocacy.
---
2013 Chapter Excellence Award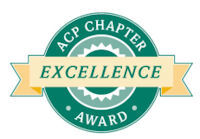 I am pleased to announce that our chapter is in receipt of the 2013 Chapter Excellence Award. The award recognizes chapters which successfully meet the standards for managing a chapter. In order to achieve the Chapter Excellence Award, chapters must meet all basic criteria and seven optional criteria. Criteria include such activities as formulating an effective Governor's Council and committees, communicating frequently with membership, providing educational opportunities, recruiting and advancing members and celebrating membership through local awards. I would like to extend a special thanks to those chapter members who assisted me in all of these endeavors! For their hard work and dedication, we received this award.
---
2014 Call for Nominations
The Laureate Award is designed to honor a Fellow or Master of ACP for at least 15 to 20 years, who has demonstrated by their example and conduct an abiding commitment to excellence in medical care, education, research, and service to their community, to their chapter, and the ACP. A Laureate Nominee is a senior physician with a long history of excellence and peer approval in the specialty of internal medicine and served the chapter and community with distinction in some clearly definable manner.
The Volunteerism and Community Service Award recognizes a Master, Fellow, Member, or Associate of ACP who has provided volunteer service post-training. Self-nominations are not permitted. Performs services on a voluntary basis and not required for the completion of teaching, training, or position requirements. Volunteer work must have been done as a physician and be medically related. Awardees are eligible for the national award, Oscar E. Edwards Memorial Award for Volunteerism and Community Service.
Nominations for the 2014 MN-ACP Awards opened in January. Contact us for nomination forms.
---
Upcoming Dates
March 4, 2014 from 6:30 p.m. - 8:30 p.m. IM on Tap for Early Career Physicians at The Local , Minneapolis, MN -"Maintenance of Certification"
March 4, 2014 from 6-8pm, a MMA Policy forum on Medical Marijuana Register at www.mnmed.org/MedicalMJ
March 13, 2014 from 10:30am -1pm MN-ACP IM at the Capitol Advocacy event to register contact us
March 13, 2014 MMA Day at the Capitol 12:30-5pm http://www.mnmed.org/Advocacy/DayattheCapitol.aspx
April 10-12, 2014 ACP Annual meeting in Orlando, FL http://im2014.acponline.org/
May 21-22, 2014 ACP Leadership Day in Washington, DC http://capwiz.com/acponline/home/LD
August 1, 2013 Deadline for nominations for MN-ACP Laureate award and Community Volunteer award to Minnesota.ACP@gmail.com
Thursday and Friday, Nov. 6-7, 2014 MN-ACP Annual Scientific Meeting at the Minneapolis Convention Center, Minneapolis, Minnesota
---
Become an ACP Key Contact and ACP Leadership Day Scholarships
ACP's Key Contact Program provides you with legislative updates and easy-to-use grassroots advocacy tools to communicate effectively and develop valued relationships with our elected federal officials and their staff. Over 230 Minnesota internists, medical students and residents are members of this advocacy network. Sign up today at http://capwiz.com/acponline/mlm/signup. Medical students and residents who are interested in public policy are especially encouraged to sign up. You must be a member of this network to be eligible for a travel scholarship from ACP and MN-ACP to the ACP Leadership Day events in Washington DC.
---
MNsure in Minnesota
The Urban Institute estimates that about 103,000 uninsured adult Minnesotans with incomes under 100% FPL.
As an organization representing Minnesota's internal medicine physicians and medical students, our greatest concern is for the working people-our patients-who need access to health insurance coverage. Helpful tools for your patients to help them enroll in health insurance are now available.
A list of MNsure enrollment assisters is available by city at https://www.mnsure.org/tools/locater/index.jsp
A poster with information on tax credits and subsidies to pay for MNsure insurance is at https://www.mnsure.org/help/find-assister/index.jsp
Call toll-free to get help with MNsure in multiple languages at 1-855-3MNSURE (1-855-366-7873)
The MNsure Web site is www.MNsure.org and works best using FireFox, Google Chrome or Internet Explorer