You are here
Message from the Massachusetts Governor July 2015
Message from the Massachusetts Governor July 2015
.

| | |
| --- | --- |
| July 2015 | George M. Abraham, MD, MPH, FACP, Governor |
---
---
George M. Abraham, MD, MPH, FACP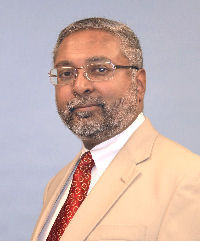 Dear valued colleague,
Believe it or not, it has been a year since I have taken over the responsibility of Governor of our chapter. In the last year, we have accomplished a fair amount, some of which are highlighted below.
We have created a new Health and Public Policy Committee headed by Drs. Fatima Stanford and Elisa Choi, who led a team to the Hill during Leadership Day in Washington DC this year. Their report is detailed later in this newsletter.
We are reestablishing our student and resident representation at the Chapter level in the hope of not only increasing their participation in ACP activities, but also to foster a greater interest in a career in internal medicine (IM). We also had our first formal meeting with the program directors of all the residency programs in the state, in March this year, at which Steve Weinberger, CEO of ACP, travelled up from Philadelphia to network and connect with everyone.
The centennial meeting of the ACP was held in Boston at the end of April. We, at the chapter level, worked very hard to ensure robust attendance and publicity, and are proud to say that we had the largest attendance ever for an ACP meeting (in its 100-year history), as also, the largest attendance from MA. The meeting was overall very well received.
We have a number of new members and new Fellows in ACP, from our great state, their names are listed later in this newsletter. Please congratulate them. For those who have not yet become Fellows, please let me know if you have questions about your eligibility and consider becoming a Fellow in the college if you have not become one.
Two of our distinguished members, Drs. Marshall Wolf and Joel Katz became Masters in the College. Additionally, Dr. Thomas Sequist of our chapter got the Rosenthal Family Foundation Award.
Our Awards Committee is always looking for our colleagues who might be worthy of recognition for one award or another, or for promotion to Mastership. Please contact Ms. Layer at MA-ACP if you have a worthy candidate and we will be in touch with you.
Thanks to the initiative of Dr. Orlando Torres, MA-ACP has started a new Twitter feed (further details below) and we hope to keep you abreast of important developments in our chapter. Please do follow us on Twitter, if you are a user. We also maintain an active Facebook (FB) page thanks to Drs. Jennifer Joe and Milan Mathew and our 'paparazzi par excellence' Dr. Valerie Pronio Stelluto. Please 'like' us on FB and share our page with your friends.
Our Early Career Physicians (ECP) continue to be active with hosting meetings, and with a new mentoring collaborative that is the brainchild of Dr. Linda Habeeb. We have just been given a grant by ACP to further develop this new initiative and are looking for the more seasoned colleagues to serve as 'mentors' for our junior colleagues.
Once a year the sagacious members of the Governors' Council give up a weekend to spend at a retreat, to plan and contemplate on issues of concern to practicing physicians in the state. At this year's retreat in June, our theme was 'Member Engagement'. A lot of what I have alluded to above have been efforts towards that goal, but we recognize that we need to work harder to get more of you engaged. Other issues that came up for conversation were the challenges of mental health in an internal medicine setting (I was interviewed on this topic by Vital Signs, published by the Massachusetts Medical Society), looking at opportunities of group membership in ACP, combined membership with other organizations (more relevant to the subspecialists), engagement with legislature to educate them about the challenges around primary care internal medicine, resident education and enthusiasm for IM as a career, etc. As always, it is through the interest of others in the chapter and in the field of medicine, that we support and enhance the practice environment in the state. To that end, any suggestions for areas to focus on, or volunteers for a particular task are always welcome.
In treading that tightrope between too much communication inundating your 'inbox' and deafening silence leaving our membership wondering if the chapter exists, this newsletter serves as a means of information, a voice that relays our concerns (as practicing clinicians) to national leadership and policy makers as well as develop new initiatives of relevance to all the stakeholders that make up our membership. To that end, please do not hesitate to email me or Ms. Lynda Layer, our Chapter Administrator, whose untiring efforts keep our Chapter running.
In case you didn't see this…
The American College of Physicians' 2014-2015 Report of the Executive Vice President (EVP) is now available. We encourage you to read the report which is a review of ACP's activities and accomplishments over the past year in the areas of knowledge, clinical standards, advocacy and public policy, practice support, and collaboration. A special section of the report highlights ACP's 100th anniversary celebration around the centennial.
Presented in a digital format for easy viewing and mobile accessibility, the report features a tabbed menu and scrolling feature and photos, graphic images, and embedded links to access more detailed sources of information.
Wishing each of you a restful and glorious summer!!
Respectfully,
George M. Abraham, MD, MPH, FACP
ACP Governor
---
ACP Leadership Day
by Jacob Koshy, medical student, University of Massachusetts Medical School and Dana DaEun Im, medical student, Harvard Medical School
The American College of Physicians (ACP) hosted its annual Leadership Day on Capitol Hill on May 20th and 21st this year. This two-day event provides an opportunity for the College and its members to promote and discuss legislative issues of common concern. This year, five members of the newly formed Health and Public Policy Committee (HPPC), led by Drs. Elisa Choi and Fatima Cody Stanford, along with Dr. Gene Lambert, represented the Massachusetts Chapter of ACP. The delegation consisted of five representatives in total, ranging from medical students to internists to specialists, who are passionate about advocating for a high quality, patient centered, cost conscious health care system.
Our first day in Washington D.C. started with a welcome breakfast for medical students, Residents and Fellows, many of whom were attending Leadership Day for the first time. Opening remarks were provided by Dr. Steven Weinberger (ACP Chief Executive Officer and Executive Vice President), Dr. Wayne Riley (ACP President), and Dr. Andrew Dunn (Chair of the ACP Board of Governors), who welcomed Leadership Day attendees by celebrating the ACP's instrumental role in repealing the Sustainable Growth Rate (SGR) after a dozen years of lobbying Congress. Since much of the College's efforts had been historically focused on SGR repeal, Bob Doherty (ACP's Senior Vice President of Governmental Affairs & Public Policy) helped highlight the College's new priorities in the post-SGR era including Medicaid Primary Care Pay Parity program, Medicare Pay Incentive Program, and graduate medical education (GME) reform. The ACP's annual awards, the Richard Neubauer Advocate for Internal Medicine Award and the ACP Services PAC Distinguished Service Award were bestowed upon Dr. Robert L. Allison from South Dakota and Dr. Emmett J. Doerr Jr., respectively. Our long and insightful day of discussion ended with a panel discussion whereby students, physicians-in-training, and senior physicians could discuss payment and delivery system reforms with various House and Senate Congressional staff members. To help students and physicians-in-training conclude the day, an evening social was arranged at a local pub where we were able to meet and connect with people from all over the country and at all stages in their training.
The following day, all 5 of us from Massachusetts hit the ground running on Capitol Hill. Although the overcast skies and intermittent rainfall made us scurry from meeting to meeting, it couldn't put a damper on our collective efforts. Collectively we held 10 different meetings with senior House and Senate staff, representing cities and towns all over Massachusetts, and we received very positive and supportive feedback as we advocated for the ACP's new top priorities. Each of us focused on a particular bill, asking our legislators to either support, provide funding for, or draft pieces of legislation. Our specific efforts included urging Congress to introduce legislation to continue the current 10% primary care incentive program set to expire at the end of 2015, to cosponsor the Ensuring Access to Primary Care for Women and Children Act (S. 737, H.R. 2252), and to increase the number of GME training positions in primary care by cosponsoring the Resident Physician Shortage Reduction Act (S. 1148, H.R. 2124). Throughout our day, we continually received very positive and supportive feedback from Congressional staffers.
As we reflect on our first Leadership Day, both of us are so grateful to our fellow Massachusetts attendees, Drs. Choi, Stanford, and Lambert, as well as the Massachusetts and national ACP staff for this incredible experience!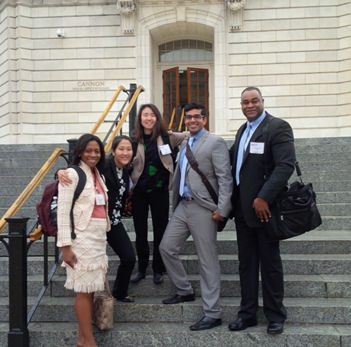 Massachusetts Delegation outside the Capital Building. (left to right - Fatima Cody Stanford, MD, Dana DaEun Im, Elisa Choi, MD, FACP, Jacob Koshy, Gene Lambert, MD, FACP)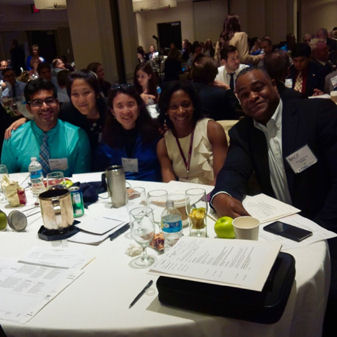 Massachusetts Delegation attending the educational program prior to the Day on the Hill.
---
Early Career Physician Corner
The Council of Early Career Physicians is Pround to Host A Summer Picnic Event for all MA ACP Early Career Physicians*
*for physicians who graduated from medical school within the last 16 years and who are NOT currently in residency or fellowship training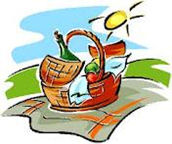 Saturday, August 15, 2015
3:00 PM to 7:30 PM
Larz Anderson Park, BBQ Shelter
15 Newton St
Brookline, MA
Click here for Park Details and Directions
Barbecue and beverages provided
Mingle with colleagues and network
Spouses/significant others and families welcome
Open to Early Career Internists ACP Members
RSVP by Wednesday, August 5 strongly encouraged
To RSVP or for any questions, please contact Lynda Layer or 781-434-7317.
---
The Massachusetts Chapter on Social Media
"Like" Us on Facebook
(American College of Physicians, Massachusetts Chapter)
Follow us on Twitter:
@ACPMAChapter
(ACP Massachusetts)
---
Massachusetts Chapter Annual Scientific Meeting
From 'OY' to 'JOY': Reinvigorating Clinical Practice
Saturday, November 7, 2015
7:30 am - 5:00 pm
We have some compelling speakers that include clinical experts, Drs. Jeremy Abramson, Director, Center for Lymphoma, MGH and Kenneth Hetzler, Chief of Psychiatry at Saint Vincent Hospital (formerly at MGH).
Dr. Christine Sinsky will share with us her work on "Finding Joy in Primary Care." Dr. Sinsky is the Vice President, Professional Satisfaction for the American Medical Association and Dr. Lisa Wong will share with us "Scales to Scalpels" and how she connects music and medicine.
Our Early Career Physicians are planning our panel discussion, "End of Life Care: Practical Pearls for Primary Care" moderated by Dr. Larissa Lucas and featuring Drs. Amanda Hernandez and Jane DeLima Thomas.
The afternoon will feature our annual Town Hall session - ACA 2015: Impact on Healthcare in 2020, presented by John E. McDonough, DrPH, MPA, Harvard School of Public Health.
And as always, the chapter meeting will include:
Student and Resident Poster Competition
Mentoring Collaborative tables at lunchtime
Dr. Abraham's update from ACP
Awards presentation including the Laureate Award for 2015
Resident's Doctor's Dilemma competition (formerly known as Medical Jeopardy)
---
Call for Abstracts - Abstract/Poster Competition
Resident/Fellow & Student Research and Clinical Vignette Competition
ACP Resident/Fellow and Medical Student Members are invited to submit abstracts to the 2015 ACP MA Chapter Competition. The abstract submission deadline is 11:59 pm on Wednesday, August 19, 2015. The submitted abstracts will be judged by a panel of ACP members. From the submitted abstracts, the top abstracts will be invited to present an oral presentation at the MA ACP Annual Scientific Meeting on Saturday, November 7, 2015 at the Massachusetts Medical Society in Waltham.
Other abstracts will be chosen to participate in the "MA ACP Poster Day" to be held Saturday, October 17, 2015. There will be two poster judging sessions between 8:00 am and 1:00 pm. The top posters from the competition on October 17 will be asked to return to present at the MA ACP Annual Scientific Meeting on November 7, 2015 for final judging and awards.
Benefits
This is an excellent opportunity to showcase your talents and to meet informally with colleagues from other programs in the Commonwealth. Other benefits include:
Opportunity to present your poster presentation at the chapter meeting
Cash prizes & recognition
Travel grant to attend Internal Medicine 2016 in Washington, DC
Opportunity to participate in the national poster competition
Recognition on the Massachusetts Chapter Website
Requirements
To participate in the abstract competition the first author MUST be a current Resident/Fellow or Student Member of MA ACP, be enrolled in a Massachusetts Residency Program or Medical School and be available to present your poster for the judges on Saturday, October 17th and potentially for the attendees/judges at the MA ACP Annual Scientific Meeting on Saturday, November 7th. To check on your membership status, please contact Chapter Administrator, Lynda Layer at llayer@mms.org. Please also note that all abstracts must be submitted electronically using the form below.
There are two categories: Clinical Vignette and Research.
First authors can only submit one abstract in each category. They may be second or third authors of other abstracts.
Submission Deadline: Wednesday, August 19, 2015 at 11:59 p.m. EST. No late submissions will be accepted.
There is no fee for submitting abstract. If your abstract is chosen there is a $25.00 registration fee to participate in Poster Day.
All novel resident or student directed research projects are welcome. All work must be completed while a resident for the resident competition or while a student for the student competition and you must be enrolled in a Massachusetts Medical School or a Massachusetts Residency Program. All submissions must be submitted online. The abstract, including the title and authors must be limited to 450 words.
The first author of the winning resident abstract in each of the categories will be invited to give an oral presentation at the Annual Scientific Meeting on November 8th. All other accepted abstracts will be invited to present a poster at the meeting.
Submissions will be accepted until 11:59 pm on August 19 - no late submissions will be accepted! We want to stress that a resident or student must have an ACP number to submit an abstract.
All communication regarding the abstract competition will be sent electronically, so please make sure your submission e-mail is accurate. Authors of abstracts selected for presentation will be notified by e-mail by the first week in October. E-mail Lynda Layer with any questions.
---
2015 Internal Medicine Abstract Competition Winners
Special congratulations to Zirui Song, MD, PhD from Massachusetts General Hospital, who was a winner in the Resident/Fellow Research Poster category at the Internal Medicine 2015 Abstract Competition. The poster title was "Changes in Health Care Spending and Quality 4 Years into Global Payment for Accountable Care Organizations."
Internal Medicine 2015 as National Abstract Competition Finalists.
Fadi Alkhatib, DO
Theodora Anagnostou, MD
Swati Baveja, MD
Pooja Chitneni, MD
Adhirath Doshi, MD
Ilona Dubuske
David Edasery, MD
Nathaniel Erskine
Gunjan Garg, MD
Samaher Hashim, MD
Saurabh Joshi, MD
Jonathan A. Lim
Mariam Lotia, MD
Lucian M. Neville, MD
Erin E. O'Shea, DO
Hari Pokharel, MD
Leonard Rodman
Zirui Song, MD
---
ACP's Special Interest Groups
ACP's Special Interest Groups provide members with opportunities to engage in discussions online, share ideas, and support one another professionally and personally.
Participate by joining as many groups as you would like, then connect with ACP members from all over the world with similar interests. Groups include:
ACOs/New Practice Models | African American Members | Caring for Adults with Developmental Disability | Clinical Problem-Solving | Clinical Research | Emerging Technologies | Genetics and Genomic Medicine | High Value Care | Hospital Medicine | LGBT Health | Maintenance of Certification | Medical Students | MKSAP | Obesity Medicine | Perioperative Medicine | Physician Educators | Point-of-Care Ultrasound | Re-entry Physicians | Sex- and Gender-Specific Medicine | Small Practices | Volunteerism | Women in Medicine | Work/Life Balance | Working Abroad
---
ACP Celebrates 100 Years - Watch the Video That Explores ACP's History
Celebrate ACP's Centennial by exploring an online timeline featuring historical facts, images, and anecdotes about the organization in a decade-by-decade format. Plus, watch a video that explores 100 years of ACP.
---
Coming in August: A New Member Benefit

We are excited to announce that ACP and EBSCO Health are collaborating to focus on delivering the most current, evidence-based clinical decision support tool - DynaMed Plus™. Updated daily and analyzed systematically through the lens of an expert editorial team, DynaMed Plus provides relevant information in an easy to digest format for fast implementation at the point-of-care. ACP's input into the internal medicine content will begin in August 2015. All reviewed and approved topics will carry ACP's logo and will benefit all DynaMed Plus users. As a result of this partnership, ACP members will receive free access to DynaMed Plus for two years beginning on August 3, 2015. Afterwards, ACP members will be eligible for a deeply discounted annual subscription.
DynaMed Plus will replace ACP Smart Medicine as a member benefit on August 3, 2015. Click here for more information.
---
New Fellows
Fellowship is an honor achieved by those recognized by their peers for personal integrity, superior competence in internal medicine, professional accomplishment, and demonstrated scholarship.
The Chapter recognizes and congratulates the following physicians who were elected to Fellowship in the College in the past 6 months:
Aylin Akay, MD, FACP
Michael C. Berarducci, MD, FACP
Rebecca A. Berman, MD, FACP
Magda A. Bishai, MD, FACP
J. Jacques Carter, MD, FACP
Robert J. Cooper, MD, FACP
Shaji P. Daniel, MD, FACP
Owen Gabriel Debowy, MD, PhD, FACP
Michelle E. Duffelmeyer, MD, FACP
Marc T. Emmerich, MD, FACP
Andrew M. Evens, DO, FACP
Adekunle G. Fajana, MD, FACP
Michael J. Hession, MD, FACP
David Alan Hirsh, MD, FACP
James C. Hudspeth, MD, FACP
Sharon K. Inouye, MD, FACP
Richard L. Kalish, MD, MPH, MS, FACP
William J. Kostis, MD, FACP
Kenneth H. Kronlund, Jr. MD, FACP
Kenneth A. Krutt, MD, FACP
Gene Lambert, MD FACP
Peter C. Lindblad, MD, FACP
Diane M. London, MD, FACP
Mangadhara R. Madineedi, MD, FACP
Stephen A. Mayer, MD, PhD, FACP
Judith A. Melin, MD, FACP
Larissa Nekhlyudov, MD, FACP
Dennis R. Pannullo, MD, FACP
Charles T. Pu, MD, FACP
Mohammad M. Rahman, MD, FACP
Elizabeth R. Roth, MD, FACP
Saira A. Samani, MD, FACP
Rachel P. Simmons, MD, FACP
Christopher R. Smith, MD, FACP
Simone S. Wildes, MD, FACP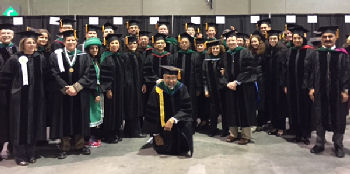 New Fellows at the IM2015 - 100th Anniversary Convocation in Boston
For many who are members of ACP, a number of you are eligible to progress to Fellowship in the college. If you have never considered the same, please check out the College website. I strongly urge you to consider becoming a Fellow, I am happy to help with any questions that may arise if you do not find the information on the College website.
---
New Members
We are proud to welcome the following members who have joined the Chapter during the past 6 months:
Michael R. Abuelyazeed, MD
Maxwell E. Afari, MD
Ryan M. Ahern, MD
Tokunbo O. Ajayi, MD
Akinwande A. Akinfolarin, MBBS
Chirin Al Dalati
Sora Al Rowas, MD
Sameera Ali, MD
Mubdiul Ali Imtiaz, MD
Fadi Alkhatib, DO
Jehan W. Alladina, MD
Ghada A. Alonaizan, MB
Mohamed Alseiari, MD
Kenneth Angelino
Mansoor Arif, MBBS
Ambalavanan Arunachalam, MBBS
Karuppiah Arunachalam, MBBS
James Atem
Brandon J. Auerbach, MD
Ehsan Azimi
Craig C. Benson, MD
Karen J. Blumenthal, MD
Amy Bodnarchuk, MD
Jovan T. Boseovski, MD
Andreea M. Bujor, MD
Aleksandra Bukiej
Jorgjeta Bukli
Laura K. Byerly, MD
Myfanwy Callahan, MD
Wanxing Chai-Ho, MD
Aditya Chandrasekhar, MD
Allison Chatalbash, MD
Abrar Chaudhry, MD
Mariana ZA Chemaly, MD
Alice G. Cheng, MD PhD
Pooja Chitneni
Jung Yoon Choi, MD
Poorvi Shailendra Chordia, MD
Ricardo J. Cigarroa, MD
Adrienne L. Clark, MD
Venkateswara R. Davuluri, MD
Saima Dean, MD
Kathleen Degnan, MD
Jacqueline W. Depasse, MD
Athanasios Desalermos, MD
Alon Dor, MD
Anar A. Dossumbekova, MD,PhD
Najla H. EL Jurdi, MD
Sara Emami, MD
James S. Evans, MD
Carina P.Fernandez-Golarz, MD
Katherine R Foor, DO
Traci Fraser, MD
Zachary P. Fricker, MD
Adam Wickham Gaffney, MD
Katherine Garlo, MD
Michael V. Genuardi, MD
Gautam George, MBBS
Matthew J. Goldstein, MD,PhD
Robert H. Goldstein, MD PhD
Savitha Gowda, MBBS
Owen Hanley, DO
Kerry Hensley
John I. Hogan, MD
Patrick T. Hook, MD
David C. Hsu, MD
Gregory L. Hundemer, MD
Melissa Iammatteo, MD
Saranya Jayakar
Terrell Y. Johnson, MD
Anna C. Juncadella, MD
Roopkiranjot K. Kahlon, MD,MBBS
Arvind Kalyan Sundaram, MBBS
Venubabu Kandimalla, MD
Daniel P. Katzman, MD
Sneha Kilari
Evgeni Kontrient, MD
Jude H. Koomson, MD
Donna M. Krauth, MD
Sangeeta Kumar, MD
Amit P. Ladani, MD
Aliya Laeeq, MD
Yinan Lan, MD
Andrew Lawton, MD
Chia Wen Lee, MD
Kristen S Lee, MD
Anna Leszczynski
Ang Li, MD
Jeff Liao, MD
Eben I. Lichtman, MD
Paula Lueras, MD
Dan P. Ly, MD
Katherine E. Lynch, MD
Perla M. Macip, MD
Katherine Mahon, MD
Hina S. Malik, MBBS
Anant Mandawat, MD
Jagmeet Mangat, MD
Duncan Maru, MD
Smita Massey, MD
Rapeephan R. Maude, MD
Suzanne M. McCluskey, MD
Jianmin Meng, MD,PhD
Lilian Mikael, MD
Tafadzwa Muguwe, MD
Maged Muhammed, MD
Sharda Mukunda, MD
Naoka Murakami, MD,PhD
Anushya Murale, MD
Shamsun Nahar, MD
Vinod E. Nambudiri, MD
Cyrus K. Nensey, MD
Robert F. O. Connor, MD
Olubukola Ojewoye, MD
Kazue Okajima, MD,PhD
Benista Owusu-Amo, MD
Nilay K. Patel, MD
Ruchita Patel, MD
Sayuj Paudel, MD
Subhash Paudel, MBBS
2LT Ziv Paz, MD MSc
Grace Peloquin, MD
Pranith N Perera, MD
Prince A Philip, MD
Yoland F Philpotts, MD
Hari Pokharel, MD
Saif S Rathore, MD PhD
Rungwasee Rattanavich, MD
Jennifer Reske-Nielsen, MD
Nosheen Reza, MD
Julia Reznik, MD
Jael D. Rodriguez, MD
Surbhi Rohatgi, MBBS
Julia K. Rotow, MD
Anna Rubin
David J. Saie, MD
Tiara Sanborn, DO
Jennifer B Sargent, DO
Konstantinos Segkos, MD
Arjun Sekar
Urvi A. Shah, MD,MBBS
Amit K. Sharma, MBBS
Sandeep Sharma, MBBS
Sana Siddique, MBBS
Dilma Silva, MD
Petra Simic, MD
Fatima C. Stanford, MD
Catherine J. Tang, MD
Saw Tee, MBBS
Sunena Tewani, MD
Richard C. Tibbetts, MD
Mayanka Tickoo, MBBS
Ailis M. Tweed-Kent, MD
Nneka N. Ufere, MD
Muthiah Vaduganathan, MD
Shreekant Vasudhev, MD
Amar Vedamurthy, MBBS
Irina Vovnoboy, MD
Kathleen Walsh, MD
Alberta L. Wang, MD
Khendi T. White, MD
Nicole C. White, MD
Alexandra K Wong, MD
Lily Wong, MD
Katherine C. Wrenn, MD
Annie Yang, MD
Judy Yang, MD
---
New Resident/Fellow Members
We are proud to welcome the following resident/fellow members who have joined the Chapter during the past 6 months:
Sanket Agarwal, MBBS
Emmanuel Oluwasegun Akintoye, MBBS
Ala L Alkhatib, MBBS
Samuel H Belok, MD
Rebecca Berger, MD
Allison S Betof, MD
Erin Blackstock, MD
Dhru Boddupalli, MD
Carolyn Boscia, MD
Carolyn A Boscia, MD
Edmond Chan, MD
Lee Chang, MD
Ohn Aaron Chow, MD,PhD
Edward Chu, MD
Peter Chung, MD
Kirsten Courtade, MD
Jennifer Crombie, MD
Christopher Danford, MD
Ana Catarina De Oliveira Virgens Paim, MD
Anjan Devaraj, MD
Dustin Dezube, MD
Vidya Dixit, MD
Anna Duloy, MD
Edward K Duran, MD
Michelle L Dyke, MD
Jorge L. Escobar Valle, MD
Don H Esprit, MD
Nkiruka Ezenwajiaku, MD
Akl Fahed, MD
Jocelyn Farner, MD
Brian J Ferrara, MD
Christopher Ferri, MD
Raymond T Finn III, MD
Laura Flannery, MD
Michael Forrester, MD
Lindsay Fourman, MD
Joseph W Franses, MD
William Freed-Pastor, MD
Zachary Frosch, MD
Xin Gao, MD
Torkom Garabedian, MD
Matthew Gartland, MD
Reju M George, MD
Sameh Girgis, MD
Maheswara Satya Golla, MBBS,MD
Andrea Goossens, MD
Alexandra Graham, MD
Joseph Grossman, MD
Ling Guo, MD
Rachel Harris, MD
Laura M Harrison, MD
Kevin Heaton, MD
Shruti S Hegde, MBBS
William Hillmann, MD
Marie A Hollenhorst, MD,PhD
Michelle Hughes, MD
Kenneth Y Igbalode, MD
Layli Jamali, MD
Nikolaus Jilg, MD
Anna Helena Jonsson, MD,PhD
Vanitha Juttanahalli, MBBS
VADM Theodoros Karantanos
Tanya Keenan, MD
Sarah F Keller, MD
Hyun Kim, MD
Nathalee Kong, MD
Robert R Korom, MD
Kartik R Kumar, MBBS
Manuel E Labour, MD
Sarah Laurenzano, MD
Stephanie Le, MD
Blanca C Lizaola, MD
Aditi Mallick, MD
Swati N Mandleywala, MBBS
Jennifer Manne, MD
Lucian Marts, MD
Kabir S Matharu, MD
Thomas McGill
Nino Mihatov, MD
Anar Mikailov, MD
Julian Mitton, MD
Taher Modarressi, MD
Lama Mulki, MD
Scott A Nabity, MD
Maria Nardell, MD
Preethi Padmanaban, MD,MBBS
Arun Padmanabhan, MD
Andrew Parker, MD
Shreya Patel, MD
James Pirruccello, MD
Vassiliki Pravodelov, MD
Patricia L Pringle, MD
Vina Pulido
Mandeep Singh Rahi, MBBS,MD
Sanu Rajendraprasad, MD
Vivek V Reddy, MD
Jonathan Robbins, MD,PhD
Jorge Rodriguez, MD
Robert Rogers, MD
Natalie C Ronshaugen, MD
Jack Rowe, MD
Anush Sahakian, MD
Gregory C Salber III, MD
Jorge Sanchez, MD
David Scales, MD PhD
Steve Schaub, MD
Amy Schoenfeld, MD
Sol Schulman, MD,PhD
Sounok Sen, MD
John Serfas, MD
Nandini Setia, MD
Punita Shroff, DO
Omar Shweish, MD
Steven Simon, MD
Monica Sircar, MD
Neha Solanki, MD
Suzanne T Sprague, MD
Tessa L Steel, MD
Jacob Stevens, MD
Robert Stretch, MD
Leah S Taffel, MD
Kunal Tandon, MD
Alexander Teng, MD
Surenthar Tharmalinga, MD
Aruna Tokas, MBBS
Hirsh Trivedi, MD
Diane Tseng, MD,PhD
Ahmad Usmani, MD
Neil Vasan, MD
Van H Vu, MD
Seth Wander, MD
Jonathan Wing, MD
Elizabeth Wozniak, MD
Jeremy Wright, DO
Maidah Yaqoob, MBBS
Albert C Yeh, MD
Matthew R Zanghi, MD
Tao Zou, MD