You are here
Message from the Massachusetts Governor July 2014
Message from the Massachusetts Governor July 2014
.

| | |
| --- | --- |
| July 2014 | George M. Abraham, MD, MPH, FACP, Governor |
---
---
George M. Abraham, MD, MPH, FACP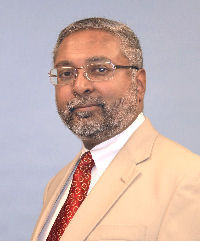 Dear valued colleague,
As an invaluable member of the MA Chapter of the American College of Physicians (ACP), I want to reach out and connect with you as I take over the helm of this dynamic organization. Our chapter is blessed with the richness of the best that internal medicine (IM) and its subspecialties have to offer in the country in terms of expertise and cutting edge science, stalwarts in the field who serve as role models, healthcare leaders and visionaries whose past and current contributions make the delivery of healthcare more robust and less cumbersome to us as practitioners. We are also blessed with four medical schools in the state and several 'top-notch' residency programs that mentor and train some of the best and finest young physicians that will be the future of healthcare not only nationally, but in the Commonwealth.
In this environment, where much is accomplished on a daily basis by so many, I step into the important task of leading one of the prominent chapters of ACP, the largest 'subspecialty organization' in the country. My predecessor in this position, Dr. Richard M. Dupee, has done a stupendous job of keeping our chapter on the forefront nationally and rallying the 'weary' practitioners on the frontlines, looking for innovations in the practice of medicine that would make all our lives less cumbersome. On behalf of the chapter, I wish to acknowledge his many contributions and even though he has formally relinquished the position of Governor, he will continue to stay actively involved with the chapter and its activities. To those whom I have not had the pleasure to meet either in person or online, I am a practicing internist (primary care physician) and also an infectious disease physician. My professional life is a mix of clinical work, teaching, clinical research and administration, thus helping me to understand the challenges that our membership experiences in each of these realms (though I would be the first to confess I do not have the answers to all the questions).
In treading that tightrope between too much communication inundating your 'inbox' and deafening silence leaving our membership wondering if the chapter exists, this newsletter serves as a means of information, a voice that relays our concerns (as practicing clinicians) to national leadership and policy makers as well as develop new initiatives of relevance to all the stakeholders that make up our membership. To that end, please do not hesitate to e-mail me or Ms. Lynda Layer, our Chapter Administrator, whose untiring efforts keep our chapter running.
Wishing each of you a restful and glorious summer!!
---
ACP Leadership Day
by Cedar Fowler, medical student, Tufts Medical School
The annual ACP Leadership day on Capitol Hill was held on May 21st and 22nd this year. We had six people from Massachusetts join state delegates from across the nation to advocate for issues that affect all of us as physicians in this changing healthcare environment. Our delegation was led by Dr. Elisa Choi and covered the entire spectrum of physicians experience from medical students to established leaders in the field. Other member of the Massachusetts delegation included Dr. Gene Lambert, Dr. Stuart Mushlin, Dr. Joshua Liao, and Dr. James Yeh.
Leadership day on Capitol Hill was an exciting two-day event. The first day consisted of preparation with an advocacy workshop, panel discussions, remarks by Dr. Steven Weinberger (ACP Chief Executive Officer and Executive Vice President) and Dr. David Fleming (ACP President) as well as an update and talk by Bob Doherty (ACP's SVP, Governmental Affairs & Public Policy). The ACP recognized Dr. William Fox from Charlottesville, VA and Dr. Charles Cutter from Merion, PA with the Richard Neubauer Advocate for Internal Medicine Award and the ACP Services PAC Distinguished Service Award respectively this year. The second day was when we went to walk the halls of the Congressional buildings. We had a busy and fast paced day and were able to meet with staffers and aids from 9 Massachusetts representatives and both Senators.
As in previous years, the repeal of the Sustainable Growth Rate (SGR) via the SGR repeal and Medicare Provider Payment Modernization (Senate Bill 2000 & H.R. 4015 in House) was a key ACP issue. Although 2013 was filled with behind-the-scenes work for its repeal and there was bipartisan and bicameral support full SGR repeal, another "SGR patch" was instead passed. Our candid conversations with the staff of our legislators suggested that 2014 would NOT be the year of the SGR repeal.
Therefore, we focused on our other major issues: extending the current Medicaid payment policy for primary care (due to expire at the end of 2014) by requesting congressional support to continue the current Medicaid Pay Comparability program to avoid across-the-board Medicaid primary care payment cuts that would otherwise begin on January 1, 2015; the Saving Lives, Saving Costs Act (H.R. 4106) bill, which hopes to provide reform to medical liability for physicians who provide care according to clinical practice guidelines; pushing reform on graduate medical education (GME) financing via Resident Physician Shortage Reduction Act (S.577 and H.R. 1180) and Training Tomorrow's Doctors Today Act (H.R. 1201); and supporting endeavors for funding essential federal health programs and the physician workforce.
As always, this Leadership Day could not have been executed without the ACP staff and we thank them for this wonderful experience.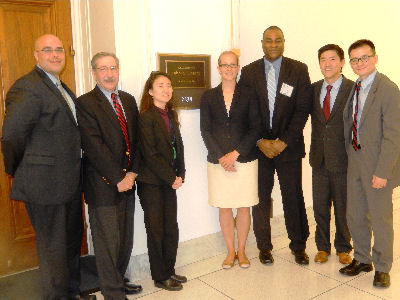 Massachusetts Delegation outside Representative Tierney's office.
(left to right - Cedar Fowler, Drs. Stuart Mushlin & Elisa Choi, a Representative Tierney Staff Person, Drs. Gene Lambert, Joshua Liao and James Yeh)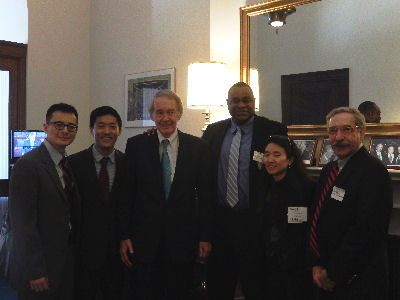 Massachusetts Delegation with Senator Markey
(left to right - Drs. James Yeh, Joshua Liao, Senator Markey, Drs. Gene Lambert, Elisa Choi and Stuart Mushlin)
---
Early Career Physician Corner
The Massachusetts Council of Early Career Physicians enjoyed a fruitful winter and spring and is getting ready for some new initiatives in the upcoming months. The council held two social events, one in January and one in June 2014, has been planning two CME events (upcoming), and has made positive steps in moving forward with the mentoring collaborative which started last summer.
Next Educational Programs
We are happy to announce that we will be hosting two CME programs in fall 2014. The first CME program will be hosted in October 2014, on the topic of "Affordable Care Act." There is a definite need for all physicians especially those who are coming on board to have a deeper understanding of the practical aspects of ACA. We heard that you want to learn more about this topic and we are pulling together an excellent panel of experts. Please stay tuned regarding the exact CME date.
The second CME program will take place on November 8, 2014, during the ACP Massachusetts Chapter Annual Scientific Meeting. The topic will be "Transitions in Care." We would like to have a multilayered approach to this topic by having a PCP, a hospitalist, a resident (transitional bridge) and potentially a long-term facility provider on the panel. Drs. Andrey Ostrovsky, Lauren Doctoroff, Lauren Meade and Charles Pu have all confirmed their participation. The session will be moderated by Dr. Gene Lambert.
Mentoring Collaborative
We are moving forward with new steps in implementing the "Mentoring Collaborative", a Massachusetts' early career physician led initiative, which intends to provide opportunities for physicians in all stages of training to find mentors in their subjective areas of interests and needs. These steps include setting up opportunities for "real time mentoring" in all MAECP events, and building a "mentoring database" which includes all Massachusetts ACP members (and hopefully expanding it nationally in the future) with focus on their areas of interest and expertise, in a user friendly and easily searchable format for other members. We are forming a list of people who are interested in offering their guidance and expertise, to act as our "mentors". We also look forward to have members signing up as "mentees". If you are an ACP member, you will receive an e-mail in the near future, describing this process with more details. Stay Tuned!!
Social Events
The early career physician council held two social events in the past six months. First event was a networking event at "Sonsie", in January 2014. The event was very well received by physicians in all stages of their career, and especially by early career physicians. The second event was a "billiards" fun and sporty event, at "Jillian's" in Worcester, in June 2014. We look forward to seeing you at our next fun social event!!
How can I get involved?
If you have ideas in regards to what would be a good future event (CME or social event), aware of the needs in your place of practice that you think early career physicians' council may be able to address, want to get involved in the planning of the future events or have a special interest in the prior programs hosted by MAECP and want to inquire more about them, please contact our Chapter Administrator Lynda Layer or phone her 781-434-7317.
---
Massachusetts Chapter Annual Scientific Meeting
Citius, Altius, Fortius: Internal Medicine 2015 and Beyond
Saturday, November 8, 2014
7:30 am - 5:00 pm
We have some compelling speakers that include clinical experts, Dr. Carolyn Clancy (formerly of AHRQ), Secretary of HHS John Polanowicz, Dr. Thomas Lee (formerly of PCHI), Eric Shultz (CEO of HPHC), etc.
New this year!!!! We will have 3.75 hours of risk management CME for some of the sessions, so please make it a point to attend this singular event that combines updates in clinical medicine, health policy nationally and locally and the opportunity to network with colleagues!!
Some of the highlights include:
Clinical updates on thyroid nodule evaluation, functional GI disorders, safe and effective management of chronic pain and strategies to tackle the obesity epidemic
Guidelines and measures that matter to patients
Early Career Physician Panel: Transitions, Those "Vulnerable" Moments for our Patients: Can We Do It Better?
Town Hall Meeting: The Impact of the Affordable Care Act in MA: Past, Present and Future featuring Health and Human Services Secretary, John Polanowicz
Residency program director panel for students
Mentoring tables during lunch
Medical Jeopardy and poster presentations
Chapter awards presentation
We invite you to join your colleagues in internal medicine for this annual event. The program and registration brochure will be available in late August.
---
Doctor's Dilemma™ at Internal Medicine 2014
Congratulations to the Massachusetts Doctor's Dilemma™ team from Saint Vincent Hospital. The team advanced to the final round where they competed against 3 other chapter teams. The winner of the 2014 Doctor's Dilemma™ was three time winner Albert Einstein Medical Center.
---
Posters and Vignettes at Internal Medicine 2014
Congratulations to our Resident Poster Winner - Clinical Vignette
Aydah Alawadhi, MD (Saint Vincent Hospital, Worcester)
A Non-acute, Acute Abdomen: An Atypical Presentation of a Striking Radiologic Finding
Resident Poster Finalists- Clinical Vignette
Annie Yang, MD (Baystate Medical Center, Springfield)
An atypical case of Confusion, Thrombocytopenia, and Acute Renal Failure Eunice Y Chuang, MD (Mount Auburn Hospital, Cambridge)
Renal Artery Mycotic Aneurysm as a complication of Pyelonephritis Sami Ibrahimi, MD (Baystate Medical Center, Springfield)
Acute Lumbar Compartment Syndrome in a Morbidly Obese Male
Shradha Gupta, MD (Saint Vincent Hospital, Worcester)
An Unusual Presentation of Gastrointestinal Sarcoidosis
Vijairam Selvaraj, MD, (Baystate Medical Center, Springfield)
The Induced Autoimmune Attack Syndrome!
Arbind Chaudhary, MD (Saint Vincent Hospital, Worcester)
Inferior Vena Cava Thrombosis as a Complication of Acute Pancreatitis
Poorna P Natarajan, MBBS (Mount Auburn Hospital, Cambridge)
Peritoneal Nodules and Recurrent Peritonitis: Red Herring or Red Snappers?
Musa AM Sharkawi, MD (Lahey Clinic, Burlington)
A curious manifestation of Amoxicillin-induced Dress Syndome
Ashley Marie Brogan, MD (Boston Medical Center, Boston)
Unusual Consequences of an Intramuscular NSAID Injection: Streptococcus pneumoniae Subdeltoid Bursitis and Endocarditis
Fahad Y Edrees, MD (Saint Vincent Hospital, Worcester)
Late Onset Carbamoyl Phosphate Synthetase 1 Deficiency
Resident Posters Finalists - Research
Theodora Anagnostou, MD (Massachusetts General Hospital, Boston)
The Impact of Multidrug Resistance, Candida Colonization and Aging in VAP Outcomes: Experience from a Large Tertiary Care Center
Tomasz Stryjewski, MD (Harvard University, Boston)
Effect of Massachusetts Health Reform on Chronic Disease Outcomes
William Gordon, MD (Massachusetts General Hosptial, Boston)
Introduction of an electronic tool ("MedHistory") improves inpatient medication review
Student Poster Finalists - Clinical Vignette
Andrew J Piper (University of Massachusetts Medical School, Worcester)
A Case of Domperidone Toxicity in a Mother Seeking Increased Milk Supply
Sharon Li (University of Massachusetts Medical School, Worcester)
Swallowing-induced Tachyarrhythmia
---
Call for Abstracts - Abstract/Poster Competition
Resident/Fellow & Student Research and Clinical Vignette Competition
Save the Dates!
ACP Resident/Fellow and Medical Student Members are invited to submit abstracts to the 2014 ACP MA Chapter Competition. The abstract submission deadline is midnight on Wednesday, August 20, 2014. The submitted abstracts will be judged by a panel of ACP members. From the submitted abstracts, the top abstracts will be invited to present an oral presentation at the MA ACP Annual Scientific Meeting on Saturday, November 8, 2014 at the Massachusetts Medical Society in Waltham.
Other abstracts will be chosen to participate in the "MA ACP Poster Day" to be held Saturday, October 18, 2014. There will be two poster judging sessions between 8:00 am and 1:00 pm. The top posters from the competition on October 18 will be asked to return to present at the MA ACP Annual Scientific Meeting on November 8, 2014 for final judging and awards.
Benefits
This is an excellent opportunity to showcase your talents and to meet informally with colleagues from other programs in the Commonwealth. Other benefits include:
Opportunity to present your poster presentation at the chapter meeting
Cash prizes & recognition
Travel grant to attend Internal Medicine 2015 in Boston, MA
Opportunity to participate in the national poster competition
Recognition on the Massachusetts Chapter Web site
Requirements
To participate in the abstract competition the first author must be a current Resident/Fellow or Student Member of MA ACP, be enrolled in a Massachusetts residency program or medical school and be available to present your poster for the judges on Saturday, October 18th and potentially for the attendees/judges at the MA ACP Annual Scientific Meeting on Saturday, November 8th. To check on your membership status, please contact Chapter Administrator, Lynda Layer. Please also note that all abstracts must be submitted electronically using the form below.
There are two categories: Clinical Vignette and Research.
First authors can only submit one abstract in each category. They may be second or third authors of other abstracts.
Electronic Abstract Submission Form
Submission Deadline: Wednesday, August 20, 2014 at 11:59 p.m. EST. No late submissions will be accepted.
There is no fee for submitting an abstract. If your abstract is chosen there is a $25.00 registration fee to participate in Poster Day.
All novel resident or student directed research projects are welcome. All work must be completed while a resident for the resident competition or while a student for the student competition and you must be enrolled in a Massachusetts medical school or a Massachusetts residency program. All submissions must be submitted online. The abstract, including the title and authors must be limited to 450 words.
The first author of the winning resident abstract in each of the categories will be invited to give an oral presentation at the Annual Scientific Meeting on November 8th. All other accepted abstracts will be invited to present a poster at the meeting.
Submissions will be accepted until midnight on August 20 - no late submissions will be accepted! We want to stress that a resident or student must have an ACP number to submit an abstract.
All communication regarding the abstract competition will be sent electronically, so please make sure your submission e-mail is accurate. Authors of abstracts selected for presentation will be notified by e-mail by the first week in October.
E-mail Lynda Layer with any questions.
---

Join your colleagues in Boston and celebrate 100 years of ACP.
April 30 - May 2, 2015
The Most Comprehensive Meeting in Internal Medicine and 2015 marks ACP's 100th anniversary, right here in Boston!
Learn from the best national faculty
Expand your knowledge through a broad array of topics
Engage your intellect in interactive sessions
Earn MOC points
For more information, visit the ACP Web site.
---
Call for Spring 2015 Board of Governors Resolutions
Are you concerned about a practice or clinical issue or have an idea you'd like to suggest? If so, you might consider submitting a resolution to your Governor or chapter council.
Initiating a resolution provides ACP members an opportunity to focus attention at the ACP national level on a particular issue or topic that concerns them. Participating in the Board of Governors resolutions process provides the ACP grassroots member a voice and allows you to shape College policy that impacts the practice of internal medicine. When drafting a resolution, don't forget to consider how well it fits within ACP's Mission and Goals. In addition, be sure to use the College's 2014-2015 Priority Initiatives to guide you when proposing a resolution topic.
If effecting change interests you, the deadline for submitting new resolutions to be heard at the spring 2015 Board of Governors meeting is September 24, 2014. Members must submit resolutions to their Governor and/or chapter council. A resolution becomes a resolution of the chapter once the chapter council approves it.
Not sure how to begin drafting a resolution? Researching the College's position on an issue can give you a start. Visit ACPOnline's Advocacy link to access ACP policy positions, read about recent ACP advocacy activities, or search ACP's library of policies and recommendations. Visit your chapter Web site, too, and click the link under "Advocacy" to access Electronic Resolutions System (ERS) where you can search past or proposed resolutions. A copy of the resolutions process is available on the ERS which furnishes more details on formatting resolutions, as well the process for submission, review, and approval.
Share your good ideas with us. Draft a resolution.
---
New Fellows
Fellowship is an honor achieved by those recognized by their peers for personal integrity, superior competence in internal medicine, professional accomplishment, and demonstrated scholarship.
The Chapter recognizes and congratulates the following physicians who were elected to Fellowship in the College in the past 6 months:
David M Altshuler, MD PhD FACP
M Amin Arnaout, MD FACP
Joel N Auslander, MD FACP
James M Bartz, MD FACP
Nesli Basgoz, MD FACP
Phoebe Cushman, MD FACP
Heather L Davidson, MD FACP
Kimberly J Dowdell, MD FACP
Shaji Habeebulla, MD MRCP FACP
Mary Beth Hodge, MD FACP
Su Hutchinson, MD FACP
Kirti K Joshi, MD FACP
Lisa S Lehmann, MD FACP
Julie H Levison, MD FACP
Kyaw M Lwin, MD FACP
Nicholas M Mascoli, MD FACP
Craig F Noronha, MD FACP
Alexander P Rabin, MD FACP
Peter L Slavin, MD FACP
Laura K Snydman, MD FACP
Vishal K Tiwari, MD FACP
Steven H Van Dam, MD FACP
Prashant Veerreddy, MD FACP
For many who are members of ACP, a number of you are eligible to progress to Fellowship in the College. If you have never considered the same, please check out the College Web site. I strongly urge you to consider becoming a Fellow, I am happy to help with any questions that may arise if you do not find the information on the College Web site. If you submit your application for Fellowship by January 2 you may be eligible to walk in convocation in Boston in April 2015.
For the more distinguished among us, a newly constituted 'Chapter Awards Committee' will evaluate those candidates we can support to be awarded a Mastership in the College.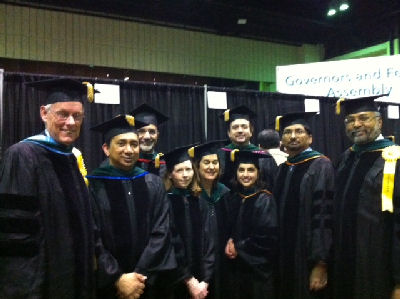 ---
New Members
We are proud to welcome the members who have joined the Chapter during the past 6 months
---
Patient Education Resources Back in Stock!
ACP's Center for Patient Partnership in Healthcare (CPPH) was launched in the summer of 2013, with the mission of promoting mutually beneficial partnerships among clinicians, patients and families that enhance the quality, safety and the experience of care. CPPH has assumed management of the exceptional patient education materials offered by the former ACP Foundation and is happy to announce that two of our most popular self-management guides for patients are back in stock.
Living with Diabetes and Make it Happen! Helpful Ways to Lose Weight have long been praised by both patients and providers alike. The guides feature a patient-centered approach to behavior change, highlighting examples of successful action plans, emphasizing small steps and patient choice. Incorporating health literacy principles, the guides are written at or below a 5th grade reading level and include photographs that depict actual patients in their own living environments, making the guides relatable and compelling.
Due to the overwhelming demand and popularity of the Living with Diabetes and Make it Happen! Helpful Ways to Lose Weight guides, ACP has made the guides available again and is offering a significant discount for ACP members. The guides are available in boxes of 40 at $64/box for members and $90/box for non-members. Bulk discounts are available for orders over 10 boxes.
To order these and ACP's other high quality patient education materials or contact Member and Customer Service at 800-523-1546 ext. 2600.
---
Networking
We are on Facebook (FB) as part of our attempt to be contemporary and socially relevant, thanks to some of our energetic Early Career Physicians. Please like us on Facebook so that your friends also come to know about MA-ACP. Additionally, recognizing that everyone is trying to find that work-life balance, I would be personally grateful if you would consider sparing some time to MA-ACP, we would love to offer you an array of opportunities from which you can find something of interest that will hopefully captivate you and we will get to benefit from your expertise.