You are here
Message from the Massachusetts Governor December 2014
Message from the Massachusetts Governor December 2014
.

| | |
| --- | --- |
| December 2014 | George M. Abraham, MD, MPH, FACP, Governor |
---
---
George M. Abraham, MD, MPH, FACP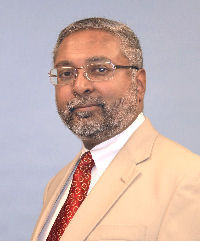 Dear ACP colleagues,
A lot has taken place since our last newsletter. Most notably, we had a robust, record-attendance scientific meeting, details of which are listed below. For those who were unable to attend but would like to see the slides of the presentations, go to the chapter website to review them.
As we get closer to the holidays, I would like to personally wish each of you and your families a blessed holiday season. There is much to be grateful for at a time when many go through the pain of separation, loss or illness, want or need, hunger and homelessness. So many of our members and colleagues tirelessly volunteer and give generously at this time of the year to the less fortunate, on behalf of ACP, thank you for your generosity in terms of time, talents and finances.
A last plea to get your fellowship applications in if you have not yet done so. You can join the MA delegation at the Centenary meeting in Boston and make us the largest contingent of all the chapters!!!
Respectfully,
George M. Abraham, MD, MPH, FACP
ACP Governor
---
2014 Massachusetts Chapter Scientific Meeting
Citius, Altius, Fortius
We hope you were able to join a record number of your colleagues at this year's Annual Scientific Meeting held on Saturday, November 8, 2014. We offered several excellent opportunities for learning, engaging and networking. If you missed it or just want to remember it through photos, visit the MA ACP Chapter Facebook page and Like us. We thank our chapter photographer, Dr. Valerie Pronio-Stelluto and our facebook webmasters, Dr. Jennifer Joe and Dr. Milan Mathew.
Congratulations to our Medical Jeopardy and Poster Competition Winners
Medical Jeopardy Winners - Saint Vincent Hospital
Vinod Chaubey, MD
Saurabh Joshi, MD
Subhash Paudel, MD
Aswanth Reddy, MD
1st Place Oral Presentations - Residents
Clinical Vignette - Samaher Hashim, MD, Saint Vincent Hospital
Kikuchi Fujimoto Disease; Out of Sight and Out of Mind?
Clinical Vignette - Shruti Gupta, MD, Massachusetts General Hospital
Hyperhemolysis Syndrome in a Patient without a Hemoglobinopathy, Unresponsive to Treatment with Eculizumab
Research - Zirui Song, MD, Massachusetts General Hospital
Changes in Health Care Spending and Quality 4 Years into Global Payment for Accountable Care Organizations
1st Place Student Poster Competition
Sagar Patel, Boston University Medical School
Effect of early goal of care meetings in the medical instensive care unit on readmissions
2nd Place Student Poster Competition
Daniel Lage, Harvard Medical School
Creating a Network of High Quality Skilled Nursing Facilities: Early Experiences of an Accountable Care Organization in Post-Acute Care Quality Improvement
1st Runner Up Clinical Vignette - Residents
Sanaa Ayyoub, MD, Lahey Hospital and Medical Center
A Case Study: An Atypical Fungal Infection
2nd Runner Up Clinical Vignette - Residents
Nosheen Reza, MD, Massachusetts General Hospital
A 26-Year-Old Woman with Diarrhea and Arthritis: Reactive Arthritis associated with Clostridium difficile
1st Runner Up Research - Residents
Theodora Anagnostou, MD, Mount Auburn Hospital
Candida Colonization of the Upper Respiratory Tract Increases Mortality and Morbidity among ICU Patients with Gram-negative Pneumonia
2nd Runner Up Research - Residents
Kah Poh Loh, MD, BayState Medical
From hospital to community: Use of antipsychotics in hospitalized elders
Mark your calendar now for next year's Annual Scientific Meeting on Saturday, November 7th.
---
MA ACP Annual Membership Meeting and Awards Presentation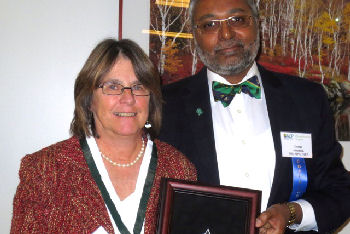 2014 Laureate Award Winner - Harriet Bering, MD, FACP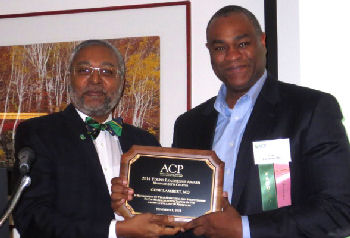 The Young Leadership Award presented to Gene Lambert, MD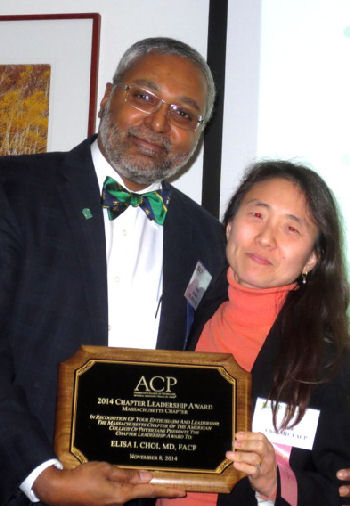 The Chapter Leadership Award presented to Elisa Choi, MD, FACP
The Student Leadership Award was presented to Jacob Koshy, MD, University of Massachusetts Medical School
---
2014 Chapter Excellence Award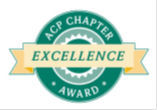 I am pleased to announce that our chapter is in receipt of the 2014 Chapter Excellence Award! The award recognizes chapters which successfully meet the standards for managing a chapter. In order to achieve the Chapter Excellence Award, chapters must meet all basic criteria and seven optional criteria. Criteria include such activities as formulating an effective Governor's Council and committees, communicating frequently with membership, providing educational opportunities, recruiting and advancing members and celebrating membership through local awards. I would like to extend a special thanks to those chapter members who assisted me in all of these endeavors! For their hard work and dedication, we received this award.
---
Early Career Physician Corner
Upcoming Social Event:
The Early Career Physician Council is currently planning their 4th Annual Winter Social Event on Friday, January 23, 2014. This event will be held at Sonsie on Newbury Street, in Boston. This event is open to all early career physicians in MA.
Friday, January 23rd, 2015
7:00PM to 10:00PM
Sonsie Restaurant and Bar
327 Newbury St., Boston, MA 02115
Free hors d'oeuvres and cash bar
Mingle with colleagues and network
Open to Early Career Internists and Subspecialists who are not current ACP members
One block east of Hynes Convention Center Station green line stop, $15 flat valet parking at Sonsie
See who else is attending at MA Facebook page
RSVP by Monday 1/19/15 strongly encouraged but not required
To RSVP or for any questions, please contact Lynda Layer or 781-434-7317.
---
ACP Leadership Academy
The ACP Leadership Academy provides early career internists with the skills and knowledge necessary to become leaders in medicine.
The program includes formal live and online courses offered in partnership with the American College of Physician Executives (ACPE), the nation's largest leadership training organization for physician leaders. Online courses are offered as self-study or faculty led and includes topics such as strategic thinking, financial decision-making, managing physician performance, marketing, ethics, quality management and more.
All courses are eligible for CME credit through the ACPE. They were selected to provide episodic leadership training for members who want to brush up on a specific content area or to earn credits toward the Certified Physician Executive (CPE), a nationally recognized leadership certificate from the ACPE. Credits may also roll into an advanced degree program from selected accredited universities. ACP members receive a 15% discount on approved courses.
In addition, the ACP Leadership Academy is currently accepting registrations for a series of FREE (non-CME) webinars on a variety of leadership topics. Topics currently scheduled include:
January 20, 2015 - Topics in Hospital Medicine: Developing Effective C-suite Partnerships
March 17, 2015 - Personal Financial Planning for Physicians
May 19, 2015 - Population Health
All webinars start at 6:30 p.m. ET.
To learn more about the ACP Leadership Academy and to register for the free webinars. If you have questions, please send an email.
---
ACP Excellence in Medical Education

The Internal Medicine Meeting will be held April 30 - May 2 in Boston, MA. Choose from more than 200 CME courses in internal medicine and the subspecialties presented by faculty unsurpassed in their fields.
---
Docs for Socks
ACP is partnering with the Boston Healthcare for the Homeless Program (BHCHP) to benefit from a charitable activity in conjunction with ACP's 100th anniversary celebration at Internal Medicine 2015 in Boston. As part of the "Docs for Socks" initiative, ACP will be collecting donations of socks and underwear to benefit the BHCHP's constituents during Internal Medicine 2015 and will also be offering tours of the BHCHP to interested attendees.
Boston Health Care for the Homeless Program (BHCHP) was founded in 1985 as one of the first Health Care for the Homeless programs in the country. BHCHP strives to provide or assure access to high quality health care for homeless men, women, and children in the greater Boston area. BHCHP cares for more than 12,000 individuals each year by providing an integrated model of care that includes primary care, behavioral health care, and dental care. For additional information go to the BHCHP website.
There will be 10 large bins located through the convention center for socks and underwear drop off. They will be clearly marked. Monetary donations will be accepted at the registration area.
We appreciate your help to benefit the Boston Healthcare for the Homeless Program in conjunction with ACP's 100th anniversary. For questions, contact Lynda Layer, Chapter Administrator or 781-434-7317.
---
Mark Your Calendar!
Saturday, November 7, 2015
2015 MA Chapter Annual Scientific Meeting, Massachusetts Medical Society, Waltham, MA
---
Congratulations to the New Masters of the MA Chapter
Joel Katz, MD, MACP
Marshall Wolf, MD, MACP
Our two new distinguished Fellows were recognized at the Chapter Meeting and will be invited to walk during Convocation at Internal Medicine 2015 in Boston on April 30, 2015.
---
Congratulations to the New Fellows of the MA Chapter
Munir Ahmed, MD, FACP
Gyorgy Baffy, MD, FACP
Ebrahim Barkoudah, MD, FACP
Stephen L. Boswell, MD, FACP
Curtis R. Chong, MD, PhD, FACP
Maria M. Garcia, MD, FACP
Andrew C. Jorgensen, MD, FACP
Rishi Likhi, MD, FACP
Oliver C. Marasigan, MD, FACP
John F. Mazzotta, MD, FACP
Susan E. Moynihan, MD, FACP
Mary E. Patti, MD, FACP
Alwyn Rapose, MD, FACP
Jeremy B. Richards, MD, FACP
Neil P. Scannell, DO, FACP
Thomas D. Sequist, MD, FACP
Jonathan G Smith, MD, FACP
Saul N. Weingart, MD, FACP
Gopala K. Yadavalli, MD, FACP
---
Welcome to the New Members and Resident Fellow Members of the MA Chapter
Here are the New Members and Resident Fellow Members.
Happy Holidays from the Massachusetts Chapter, American College of Physicians