You are here
Massachusetts Governor's Newsletter July 2016
Massachusetts Governor's Newsletter July 2016

---
---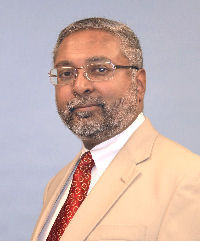 George M. Abraham, MD, MPH, FACP, ACP Governor
---
Message from the Governor
Dear valued colleague,
Believe it or not, it has been 2 years since I have taken over the responsibility of Governor of our chapter. In the last year, we have accomplished a fair amount, some of which are highlighted below.
Once a year the sagacious members of the Governors' Council give up a weekend to spend at a retreat, to plan and contemplate on issues of concern to practicing physicians in the state. At this year's retreat in June, our theme was Physician Wellness'. This is an intense area of interest and concern among all health care providers, given that the focus has always been on the patient and a 'burnt out' provider may not be able to provide the best care for the patient. Even the Surgeon General, Dr. Vivek Murthy, has spoken out in the media about his concerns for physician wellness and its impact on the quality and degree of care provided to patients. We are all familiar with the Institute for Healthcare Improvement (IHI) having coined the term, 'The Triple Aim' which emphasizes the relationship between 'Patient Experience' (Better Care), 'Reducing per capita cost' (Better Value) and 'The Health of a population' (Better Health). There is a lot of conversation about making the 'Quadruple Aim' with 'Wellness of healthcare providers' (Better Provider) being equally important and impactful.
To that end, our focus at this year's annual chapter meeting will be on this issue, in addition to other 'hot button' issues that impact the practice of medicine today. See information on the annual meeting below.
Additional areas of concern and interest are MACRA (Medicare Access and CHIP Reauthorization Act) which replaces Meaningful Use starting 2017. ACP has developed a resource page for the same and further questions can be emailed . ACP recognizes that the current measurement criteria and tools are imperfect and there are multiple stakeholders who are trying to influence what they should be. Therefore, a Performance Measurement Committee has been set up which is working with CMS and other national regulatory agencies to ensure that the measures are most relevant to us practicing clinicians.
You may be aware that as a benefit of ACP membership you have access to Dynamed Plus free for the first two years and then for $99/- per year. This should help with point of care access to resources in the office or at the bedside.
The chapter has been busy this past year. Our Health and Public Policy Committee headed by Drs. Fatima Cody Stanford and Elisa Choi led a 'State House Day' in addition to our presence on the Hill during Leadership Day in Washington DC this year. Their report is detailed later in this newsletter.
We are reestablishing our student and resident representation at the Chapter level in the hope of not only increasing their participation in ACP activities, but also to foster a greater interest in a career in internal medicine (IM). We are proud that Dr. Ravi Parikh, a resident at BWH is on the national Council of Residents/Fellows and Dr. Thomas Shin, a medical student at BMC, is on the national Council of Medical Students. We had a meeting with the program directors of all the residency programs in the state, with Dr. Christine Sinsky, at our Annual Chapter Meeting last year.
We have a number of new members and new Fellows in ACP, from our great state, their names are listed later in this newsletter. Please congratulate them. For those who have not yet become Fellows, please let me know if you have questions about your eligibility and consider becoming a Fellow in the college if you have not become one.
Three of our distinguished members, Drs. Barry Izenstein, Valerie Pronio-Stelluto and Valerie Stone became Masters in the College. Additionally, Dr. Allan Goroll of our chapter was awarded the prestigious John Phillips Memorial Award for Distinguished Service in Medicine. Dr. James O'Connell was awarded the Lester Henry Award for Distinguished Work among the Underserved.
Our Awards Committee is always looking for our colleagues who might be worthy of recognition for one award or another, or for promotion to Mastership. Please contact Ms. Layer at MA-ACP if you have a worthy candidate and we will be in touch with you.
Thanks to Dr. Orlando Torres, our Twitter feed remains active. Please do follow us on Twitter, if you are a user. We also maintain an active Facebook (FB) page thanks to Dr. Milan Mathew and our 'paparazzi par excellence' Dr. Valerie Pronio Stelluto. Please 'like' us on FB and share our page with your friends.
Our Early Career Physicians (ECP) continues to be active with hosting meetings, under the stewardship of our new Co-Chairs, Drs. Ebrahim Barkoudah and Nii Tetteh (report below). Our mentoring collaborative continues to foster relationships under the untiring efforts of Dr. Linda Habeeb. We had a wonderful meeting in the fall, a report of which is detailed below.
As always, it is through the interest of others in the chapter and in the field of medicine, that we support and enhance the practice environment in the state. To that end, any suggestions for areas to focus on, or volunteers for a particular task are always welcome.
In treading that tightrope between too much communication inundating your 'inbox' and deafening silence leaving our membership wondering if the chapter exists, this newsletter serves as a means of information, a voice that relays our concerns (as practicing clinicians) to national leadership and policy makers as well as develop new initiatives of relevance to all the stakeholders that make up our membership. To that end, please do not hesitate to email me or Ms. Lynda Layer , our Chapter Administrator, whose untiring efforts keep our Chapter running.
Wishing each of you a restful and glorious summer!!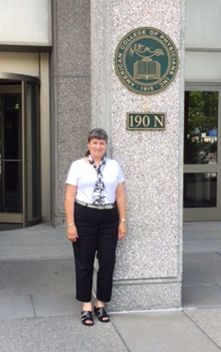 Massachusetts Chapter Administrator Lynda Layer, CAE, serves on the ACP Chapters Sub-Committee and attended her first committee meeting at ACP Headquarters in Philadelphia.
---
New ACP Patient Education Materials
ACP has a wide variety of high quality patient education materials, including educational DVDs, self-management guides, and our new Patient FACTS series. The Patient FACTS series helps newly diagnosed patients and their caregivers increase their understanding of common health conditions.
These patient-tested resources were developed in partnership with physicians, using only credible, evidence-based research.
Many available free of charge
Many available in both English and Spanish
Easy to understand
Cover a wide variety of common health conditions like heart health, asthma, HIV, COPD, diabetes
To order these and ACP's other patient education materials contact Member and Customer Service at 800-523-1546 ext. 2600, or visit .
---
ACP Leadership Day
Daniel Lage, medical student, Harvard Medical School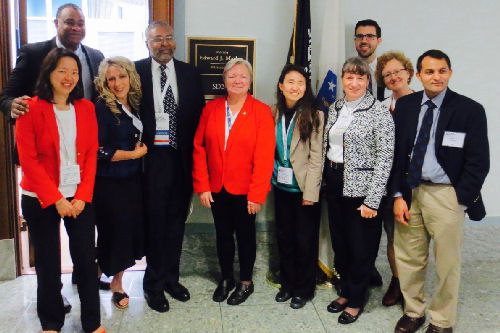 The Massachusetts Delegation meets with Senator Markey's staff.
The American College of Physicians (ACP) annual Leadership Day May 3rd and 4th this year coincided with the ACP National Meeting in Washington, DC. The Massachusetts delegation, led by Dr. Elisa Choi, learned about and advocated for patient-centered reforms that would improve our health care system, with a particular focus on primary care.
The first day in DC, we had a number of sessions focused on the national ACP's key initiatives for the upcoming legislative year. As one of the first leadership days in a very long time not to focus on the repeal of the Sustainable Growth Rate, the attention of the guests and attendees focused on diverse topics like changing meaningful use requirements for electronic health records, incentive payments for chronic care management, changes in physician quality reporting, tackling the opioid epidemic, and reforming graduate medical education. We were told from the beginning of the day that with the presidential elections looming, there would be limited opportunities to move legislation forward. However, the physicians in attendance still were able to hear from members of the Obama administration on the upcoming changes to physician payment and quality reporting. Primary care physicians in attendance passionately took to the microphones to share their perspectives with the members of the administration. As a medical student, it was great to see active, practicing physicians taking time out of their busy lives to come to DC and tell policy makers what matters most to them and their patients. Indeed, a key lesson from the advocacy training was that stories have the power to communicate important ideas to policy makers, much more than mere facts. As physicians, we're privileged to have a lens into the lives of our patients, who come from all walks of life, and by the end of our training day, we were excited to go share that perspective on Capitol Hill.
The following day involved a dizzying array of meetings on Capitol Hill with the Massachusetts Congressional delegation. The Massachusetts ACP delegates split into two groups, holding meetings with staff from all members of Congress from our state over the course of the day. As the medical student member, I focused on the reform of graduate medical education. Other physicians spoke about the need for more robust chronic care management payment, measures to combat the opioid epidemic, and a need to involve physicians in the restructuring of physician payment in the wake of the SGR repeal. The Congressional staffers were all very receptive, and we came away from the day exhausted but happy to have shared our perspective with the Congressional leadership of our state, all for the benefit of our patients back home.
Reflecting on the opportunity to attend as a medical student, I was very grateful to meet such a dedicated group of MA ACP physicians on the trip and learn about current issues in health care policy from decision-makers themselves. As an added bonus, we got to ride the underground train from the Senate to the House side of Capital Hill instead of walking, thus checking that off of our bucket list! This year's Leadership Day was a great experience, and I encourage other medical student and resident members to attend in the future!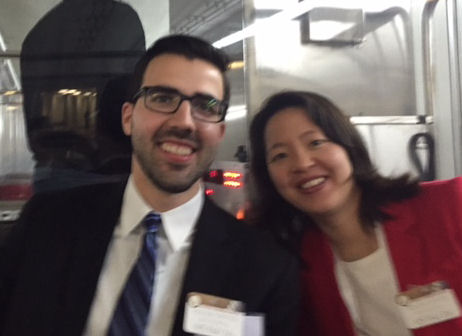 Daniel Lage and Dr. Zoe Tseng on the underground train
---
MA ACP State Advocacy Day: The Massachusetts Experience
By: Fatima Cody Stanford, MD, MPH, MPA, Elisa Choi, MD, FACP, Jacob Koshy, MPH, MSIV, and Lynda Layer, CAE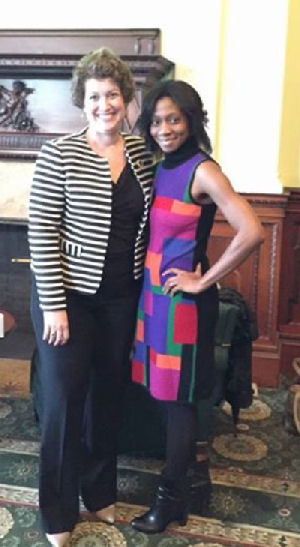 Representative Jennifer Benson and Fatima Cody Stanford, MD, MPH, MPA
The MA Chapter, ACP held a State Advocacy Day on Tuesday, April 12th. We invited members to meet at the statehouse for a briefing on ACP legislative priorities and bills before the legislature before meeting with their individual legislators.
Legislative Priorities
Our chapter's top legislative priorities were modeled after ACP national's and tailored to the current legislative environment in Massachusetts. Within the Commonwealth, some of the more pressing issues included opioid and substance abuse, affordability and accessibility of primary care and telemedicine services. Specific bills aligning with these issues were determined by querying the Massachusetts database of pending legislation via https://malegislature.gov/bills/search.
A total of 11 pending pieces of legislation were identified out of over 1,000 bills as germane to the Massachusetts Chapter of ACP's mission. Advocacy Day attendees were then matched with legislators from their district to discuss these specific bills. Instead of assigning Advocacy Day attendees at random, meetings were scheduled between each State Senator and/or Representative. Legislators were excited to meet with their constituents and they appreciated hearing about the specific concerns within their district.
The chapter's first state advocacy day had 17 physicians and medical students participate and attend approximately 34 appointments with their legislators.
Lessons Learned
Our experience planning a State House Advocacy Day provided numerous "lessons learned" for future event planning. Scheduling meetings between the legislators and their respective ACP event attendees who are their constituents was a particularly effective strategy, as it enabled our ACP members to meet and greet, and interact with, their elected officials. This laid the foundation for follow-up communications to come in forthcoming weeks and months, which will enable closer partnerships between ACP members and their elected officials for purposes of future advocacy efforts. An introductory overview of national and state advocacy and legislative priorities, as well as a briefing about what to do and say, in the scheduled meetings with the elected officials, proved to be very useful to the State House Advocacy Day attendees. We also provided some "leave behind" materials, which was an important tool to help summarize some of the discussion points in our scheduled meetings with elected officials.
For future events, it would be beneficial to start the planning process earlier, and engage more ACP members in the planning process. It would be helpful to also have specific bills for which event attendees can discuss in the scheduled meetings with legislators. We learned that fall would be the best time of year for holding such a State House Advocacy Day, rather than the spring.
Overall, as an inaugural effort, our 2015 State House Advocacy Day event for the MA ACP Health and Public Policy Committee was a success, which will pave the way for future similar events in forthcoming months.
---
The ACP Advocacy Blog is written by Bob Doherty and maintained by the American College of Physicians. Refer to the blog articles for the latest in issues important to Internists.
About the Author: Bob Doherty is Senior Vice President, American College of Physicians Government Affairs and Public Policy; Author of the ACP Advocate Blog
---
Early Career Physician Corner
Early Career Physician branch of MA ACP had a fruitful 2015-2016 year. One CME event of prescription opioids, two networking socials, an active presence at the annual meeting and rolling out the Mentorship Workshop was a summary of our activities.
Mentoring Collaborative
A Massachusetts ACP led initiative, which intends to provide guidance as well as networking opportunities in regards to mentorship, to all ACP members in different stages and spectrum of career paths,. After the first kickoff event in June 2013, the group has been working on developing a mentorship database for Massachusetts physicians. It also has provided ACP members with a number of networking opportunities in different settings (such as mentoring tables at the annual MA ACP chapter meeting) as well as a mentorship workshop that took place in March 2016. Thd mentorship workshop was a collaborative work between the MA ACP mentoring group and experts in areas of mentor and mentee training (See the full article below).
The workshop was an absolute success. More than 80% f the attendees rated the workshop as excellent or very good. It included 2 different parts. Part one provided guidance on concept of mentorship, elements of a successful mentor-menthe type relationship and how to seek mentorship in areas that one is interested in. Part 2, was run by experts in institutions with successful mentorship programs and provided guidance and hand on exercises on how to foster collegiality and culture of mentorship in one's own institution and potentially jump start a "faculty development program". There were attendees from all different career stages (in training to late career physicians), as well as from diverse practice setting academic to community to private practice).
Some quotes from those who attended the workshop were: "Excellent", "Emphasis on mid-career physicians", "Great for early career physicians.", "Looking forward to an ACP developed website of volunteer mentors", "Much more than expected". We are planning to have more of these events in the future. If you are interested in becoming a member of our mentorship database, please contact Lynda Layer at llayer@mms.org.
Continuing Medical Education Events
Upcoming CME Events include a panel discussion about "Alternative Careers in Medicine", that will take place end in the fall of 2016. The exact date and locations will be posted on the website and emailed to ACP members.
We will continue to have mentoring tables during annual MA ACP meeting. This year we will be using a new and exciting format, where mentors will rotate through the tables and can provide more one to one guidance.
Social Events
Past event: We had a "Candlepin Bowling Social Event" on June 3rd. Every one enjoyed the good food and had a lot of fun (especially if you liked bowling:) !!
We will be having a "summer picnic" in August 2016. Stay tuned for the exact date and location.
To learn more about the ACP Early Career Physician Council and its activities please contact Lynda Layer .
---
Mentoring Collaborative holds Mentoring Workshop in March
Our MA-ACP chapter sponsored a mentoring workshop on March 19th which was made possible from a grant obtained by national ACP. Kathy Kram Ph.D. from Boston University led part one of the workshop which addressed how physicians can grow their developmental network to to obtain clinical advice, psychosocial support and career advice. Dr Kram has focused her career on the modern concept of mentoring/networking which can benefit physicians at all stages of their career. Over the past 20plus years mentoring research has shown that with rapid increase in knowledge one individual cannot know everything and give all advice. Modern mentoring/networking is bidirectional which engages both mentor and protégé. Loose ties can form with" networking" relationships. Over time physicians can continue to interact with one another and strengthen these ties. Such interactions often develop into a mentoring relationship. Both forms of interaction enable physicians to share ideas and learn from one another. Loose and stronger ties can help physicians with clinical and career advice. Stronger ties in a mentoring relationship can provide psychosocial support which is much needed to help prevent physician burnout. For mid and late career physician's interaction with one another in the form of peer mentoring can provide the needed support at their respective career stages, including transition into retirement.
Emelia Benjamin, MD and Orlando Torres, MD led part 2 of the workshop which focused on how to develop/promote mentoring/networking opportunities within one's affiliated health care institution. The workshop engaged attendees by having them participate in small group discussions after both parts of the workshop. Attendees expressed that they valued highly the benefit of mentoring/networking interactions with one another to obtain clinical advice, psychosocial support and career advice. Many of these physicians, however, stated that they lacked time and physical space to interact with one another at their affiliated medical institutions, and hence have limited mentoring/networking opportunities. The Mentoring Collaborative will be surveying attendees at 3/6month intervals to learn how effective the workshop was in helping physicians implement the ideas they obtained into real life experiences.
References
Higgins, M.C. & Kram, K.E.(2001)Reconceptualizing mentoring at work: A developmental network perspective. Academy of Management Review, 26, 264-288.
Hess, C. A., Patrick, R., Sikon, A., Schulte, E.(5/3/2011) Developing Faculty Skills in Mentoring: Design of a Comprehensive Program to Improve Retention of Staff Physicians
Murphy, W. & Kram, K.E. (2014) Strategic Relationships at Work: Creating Your Circle of Mentors, Sponsors, and Peers for Success in Business and Life. New York, NY: McGraw-Hill Education.
Reynolds, S.E.(2/1/2012) Physician Coaching and Mentoring Programs: Surviving the Tsunami of Change. Massachusetts Medical Society/Physician Leadership Institute
Shanafelt TD Mayo Clin Proc. 2015; 90:1600
Sorcinelli, M.D. & Yun, J.H. UMass Amherst/Office of Faculty Development Mutual Mentoring Guide, 1-13
>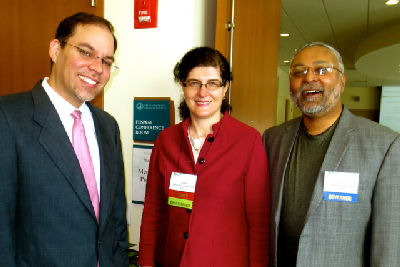 Speaker Dr. Orlando Torres, Program Chair, Dr. Linda Habeeb and Chapter Governor, Dr. George Abraham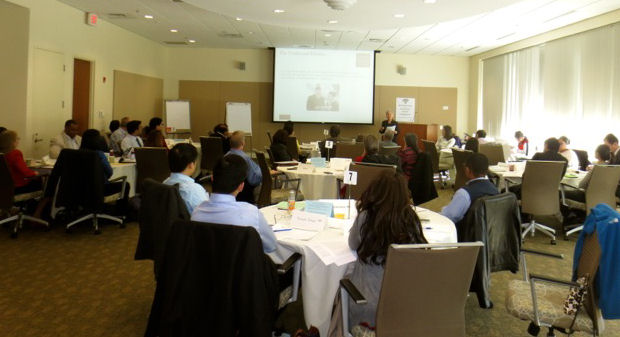 MA Chapter Members participate in the Mentoring Workshop held in March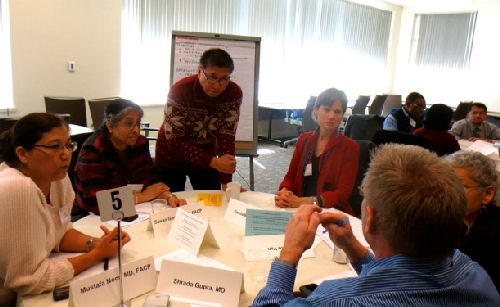 Small group activities at the Mentoring Workshop
---
The Massachusetts Chapter on Social Media
"Like" us on Facebook:
https://m.facebook.com/MassachusettsACP
(American College of Physicians, Massachusetts Chapter)
Follow us on Twitter:
@ACPMACHapter
(ACP Massachusetts)
---
Massachusetts Chapter Annual Scientific Meeting
Physician, Heal Thyself!!
The theme for this year's annual chapter meeting is Physician Wellness
New this year, we will be starting the meeting a little later in the morning, both to allow the Residents and Students to hold both their Poster Competition and the Doctor's Dilemma in the morning and to allow more time for our western Massachusetts members to join us. The program will begin at 10:45 am with our traditional clinical topics presented by Dr. Norton Greenberger and Dr. Joseph Carrozza, Jr. Their topics will be an Update in Gastroenterology and Hepatology and an Update in Cardiology.
This year we are honored to welcome the new ACP President, Dr. Nitin Damle. Dr. Damle became ACP President at the Internal Medicine meeting in Washington, DC last month. He is from Rhode Island so has graciously accepted our invitation to participate in our annual chapter meeting. In addition to presenting an ACP Update at the lunch town hall meeting, Dr. Damle will present a session titled "The Health Effects of Global Climate Change."
At lunchtime we will have our Mentoring Tables as well as the business meeting and awards presentations.
The afternoon sessions will include the Resident Oral Presentations, A Physician Wellness Panel Discussion presented by the Early Career Physician Council and we will wrap up the day with a presentation by Dr. Joel Katz on "Physician Wellness and the Healing Power of Art."
MA ACP members are invited to a special President's Reception honoring Dr. Nitin Damle on the evening of the chapter meeting at the Massachusetts Medical Society.
Registration information will be available on the MA ACP website () later in August.
---
Call for Abstracts – Abstract/Poster Competition
Resident/Fellow and Student Research and Clinical Vignette Competition
Call for Abstracts - 2016
ACP Resident/Fellow and Medical Student Members are invited to submit abstracts to the 2016 Massachusetts Chapter Competition. The abstract submission deadline is 11:59 pm EST on Wednesday, August 17, 2016. The submitted abstracts will be judged by a panel of ACP members.
Abstracts will be chosen to participate in the "MA ACP Poster Day" to be held Saturday, October 22, 2016. There will be two poster judging sessions between 8:00 am and 1:00 pm. The First Place Winners in Clinical Vignette and Research will be invited to give an oral presentation at the Chapter Annual Scientific meeting on the morning of Saturday, November 19, 2016. Other winning abstracts from the Poster Day Competition will be asked to return to present their poster at the MA ACP Annual Scientific Meeting on November 19, 2016 for final judging and awards.
Benefits
This is an excellent opportunity to showcase your talents and to meet informally with colleagues from other programs in the Commonwealth. Other benefits include:
Opportunity to present your poster presentation at the chapter meeting
Cash prizes & recognition
Travel grant to attend Internal Medicine 2016 in Washington DC
Opportunity to participate in the national poster competition
Recognition on the Massachusetts Chapter Website
Requirements
To participate in the abstract competition the first author MUST be a current Resident/Fellow or Student Member of MA ACP, be enrolled in a Massachusetts Residency Program or Medical School and be available to present your poster for the judges on Saturday, October 22nd and potentially for the attendees/judges at the MA ACP Annual Scientific Meeting on Saturday, November 19th. Please plan to be available on both of these dates prior to submitting your abstract. To check on your membership status, please contact Chapter Administrator, Lynda Layer . Please also note that all abstracts must be submitted electronically using the on-line form.
Click here for the Abstract Rules and Regulations
There are two categories: Clinical Vignette and Research.
First authors can only submit one abstract in each category. They may be second or third authors of other abstracts.
Click HERE for the Electronic Abstract Submission Form
SUBMISSION DEADLINE: Wednesday, August 17, 2016 at 11:59 pm EST. No late submissions will be accepted.
There is no fee for submitting an abstract. If your abstract is chosen there is a $25.00 registration fee to participate in Poster Day.
All novel resident or student directed research projects are welcome. All work must be completed while a resident for the resident competition or while a student for the student competition and you must be enrolled in a Massachusetts Medical School or a Massachusetts Residency Program. All submissions must be submitted on-line. The abstract must be limited to 450 words. Do not include the title and authors in the abstract.
Submissions will be accepted until 11:59 pm on August 17th – no late submissions will be accepted! We want to stress that a resident or student must be a current ACP member and have an ACP number to submit an abstract.
All communication regarding the abstract competition will be sent electronically, so please make sure your submission e-mail is accurate. Authors of abstracts selected for presentation will be notified by e-mail by the first week in October.
E-mail Lynda Layer with any questions.
---
Internal Medicine 2016 National Abstract Competition Finalists.
Resident/Fellows
RESEARCH - Eduardo Peixoto, MD, An evaluation of kidney function after islet transplant graft failure
RESEARCH - Ammu T Susheela, MBBS, Elevated Lipoprotein(a) is associated with increased risk of cardiovascular events in men – A meta-analysis of prospective studies for awareness of need to standardize screening
RESEARCH - Simant Singh Thapa, MBBS, Elevated Serum Beta-Hydroxybutyrate Levels (B-hb) in Patients with Type 2 Diabetes Mellitus Using a SodiumGlucose Cotransporter 2 (SGLT-2) Inhibitor
CLINICAL VIGNETTE - Scott Ferrara, DO, Not Your Average Skin Lesion: Post Traumatic Calciphylaxis In A Nonuremic Renal Transplant Patient On Chronic Warfarin Therapy
CLINICAL VIGNETTE - Ramya S Gorthi, MBBS, Perseverance by a Pervasive Disease (PPD)
Medical Students
PODIUM PRESENTATION - CLINICAL VIGNETTE - Jon Cao, BCHIR Pretending to be the Great Pretender
PODIUM PRESENTATION - RESEARCH – Seda Babroudi, A Novel Compound, Membrane-Tethered E2, Selectively Activates the ER Rapid Signaling Pathway – Implications for Vascular Benefit
---
Member Highlights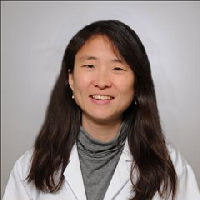 Elisa Choi, MD, FACP was invited to present "Common Ambulatory Genitourinary and Sexually Transmitted Infections" at the ACP Internal Medicine 2016 Annual Conference in Washington, DC this past May.
The Massachusetts Chapter is proud to have Dr. Ravi Parikh serving on the national Council of Residents/Fellows and Thomas Shin serving on the national Council of Students.
Our Chapter Governor, George M. Abraham, MD, FACP serves on the national Health and Public Policy Committee
---
New Fellows
Fellowship is an honor achieved by those recognized by their peers for personal integrity, superior competence in internal medicine, professional accomplishment, and demonstrated scholarship.
New Fellows at the IM2016 in Washington, DC
The Chapter recognizes and congratulates the following physicians who were elected to Fellowship in the College in the past 6 months:
Theophilus V Addo, MD FACP
William C Aird MD FACP
Saurabh Dahiya, MD FACP
Jay S Danowitz, MD FACP
John D Freedman, MD FACP
Qiyue Hu, MD FACP
Jill Levin, DO MPH FACP
Madaiah Lokeshwari, MD FACP
Emmanuel C Maduakor, MD FACP
Carmela Mancini, DO, MPH FACP
Sheila F Mitsuma, MD FACP
Kalyani Murthy, MBBS FACP
J. Peter Oettgen, MD FACP
Ambili Ramachandran, MD FACP
Rengaraju Ramasamy, MBBS FACP
Brinda Rengaraju, MD FACP
Sajid Y Saraf, MD FACP
Suetta M Tenney, MD FACP
Christina C Wee, MD MPH FACP
For many who are members of ACP, a number of you are eligible to progress to Fellowship in the college. If you have never considered the same, please check out the ACP website (). I strongly urge you to consider becoming a Fellow. I am happy to help with any questions that may arise if you do not find the information on the ACP website.
---
New Members
Paul Allen
Varnitha Baddam, MD
Anthony C Bartley, MD
Claire J. Carlo, MD
Phyllis M Chen, MD
Elizabeth M Cherella, MD
Jenna Crowe, DO
Ricardo Cruz Jr, MD
Katalin Danji, MBBS
Nadya S Davila Lourido, MD
Praveen Devineni, MD
Afrin M Farooq, MD
Katia Christine Fonseca De Melo, MD
Esmet A Hakim, MBBS
Kathryn J Harris, MD
Sarah Kent, MD
Elizabeth B Lamont, MD
Maria Patricia C Miranda, MD
Anil K Neeli, MD
Mary Ellen O'Brien, MD
Thomas Pfeiffer, MD
Seyed Mohammad Rezapour Mohammadi, MD
Ricardo D Ribeiro Sr, MD
Heather Towery, MD
Waichi Wong, MD
---
New Resident/Fellows
Michael S Abers, MD
Amobi Aduago, MD
Christopher D Atkinson, MD
Jason Bae, MD
Shawna L Barry, MD
Ma. Leonor B Beck, MD
Emily Bethea, MD
Romit Bhattacharya, MD
Allison R Bond, MD
Gustavo A Borda Sanchez, MD
Amanda Bradke, MD
Kelly P Burke, MD
Neel Butala, MD
Stephanie Cantu, MD
Chandra Kanth Chaturvedula, MD
Chris Chen, MD
Cindy Yen-chin Chen, MD
Emily R Chen, MD
Sameer Chopra, MD PhD
Meaghan Colling, MD
Avraham Cooper, MD
Katherine Crabtree, MD
Amy Cunningham-Bussel, AHP MD PhD
Karen Deffenbacher, MD
Matthew Difrancesco, MD
Thi Hong Van Do, MD
Erica Dwyer, MDPHD
Eleanor Emery, MD
Ross England, MD
Morgan C Esperance, MD
Kathryn Fantasia, MD
Kristin Castillo Farias, MD
Michael B Feldman, MD, PhD
Amy Olivia Flaster
Ashley Freyre, MD
Rahul Ganatra, MD
Michael Garcia, MD
Meghan Garcia-Webb, MD
William M Gillespie IV, MD
Gabriela Goloman, MD
Lakshmi Gowda, MD
David Gross, MD
Shauna Gunaratne, MD
Vikas Gupta, MD
Nancy Haff, MD
VADM Anais Hausvater, MD
Hani Hazani, MD
Jessica Hennessey, MD
Adam S Hodes, DO
Grace Hsieh, MD
Peggy Hsu, MD PhD
Angela Hu, MD
Katherine Israel, MD
Christopher Jain, MD
Aisha James, MD
William A Janes, MD
Jana Jarolimova, MD
Vimal Jhaveri, MD
Daniel Katz, MD
Brieze Keeley, MD
Nikky Keer, MD
Erik M Kelly, MD
Dhruv Khullar, MD
Grace Kim, MD
Sarah J Kim, MD
Simeon Kimmel, MD
Joshua Kiss, MD
Isaac Klein, MD PhD
Semaan Kobrossi, MD
Jonathan D Kochav, MD
Megan Koster, MD
Sheela Krishnan, MD
James S Lang, MD
Jacob Lazarus, MD
Darrick Li, MD
Josephine Li, MD
Joy J Liu, MD
Andrew H Locke, MD
Matthew Lopes, MD
Mehmet S Marangoz, MD
Madeleine Matthiesen, MD
Wendy McCallum, MD
Tapan H Mehta, MD
Stephanie M Meller, MD
Reid Merryman, MD
Sarah E Messmer, MD
Nkemdilim Mgbojikwe, MD
Peter Miller, MD PhD
Christopher Francis Millhouse, MD
Scott Millman, MD
Yonina R Murciano-Goroff, PhD
Nina Narasimhadevara, MD
Andrew Noll, MD
Adedotun A Ogunsua, MD
Shannon Oppenheim, MD
Lina Ortega, MD
Jakub A Pach, MD
Pankaj Pal, MD PhD
Pooja M Phull, MD
Sarah Post, MD
Vikram Prasad, MD
Ania Preneta, MD
Juan Ramirez, MD
Mike Rehorn, MD
Jason Reich, MD
Jane Roberts, MD,PhD
Ahmed Salama, MD
Aartik Sarma, MD
Jacqueline Seiglie, MD
Swaroop Shanker, MBBS
Nitish Sharma, MBBS
2LT Shamlan Sheikh, MBBS MD
Alexander Sherman, MD
Dylan R Sherry, MD
Bilal Siddiqui, MD
Phanicharan Sistla, MD
Carmela S Socolovsky, MD
Scott Souther, MD
Nicholas FH Stienstra, MD
Sarah K Stoneking, MD
Aboorva Sudhakar, MD
Selvana S Takla, MD
Dylan Thomas, MD
Molly Thomas, MD
Alexa Triot, MD
Patrick Tyler, MD
Sarah J Velten, DO
Marat A Volman, MD
Emily Walsh, MD
Weijia Wang, MD
Patrick S Ward, MD
Jonathan Weiner, MD
Andrew R Willment, MD
Christopher Worsham, MD
Erin Yao-Cohen, MD
Sajida Younas, MBBS
Jin Yuan, MD