You are here
Massachusetts Governor's Newsletter December 2016
Massachusetts Governor's Newsletter December 2016

---
---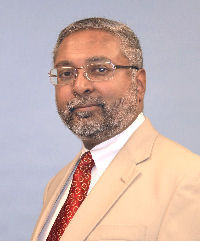 George M. Abraham, MD, MPH, FACP, ACP Governor
---
Governor's Newsletter
Dear valued colleague,
Believe it or not, it is already the fall and I hope everyone had a blessed and joyous thanksgiving holiday. While we take time to reunite with family and friends, we are also grateful for the chance to live in a secure and free environment in this country and to have the privilege of serving our patients in this most noble profession of ours.
This has also been a difficult and turbulent time with national elections, and regardless of what our political affiliation or beliefs are, we as a College and a profession are called to set aside all differences when serving the patients who entrust their lives to our care.
We had a record attendance at our Annual meeting this year; our theme was Physician Heal Thyself', with the focus being on physician wellness. This is an intense area of interest and concern among all health care providers, given that the focus has always been on the patient and a 'burnt out' provider may not be able to provide the best care for the patient. Even the Surgeon General, Dr. Vivek Murthy, has spoken out in the media about his concerns for physician wellness and its impact on the quality and degree of care provided to patients. We are all familiar with the Institute for Healthcare Improvement (IHI) having coined the term, 'The Triple Aim' which emphasizes the relationship between 'Patient Experience' (Better Care), 'Reducing per capita cost' (Better Value) and 'The Health of a population' (Better Health). There is a lot of conversation about making it the 'Quadruple Aim' with 'Wellness of healthcare providers' (Better Provider) being equally important and impactful.
I am happy to report that in addition to this topic, we were also fortunate to host the President of ACP, Dr. Nitin Damle, who gave a very thought-provoking talk on the impact of climate change, as well as provided the ACP update at our business meeting.
Additional areas of concern and interest are MACRA (Medicare Access and CHIP Reauthorization Act) which replaced the SGR and Meaningful Use starting 2017. ACP has developed a resource page for the same and further questions can be emailed to ACP . ACP recognizes that the current measurement criteria and tools are imperfect and there are multiple stakeholders who are trying to influence what they should be. ACP's Performance Measurement Committee is working with CMS and other national regulatory agencies to ensure that the measures are most relevant to us practicing clinicians.
You may be aware that as a benefit of ACP membership you have access to Dynamed Plus free for the first two years and then for $99/- per year. This should help with point of care access to resources in the office or at the bedside.
All our committees continue to stay busy and their reports highlighted below better describe their activities. We have a new volunteerism committee under the stewardship of Dr. Gene Lambert.
We have a number of new members and new Fellows in ACP, from our great state. Their names are listed later in this newsletter. Please congratulate them. For those who have not yet become Fellows, please let me know if you have questions about your eligibility and consider becoming a Fellow in the college.
Three of our distinguished members, Drs. Richard Dupee, Peter Weller and Gerald Smetana became Masters in the College. Additionally, Dr. Jerome Groopman of our chapter was awarded the prestigious Nicholas E. Davies Memorial Scholar Award for Scholarly Activities in the Humanities and History of Medicine. Dr. Daniel Alford was awarded the ACP Award for Distinguished Contributions to Behavioral Medicine and Dr. Charles Hatem received the Ralph O. Claypoole Sr. Memorial Award for Devotion of a Career in Internal Medicine to the Care of Patients.
Our Awards Committee is always looking for our colleagues who might be worthy of recognition for one award or another, or for promotion to Mastership. Please contact Ms. Layer at MA-ACP if you have a worthy candidate and we will be in touch with you.
Thanks to Dr. Orlando Torres, our Twitter feed remains active. Please do follow us on Twitter, if you are a user. We also maintain an active Facebook (FB) page thanks to Dr. Milan Mathew and our 'paparazzi par excellence' Dr. Valerie Pronio Stelluto. Please 'like' us on FB and share our page with your friends. This year we thank Dr. Joel Popkin for taking photos at the chapter meeting.
Our Early Career Physicians (ECP) continue to be active with hosting meetings, under the stewardship of our Co-Chairs, Drs. Ebrahim Barkoudah and Nii Tetteh (report below). Our mentoring collaborative continues to foster relationships under the untiring efforts of Dr. Linda Habeeb and Dr. Valerie Pronio-Stelluto. Reports on these activities are detailed below.
As always, it is through the interest of others in the chapter and in the field of medicine, that we support and enhance the practice environment in the commonwealth. To that end, any suggestions for areas to focus on, or volunteers for a particular task are always welcome.
In treading that tightrope between too much communication inundating your 'inbox' and deafening silence leaving our membership wondering if the chapter exists, this newsletter serves as a means of information, a voice that relays our concerns (as practicing clinicians) to national leadership and policy makers as well as developing new initiatives of relevance to all the stakeholders that make up our membership. To that end, please do not hesitate to email me or Ms. Lynda Layer, our Chapter Administrator, whose untiring efforts keep our Chapter running.
Wishing each of you a restful and happy holiday season!!
---
Elisa Choi, MD, FACP, Governor-elect designee of the Massachusetts Chapter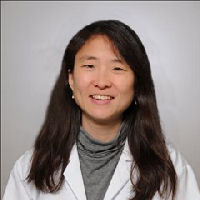 Congratulations to the Massachusetts Chapter Governor-elect Designee, Elisa I. Choi, MD, FACP. Our new Governor-elect Designee (GED) will do a year of training as a Governor-elect and then will start her four-year term as Governor in the Spring of 2018. As Governor, Dr. Choi will serve as the official representative of the College for the Massachusetts Chapter, providing a link between members at the local level and leadership at the national level. In the meantime, Dr. Choi will be working closely with Dr. Abraham (the current Governor) and College staff to learn about the College and her duties as Governor. To learn more about the new GED, click HERE.
Dr. Choi was asked to be part of an article that was written in recognition of Worlds AIDS Day on December 1, to address the role of PCPs in the fight against AIDS. Click HERE to access the article.
---
Early Career Physician Spring CME Event
Diversifying Your Career
Date: April 28, 2017
Venue: Brigham and Women's Hospital, Boston, MA
Description: The Early Career Physicians (ECP) Council is pleased to present a new series of CME events on the theme of "Diversifying Your Career." Following on the themes of Physician Wellness and burnout prevention discussed during the annual ACP conference, we will be looking at ways in which early and mid-career physicians can enhance their medical careers, increase professional satisfaction, and enhance their impact on patients beyond engaging in immediate clinical care. We will be especially exploring lesser known career pathways including physician involvement in Global Health, Public Health, Public Policy, Consulting, Writing/Editing, Legal engagement, and Innovation & Entrepreneurship. The goal of this series will be to present ways to incorporate these enriching activities into your primary practice model without having to give up clinical medicine. We hope that doing so will help physicians realize the impact their clinical expertise can have on the broader community, and enhance the joy of being in Medicine. The first forum in the series will focus on opportunities to be involved with Global and Public Health initiatives. Watch your e-mail and the MA ACP website for more details.
---
Highlights from the Chapter Annual Meeting
Physician Heal Thyself
The attendees enjoyed excellent education, networking and both a presentation and an ACP Update from Dr. Nitin Damle, President of the ACP. Annual awards were presented at lunch and in the morning residents participated in the Poster Competition and Doctor's Dilemma.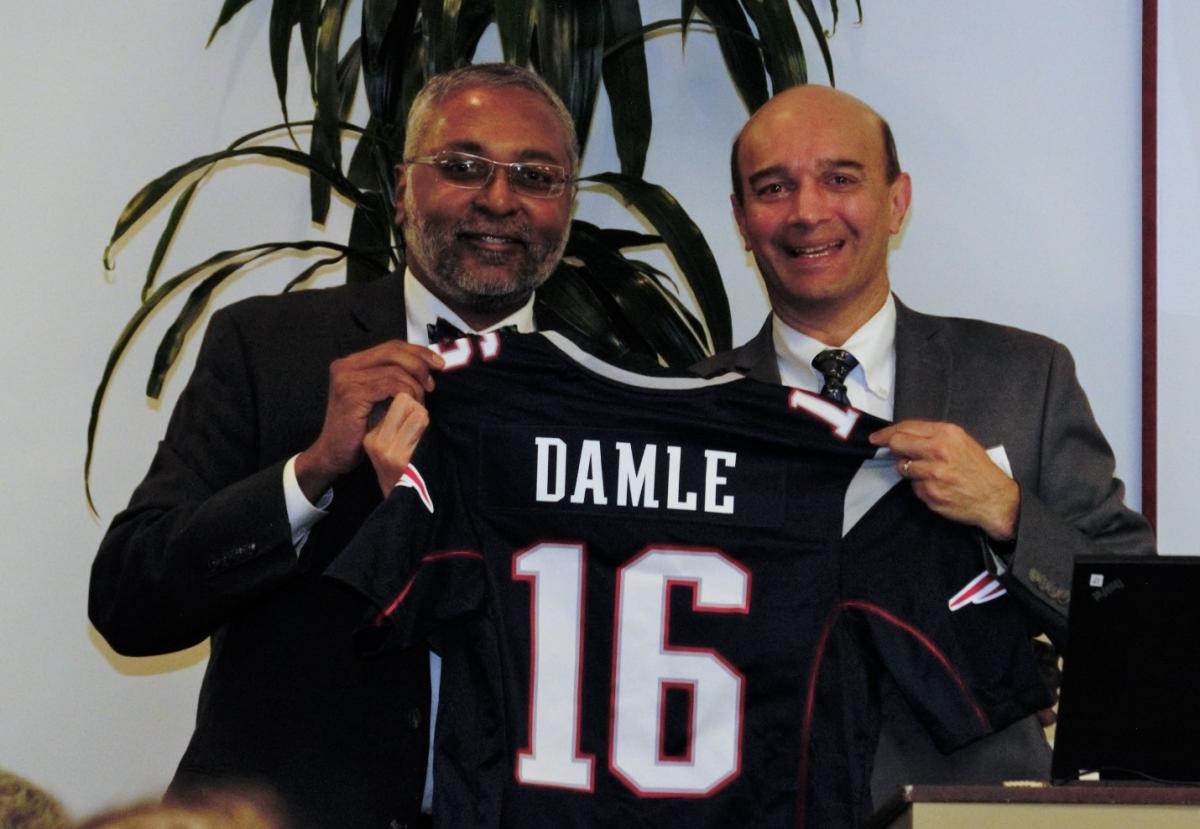 Dr. George Abraham presented ACP President Dr. Nitin Damle with a New England Patriots jersey.
Award Presentations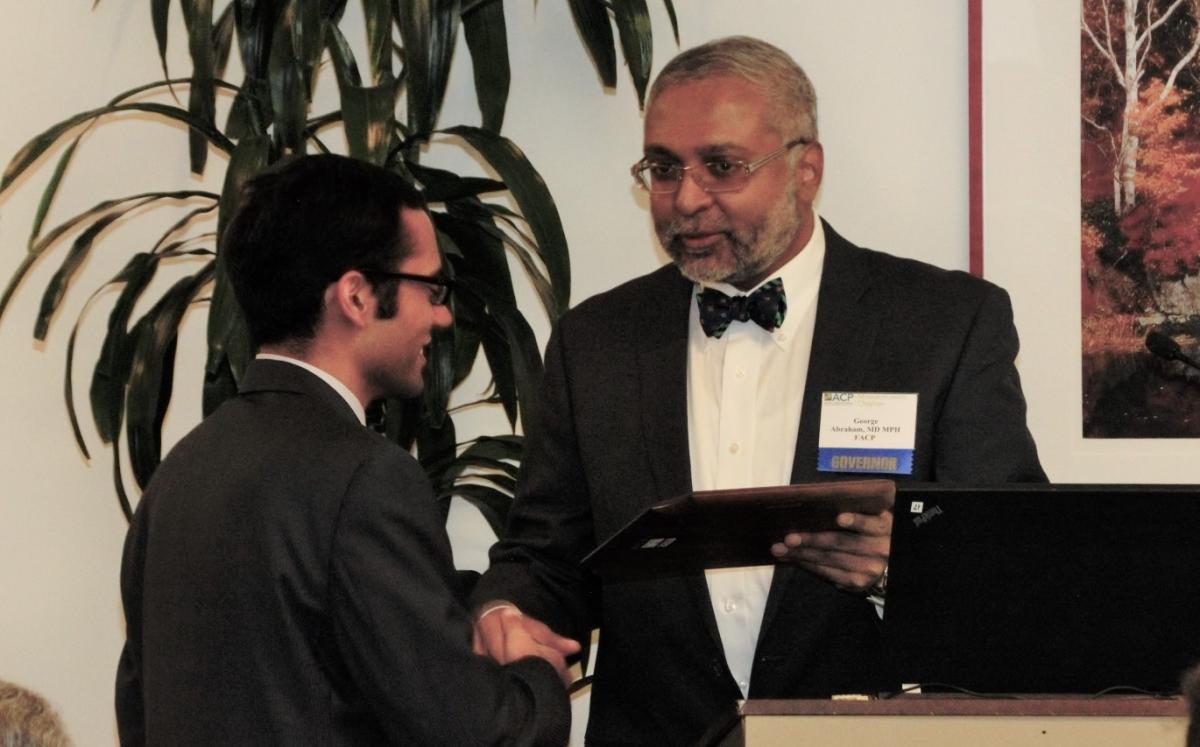 Dr. Dr. Mark Arun Abel accepting his award.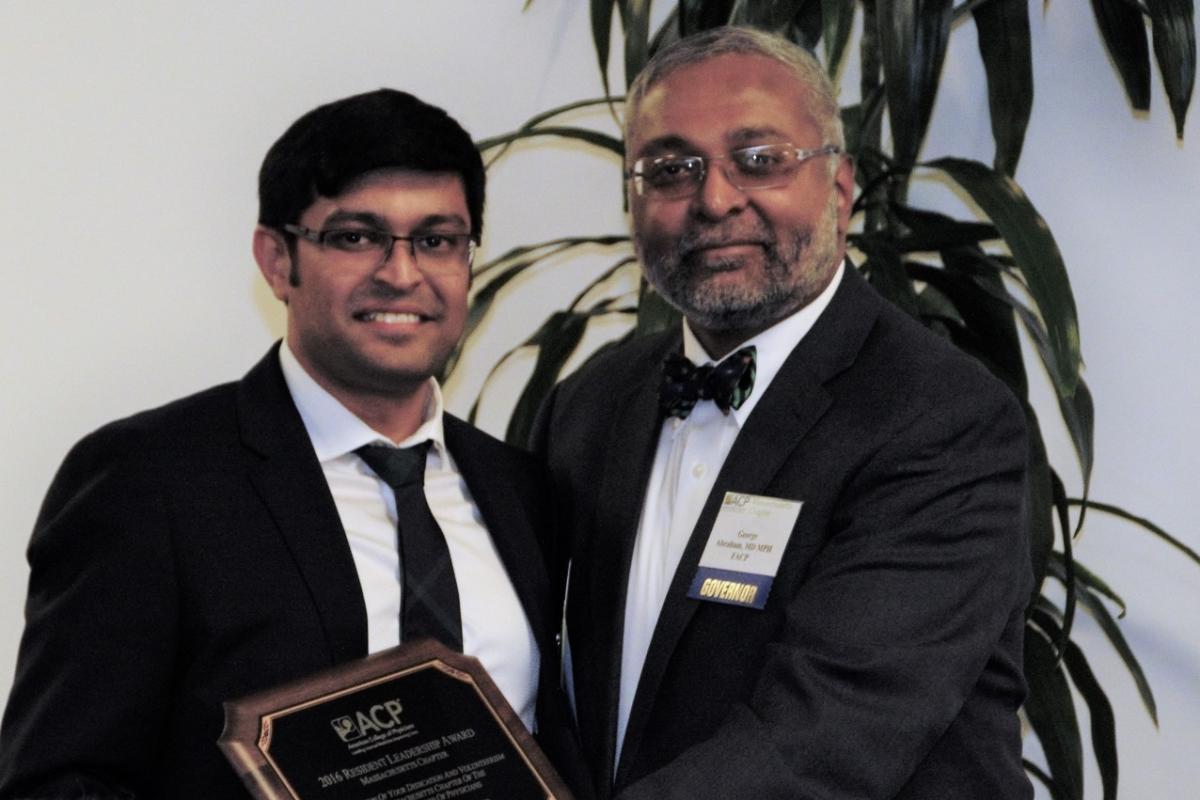 Dr. Aswanth Reddy with Dr. George Abraham.
The Resident Leadership Awards were presented to Drs. Mark Arun Abel, Massachusetts General Hospital, Aravind Ajakumar Menon, Boston Medical Center, and Aswanth Reddy, St Vincent Hospital, our co-chairs of the Resident/Fellow/Medical Student Poster Competition.
The Young Leadership Awards were presented to Drs. Ebrahim Barkoudah and Nii Tetteh, Co- Chairs of the Council of Early Career Physicians.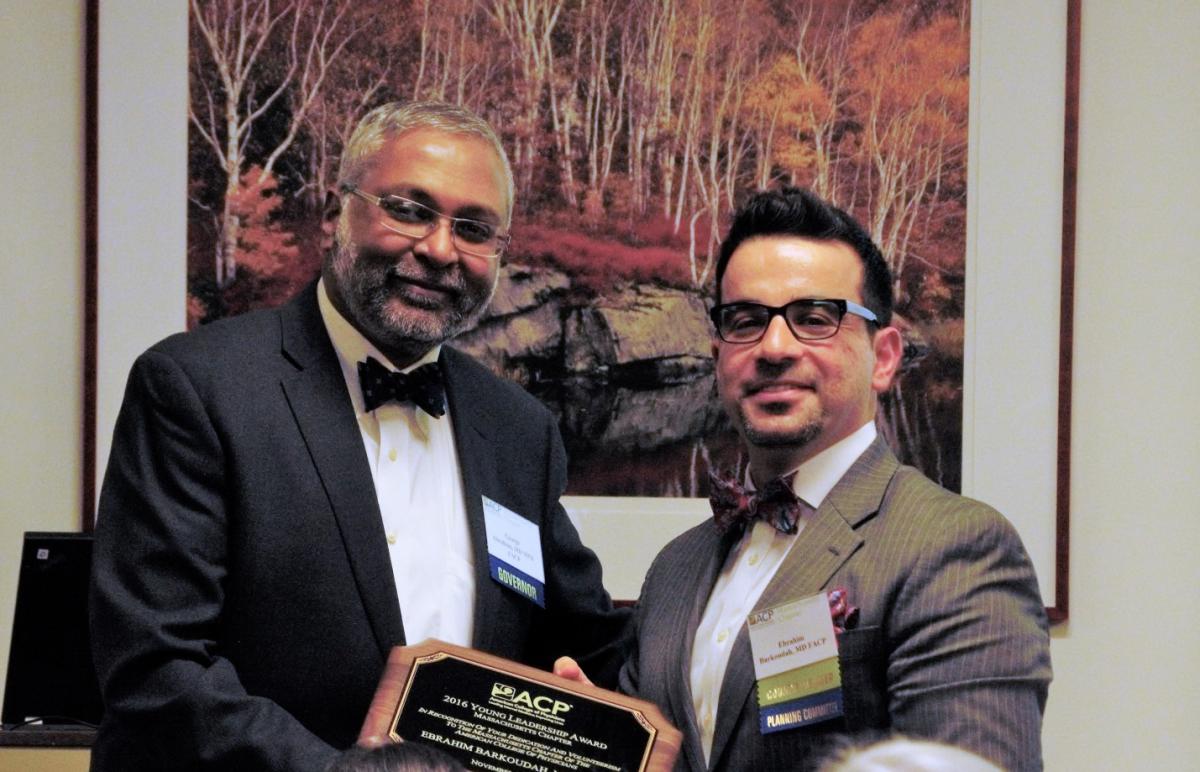 Dr. George Abraham presents the Young Leadership Award to Dr. Ebrahim Barkoudah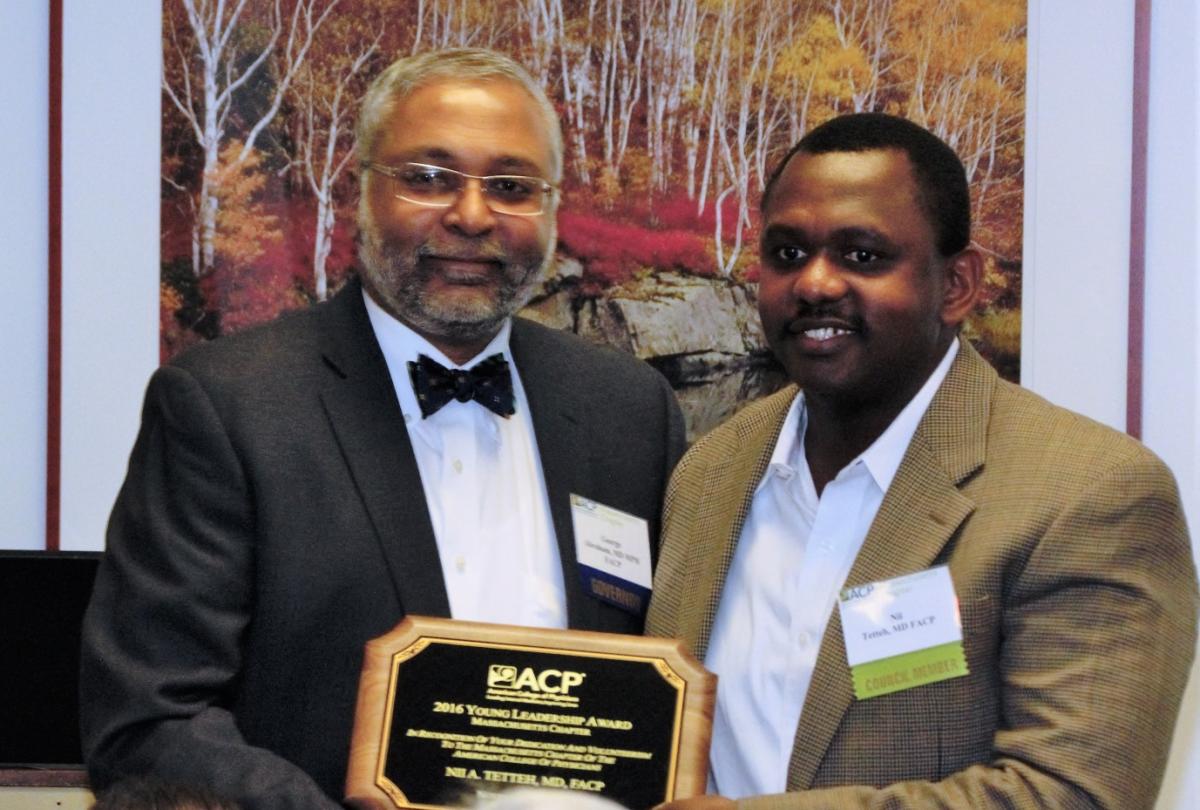 Dr. Nii Tetteh accepts the Young Leadership Award
Distinguished Service Award – Stephen Pauker, MD, MACP
This year the Awards Committee and Governor's Council created a new Award, the Distinguished Service Award and presented it to Dr. Stephen Pauker, a Master of the College, former Chapter Governor and current member of the Governor's Council. This award was present in In recognition of outstanding service and dedication to the chapter and for fostering excellence and professionalism in the practice of medicine.
Laureate Award – Stuart Mushlin, MD, FACP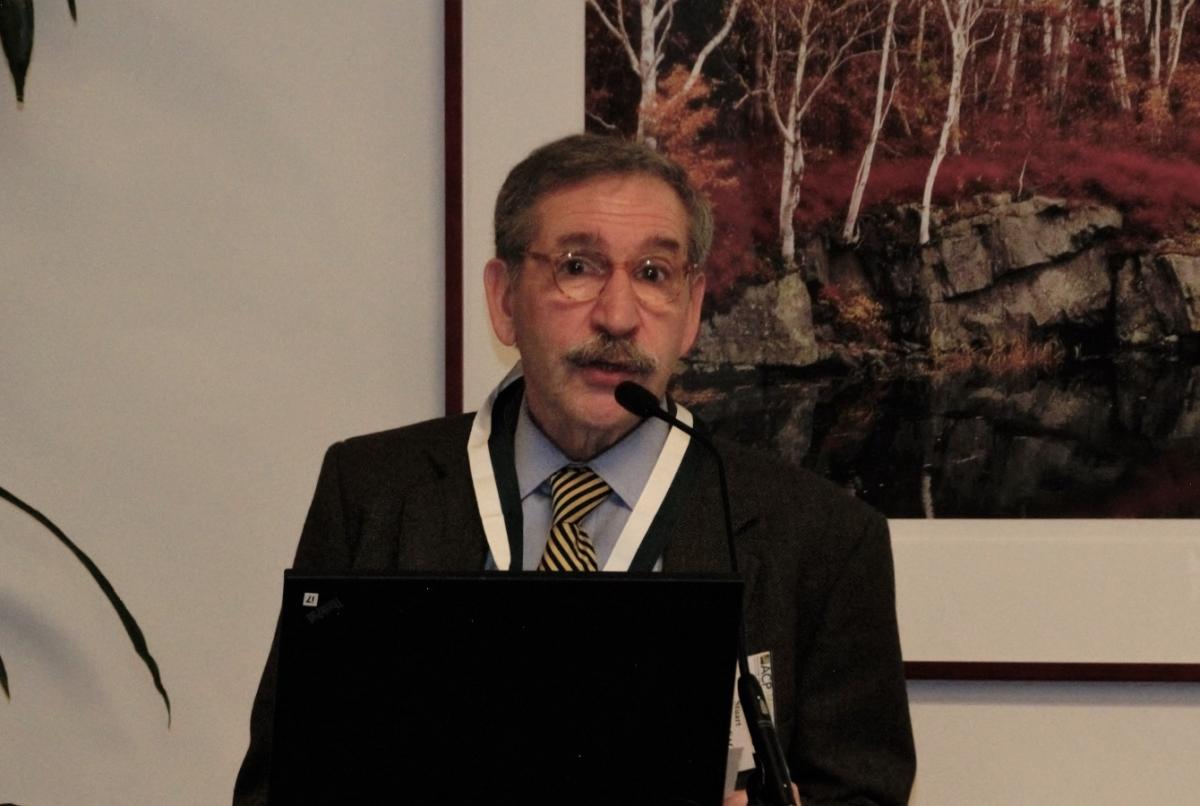 Stuart B. Mushlin, MD, FACP, recipient of the 2016 Massachusetts Chapter Laureate Award
This year's recipient of the MA Chapter Laureate Award is Dr. Stuart Mushlin. Dr. Mushlin will be recognized during the Convocation at IM17 in San Diego, CA. Stuart Mushlin is currently a medical educator in Boston, Massachusetts. He was an undergraduate at the University of Rochester, majoring in English and graduating Phi Beta Kappa, magna cum laude. He was the recipient of the Joseph P. O'Hern Phi Beta Kappa Scholarship for Travel and Study Abroad. He is a graduate of Weill Cornell Medical College, where he was elected to Alpha Omega Alpha in his 3rd year. He acquired postgraduate training in Internal Medicine and Rheumatology at Peter Bent Brigham Hospital, Boston. He was the 51st Chief Resident Physician at the Peter Bent Brigham Hospital. After a brief period as junior faculty, he moved to Stamford, Connecticut, where he was in the practice of Internal Medicine and Rheumatology until 1998.
He then returned to Boston as full time academic faculty at Brigham and Women's Hospital. He had an Internal Medicine practice, as well as being an Assistant Director of the Internal Medicine Residency program. For many years he was practice manager of Brigham Circle Medical Associates, and for nearly two years was Interim Chief of Primary Care.
He is currently the Master Clinician in Internal Medicine and Primary Care at Brigham and Women's Hospital and an Assistant Professor of Medicine at Harvard Medical School. He is Vice Chair of the Committee on Publications of the Massachusetts Medical Society, and helps to oversee the New England Journal Publications Group business strategies.
He has published a textbook, Clinical Decision Making, an Algorithmic Approach, as well as serving as Senior Editor of Harvard Health Publications book, The Harvard Health Guide. He has a book currently in press, Playing the Ponies and Other Medical Mysteries Solved.
His outside interests include beekeeping, aviation, playing Jazz and reading literature. He and his wife live in Brookline, Massachusetts. He has three grown children.
---
2016 MA ACP Abstract/Poster Competition
First Place Prizes – Trip to represent the Massachusetts Chapter at IM 2017 in San Diego
Resident/Fellow - Clinical Vignette
Jose Freire, MD
Concealed Diagnosis: a Case of Bartonella Endocarditis
Resident/Fellow - Research
Mehmet Furkan Burak, MD
Development of Anti-aP2 Therapeutics Against Diabetes and Fatty Liver Disease
Medical Student - Clinical Vignette
Shreya Madhavaram
UMass Medical School (visiting student)
Acute Genital Ulceration Caused by Salmonella Typhi
Runner Ups – Clinical Vignette – Resident
Amulya Amirneni, MD
Baystate Medical Center
A Lysosome's Unusual Home
Sonu Abraham, MD
Saint Vincent Hospital
Adrenal Mixed Corticomedullary Tumor - Rarely do these two Souls Unite
Honorable Mention – Clinical Vignette - Resident
Ramya Gorthi, MD
Saint Vincent Hospital
Toddler by Nomenclature, Veteran by Pathology
Tulip Jhaveri, MD
Lahey Hospital and Medical Center
A rare case of biphasic pulmonary blastoma in a young adult
Student Honorable Mention
Shawn Tuttle
Boston University School of Medicine
Effect of Electronic Cigarette Flavorings on Vascular Endothelial Cell Function
---
MA ACP Doctors Dilemma 2016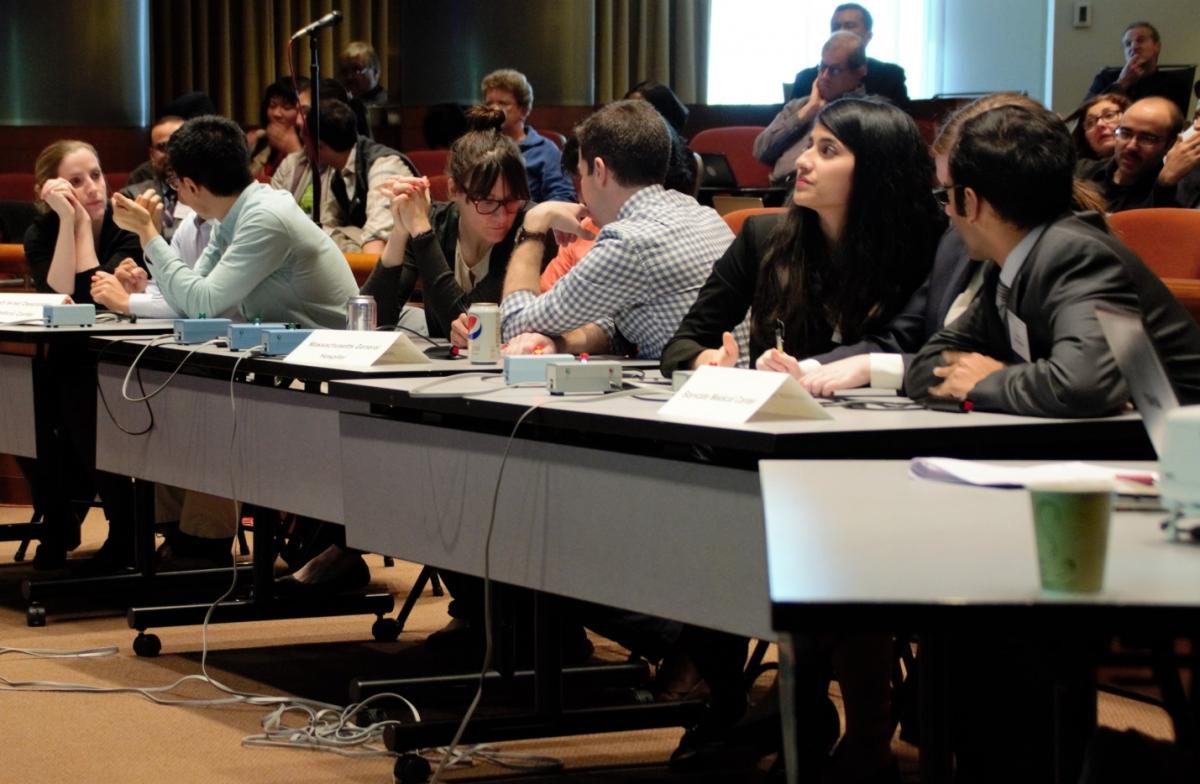 Intense Competition – 9 teams competed in 3 rounds of Doctor's Dilemma
This year's winners of Doctor's Dilemma were from Massachusetts General Hospital. The team members were Drs. Shaan Khurshidm, Meaghan Colling, Jonathan Salik. We look forward to their representing the Massachusetts Chapter at the national ACP Doctor's Dilemma competition in San Diego, CA in March.
---
Community Outreach ("Volunteerism") Committee
The Massachusetts ACP chapter has created a new committee that will focus on improving the health, well-being and lives of individuals.
The Community Outreach ("Volunteerism") committee will aim to create an impactful, sustainable, healing and socially conscious presence within the diverse communities of our members. We also intend to leverage the current work of our Health and Public Policy and Early Career Physician committees to create synergistic platforms to affect and inspire positive changes across the state.
We invite you to join us as we embark on this new and exciting endeavor. If you are interested in joining the committee or sharing your ideas and experiences, contact Gene Lambert MD, MBA, or our Chapter Administrator, Lynda Layer .
---
Health and Public Policy Committee (HPPC)
Co-Chairs: Dr. Elisa Choi and Dr. Fatima Cody Stanford
2nd Annual MA ACP Advocacy Day
Wednesday, March 22nd, 2017 @ 10am
House Members' Lounge, Massachusetts State House, Boston, MA
Join your fellow Massachusetts ACP members as we learn more about our chapter's top legislative priorities and meet with legislators and their staff on Beacon Hill to express issues of common concern.
The HPPC met during the annual chapter meeting on November 19th with Brendan Abel, Legislative and Regulatory Affairs Counsel for the MMS. Here are a few highlights from the sub-committees:
Opioid sub-committee– Dr. Lucas testified for the Commonwealth on Opioid Use- Special Commission on Pain Management Access and Dr. Lambert attended the MMS event on Opioids. This group will be working closely with the MMS to support their activities
MA State House Advocacy Day – Dr. Aisha James and Jacob Koshy are working on the plans for the 2nd annual State Advocacy Day. See notice above.
Subspecialty Care Access – Dr. Bob Fishman convened a telephone meeting of the group. There group will continue to meet to determine ways they can help alleviate the issues around access to care in the central and western part of the Commonwealth as well as the Outer Cape and North and South of Boston.
Resident/Fellow/Medical Student Committee – Dr. Zoe Tseng is working with this sub-committee to consider a Policy Digest similar to the one on the national level to be included with future Governor's newsletters. They are looking for ways to get more involvement through IMIGs/ resident/ fellows.
In addition, Dr. George Abraham represents the chapter on the national HPPC.
Some of the issues being addressed by the MMS is the upcoming legislative session will be
Working on the prescription monitoring program and getting methadone for maintenance in the program
Bill on partial fills/ concerned about federal DEA/ amendment filled nationally that passed via Warren/ Clarke
Telemedicine - how do you facilitate good payments?
Medicaid waiver
MMS will send provide the MA ACP HPPC with their final list of fillings
Scope of practice continues to be a challenging issue
Committee member Dr. Bob Lebow will be presenting at the MMS annual meeting. The HPPC will continue to discuss with the MMS ways that the two can collaborate on issues which effect both organizations.
---
Mentoring Collaborative
We thank all who participated in our mentoring collaborative luncheon during the MA-ACP chapter meeting. We had attendees participate in 3 mentoring topics: work life balance, transitions in medicine, and careers in medicine. Our facilitators, Drs. Harriet Bering, Thomas Higgins, Andrew Jorgensen, Answanth Reddy, and Michael Rosenblum, rotated amongst the tables and helped generate lively discussions. Although each session was brief it provided attendees an opportunity to interact with one another on issues that they could relate to regardless of what stage they were in their career. We are recruiting new members to join the collaborative and help work with the meeting planning committee to provide future networking opportunities at all MA-ACP chapter held events. The collaborative also would like to hear from members on future mentoring topic events. Please contact Lynda Layer if you would like to join the collaborative and/or share ideas on future mentoring topics to meet your career needs.
---
New Members
We are proud to welcome the following members who have joined the Chapter during the past 6 months:
Fellows:
Mashrafi Ahmed, MD FACP
Dahlia Banerji, MD FACP
Joseph P Carrozza, Jr MD FACP
Robert R Faust, III MD FACP
Danilo T Funa, MD FACP
Frederic M Goldman, MD FACP
Muhammad A Gul, MBBS FACP
Faiyaz H Hakim, MD FACP
Charles J Hatem, MD FACP
Ruth P Hertzman-Miller, MD FACP
Vinay Kumar Menon, MBBS FACP
Armando Philip S Paez, MD FACP
Elizabeth A Recupero, DO FACP
David R Remis, MD FACP
Catherine Rich, MD FACP
Jatin M Vyas, MD PhD FACP
Martha C Wu, MD FACP
Yvette G Youssef, MD FACP
Members
Abd Abdelrahman, MD
Reshma Abraham, MBBS
Lopamudra Acharya, MBBS
Anas A Ahmed, MBBS
Meher A Ahmed, MD
Paul Allen, MD
Omar Amir, MD
David Anjelly, MD
Annette Artau, MD
Haruka Badger, MD
Sabrina Badloe, MD
Zainab Basheer, MD
Cambel Berk, MD
Allison S Betof, MD
Anshul Bhalla, MBBS
Diego F Bonilla, MD
Carolyn Boscia, MD
Andrew M Brunner, MD
Glenn K Buchberger, MD
Myfanwy Callahan, MD
Stephanie Cantu, MD
Helen M Carter, MD
Rachel S. Casas, MD
Graciela Virginia Castro Pou, MD
Peter Chung, MD
Diana Cirstea, MD
Abraham Cohen, MD
Matthew Cohen, MD
Nicholas Cordella, MD
Ricardo Cruz Jr, MD
Ebubekir S Daglilar, MD
Gerard Daly, MD
Zachariah DeFilipp, MD
Selma Demir, MD
Angel N Desai, MD
Paul Dieffenbach, MD
Magdalena Espinoza, MD
Utibe R Essien, MD
Kathryn Fantasia, MD
Benyamin Farahvash, MD
Kristin Castillo Farias, MD
Dayse Fernandes, MD
Matthew C Germak, MD
Svitlana Girenko, MD
Kartika Gourneni, MD
Lakshmi Gowda, MD
Oliver G. Gregory, MD
Junhong Gui, MD
Sarah Haessler, MD
Wilson Hannah, MD
Samaher Hashim, MD
Everett Hayes, MD
Hani Hazani, MD
Wei He, MD
Seth Homer, MD
Amy T Hou, MD
David Hsieh, MD
Grace Hsieh, MD
Arooj Hyat, MD
Azade Izadi, MD
Nicholas James, DO
Charlotte Jenchura, MD
Karen S Jiang, MD
Humera Kausar, MD
Kevin R King, MD PhD
Joshua Kiss, MD
Tatsuyoshi Kitamura, MD
Ekaterina A Klevtsova, MD
Carolyn Koulouris, MD
Vaibhav Kumar, MD
Jasmin Lebastchi, MD
Yi Li, MD
Amy Erica Lin, MD, PhD
Peter Liu, MD
Jennifer Lockhart, DO
Becky Lou, MD
Pieusha Malhotra, MD
Rohit Malhotra, MD
Natasha Mamdani, MD
Carol Mathew, MD
Venkatrao Medarametla, MD, MBBS
Rohini Meka, MD
Monica Midha, MD
Jonathan C Min, MD
Shadi Miri Ghomizadeh, MD
Ashish Misri, MBBS
Kathryn Molt, MD
Andrew H Moraco, MD
Anita Mulye, MD
Jazmin C Munoz, MD
Ashwin Nathan, MD
Temilola Onabanjo, MD
Rajandeep S Paik, MBBS
Thomas Pfeiffer, MD
Christina Anne Phillips, MD
Sidhertha S Podder, MBBS
Sarah Post, MD
Sanu Rajendraprasad, MD
Akhila Ramayapally, MBBS
Sheryl K Ramdass, MBChB
Aswanth Reddy, MD
Fabian R Reimold, MD
Nathan E Riddell, MD
Leslie Rigali, DO
Adam Rodman, MD
Landon S Roussel, MD
Payel J Roy, MD
Trisha Saha, MD
Anush Sahakian, MD
Vandana Sahay, MD
Hemal N Sampat, MD
Arturo Santiago, MD
David Scales, MD PhD
Samuel Seymour, MD
Ali Shahzad, MD
Uzma Mohammad Siddiqui, MBBS
Steven Simon, MD
Dimitre Sirakov, MD
Nancy Skehan, MD
Sandeep R Somalaraju, MBBS
Scott Souther, MD
Sundeep Srikakulam, MD
Adam Strauss, MD
Kevin G Sullivan, MD
Uma Tadepalli, MD
Galina Tan, MD
Surenthar Tharmalingam, MD
Hugo Torres, MD
Hirsh Trivedi, MD
Meghna Trivedi, MD
Nsabimana A Uwumugambi, MBBS
Maria Vamvini, MD
Anant Vasudevan, MD
Saipriya Vasudevan, MBBS
Cynthia L Vuittonet, MD
Matthias Wacker, MD
Andrew C Warren, MD
Ashley M Weber, MD
Hilary F White, MD
De-Ann Williams, MBBS
Allison L Yang, MD
Jianying Yang, MD
Nicole B Yang, MD
James S Yeh, MD
Maryann Zhang, MD
Residents
Sonu Abraham, MBBS MD
Elaina Adderley, MD
Debora Afezolli, MD
Abhimanyu Aggarwal, MD
Gulrayz Ahmed, MD
Jamal Akhtar, MBBS
Abdulhamied Al Faddagh, MD
Abdulrasheed Alabi, MD PhD
Summer Aldrugh, MD
Sajjad Ali, MBBS
Mohanad M Almahmoud, MD
Vibha Amblihalli, MD
Joe Aoun, MD
Amporn Atsawarungruangkit, MD
Magdy Badereldin, MD
Harsh Barot, MD
Shawna L Barry, MD
Lindsey Bazzone, MD, PhD
Sean Bhalla, MD
Jonathan Bisaillon, MD
Rachel Blair, MD
Steven M Blum, MD
Peter Brancale, MD
Philip Brandt, MD
Luke J Brindamour, MD
Sarah Brown, MD
Matthew Burdette, DO
Nihan Cannon, MD
Shaleen Chakyayil, MD
Chandra Kanth Chaturvedula, MD
Gina Chen, MD
Jirat Chenbhanich, MD
Woon Hean Chong, MD
Sameer Chopra, MD PhD
Rani Chudasama, MD
Kristopher Clark, MD
Joshua Cohen, MD
Matthew Collins, MBBchB
Jennifer Coukos, MD
Michael Cundiff, MD
Amy Cunningham-Bussel, AHP, MD, PhD
Robert D'Angelo, MD
Qiying Dai, MD
Karen Deffenbacher, MD PhD
Bryan M Dolan, MD
Nicholas Downing, MD
Juanita Duran, MD
Karthik Dwarki, MD
Orhan Efe, MD
Ross England, MD
Nada Esa, MBChB
Mina Ferig, MBBCH
Amy Olivia Flaster
Alejandro Folch Sandoval, MD
Jan Fouad, AHP MD
Jose Freire, MD
Vanessa Furtado, MD
Michael Gagnier, MD
Vikas Gampa, MD
Andrea Gaspar, MD
Abdulhadi Gelaidan, MBBS
Ann George, MBBS MD
Adil Ghaffar, MBBS
Raghunandan Ghimire, MBBS
Gabriela Goloman, MD
Erin Griffith, MD
Daniel Guarderas-Paredes, MD
Leah Harvey, MD
Brian Hasselfeld, MD
Jason Heath, MD
Gary Ho, MD
Jeffrey Ho, MD
Spencer Hodgins, MD
Jessica Hohman, MD
Erik Holzwanger, MD
Stephanie Hon, MD
Sejung Hong, MD
Dempsey Hughes, MD
Aala Jaberi, MD
Will Jaffee, DO
Madhura Joag, MD
Nimy John, MD,MBBS
Anup Karlath, MD
Yoav Karpenshif, MD
Fotis Katsikeris, MD
Mehrunissa Kazim, MBBS MD
Asad Khan, MD
Nicholas Kiefer, MD
Gina Kim, MD
Isaac Klein, MD, PhD
Abhigna Kodali, MD
Serge Korjian, MD
Hari Krishnan Nair, MD
Thomas Ku, MD
Kristin Kuhn, MD
Ines Kurjakovic, MD
Amos Lal, MD
Alexandra Lane, MD
Steven Lau, DO
Dien Le, MD
Melissa Lechner, PhD, MD
Rose Lee, MD
Seung Lee, MD
Yonghyun Lee, MD
Gregory Leslie, MD
Emily Levoy, MD
Deirdre Lewis, MD
Yan Li, MD
Joy J Liu, MD
Andrew H Locke, MD
Sundaravadivel Loganathan, MD
Graham Lohrmann, MBBCH
Christopher Lops, MD
Madhura Manjunath, MD
Katie Markelz, DO
NKECHI MBAEBIE, MD
Michael Mi, MD
David Miller, MD
Emilie Mitten, MD
Deeqo Mohamud, MD
Anahit Muradyan, MD
Erin Kathleen Murphy, MD
Ahmed Nagy, MD
Majed Najjar, AHP MBBS
Poorna P Natarajan, MBBS
Kay Negishi, MD
Michael D Nelson, MD
Lucian Neville, MD
Chike Nwabuo, MD
Vanessa Obas, MD
Margaret Oliverio, MD
Justice Oranefo, MD
Luke Pak Jr, MD
Deepika Panday, MD
Deepali Pandey, MBBS
Ritika Parris, MD
Gayatri Patel, MD
Parth Patel, MD
Erin Penn, MD
Carolina Perez Carrion, MD
Nitipong Permpalung, MD
Alyssa Peterkin, MD
Kristopher Philogene, MD
Tanit Phupitakphol, MD
Paramarajan Piranavan, MD
Mina Pirzadeh, MD
Andrew Platt, MD, PhD
Bryan Poole, MD
Emily Purcell, MD
Kate Raiti-Palazzolo
Kamil Rechache, MD
Lisa Redden, MD
Aaron Richterman
Meaghan S Roche, MD
Sarah Roderick, MD
Jonathan Rose, MD
Mohana Roy
Elizabeth Ryer, DO
Riffat Sabir, MD
Rishabh Sachdev
Jonathan Salik, MD
Shazia Samanani, MD
Ruchika Sangani
Priya Sapra, MD
Nosheen Sarwar, MD
Brittany M Scarpato
Dan Schwarz
Neelam Harshad Shah
Ali Shami, MD
Nitish Sharma, MBBS
Muna Sheikh, MD
Subarna Shrestha
Bilal Siddiqui, MD
Melody Sillo, MD
Maria Stamou, MD
Pedro Staziaki, MD
Matthew Strickland, MD
Preeyanka Sundar, MBBS MD
Minhee Sung
Brian Surjanhata, MD
Jazmine Sutton, MD
Lincoln Tirpaeck, DO
Kartikeya Tripathi, MD
Zachary Tucker, MD
Aditya Vaze, MD
Virginia Volpe, MD
Rachel Wallwork
Mingjin Wang, DO
Nathan Wass, MD
Sara Welinsky, MD
Gregory Westcott, MD
Mitchell Wice, MD
Alexandria Williams, MD
William Wyman, DO
Timothy Wymer, MD
Kun Yang, MD
Shu Yang, MD
Ekaterina Yavarovich, DO
Michelle Zhang, MD