You are here
Governor's Message
Governor's Message
.

| | |
| --- | --- |
| December 2013 | Richard M. Dupee, MD, FACP, AGSF, Governor |
---
Richard M. Dupee, MD, FACP, Governor

From the Trenches
Dear Massachusetts ACP Members and Fellows,
What a year! Internal medicine and its subspecialties are in the direct path of momentous changes, some of which are needed, but many of which have provoked significant concerns for our patients and our profession.
Although we expect to see the demise of the SGR formula next year, it will likely be replaced with a formula of reimbursement for services rendered based on quality measures that must be met. This will require that we as internists will need to team up with systems that can give us the information that we will need in order to meet those quality measures.
Although Massachusetts residents are less affected by the Affordable Care Act, aka "ObamaCare," sticker shock is spreading, ignited by the realization that even the lowest-level ObamaCare plan is higher cost on average than pre-ObamaCare plans. And we will see a rise in numbers of patients with much higher deductibles than ever seen before. We must thus be prepared for significant changes to our cash flow. Furthermore, there will be another influx of patients who are eligible for Medicaid, and yet even now, there are significant numbers of internists and family physicians who are not accepting Medicaid. So, waiting times and access will become major issues.
This new program is so big and complex, and has so many moving parts, and was built on so many assumptions that may or may not hold true, and deals with so many people with so many policies, it has created much anxiety, and in many cases, inconvenience.
And we have all been surprised to hear that people seeking insurance on the ObamaCare exchanges are finding that some plans limit access to some of the best-ranked hospitals and cancer centers in the country.
Nonetheless, we all agree that as internists, we want to see that all of our citizens have access to medical care, no matter the ability to pay for it. The big question is whether or not the Affordable Care Act, which is clearly unaffordable for many, will turn out to be the answer.
Indeed, in 1974, John Kerry, then Massachusetts senator, said this: "Covering the uninsured might be desirable for other reasons, but health-care costs would be driven out of sight once the government began subsidizing another large group of Americans to over consume."
Wherever the ACA lands, it is up to all of us, as internists and subspecialists, to do all that we can to provide excellent care, but at less cost:
From Medical Professionalism in the New Millennium: A Physician Charter (ABIM-F, ACP-F, EFIM)
"While meeting the needs of individual patients, physicians are required to provide health care that is based on the wise and cost-effective management of limited clinical resources."
"The physician's professional responsibility for appropriate allocation of resources requires scrupulous avoidance of superfluous tests and procedures. The provision of unnecessary services not only exposes one's patients to avoidable harm and expense but also diminishes the resources available for others."
From American College of Physicians Ethics Manual (6th edition)
"Physicians have a responsibility to practice effective and efficient health care and to use health care resources responsibly. Parsimonious care that utilizes the most efficient means to effectively diagnose a condition and treat a patient respects the need to use resources wisely and to help ensure that resources are equitably available."
When the 2014 annual ACP meeting takes place in Orlando, I will be signing off as your Governor. It has been a wonderful, fulfilling, and deeply rewarding 4 years. I have been blessed with one of the best jobs I could ever imagine, and I am grateful that you have given me the honor of representing you both here in Massachusetts, as well as at the national level.
During my term as your Governor, we had several major accomplishments, all of which have led to an increased interest and enthusiasm for membership in our Massachusetts chapter. We executed a very successful strategic plan that resulted in over seven new working committees with active member involvement. With the formation of a vibrant Early Career Physicians Council, led by Dr. Phoebe Cushman, we have been able to energize our young Massachusetts physicians in getting involved with ACP, both locally and at the national level. All of these efforts on the part of the governor's council have resulted in growth of membership, especially our Resident and Fellow members, which grew over 9%! And finally, we are now heavily involved in working with student leaders at our medical schools to formalize a council of students, thus increasing interest not only in MAACP, but also in the specialty of internal medicine as well.
Each year, with the enthusiasm, dedication, and hard work of our council members, we have won the national ACP Chapter Excellence Award, and we have submitted resolutions that were implemented by the Board of Regents. Further, our chapter has worked closely with the Massachusetts Medical Society on state issues that affect internal medicine.
I want to thank my council members, who have been so supportive in our efforts over these past 4 years, and a special thanks to Lynda Layer, without whom I would never have been able to succeed in this role.
Come spring, please welcome your new Governor, and my very good friend, George Abraham. I have worked with George very closely over these past years, and his dedication to MAACP is already legendary. We are all very lucky to have him lead us for the next 4 years!
---
MA ACP Poster Day - October 12, 2013
MA ACP had over 130 abstract submissions from medical students and residents. From these submissions, 81 medical students and residents were invited to present their posters during two poster sessions on Saturday, October 12, 2013 at the Massachusetts Medical Society in Waltham. At Poster Day, the winning Clinical Vignette and runner up and the winning Research and runner up poster presenters were invited to give an oral presentation at the MA Chapter Annual Scientific Meeting on November 2, 2013. In addition, 44 posters were selected to present at the Annual Scientific Meeting. Listed below are the Oral Presentation/Poster Winners, Runners Up and Honorable Mention Posters.
Clinical Vignette Winner
Fahad Edrees, MD, Saint Vincent Hospital - Late Onset Carbamoyl Phosphate Synthetase 1 Deficiency
Clinical Vignette Runner Up
Ashmeet Bhatia, MD, North Shore Medical Center - She Taught me "Poems" Syndrome
Clinical Vignette Honorable Mentions
Chung Kuang Chen, MD, Metrowest Medical Center - Rare Gastric Gastrinoma in MEN type 1
Ka Yeon Lee, MD, Metrowest Medical Center - From Cardiology to Oncology: A case of Double-hit B-cell Lymphoma masquerading as Acute Gastroenteritis and Pericarditis
Research Winner
William Gordon, MD, Massachusetts General Hospital - Introduction of an electronic tool ("MedHistory") improves inpatient medication review
Research Runner Up
Tomasz Stryjewski, MD, Harvard University - Effect of Massachusetts Health Reform on Chronic Disease Outcomes
Research Honorable Mentions
Rachel Kohn, MD, Massachusetts General Hospital - The "exported" liver transplant candidate: A reflection of geographic inequity in liver allocation
Atul Palkar, MD, Saint Vincent Hospital - A COPD Management Program: Can It Make a Difference?
Student Winner
Sharon Li, University of Massachusetts Medical School - Swallowing-induced Tachyarrhythmia
The Clinical Vignette, Research and Student winners will travel to the Internal Medicine 2014 meeting in Orlando to represent the Massachusetts Chapter.
---
Annual Scientific Meeting - November 2, 2013
The Annual Scientific Meeting was an excellent education and networking opportunity for the over 145 physicians in attendance. The morning started with our traditional clinical topics including Geriatrics and Infectious Disease. These sessions were followed by a presentation by Bob Doherty, ACP senior vice president, governmental affairs and public policy on "What Physicians and Patients Can Expect from Health Reform over the Next Five Year." The Early Career Physicians Council presented a Panel Discussion on "Dilemmas in Providing High-Value Care: Case Discussions" moderated by council member Dr. Larissa Lucas.
The afternoon included the oral presentations by the winning poster presenters that will go on to represent Massachusetts at Internal Medicine 2014 in the Poster Competition and a Town Hall Meeting entitled "the Future of the General Internist - Positioning Ourselves for Success."
To start the day, the medical students attended a Residency Panel Discussion and members were invited to participate in a Mentoring Collaborative Breakfast hosted by the Early Career Physician Council.
The day ended with the ever popular Medical Jeopardy which had 10 programs competing to represent Massachusetts in Doctor's Dilemma in Orlando, FL. St. Vincent Hospital was triumphant for the fourth straight year.
Visit us on Facebook for more photos from the Annual Meeting.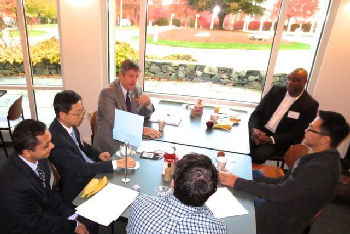 Dr. James Hennessey leads a table discussion on "Balancing clinical and administrative roles in medicine" during the Mentoring Collaborative Breakfast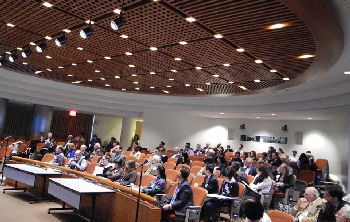 Attendees enjoying the 2013 MA ACP Annual Scientific Meeting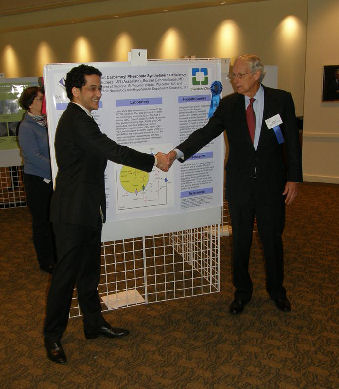 Dr. Dupee congratulates the Clinical Vignette Poster Winner Dr. Fahad Edrees.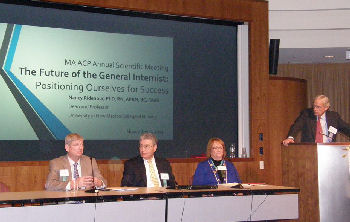 Town Hall Meeting: Panelists, Bob Doherty, Allan Goroll, MD and Nancy Ridenour, PhD, RN, APRN; Moderator: Richard Dupee, MD (left to right)
---
MA ACP Annual Membership Meeting and Awards Presentation
2013 Laureate Award Winner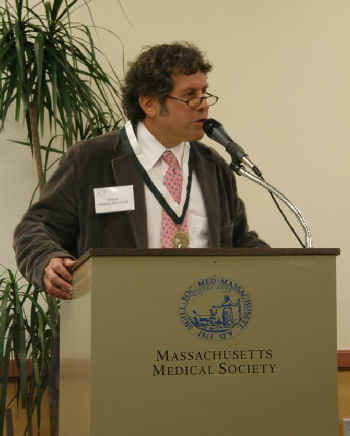 Robert Fishman, DO, FACP accepts the 2013 Laureate Award
Resident Leadership Award to Daniel Blumenthal, MD
Dr. Daniel Blumenthal is an Internal Medicine Resident at Massachusetts General Hospital. Dr. Blumenthal has been part of the Governor's Council and Chapter Annual Scientific Planning Committee for the past two years and has organized the Abstract and Poster competition each year.
Student Leadership Award Presented to Xibei Jia, Tufts University Medical School Loni Rogers, Tufts University Medical School
Young Leadership Award to Larissa Lucas, MD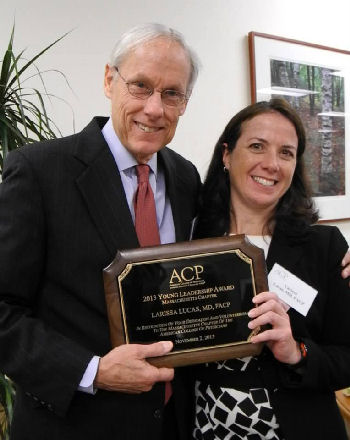 Dr. Larissa Lucas completed residency training in Internal Medicine at Cambridge Health Alliance where Dr. Lucas practiced primary care for some years after training. Dr. Lucas continues to be an Instructor in Medicine at Harvard Medical School and Cambridge Health Alliance and is a staff physician at Hospice of the North Shore in Danvers, MA. She is also Senior Deputy Editor of DynaMed, and EBM database at EBSCO Publishing in Ipswich, MA. Dr. Lucas is an appointed member of the Board of Health for the City of Salem. Areas of interest include evidence based medicine, health IT, end of life care, and health care reform. Dr. Lucas has been a member of the Governor's Council, helped to establish the Early Career Physician Council and has served on the Annual Meeting Planning committee for the past two years.
---
Medical Jeopardy
Saint Vincent Hospital's Jeopardy Team - Drs. Karthik Gnanapandithan (Captain), Atul Palkar, Vinod Chaubey, and Subhash Paudel - took on the toughest residencies in the Commonwealth. In what was a finish not seen in recent memory, the incredible SVHers left the other finalists in negative numbers, so there was no wagering permitted for the Final Jeopardy question. (It was then done "just for fun," and, of course, our team nailed it.) The team will join their poster winners in a MAACP sponsored trip to Orlando, where they will represent the Commonwealth at the national competition called 'Doctors' Dilemma'. This is the fourth year in a row that Saint Vincent Hospital has won the competition.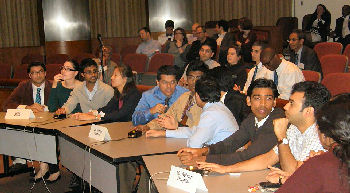 Lahey Clinic, St. Vincent Hospital and Mt. Auburn Hospital compete in the final round of Medical Jeopardy.
---
Welcome to our Newest Governor's Council Members
At the Annual Meeting on Saturday, November 2, 2013, the MA ACP membership elected two new Governor's council members, Vishal Tiwari, MD Hospitalist Physician, Bay State Medical Center and Orlando Torres, MD, MS, FACP, CPE, Medical Director at Baystate High Street Health Center. Drs. Tiwari and Torres will join the council for the first time at the next meeting in January. We look forward to their active participation!
Drs. Linda Habeeb, Tejas Patel & Ashish Verma were appointed to the Governor's Council by our incoming Governor, Dr. George Abraham. Dr. Abraham will become the MA ACP Governor at the Internal Medicine 2014 meeting in Orlando in April.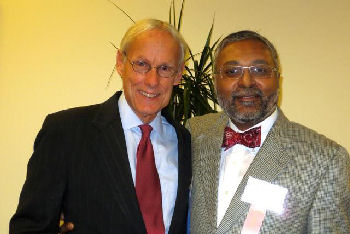 MA ACP Governor Richard M. Dupee, MD, FACP and Governor-elect George Abraham, MD, MPH, FACP
In addition, Dr. Natalie Pauli has joined the Governor's Council as the new Co-Chair, along with Dr. Gene Lambert, of the Early Career Physician Council.
For a complete list of MA ACP Governor's Council Members, please visit the MA ACP website.
Outgoing Council Members
We would like to thank Drs. Phoebe Cushman and Robert Jandl for their time, commitment to and support of the MA Chapter as members of the MA ACP Governor's Council.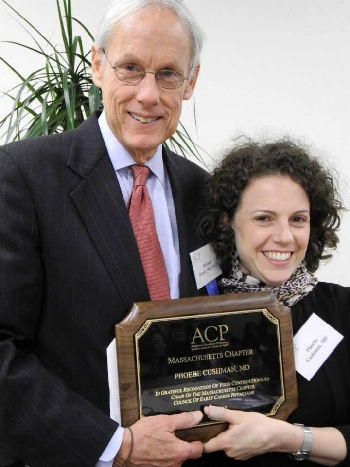 Dr. Dupee recognized Dr. Phoebe Cushman during the Annual Meeting luncheon for her time and commitment as the Chair of the Early Career Physician Council.
---
Early Career Physician Corner
The Massachusetts Council of Early Career Physicians enjoyed a very successful and productive summer and fall. The council held one CME dinner in September 2013 and organized two events in the annual scientific meeting. The council also had some transitions in regards to its members. Four of the old members with amazing contributions, who had completed their two year terms, departed the council and new members came on board. The first council meeting with presence of the new members was held on October 10th, 2013.
Recap of the Last Six Months:
In September 2013, the MA Council of Early Career Physicians (MAECP) held a CME program entitled "Physicians and Social Media: Keeping it Professional", in which a panel of expert physicians Bradley Crotty, Don Dizon, and Tara Lagu shared their insights on how social media is transforming medicine, the risk and benefits of social media for physicians and how they can potentially threaten medical professionalism. It turned out to be an interactive event and was very well received by early career physicians from different backgrounds.
Members of the MA Council of Early Career Physicians also had active presence in the Massachusetts ACP annual scientific meeting which was held in Massachusetts Medical Society on November 2nd, 2013. They hosted a "Mentoring Collaborative Breakfast", which provided an opportunity for attendees to learn more about the new MA ACP Mentoring Collaborative for members in all stages of their career, and this essentially was a follow up to the earlier kickoff event that was held in June 2013. The atmosphere of this event was informal and provided an opportunity to meet other early career physicians and to discuss ideas around finding mentorship in different contexts and practice environments. Also, as part of the Annual Scientific Meeting, MAECP presented the panel case discussion "Dilemmas in Providing High Value Care". This session featured panelist physicians Robert S. Janett, Rajlakshmi Krishnamurthy, and Natalie Pauli. This event was hugely successful and well attended; lots of questions were asked which lead to an interactive discussion.
Upcoming Social Event:
The Early Career Physician Council is currently planning their 3rd annual Winter Social Event on Friday, January 31 2014. This event will be held at Sonsie on Newbury Street, in Boston. This event is open to all early career physicians in MA.
How can I get involved?
If you have ideas in regards to what would be a good future event (CME or social event), aware of the needs in your place of practice that you think early career physicians' council may be able to address, want to get involved in the planning of the future events or have a special interest in the prior programs hosted by MAECP and want to inquire more about them, please contact our Chapter Administrator Lynda Layer.
MA ACP Council of Early Career Physicians Members
Natalie Pauli, MD - Co-Chair
Gene Lambert, MD - Co-Chair
Ebrahim Barkoudah - Treasurer
Phoebe Cushman - Secretary & Immediate Past Chair
Jennifer Joe, MD - Information Technology Director
Azadeh Nasseh, MD - Newsletter Editor
Nii Tetteh, MD and Liz Scheufele, MD - Mentoring Collaborative Directors
James Colbert, MD
Aba Ewusi, MD
Tara Lagu, MD
Yousaf Shaikh, MD
Andrew Zimolzak, MD
The ECP Council would like to thank Drs. Joel Auslander, Linda Habeeb, Larissa Lucas, Jason Luke, Milan Mathew, Tejas Patel and Steven Van Dam for their contributions to the success of the Council of Early Career Physicians. You will be missed.
---
2013 Chapter Excellence Award
I am pleased to announce that our chapter is in receipt of the 2013 Chapter Excellence Award! The award recognizes chapters which successfully meet the standards for managing a chapter. In order to achieve the Chapter Excellence Award, chapters must meet all basic criteria and seven optional criteria. Criteria include such activities as formulating an effective Governor's Council and committees, communicating frequently with membership, providing educational opportunities, recruiting and advancing members and celebrating membership through local awards. I would like to extend a special thanks to those chapter members who assisted me in all of these endeavors! For their hard work and dedication, we received this award.
---
Mark Your Calendar
April 10-12, 2014
ACP Internal Medicine 2014, Orland, FL
Wednesday & Thursday, May 21-22, 2014
ACP Leadership Day on Capitol Hill, Washington, DC
Saturday, November 7, 2014
2014 Annual Scientific Meeting, Massachusetts Medical Society, Waltham, MA
---
Congratulations to the New Fellows of the MA Chapter
Fellows:
Jonathan L Bayuk, DO FACP
Hasan Bazari, MD, FACP
Jan Cerny, MD, PhD, FACP
Christine Cochrane, DO, FACP
Patricia W. Finn, MD, FACP
Rakshith Gadam, MBBS, FACP
Katherine T. Johnston, MD, FACP
Samir S. Kadada, MD, FACP
Ursula B. Kaiser, MD, FACP
Lewis M. Levy, MD, FACP
Shan Lu, MD, PhD, FACP
Jason J. Luke, MD, FACP
Lauren B. Meade, MD, FACP
Vandana Nagpal, MBBS, FACP
Wayne S. Saltsman, MD, PhD, FACP
David T. Scadden, MD, FACP
Paul Summergrad, MD, FACP
Gyongyi Szabo, MD, PhD, FACP
Aaron B. Waxman, MD, FACP
---
Welcome to the New Members and Resident Fellows of the MA Chapter
Check out the new Members and Resident Fellows!
---
Happy Holidays from the
Massachusetts Chapter, American College of Physicians