You are here
GOVERNOR'S NEWSLETTERAugust 2014
GOVERNOR'S NEWSLETTERAugust 2014

---
---
Message from the Governor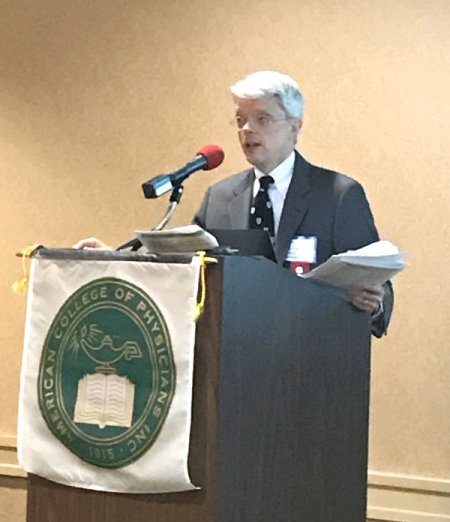 Stephen D. Sisson, MD, FACP, ACP Governor
The Maryland Chapter has had a busy 2014. We've seen the smooth transition from Dr. Dobbin Chow's four years as Governor to the new term with Stephen Sisson taking over. We've seen several of our members elevated to Master. We've continued to receive national recognition on many fronts. And we've seen our activities continue to grow.
This winter we held our annual Scientific Meeting at the Turf Valley Conference Center. Despite a winter of terrible weather, the meeting was held on the rare occasion when we had no new snow on the ground. That and a roster of great speakers combined to bring nearly 300 attendees and a great meeting overall. We also continued to host a Doctor's Dilemma Jeopardy contest between residents from Maryland hospitals. New this year was an opportunity to participate in Maintenance of Certification activities both in General Internal Medicine and Hospitalist Medicine. Both sessions proved so popular that they will be back next year.
This spring we held our annual Mulholland-Mohler Residents' Meeting, hosted at St. Agnes Hospital. We were fortunate enough to have as our guest speaker Steven Weinberger, Executive Vice President and Chief Executive of the ACP. We had several hundred posters in our highly competitive judging competition, and saw an amazing breadth of scientific achievement and clinical work on display. New this year was a "Profiles in Excellence" presentation, in which each of the area hospitals showed a short film of a resident that they chose as demonstrating excellence in their craft. Displaying such great diversity of role models was so well-received that this will become a regular feature of the Mulholland-Mohler meeting.
The Maryland Chapter was well-represented at the National Meeting held this spring in Orlando. We continued to co-host a social mixer with the Virginia and DC chapters, and had a strong showing. Three of our members were elevated to Master of the American College of Physicians: Drs. Marc Hochberg, David Kern, and Robert Ferguson. Dr. Lisa Cooper received the James D. Bruce Award for Distinguished Contributions in Preventive Medicine, Dr. Frank Calia received the Desforges Distinguished Teacher Award, and Dr. Barbara Cook received the Rosenthal Award, honoring her role in improving healthcare delivery. The Maryland Chapter also won an Evergreen Award for the work of our Medical Student Committee, creating a leadership development program for medical students. It was also at this meeting that Dr. Chow officially handed the reins of Governorship over to Dr. Sisson. We can all be proud of this great showing by the Maryland chapter!
Our Awards Committee, led by Dr. Phil Mackowiak, has been busy with both chapter awards and national awards. Chapter awards presented at our winter Scientific Meeting included the Woodward Award (winner: Colleen Christmas), the Stevens Award (winner: Frederick Wigley), the Asper Award (winner: Louis Domenici), the Hospitalist Award (winner: Lenny Feldman), the Early Career Physician/Service Award (winner: April Fitzgerald) and the Mackowiak Student Award (winner: Melissa Schmidt). With the depth of talent represented by Maryland physicians, several names were nominated for national awards to be announced at the Annual Meeting to be held in Boston next year.
This was a great year for our Chapter's Student Committee. In addition to winning the Evergreen Award, this winter they hosted the Student's Steps to Success at the Uniformed Services University of the Health Sciences (an event that included a poster session, doctor's dilemma, simulation labs, and even an Iron Man competition). It was a great way to expose more students to the ACP. The Student Committee also hosted their annual Community Care Initiative in East Baltimore, which offered health screening for many diseases to those who might not otherwise seek medical care. Finally, the Student Committee hosted a social event at Harbor Hospital. Following the success of their film of Profiles in Excellence of residents at the Mulholland-Mohler Meeting, they produced a film of different clinicians working in the communities of Maryland. This film showed "a day in the life" of several clinicians in different practice settings, so that students could learn about the great variety of career paths in Internal Medicine. This active student committee has been rewarded with a 22% increase in student membership.
Even with all the activities listed above, the year is only half over. On the docket are discussions by our Health & Public Policy committee about automated medication refills, a new set of chief residents running CRAB (our Chief Residents' Association of Baltimore), launching a Strategic Planning Committee to develop a strategic plan for the Maryland Chapter, and planning for next year's meeting.
As you can see, the Maryland Chapter has a lot to be proud of. We gather our strength from the diversity that each of you brings: from beginning students to emeritus faculty; from solo practitioners to academic clinicians; from rural health to urban health. Thanks for your support of the Maryland Chapter; it should be an interesting year!
Stephen D. Sisson MD FACP
Governor, Maryland Chapter
American College of Physicians
---
"Words of Wisdom" from Dobbin Chow, Past Governor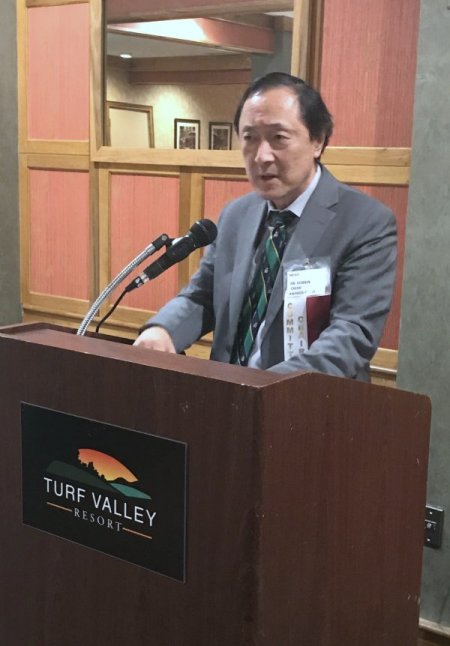 It has been a great honor to serve as the Governor of your chapter for the past four years. My predecessor, Mary Newman, told me at the outset that it would be the best four years of my professional life. Indeed, as always, she was right. If you will indulge me, I would like to share with you some of my experiences and perspectives so you can better understand how the ACP is organized. There are a total of 82 chapters, of which Maryland is one, and 86 governors. Included in this number are international chapters in Canada, South America, Asia, and now even a new one in the Middle East. For those of you keeping score, there are five chapters in New York, four in California, and two in Florida. Together, the governors form the Board of Governors (BOG), which is charged with representing the overall constituency of ACP members, including resident and student members. The total number of members is greater than 135,000, with over 2,100 residing in Maryland. In addition to the BOG, there are separate councils representing student members, resident members, early career physicians, and subspecialty physicians. Overall, the BOG and the Council chairs function like Congress; rather, they function how Congress was designed to function - they propose new initiatives, develop new policies, and advocate passionately for our members. They advise and make recommendations to the Board of Regents, which is ultimately responsible for setting College policy. The Board of Regents is heavily influenced by the opinions and recommendations of the BOG.
As the term of governorship is four years in duration, ¼ of the membership of the BOG turns over each year. Governors become very close to the other members of their class, and our class was no exception. In my class of 18 Governors, there was strong and articulate representation from those in private practice, chairs of medicine from academic institutions, and even a regional hospitalist director. Four of us were program directors in our day jobs; I am not sure if that implies that program directors do not have enough to do, or that they have a difficult time declining voluntary leadership positions. Despite coming from all corners of the country with a wide variety of backgrounds and diverse professional interests, we were usually able to arrive at a consensus on issues and policies. I came to understand and respect the perspectives of a solo generalist in private practice in Tampa, Florida, an academic geriatrician in Boston, and a critical care intensivist from Staten Island. Other classes of Governors also seem to foster the same level of collegial respect for each other and a common passion for serving the mutual good of our membership and ultimately our patients.
Individual ACP members are given an opportunity to voice their ideas and recommendations through a formal resolutions process. Resolutions can be proposed by chapters, individual governors, or councils. The careful thought and consideration given to each resolution was one of the most remarkable and enjoyable aspects of our bi-annual governor meetings. Needless to say, I learned a great deal from the overall governorship experience, met some wonderful role models, and developed new administrative and leadership skills. I am sure that I gained more from the experience than what I was able to give back through service to our members and our chapter.
I also had the opportunity to examine the ACP from inside the organization by serving on several committees. This past January, I was invited to attend the organization's annual strategic planning retreat. The senior leadership gave serious consideration to a series of new initiatives as they planned the strategic plan for the coming year. I had a voice in that decision-making process, which resulted in the decision, among others, to develop a robust platform to support our members in their Maintenance of Certification efforts. The development and implementation of Smart Medicine was also a strategic decision made in the previous year. I was honored to participate as a member of several committees and worked closely with many very talented dedicated ACP staff members who are encouraged and supported to develop innovative programs and initiatives on behalf of our members.
I learned that we in Maryland are very fortunate to have the support and expert guidance of a very active Council and highly organized Executive Director. Under their leadership, dedicated members of our chapter have come together at the committee level to forge innovative and award-winning programs and initiatives. A sampling of their collective efforts is listed in this newsletter. I quickly learned that my role as governor was to simply get out of their way, and let them take the lead. Mary Newman calls Mary Ellen Woodward our 'secret weapon,' and indeed we are extremely fortunate to have her organizational skills and unique passion in our midst. We are also very fortunate to have had a legacy of outstanding clinicians, leaders, educators, researchers, and mentors in the Maryland chapter. We recently updated the awards page of our Chapter's website, and I invite you to visit it and reflect upon the remarkable accomplishments and careers of some of our outstanding colleagues.
Having said all of this, there is still remains much to be accomplished. At the outset, I had planned to develop initiatives to help improve patient safety in the ambulatory setting, where most of our members practice. I did not gain much traction in that effort, but I plan on continuing to work in that critical direction. I learned that there are robust resources within the ACP that can help practices improve and document the quality of their patient care activities, and I hope that we can link into those ongoing efforts. In addition, I find our chapter's efforts to be generally Baltimore-centric; I intended to reach out and directly engage our colleagues on the eastern shore and in western Maryland. Our Chapter's programs should aspire to meet the needs of all of our members, in all of their practice settings.
Whenever I meet with our next Governor, Steve Sisson, I never fail to be impressed with his leadership skills, his passion for the ACP, and his vision for our chapter. With your continued support, he will be magnificently successful, and I hope he finds the experience as fun and rewarding as I have. As we all move forward to meet the challenges of practicing medicine, teaching trainees, understanding diseases, and refining our treatments, the ACP serves as a vehicle for us to make that journey together. It has been an honor and a privilege to have been your chauffeur for the past four years. Thank you for allowing me that opportunity.
R. Dobbin Chow, MD, MBA, FACP, Past Governor
---
CRAB Activities - An Exciting Year!
As our CRAB (Chief Residents Association of Baltimore) year has come to an end, we would just like to provide you with a brief overview of the many varied activities that CRAB has been involved for 2013-2014. These activities have been planned and implemented so that our residents in the metropolitan area have the opportunity to be part of our Chapter in a meaningful way. They included:
CRAB Grand rounds in August on the new Affordable Health Care act and its effect on medicine
Dinner presentation on new websites available at area programs
Pot Luck dinner sponsored by CRAB and the IMG committee. Presentation on the "The Art of Negotiation" by Dr. Eric Howell, Past President, SHM.
Mini Workshop on "The Nuts and Bolt" of Abstract and Poster Presentations presented by Dr. Luigi Ferrucci of the NIH
Doctors Dilemma held as part of the Chapter meeting in February
Dinner presentation "Hospital Quality in the Age of HealthCare Reform" sponsored by Cogent Healthcare
Residents Meeting on May 15, 2014 at St. Agnes Hospital with the keynote presentation by Dr. Steve Weinberger, CEO of the ACP
CRAB Grand Rounds on Contract Negotiations presented by Dr. David Joyce of Essential Seminars
The CRAB group was also instrumental in developing a new award - Profiles in Excellence - that was presented to a resident at each area program. The awardees were selected by the chief residents at each program and a video describing their activities was shown at the Mulholland Mohler Residents meeting on May 15th. This award will be continued as part of the MM meeting each year onward, and we send our thanks to the Chief Residents who were so willing to give of their time during the year to ensure that these events were so successful.
Our special thanks to our CRAB co-chairs - Drs. Tahir Mehmood (Franklin Square), Andrew Ofosu (Harbor), Panagis Galiatsatos (Bayview), and Kristine Yumul (Sinai) for their efforts in ensuring that this was once again an exceptional year for our CRAB.
We look forward to a new year, and wish our new CRAB members continued success!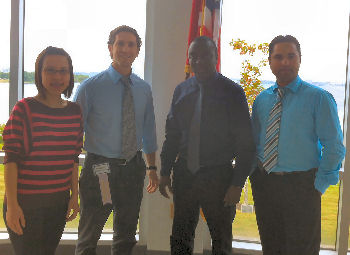 CRAB Co-Chairs
---
Congrats to our Early Career Physicians
The MD ACP is very pleased to have a number of committees that are willing to provide activities that meet the varied interests of our members.
This year, we were fortunate to have a very active Early Career Physicians (ECP) group co-chaired by Drs. Sanjay Desai, Maria del Pilar Morales and Evelyn Gatcheca. The group met early in the summer and developed a list of workshops they felt would be of interest to our young physicians.
In the Fall of 2013, a mini workshop highlighting the new guidelines developed by the ABIM for Maintenance of Certification (MOC) was held. Dr. David Hellmann, Chairman of the Department of Medicine at Johns Hopkins University School of Medicine at the Bayview Medical Center was kind enough to provide the group with some insight into the new criteria. In March, another dinner workshop sponsored by the IMG and the ECP groups was held on the new ICD 10 coding system and was presented by Dr. Mary Newman, our past Governor and a former member of the Maryland and national Health and Public Policy committees. Both meetings were not only very well attended, but also were felt by the registrants to provide some very useful information on subjects of interest to our members.
The Committee was also instrumental in developing the Governor's Service Award for Early Career Physicians award, which will be presented each year at our chapter meeting. This will be given to a highly respected physician for outstanding clinical and leadership skills who has been a role model in the community and is a member or fellow of the ACP who is 16 years or less from medical school graduation. Dr. April Fitzgerald was the 1st recipient of this new award and we are very fortunate in Maryland to have such a distinguished young physician.
Plans are underway to host another dinner meeting early in October that will be presented on an issue of interest to our young physicians. Look for details as the summer continues. Again, we thank our committee co-chairs and look forward to another wonderful year under their leadership.
---
Student Video - A "Must See" for Students & Members
The Maryland ACP Student group would like to share with you a video that we recently highlighted at our social on June 7th. At student meetings over the last year, the students discussed the fact that although they are exposed to physicians in academia, they rarely have the opportunity to meet and see internists working in ambulatory settings. The group agreed that perhaps a video highlighting these physicians would be of interest to our student population.
The student committee then asked several physicians in offices around the metro area both in urban and suburban settings to see if they would allow someone to come film them for a 10 minute video that details their practice. The group selected physicians in large and small group practices. The students developed a list of 10 questions that they provided to each of the physicians, so that they would have an understanding of what information would be of interest to students. The video was then shown at our June student social. A survey of the Maryland student population is also being planned to see if this video was informative to them.
We are pleased with how the video turned out, and think it was successful in role modeling other career paths in Internal Medicine. You can view the video.
---
Our Health & Public Policy - At Work for our Members
Our MD ACP is indeed fortunate in that we have a number of hard-working committees that continuously provide input and expertise on a variety of issues. One such committee is the Health & Public Policy committee chaired by Dr. Steve Kravet. During the past year, this committee has:
Provided support and review of legislative bills affecting internal medicine to the MedChi Legislative committee through the efforts of our representatives Drs. Saba Sheikh and Mary Newman
Developed a group of students, residents and practicing physicians who attended Leadership Day in May and met with our Maryland congressional delegation and their legislative health aides to discuss issues of concern
Represented the MD ACP at the MedChi Primary Care Coalition (PCC) which addresses local issues that affect the practice of primary care in Maryland
4. Reviewed and developed comments to resolutions that are reviewed at the ACP Board of Governors meeting in the Spring and Fall of each year
5. Kept informed about new and proposed guidelines that will affect Maryland and our patient population. If necessary, comments about these proposed changes are sent to DHMH for further discussion
6. Represented our Maryland ACP at the Carrier Advisory Committee (CAC) for our Maryland Medicare Carrier Novitas Solutions by attendance and participation of our designated representative Dr. Saba Sheikh. For complete information about CAC activities, Part B errors in claims submissions, and the new additions to the Novitas webpage.
---
News of Interest for Our Members from CRISP - Regional Health Information Exchange
CRISP is Maryland's state designated health information exchange (HIE) serving Maryland and the District of Columbia. CRISP is a not-for-profit organization charged with electronically connecting healthcare providers across the region. We offer FREE HIE services to ambulatory provider. The CRISP QUERY PORTAL allows physicians and support staff to query patients they are treating to view clinical information from all 46 acute care hospitals in MD and 6 hospitals in DC. Data available includes lab reports, radiology reports, discharge summaries, history and physicals, medications, and more. The ENCOUNTER NOTIFICATION SERVICE (ENS) allows providers to receive real time notification when any of your patients have a hospital encounter in Maryland, Delaware, and 6 of the hospitals in DC. These notifications can enhance your care coordination and possibly prevent a patient from being re-admitted to the hospital. ENS can also assist your practice in receiving Medicare reimbursements for patient follow up.
CRISP is also excited to serve as Maryland's Meaningful Use Resource Center. CRISP understands that achieving Meaningful Use can be a confusing and challenging endeavor for providers and their staff. The Meaningful Use Resource Center was created to provide a single, comprehensive informational tool for Eligible Professionals and their staff as they work towards meeting the Meaningful Use requirements. You can access this site through the CRISP homepage.
Please visit our website or call us at 1-877-952-7477 to learn more or sign up for our services.
Cheryl B. Jones
Director of Outreach CRISP-Regional Health Information Exchange
P: 443-285-0890
C: 443-271-1756
www.crisphealth.org
---
Leadership Day from a "New Perspective"
One of the first thoughts that came to mind as we listened to introductions for ACP Leadership Day was why hadn't we attended this earlier? The Leadership Day was actually two days. The first provided all of the introductory material and background information to the Capitol Hill agenda regarding the key issues, repeal of SGR, extension of Medicaid Pay Comparability program, and "Safe Harbor" legislation. The diversity of physicians attending impressed us. The participation included academic, community health and private practice physicians and ranged from medical students, residents, newly practicing and the experienced and specialized physician from nearly every state. Capitol Hill visits began early April 22. Maryland delegation had 3 groups who visited the US Senators and Representatives from Maryland.
Why hadn't we attended Leadership Day earlier? This is a great question, and one that requires a little self-examination. The issues are germane to our practice and any potential legislation would have significant effects on the profession and our care of patients. So, a lack of interest or importance of the issues is not it.
Maybe the reason relates to a fear of being thought of as a "lobbyist"? Hmm…this is worth exploring. Stepping back to take a look at the broader issues, we think physicians are hesitant to enter political discussions; simply put, the political world is not our domain. We are, after all, physicians and not politicians. Likewise, our Congressional representatives are politicians, and with a few exceptions, are not physicians.
However, our representatives need to hear from us in our role as educators and not as a "lobbyist", which by the way, we are not. We educate patients and team members daily, but we do not educate the general public or our Congressional representatives as well as we should. Without this dialogue and without relationships with our representatives, they are likely not going to be fully informed when crafting or debating legislation. I mean, just think about it. How could they be fully informed about issues affecting patients without hearing from us as Internists, the very group committed to providing thoughtful, high quality care to patients? At the end of the day, our advocacy as physicians during ACP Leadership Day boils down to educating our representatives on issues important to the care of our patients and the practice of Internal Medicine. No, we are not lobbyists, and we think this potential concern may have held us back from speaking up to educate our representatives and their talented staff.
The great team at the ACP gave us an excellent crash course in how to educate and advocate. With newly acquired skills in hand (Don't worry-there is not a test), all we had to bring to the table was our knowledge, our passion, and our compassion for our patients. After participating in the event, we realize more than ever that we are internists whose voice is desperately needed to be heard by our Congressional representatives on Capitol Hill. Real life stories make the most impact, and we as internists have countless examples of relevant stories to share with our representatives that bring meaning to the issue for them. This was the easy part and the pleasurable part. Taking two days off from a busy practice was definitely worth it-for ourselves, for our profession, and most importantly, for our patients. In the final analysis, our views and our voice are critical to the process of an evolving health care system, and our Congressional representatives benefit from our education and advocacy. Will we participate again? Most definitely, and we hope you will, too.
Thomas Edmondson, MD
Colleen Leavitt, MD, FACP
---
A Student's Viewpoint of Leadership Day
How many medical students can say they are making a difference in the way legislation affects them and their future patients while pursuing their passion for medicine? This past May, the ACP offered the opportunity to students to do just that. We travelled to Washington D.C. and visited various senators and legislators to lobby for causes important to us as part of the ACP. Seeing many other students from across the country come together for a similar cause was exciting and fostered a sense of camaraderie as we set out to lobby with our lawmakers.
In addition to touring beautiful and historic Washington D.C., we presented five key issues to legislators and senators on Capitol Hill. One, to enact the Sustainable Growth Rate (SGR) Repeal and Medicare Provider Payment Modernization Act (H.R.4015/S. 2000) by working in a bipartisan manner to permanently repeal the SGR, without any further patches, which have already cost more combined than the repeal would, with each patch increasing the cost of permanent repeal.
Two, to extend the expiring Medicaid Payment Policy for primary care services through at least 2016 to prevent a widespread Medicaid primary care cut in 2015. Three, to work in a bipartisan manner to enact the Saving Lives, Saving Costs Act (H.R. 4106), which would provide safe harbor protection from lawsuits for medical liabilities for physicians who document adherence to guidelines of clinical practice. Additionally, a pilot should be introduced on health courts that would decrease the costs of medical liability insurance and the practice of defensive medicine.
Four, to reform and sustain graduate medical education (GME) financing and, five, to realign the program with the nation's workforce needs by stopping the 2 percent cut to GME under sequestration and protect indirect medical education cuts. Moreover, urging enactment of legislation that would increase the number of GME training positions in primary care positions, as included in the Resident Physician Shortage Reduction Act (S.577 and H.R. 1180) and the Training Tomorrow's Doctors Today Act (H.R. 1201). We also asked that more transparency and accountability be introduced, requiring all payers contribute to GME funding, and to fully fund both the Title VII and the National Health Service Corps programs, and the National Health Care Workforce Commission. This is especially pertinent for us medical students as we vie for residency spots, whose number has essentially remained unchanged for a number of years, although the number of medical students has increased, and we face a physician shortage particularly in the area of primary care, including internal medicine. Capped onto this conundrum is the dilemma of financial burdens of sky-high student loans that many of us students are all too familiar with.
The experience with our legislators and senators on Capitol Hill was a welcome and an eye-opening experience, one which solidified the established principle that progress can only occur when we work together. We hope that Congress will listen to our asks and take into consideration our discussions, in order to make a better future for us students as future physicians, current physicians and the lives of our patients who we strive to care for the best we can. Many of us students chose medicine for the noble profession that it is, of helping others, but for us to truly make a difference in our lives and those of our patients, we need the teamwork and cooperation of our lawmakers to put our ideas to work and into action.
Surosh Nazeer, MedStar Harbor Hospital
---
A Resounding Success for our Community Care Initiative (CCI Fair)
Thanks again to the generous support of the Maryland ACP, Community Care Initiative (CCI), a student group at the Johns Hopkins University School of Medicine, was able to hold our annual Health Screening fair at the Israel Baptist Church in East Baltimore this past May. Now in its 16th year, this is a student organized initiative to help combat health disparities facing a medically underserved community, with many of its residents lacking access to routine medical care, health insurance, and awareness of lifestyle factors affecting their health.
With guidance from the ACP, and in collaboration with our colleagues within the nursing and public health schools at JHU, medical, dental, and pharmacy schools at the University of Maryland, and other medical students rotating in Baltimore hospitals we provide health screening and information targeting common health problems which are grossly overrepresented in this population, such as cardiovascular disease, diabetes, hypertension, and addiction as well as increase awareness of modifiable factors such as obesity, smoking cessation, illicit substance and alcohol abuse. Moreover, we seek to connect the community with the many resources available to them in the city by partnering with organizations such as Charm City Clinic, Health Care Access Maryland, Maryland Insurance Administration, and EBMC.
In this year's fair, we provided basic health screening including cardiovascular (BP, BMI, waist circumference), diabetes (random blood glucose), vision, and dental exams. New to this year, we provided basic pulmonary/asthma screening, given the disproportionate prevalence in this population. In addition to the screens, our volunteers prepared information booths on more than twenty topics including health literacy, cancer, asthma, sickle cell disease, and domestic violence. This year we were pleased to see increases of 25-50% in the number of attendees screened at the fair. In order to incentivize participation in the screenings, we raffle grocery and store gift cards at regular intervals during the fair, with attendees receiving additional chances to win with each screen or booth visited. As they enter the fair, each attendee is provided a booklet in which to record the results of their health screens and to take notes at the booths, which can be taken with them to their health care provider. As many attendees bring children with them, we provide activities including music, face painting, balloon animals, and activities that parents and children can participate in together, such as physical fitness routines and games in which both are educated about the poor nutritional value of popular foods, snacks, and drinks and are informed about and provided healthy alternatives. All attendees are given bags of healthy groceries including fresh fruits and vegetables.
The data we gather from the screens continues to demonstrate the importance of this fair to the community as the majority of the screened attendees had blood pressures measured in the pre- to frank hypertensive range, and a number of attendees with serious visual problems (field cuts, high IOPs) and dental concerns were identified and scheduled for the appropriate follow up. For the students, the fair provides the opportunity for us to practice our clinical skills, allows us to engage the community, and promotes collaboration and networking with internal medicine colleagues and mentors. The fair could not have taken place without the significant contribution of many students at Johns Hopkins including our core leadership Cody Cichowitz, David Li, Abby Larson, Anita Ram, Stephanie Wang, Adela Wu, and Ophelia Yin as well as our collaborators at the JHU Schools of Nursing and Bloomberg School of Public Health, University of Maryland Medical, Dental, and Pharmacy schools, Charm City Clinic, and the JHU Sight Savers group. We are especially indebted to entire Maryland ACP, particularly to our present and past Governors Dr. Stephen Sisson and Dr. Dobbin Chow, and Dr. April Fitzgerald, Dr. Janaki Deepak, Dr. Lucia Ponor, Dr. Carolyn Bramante, and Dr. Katie Shaw who contributed resources, helped to recruit students, and participated as physician mentors at the fair. We hope to continue to improve and expand on the fair in the coming year, with the support of the Maryland ACP.
Krishna Juluri, Student Committee co-chair, Johns Hopkins Medical School
---
Maryland Activities in "Pictures"
We hope that you will take the opportunity to look over the pictures featured below. They show just some of our recent activities and including: Leadership Day, Student CCI Fair, Student Steps to Success, and IM 2014 in Orlando!