You are here
Governor's Message
Governor's Message

| | |
| --- | --- |
| August 2013 | Robert (Dobbin) T. Chow, MD, MBA, FACP, ACP Governor |
---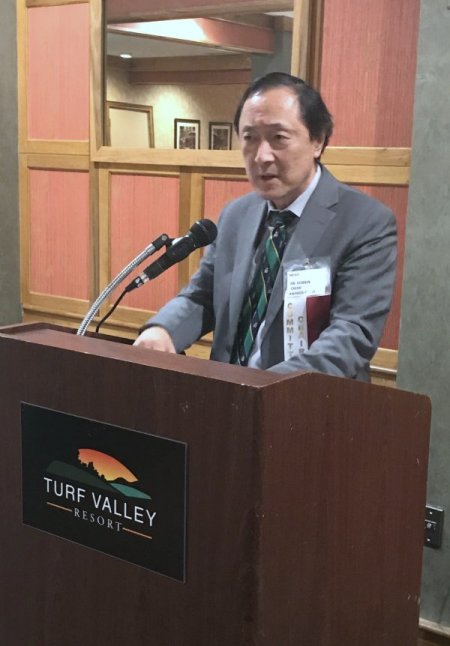 Best wishes to the members of the ACP Maryland Chapter! This annual newsletter provides an update on all the variety of activities and accomplishments of our distinguished chapter. I am pleased to report that our chapter is doing well and was recently honored with several national awards. Though we can be proud of these accomplishments, our overall goal is always to help you meet your professional needs.
The ACP constantly aims to develop innovative tools and enhance its resources on behalf of its members. However, members are often not aware of its comprehensive resources and how to use them in real time. Here are some electronic tools available to all members, listed in three broad categories:
Tools for Learning:
MKSAP 16 Digital: This comprehensive self-guided medical knowledge program is very familiar to those preparing for ABIM certification or recertification. It also provides CME credits and MOC points
ACP Doctor's Dilemma Mobile Game: You can review questions used in past national ACP Doctor's Dilemma competitions. Test your knowledge against the best residents in the country.
Annals MOC for Ethics and Professionalism: This module is available on the Annals website and provides MOC credit in the area of ethics and professionalism.
Smart Medicine: Later this fall, the ACP will be replacing PIER with a new point of care product called Smart Medicine. It is comprehensive in scope and has a smart search design.
Eventually, CME credit will be available through Smart Medicine as well. I saw a demonstration of this product and was very impressed; it competes well with Up-To-Date. I think you will find it to be an important benefit of your membership.
Virtual Patient cases: These cases are based on selected "In the Clinic" articles, with questions and correct responses.
Consult Guys Video Series: A series of 10- minute long videos of two expert clinicians speaking on relevant topics, based on the popular 'IM consult talk' sessions that are held at IM meetings
ACP Journalwise: This is a personalized journal alerting service, powered by the ACP Journal Club engine. Users are enabled to follow journals selected by them through a Smart Phone app.
Tools for Patient Care:
ACP Immunization advisor app: This app categorizes all immunizations and vaccines. Go to the iTunes store and search for "ACP immunization advisor"
ACP Clinical Guidelines are available electronically.
Tools for Educators:
To learn more about any of these innovative tools, you may wish to review a video presented by Dr. Christine Laine, Editor-in-Chief of the Annals of Internal Medicine.
The above information helps to answer the question, "What does the ACP do for me?" I always find this an ethereal question, with different answers for each of us. I view the ACP as a motor vehicle, helping to transport each of us to where we want to go. There are a lot of fancy bells and whistles, as well as select knobs and switches that are useful only to a portion of our membership. Regularly, there are new innovations and updates, fresh off the assembly line. However, the purpose remains the same - to move each of us forward along our personal paths to better serve our patients and the public good. Like a personalized vehicle, the ACP needs drivers. It will not automatically take you to your desired destination. You need to jump into the driver's seat, fasten your seatbelt, and give the vehicle direction and energy. Your active engagement is critical to the functioning and general welfare of the ACP.
You may find this metaphor tedious by now, so I will give you examples of how some members of our chapter have actively participated with the ACP:
Victor R. Felipa, MD FACP practiced primary care for over thirty years in Cumberland, Maryland. He has been an active member of the chapter and the chapter's Council, representing members from western Maryland. He would regularly make the trek to our quarterly Council meetings, mentor medical students, organize educational programs in his area, and serve as a voice for the ACP for his community. Even after he retired, he volunteered to provide medical care in rural Peru, his native country.
Ali Afrookteh, MD FACP practices primary care in Frederick, Maryland. He also serves an active member of the chapter's Council and is the Co-Chair of our annual scientific meeting. His invaluable input has informed the content of our annual highly regarded educational meeting. He regularly attends Leadership Day and advocates on behalf of the needs of his patients to national legislators.
Saba Sheikh, MD FACP practices primary care in Columbia, Maryland. She serves as the Chapter's representative to MedChi and keeps the Council abreast of the local legislative issues relevant to our members. She is an active member of our Health and Public Policy Committee, and provides an articulate and persuasive voice at Leadership Day. Though she thoroughly understands the plight of the general internist in Maryland, she advocates for all physicians, their patients, and the public health in general.
Finally, Janaki Deepak, MD FACP is a member of the full-time Pulmonary Critical Care faculty at University of Maryland Medical Center. She seems to spend most of her time, however, organizing jeopardy competitions and writing jeopardy questions for our chapter's residents and students. As the chair of the chapter's International Medical Graduate Committee, she organized several well-received events on behalf of International Medical Graduates and Young Career Physicians. Her efforts were directly responsible for our chapter winning an Evergreen Award in 2012 from the ACP. The ACP invited her to the 2013 national meeting in San Francisco to speak with other governors about the needs and interests of the International Medical Graduate.
I can certainly add dozens if not hundreds more to this list of highly engaged Maryland members, all of whom are equally as impressive and passionate about working with the ACP. What is remarkable is that, when we try to thank them for their time and efforts, they uniformly reply that it took little time and hardly any effort. Upon deeper probing, it seems that the dictum, you get back more than what you give, rings true. This may not hold for all organizations, but it seems to be consistently true for the ACP. I have tried to understand why this is, and I arrived at the conclusion that it is because the service mission and altruistic values of ACP are closely aligned with the mission and values of our individual members. Despite how demanding and time-consuming their day jobs are, I have never failed to be impressed with the commitment that our members dedicate to projects and initiatives that serve to benefit our patients, trainees, and communities. Perhaps that is the inherent nature of our members and our unique profession.
I began this newsletter by extolling the virtues of all the tools available through your membership in the ACP. In the end, though, the most important and unique resource of the ACP is its members. Your talents, commitment, and passion are truly commendable and, for me, inspiring. So go ahead and kick the tires, look under the hood, and get out on the open road with the new ACP. What you will find most important in your travels, however, are the collegial relationships that you build with like-minded drivers, a renewed sense of purpose and direction, and more gas in your tank than when you set out on your journey.
---
Early Career Physicians in the News - We Invite You to Attend
National Update
The national CECP is active in many areas to help support the CECP community. As you know, we have changed our name formally from the Council of Young Physicians to the Council of Early Career Physicians. In addition, with a new chair in place, we are beginning the year with a survey of local CECP chapter activity. The goal is to identify processes to help lift participation at the local level and to share best practices across regions. For example, we learned that many chapters have local awards to recognize physician leaders. These include the "Young Physician Award" in 8 states. Furthermore, we are in the process of restructuring the ACP leadership course to better meet the needs of the ACP community. This is still in process and we look forward to sharing more about this as possible."
Sanjay V. Desai, MD, FACP
Director Osler Medicine Training Program
Johns Hopkins School of Medicine

---
Maryland Updates
This year the Council of Early Career Medicine (ECM) is celebrating its 8th year of operation in the Maryland Chapter. Sapna Kuehl, MD, FACP, who has been the chair of the committee since its inception, is stepping down from this role and passing on the baton to Sanjay Desai, MD, FACP and Maria Morales, MD who will co-chair the committee. Dr. Kuehl's vision made the committee what it is today and all her time and dedication are greatly appreciated; Dr. Kuehl is not going far though as she continues to be a very active member in many other areas of ACP.
This year the ECM is planning a series of local events and initiatives that will address new and upcoming needs for early career physicians. To start off the season with a bang, the Council of Early Career Medicine's first workshop will be held on September 17th at Café Gia's at 410 S. High Street and the guest speaker will be Dr. David B. Hellman, MD, MACP who will tackle the topic of the changes on ABIM's Maintenance of Certification (MOC) requirements which are going live in 2014. His presentation is entitled: MOC: Yesterday, Today & Tomorrow. We hope to have excellent attendance, and ask everyone to please join us for this excellent meeting.
Maria del Pilar Morales, MD
Associate Program Director, Internal Medicine Residency, St. Agnes Hospital
Co-Chair Early Career Physician Council
---
Maryland ACP & Leadership Day
One of the major activities of our Health & Public Policy committee each year is to ensure that our members are in attendance at Leadership Day on Capitol Hill. This is an opportunity for our members to sit down with our Maryland Congressional delegation and/or their legislative health staff to discuss issues that are affecting how we practice medicine in Maryland and nationwide. This year was again a resounding success with 18 members, residents, and students in attendance at these meetings.
The first day of the event was devoted to ACP workshops and presentations that provide insightful information into what issues are on the "front-burner" for these visits. The next day was spent on actually visiting with our Maryland delegation. Since, we were fortunate to have 18 in attendance, we were able to divide up into teams of 4 persons with a team leader who facilitated the discussion at each Congressional office. Each member of the team was then asked to discuss a specific area of concern and provide examples from their own current work situation.
The following were our major areas of interest for 2013:
Co-sponsorship of HR574 which will support innovations in healthcare delivery that improve quality and outcomes and lower cost; make Medicare sustainable via support of care management that can lower healthcare costs; improves payment for primary care; guarantees a Medicare provider workforce through payment stabilization; and helps every patient to have a primary care provider as a partner to optimize health, manage chronic disease, and thus improve patient and provider satisfaction;
Asking for an end to the Sequester which has affected medical research and education, has put quality improvement research on hold, decreased Medicare payments by 2%, and is threatening to put an end to the new urban medicine-pediatrics residency program at Johns Hopkins;
Ensure continued support of residency programs through ongoing federal funding. Many of these issues were very eloquently expressed by our residents and student members who were able to detail the costs of "being a physician" and the staggering debt that such a decision has cost them.
Please read the following by Andrew Yang, MD Candidate, Class of 2014, The Johns Hopkins University School of Medicine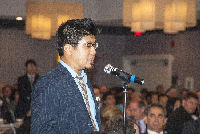 As a student, it is often too easy to lose myself in the hustle of my studies and miss out on the big picture. Over a century ago, the eminent German physician Rudolf Virchow wrote that 'physicians are the natural attorneys of the poor, and social problems fall to a large extent within their jurisdiction.' ACP Leadership Day challenged me to explore the meaning of this phrase and to reflect on my place as a budding clinician in an increasingly challenging healthcare terrain.
In an age of pressing fiscal constraints, it is vital for our lawmakers to understand that all cuts are not created equal. As healthcare professionals, we know that the consequences of removing three pounds of flesh look vastly different if we are talking about a malignant tumor on the one hand and the brain on the other. The Federal sequester as it currently stands can exact a devastating impact on how my generation practices medicine.
It was heartening to know that the seasoned physicians of the ACP are committed to the future of American healthcare - and exhilarating to have the opporunity to personally advocate on behalf of my profession in the halls of power. After all, the vitality of a nation is built on the health of its communities, themselves dependent on the mental and physical wholeness of individuals. This realization - that a physician's commitment to patients is at heart a civic one - has revolutionized how I view myself as a professional and as a member of my community.
We send our special thanks to this year's Maryland/DC Leadership Day participants: Drs. Ali Afrookteh, Mary Newman, Saba Sheikh, Holly Dahlman, Sanjay Desai, Audrey Corson, Alice Fuisz, R. Dobin Chow, Michael Gold, Saeed Khan, Larry Klein, Jerry Meyer, Rachel Jeanty, Mohit Poorva, Abera Woldesenbet (resident member), and Eugene Shenderov, Andrew Yang, Abraham Franklin, and Mary Denise Vaughn (student members)! Without their taking time from their own very busy schedules, this event would not be such a success for Maryland.
We hope that next year you might consider taking time off to participate in this very special activity. See attached some of the pictures which highlighted our Leadership Day.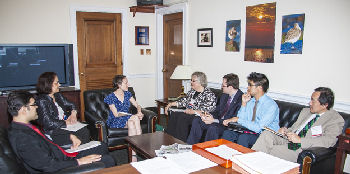 Legislative Aide to Congressman John Sarbanes Dvora Lovinger with Leadership Day Participants
---
Members in the News
Congratulations go to Eugene Shenderov who represented our Maryland ACP as an intern in the ACP legislative offices in DC. Thanks to Eugene for his devoted years of service as co-Chair of our Student Committee from Johns Hopkins and we wish him luck in his residency at Hopkins Bayview.
Steve Kravet who was named to the Maryland Health Care Committee Health Information Exchange (HIE) Commission and as the chair of our Health & Public Policy Committee.
Sanjay Desai, Program Director, at Johns Hopkins who serves as a member of the national ACP Early Career Physicians committee and Maria Morales, Associate Program Director at St. Agnes, who will co-chair the Early Career Physician Council with Dr. Desai.
Sapna Kuehl who received this year's C. Lockard Conley Award for her outstanding activities in ensuring that resident research and education is so well represented at St. Agnes Hospital where she serves as Program Director and also in her role as a leader and mentor of students and residents throughout the metropolitan area.
Eric Howell who will serve as the President of the Society of Hospital Medicine on a national level.
Janaki Deepak who was able to represent the Maryland ACP International Medical Graduate Committee (IMG) group at IM 2013 via her presentation at a Leadership workshop during the April session
Chief Residents Association of Baltimore (CRAB) both past and present who were awarded an ACP Evergreen Award. When presenting this award, the group noted that CRABs was an outstanding initiative that demonstrated creativity and leadership in forming more connections between resident/fellow members.
---
Volunteerism - We Need Your Support!!
The MD ACP Volunteerism Committee has been in existence for a number of years, and has highlighted several activities in our community during that time. Recently, two new co-chairs, Drs. Chiemene Liburd and Adriana Andrade have agreed to be part of our MD ACP Chapter team. The goals of this group are to disseminate information on volunteer activities; support members who volunteer; encourage volunteerism among our members; and highlight members who desire to improve the health and well-being of others.
Dr. Liburd has been a member of a group that volunteers each year in St. Thomas and provides services to residents who would not otherwise have any type of medical care available to them. Dr. Andrade has been very active in developing an outreach program for the Latino community in the Baltimore metropolitan area. She has worked with Drs. Alicia Arbaje, Sarah Polk and Kathleen Page in forming HOLA- the Hopkins Organization for Latino Awareness. The group has been able to develop several different programs from community outreach to assisting with providing scholarships, education and policy leadership to the growing Latino community. Here is an article describing their activities.
As of July 2, 2013, Johns Hopkins Medicine is creating a Center of Excellence for Latino Health, to be based at Johns Hopkins Bayview Medical Center. Formal operations will be in August and Dr. Tina Cheng will serve as the Director of the Center. The center will feature a myriad of health services including medicine, pediatrics, gynecology and obstetrics, and psychiatry. The initiative was made possible by a gift from the Aaron and Lillie Straus Foundation with matching funds provided by leaders of Johns Hopkins University School of Medicine. Here is additional information about this new initiative.
(Both of these articles are courtesy of Johns Hopkins publications)
As a member of the Maryland ACP, we would ask that you also make us aware of your volunteering activities. We would be very pleased to highlight some of these activities, and asked that you contact Chiemene Liburd, MD, FACP and Adriana Andrade, MD, MPH, FACP.
We look forward to hearing from you!
---
My Life as an ACP "Intern"
As medical students, residents, fellows, and practicing physicians we spend our time learning medicine from textbooks, researching new treatments at the bench, and practicing at the bedside where we treat and counsel patients. For many of us the political process occurring in Washington D.C. is at best a secondary thought - a place we feel out of our comfort zone, away from our habitat.
As an MD/PhD student, I definitely felt more at home at the bed and bench side than on the Hill. For that reason, I feel fortunate to have had a chance to participate in a month-long health policy internship at the ACP's D.C. advocacy and governmental affairs office in May 2013. This unique opportunity was made possible through a resolution proposed by my predecessor on the Maryland ACP council that the national office turned into a reality. The internship allowed me to learn about the legislative process and develop my advocacy skills. Attending congressional hearings, coalition meetings, and briefings on new healthcare policies from stakeholder private and governmental agencies allowed me to understand current issues in health care policy. Accompanying ACP D.C. staff on lobby visits, meeting with members of congress and their aides, and holding a medical student/associate briefing at ACP's Leadership Day events cultivated my advocacy abilities.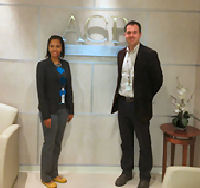 Eugene Shenderov, MSIV, and my co-intern Tracey Henry MD, MPH, MS, PGY2 at the D.C. ACP Office
The experience made me realize that as doctors dedicated to ensuring the best possible care for our patients, we all need to understand the political process as it relates to our ability to perform our occupation. In reality what happens in D.C. permeates every aspect of medicine: funding for graduate medical education, funding for essential health programs for the poor and uninsured that determine an effective national health policy, funding for the National Institutes of Health and the biomedical research it supports, laws sustaining a broken medical liability system that leads to defensive medicine and unsustainable health care costs, and laws governing a broken payment system which at many levels encourages procedural care over preventive care, further creating an unsustainable health care model. Over the next few years, as the Affordable Care Act is implemented with all its benefits and shortcomings, we as a community have to step up and share our vision for the optimal model of health care!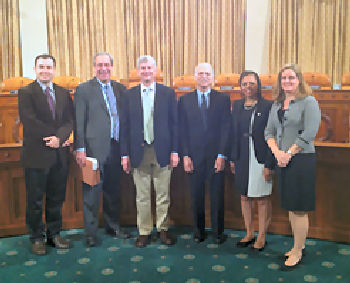 House Ways and Means Committee Health Sub-committee at which ACP's Chair of the Board of Reagents Dr. Charles Cutler, MD, FACP, gave testimony about reforming Medicare physician payment on May 7th.
From Left to Right: the author, Richard Trachtman, Bob Doherty, Charles Cutler, Tracey Henry, and Jonni McCrann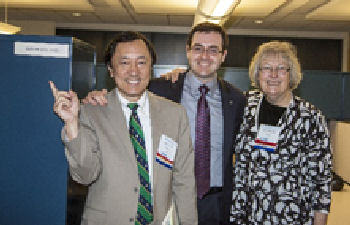 At the ACP D.C. Office during ACP Leadership Day
From Left to Right: Dr. Dobbin Chow, Maryland ACP Governor; the author; Dr. Mary Newman, former Maryland ACP Governor
In summary, I would like to paraphrase two memorable comments given by two congressmen. First, it is our responsibility to advocate on behalf of our patients. Otherwise, we are destined to be helpless and throw objects and curses at the television when we do not agree with laws proposed in Congress. Second, as physicians across all specialties, we need to speak with one unified voice or risk being seen as self-interested guilds. This would hamper our ability to champion health care reforms that would lead to higher quality lower cost care and a return to an environment that promotes a healthier physician-patient interaction with less bureaucracy and fewer defensive practices.
Eugene Shenderov, MD, PhD
Johns Hopkins University School of Medicine
---
Community Care Initiative (CCI) Health Screening Fair
A Great Success!!!
Thanks to the generous support of the ACP, students at Johns Hopkins were able to recently organize the 15th annual Community Care Initiative (CCI) Health Screening fair. The fair, the largest of its type in East Baltimore, took place at the Israel Baptist Church on Chester Street, at the heart of a medically underserved community. Residents of this community routinely face many of the problems that blight urban populations - poverty, crime, joblessness, and lack of access to resources. Despite the proximity to a major medical institution, many of the residents are lacking routine medical care, health insurance, and awareness of the many modifiable factors negatively impacting their health.
In order to combat this situation, CCI partners with our colleagues at the University of Maryland and other medical students and health professionals in the area to provide health screening and information. Our goals are to increase awareness of common health problems, many of which are overrepresented in this population, such as diabetes, cardiovascular disease, stroke, and obesity, to educate the community about making choices that can lead to a healthier life such proper diet, exercise, smoking and drug cessation, and to connect those lacking insurance and basic medical care with the resources available to them in the city. From the medical student perspective, the fair provides an excellent opportunity for us to practice our clinical and communication skills, collaborate across institutions, and to work with and learn from ACP physicians, all while giving back to the community.
In recent years we have provided basic health screening including cardiovascular (BP, BMI, waist circumference), diabetes (random glucose), and STI (HIV) and have now expanded to include vision and dental screening. In addition to health screens, student volunteers and professionals provide health information on more than twenty topics including health literacy, cancer, asthma, sickle cell disease, and domestic violence. Each attendee is provided a booklet in which the results of their health screens are recorded, providing an easy way for each attendee to keep track of his or her data and to pass this on to health care providers. Attendees are also given a bag of healthy groceries including fresh fruits and vegetables. By partnering with organizations such as Charm City Clinic, Health Care Access Maryland, Maryland Insurance Administration, and Shepherd's Clinic, we are able to connect the uninsured and those lacking a primary physician with the appropriate resources. To incentivize participation at the fair, we continuously raffle gift cards to local shops and groceries, with attendees receiving additional chances to win for each health screen or booth visited. Because a large percentage of attendees bring children with them, we provide activities such as face painting and balloon animals, as well as information on health topics targeting families. A popular station focused on the high number percentage of sugar in seemingly "healthy" and popular items such as sports drinks, fruit juices, and breakfast cereals.
We are proud to be able to organize this health fair each year and are grateful to the Maryland ACP for its continued support, which encourages collaboration among students, sparks interest in internal medicine, and greatly benefits an underserved community. In the subsequent year, we hope to expand the fair to target a larger population and to include additional screening such as basic pulmonary function and dementia screening. This year's fair could not have taken place without the significant contribution of many students at Johns Hopkins including Amanda Sun (CCI chair this year), Janet Choi, Abby Larson, David Li, Lydia Powell, Jonathan Yeh, Robert Wardlow, as well as our collaborators at the Johns Hopkins School of Nursing and Bloomberg School of Public Health, University of Maryland Medical, Dental, and Pharmacy schools, and the JHU Sight Savers group mentored by Dr. Harry Quigley. We are especially indebted to entire Maryland ACP, particularly Governor Dr. Dobbin Chow, Dr. Stephanie Detterline, Dr. April Fitzgerald, and Dr. Richard Williams who contributed resources, helped to recruit students, and participated as physician mentors at the fair.
Krishna Juluri, STUDENT CO-CHAIR, Hopkins University
---
Crab "Corner"
We are very pleased that our Chief Residents Association of Baltimore (CRAB) continues to be such an active and vibrant group. The first meeting for 2013-2014 was held mid July and almost all 11 residency programs were able to send at least one representative to attend and participate in CRAB activities for the upcoming year. We thank Drs. Tahir Mehmood (Frankin Square), Andrew Ofosu (Harbor Hospital), Panagis Galiatsatos (Hopkins at Bayview) and Kristine Yumul (Sinai/JHU) who volunteered to serve as co-chairs for the upcoming year.
Plans are underway to host the 1st CRAB Grand Rounds on Wednesday, August 28, 2013, 6:30 PM at the Baum Conference Center at Harbor Hospital on the new Affordable Care Act for 2014. This workshop is free of charge and is open to any resident in the metropolitan area.
CRAB also plans to feature other activities including an IMG/CRAB Potluck Dinner for early December that will celebrate food from across the world, Student Dilemma, Doctors Dilemma, CRAB presentations and events via the use of a Gmail group. Look for additional details as the year progresses.
---
New Look for Women in Medicine
As you know, our very dedicated WIM chair, Dr. Claudia Kroker, recently has moved to Virginia. She is very much missed by our Women in Medicine group. However, we are delighted that Drs. Nareesa Mohamed-Rajput, Christine D'Arbela & Sapna Kuhel (in an advisory capacity) have agreed to take on the activities of our women in medicine committee.
The newly formed group met in June and discussed several options that they are hoping will interest both our women in medicine as well as our younger population. They are planning on hosting smaller groups either at their homes or in a very casual atmosphere that would center on presentations on work life situations and would also provide outlets for their families to take part in during these workshops.
They are hoping to plan such an event for October. Look for further details as the year progresses.
---
MD ACP Hospitalist Committee - Meeting Events of Interest to Our Members
The Maryland ACP Hospitalist Committee held a joint meeting with the Maryland Chapter of the Society of Hospital Medicine (SHM) on June 12, 2103 at the Rusty Scupper in downtown Baltimore. The topic focused on CRISP (the Chesapeake Regional Information System for our Patients), Maryland's health information exchange. This portal is a state and federally funded system that aims to connect healthcare providers and services in a meaningful way to improve communication. The meeting was engaging and interactive and was well attended by members from both organizations. This new system can be utilized to greatly improve communication between primary care physicians, subspecialists and hospitalists. The Hospitalist Committee is planning another joint meeting with the Maryland Chapters of ACP, SHM and the Maryland Society of Hospital Pharmacists on March 5, 2014. The topic is tentatively planned to be on new anti-platelet and diabetic pharmaceutical agents and their roles in the inpatient and outpatient realms.
Robert J. Habicht, M.D., F.A.A.P., F.A.C.P.
Assistant Professor in Medicine and Pediatrics
Director, Med-Peds Residency Training Program
University of Maryland School of Medicine
---
Congratulations, ACP Fellows!
(Elected within the last 6 months)
Huzefa F. Bahrain, DO, FACP
Shalini Boyapati, MBBS, FACP
Priscilla Callahan-Lyon, MD, FACP
Christine D'Arbela, MD, FACP
Fer Eren, MD, FACP
Gary J. Kerkvliet, MD, FACP
Pothu Raju Nagabhyru, MD, FACP
Rita Rastogi Kalyani, MD, FACP
Ernestine A. Wright, MBchB, FACP
---
Maryland Activities in Pictures
See below in "pictures" some of our recent Maryland activities including: Leadership Day, Associates Meeting on May 16th which included over 250 abstract submissions, Convocation in San Francisco & CCI Fair hosted by our Student Committee.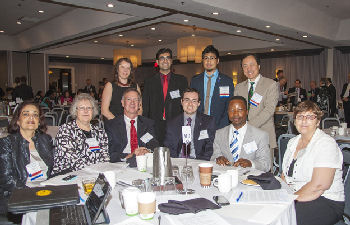 Leadership Day Participants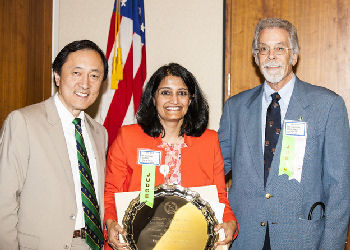 Dobbin Chow, Sapna Kuehl (Conley Award Winner) & Richard Williams at Mulholland-Mohler Associates Meeting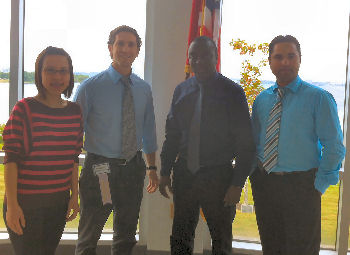 CRAB Co-chairs Saqib Baig, Vasu Balu & Nargiz Muganlinskaya with Dobbin Chow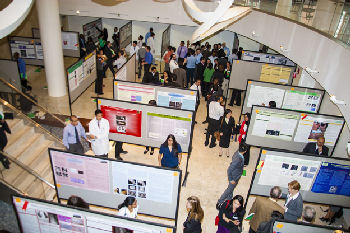 Presenters at Mulholland-Mohler Associates Meeting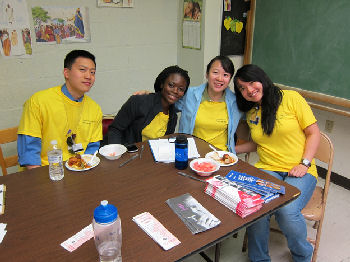 Students "At Work" at CCI Fair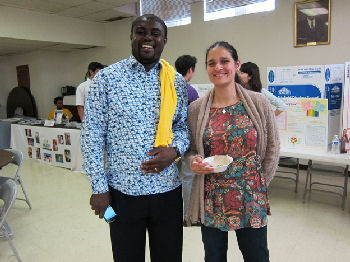 Stephanie Detterline & Student Worker at CCI Fair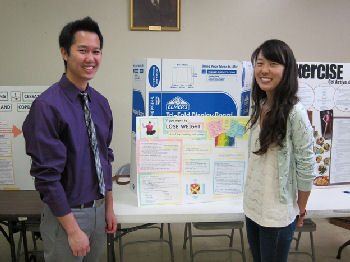 Students At Work at CCI Fair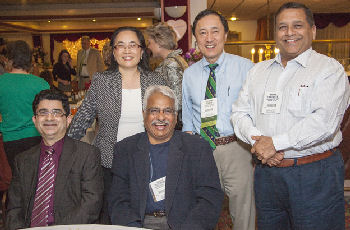 Maryland Reception Attendees!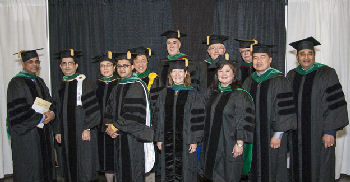 Maryland Fellows & Award Winners at Convocation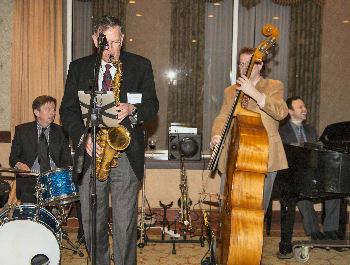 Ali Alfrookteh and his band playing at the reception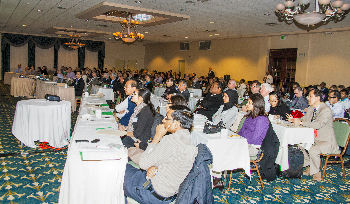 Audience at the reception