You are here
CRAB Co-Chairs Elected
CRAB Co-Chairs Elected
CRAB Co-Chairs Elected
This year the ACP Maryland Chapter CRAB group has gotten underway with a number of new projects. We are also very fortunate that we have four (4) CRAB co-chairs to assist with activities for the coming year.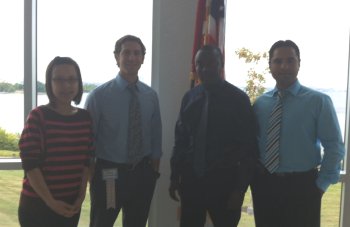 CRAB co-chairs Drs. Christine Yumul (Sinai), Panagis Galiatsatos (Bayview), Andrew Ofosu (MedStar Harbor) and Tahir Mehmood (MedStar Franklin Square).
A CRAB Grand Rounds was held on August 28 and featured a presentation on the new Affordable Health Care Act, which was very well received by the residents in attendance. The next CRAB meeting has been scheduled for October 22 at Harbor Hospital Center. Look for a flyer featuring the IMG/CRAB PotLuck dinner scheduled for Tuesday, December 3, 6:30 p.m. at the Baum Conference Center at Harbor Hospital. Dr. Eric Howell, Associate Professor of Medicine at Johns Hopkins and Chief, Division of Hospital Medicine at Bayview, will present a workshop on Contract Negotiations. This is another event open to all residents and IMGs in the area.
Look for upcoming dates on new workshops planned for 2014 as the year continues ...