You are here
Council of Early Career Physician: Fall Update
Council of Early Career Physician: Fall Update
Council of Early Career Physician: Fall Update
The Council for Early Career Physicians (CECP) held its first meeting for the 2013-2014 academic year on September 17, 2013 at Café Gi,a which is a happening venue in the downtown Baltimore area; the guest of honor and speaker was David Hellmann, MD, MACP, Aliki Perroti Professor of Medicine at the Johns Hopkins University School of Medicine, Vice Dean for Johns Hopkins Medicine, and Chairman of the Department of Medicine at Johns Hopkins Bayview Medical Center. Dr. Hellmann tackled the topic of changes to ABIM's Maintenance of Certification (MOC) requirements which is the up and coming change we are expecting in early 2014 and a common topic of concern for most of us. Attendance was excellent and the discussion was lively, and Dr. Hellmann's insights were very valuable. For those of you who could not make it, you can view the slide presentation given by Dr. Hellmann. We hope to see you at future meetings.
Sanjay Desai, MD, FACP and Maria del Pilar Morales, MD
CEPC Co-chairs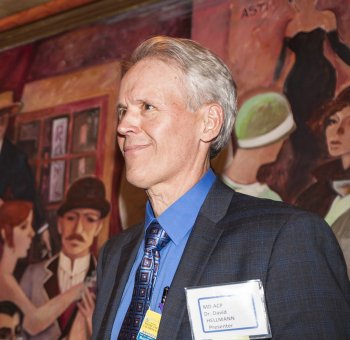 David Hellmann, MD, MACP, guest speaker at the ECP meeting.