You are here
ACP Maryland Chapter Volunteerism Committee
ACP Maryland Chapter Volunteerism Committee
ACP Maryland Chapter Volunteerism Committee
Member Volunteer Profile
March 3, 2010
Dr. V. Raul Felipa, Medical Director, Selva In Action
Volunteer Activity/Web site
:
www.selvainaction.org, Peruvian Amazon Health Care Cooperative (PAHCC)
Location: Peruvian Amazon Rain Forest
Contact Info: Dr. Felipa: vrfelipa@atlanticbb.net
Dr. V. Raul Felipa, a native Peruvian with 44 years of experience in Internal Medicine, started Selva in Action about five years ago to help the Peruvian people in the Amazon Rain Forest who had been left there after the boon of the rubber and latex industry in the late 19th century. After the latex and rubber industry declined due to preservation efforts, the Peruvian people were left to live and survive there and are currently subject to extreme poverty with high morbidity and mortality from basic preventable causes such as childbirth, infectious diseases, malnutrition, broken bones, etc.
In the past, Dr. Felipa had participated in other medical missions which brought highly specialized care to communities for short periods; however, he realized the need for ongoing basic general medical care year-round for these underserved populations. He was influenced by a cooperative in Uganda, which gave him the idea to start a Health Care Cooperative where primary care specialists such as pediatrics, internal medicine, obstetrics and gynecology were provided, and patients would pay a small fee to help support a local physician who would then see them on a regular basis. This model allows sustainability and empowerment of the community as they are provided basic medical care year-round.
The idea for the PAHCC came from Stella Cruz after a trip to the Rain Forest when she saw the tremendous need of this population and she shared her vision for this mission with Dr. Felipa. As Medical Director and with the help of Stella Cruz, Project Administrator, Dr. Felipa has worked closely with the Peruvian American Medical Society (PAMS) to establish the Peruvian Amazon Health Care Cooperative (PAHCC) with the help of their dedicated team of clinicians, ancillary staff, patient educators and consultants, for the past three years.
He completed his first Medical Mission in November, 2009 where, with the help of two other primary care physicians and dentist, over 280 patients were able to be evaluated and treated. Some examples of self-reported health conditions which volunteers may come across include malaria, intestinal parisitosis, Dengue fever, Whooping Cough, bronchitis, snake bites, burns from making and transporting charcoal, broken bones, and deep cuts from tree-cutting activities, malnutrition and tuberculosis. As the native language is Spanish, volunteers who speak Spanish are encouraged, and there are opportunities for primary care practitioners (Internal Medicine, Pediatrics, OB/Gyn, Family Practice, Dentists).
As this is a Mission, volunteers would have to pay their own way, including lodging. Regarding liability aspects, these are negligible as practitioners would be covered under Dr. Felipa's Peruvian medical license.
Next Mission: Dr. Felipa will be going to Peru in April 21, 2010 with another internist and is currently looking for a volunteer translator.
Contact: Please contact Dr. Felipa or Stella Cruz.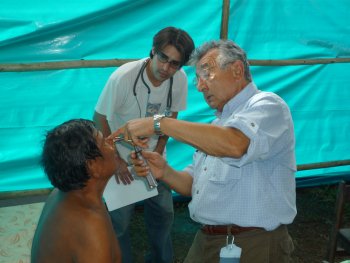 Dr. Felipa at work in Peru