You are here
Diversity Committee - Join the Group!
Diversity Committee - Join the Group!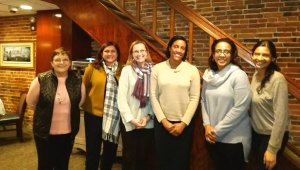 Right before everyone's life changed forever, our Diversity Committee met on a very cold February evening to discuss activities for the upcoming year and beyond. The group, led by Drs. Erica Johson and Kim Adkins were able to develop a list of activities and projects which we hope to be able to implement once we are all back in action as a group. One of our main activities will be to advise our Chapter on best practices related to diversity and inclusion as well as establishing mentoring programs for our residents and students. If you are interested in becoming a member of our group (we want to include as many diverse groups as possible), just contact the chapter staff, Maryellen Woodward, at mew4work@aol.com.
Thank you for your interest.
Mangla S. Gulati, MD, FACP
Governor, ACP Maryland Chapter