You are here
Maine Governor's Newsletter July 2017
Maine Governor's Newsletter July 2017

---
---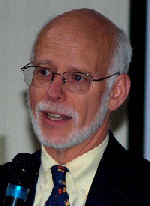 John Erickson, MD, FACP, MD, FACP, ACP Governor
---
From the Governor
I just returned from Philadelphia for the Executive Committee of the Board of Governors meeting and am pleased to report that your College is alive and well, membership is on track to exceed the 150,000 mark within the month, finances are strong, the IM meeting in San Diego very successful, educational products and offerings like MKSAP remain the "go to" for practicing internists and learners across the world and the presence and importance of the ACP advocacy on national policy cannot be overstated.
Here at the local Chapter level, final details for the best ever Annual Maine Chapter Scientific Meeting, Sept 15-17 in Bar Harbor, are being fleshed out including efforts to make this MOC ready and we are excited to host "pizza and beer " gatherings on Friday night for Early Career Physicians (ECP), Residents and Fellows, and Medical Students. Those who attended last year were thrilled to make new friends or reconnect with members of their residency class. Our Maine Internal Medicine Interest Group for Tufts and UNECOM students continues to flourish, the first resident for the brand new MMC Rural Internal Medicine Track has picked up his pager and white coat and our Health and Public Policy Committee (HPPC) has been highly visible (in voice, person and print!) with advocacy efforts in Augusta and Washington.
The Maine Chapter is committed to serving you, its members, and to do this best, we need to hear from you. Where do you need support, what are the challenges of your day to day practice, how can we leverage local and national resources, to help make your world as an Internal Medicine physician, the best possible for you and your patients?
Enjoy summer in Maine and keep in touch!
---
Who is the Maine Chapter?
| | |
| --- | --- |
| Masters | 6 |
| Fellows | 151 |
| Members | 263 |
| Resident/Fellow Members | 56 |
| Medical Student Members | 73 |
| Affiliates | 7 |
| Physician Affiliates | 5 |
| Total | 561 |
There are 1277 Internists in Maine, 487 are ACP members. 50% of the General Internists in the state are ACP members, 19% of the subspecialists are ACP members.
---
Leadership Day 2017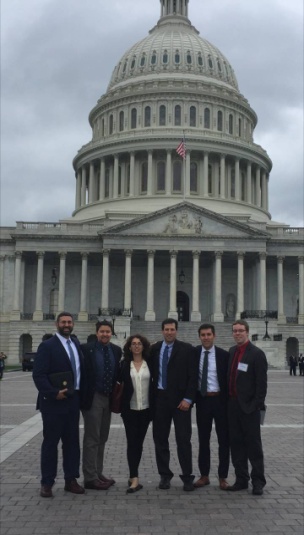 No ACP Leadership Day in the post-Obamacare era has been so eventful or come at such a consequential time as this year's advocacy event! It came just a few days after the release of President Trump's budget, which proposes cutting hundreds of billions of dollars from critical health care programs, and on the same day that the Congressional Budget Office estimated the American Health Care Act (AHCA), passed last month by Republicans in the House of Representatives, would result in 23 million fewer Americans being insured.
The Maine Chapter delegation, including Hana Akselrod, currently an ID fellow at George Washington, John Daggett, senior resident at MMC soon to be joining a practice in Milo, Tom Gearan, GAC member and Program Director at MMC, Mike Tozier, recent Tufts / Maine track grad and Mike Madaio, UNECOM 4th year student along with Hani Jarawan hospitalist at MMC, met with Senators Angus King and Susan Collins, and staff for Representative Pingree and Poliquin. Senator King and Congresswoman Pingree confirmed their support for the Affordable Care Act and other critical healthcare infrastructure. Staff for Congressman Poliquin confirmed his support for the House replacement bill which the ACP opposes. Senator Collins asserted that the Obamacare exchanges are "collapsing," and she therefore supports repeal and replacement with her bill, the Patient Freedom Act, which offers Obamacare-like health insurance marketplaces and consumer protections if states want them. The ACP has not taken a formal position on this bill, but already opposes key elements that would roll back coverage, make insurance unaffordable, and jeopardize the Medicaid federal funding guarantee. Fortunately, the senator was clearly opposed to the AHCA and was troubled by the millions who would lose coverage under it.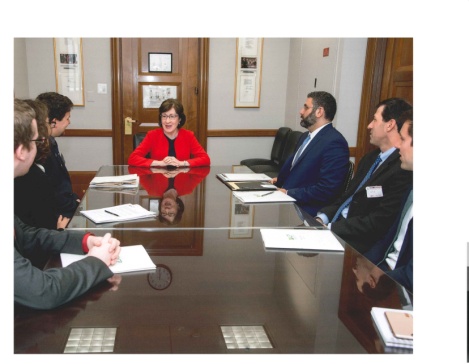 In hopes of finding common ground, the group also advocated to expand the physician workforce by funding more residencies, to limit the administrative burdens of practicing medicine, and to reform medical liability laws. The National ACP advocacy team will continue to work on these and other priorities, but in the coming weeks all focus will be on Obamacare repeal plans in the Senate.
Since this entry was written, the Senate has postponed a vote on their bill (thanks in no small part to Senator Collins) but the fight to protect the rights of Maine patients continues! Please call and email Senator Collins and ask her to continue to protect the Affordable Care Act, and stay tuned for other direct advocacy opportunities! Please email HaniJarawan@gmail.com with any questions.
---
IM 2017 San Diego: Internal Medicine Meeting 2017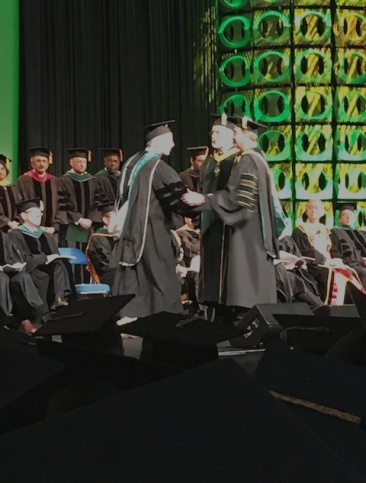 ACP's premier annual meeting, was held in San Diego, California March 30-April 1, 2017 and had an attendance of 7,781 physicians. The event featured more than 200 sessions covering a wide variety of clinical and practice management topics for doctors of internal medicine and its subspecialties. 1,090 attendees from outside the United States came to the meeting. The top three countries outside the United States with the highest number of attendees registered were Canada, Colombia, and Switzerland.
37 Mainers were in attendance and a hardy group gathered for hors d'ouvres and drinks at Half-door Brew Pub in the Gaslight District of San Diego.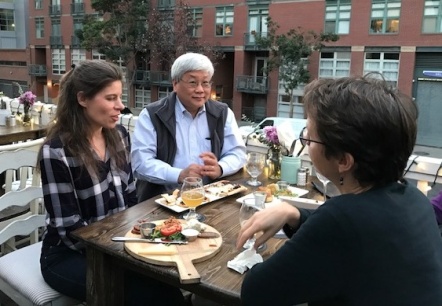 Other Maine highlights included the presentation of the Herbert S. Waxman Award for Outstanding Medical Student Educator to Bob Trowbridge, MD FACP and the distinction of Fellow of the ACP to Renee Fay-LeBlanc, MD FACP. John Daggett, MD, graduating senior medical resident at MMC and winner of the Maine Chapter Resident Vignette Competition, shown here with Simmons Thomas, MD, presented his poster on an unusual case of profound B12 deficiency. To learn more, visit here.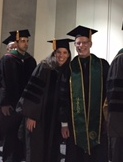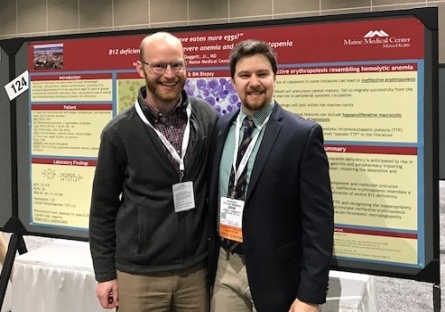 ---
Maine Chapter wins 2017 John Tooker Evergreen Award for Morning Report for "Second Year Medical Students: Fanning the Flames"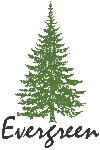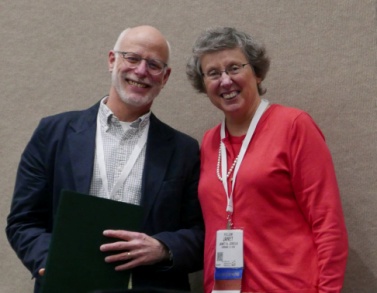 Governor John Erickson accepted what is only the second Evergreen Award in the Chapter's history at IM 2017 for a collaborative project including ME ACP, MMC Internal Medicine Residency and UNECOM and spearheaded largely by departing Chief Resident, Christina Kapala. The John Tooker Evergreen Awards provide an opportunity to recognize the valuable contributions of individual chapters as they strive to enrich, educate, and engage the membership. Nineteen nominations were submitted this past year. The goals of this program are to:
Recognize chapter achievements;
Clarify and incentivize desired activities at the chapter level;
Improve sharing of best practices between chapters;
Encourage effort and innovation at the local level.
The most recent (our fourth!) session for UNE students was held early in April and as always was a great success. Matt Libman, DO, has accepted the baton from Dr. Kapala as lead for this program, and residents Amanda Albanese, Michelle Geyer, Rebecca Hillyer, Lisa Yeh and Ben Starobin played the role of Chief Resident in conjunction with student presenters from the 3nd and 4th year classes of UNECOM and TUSM.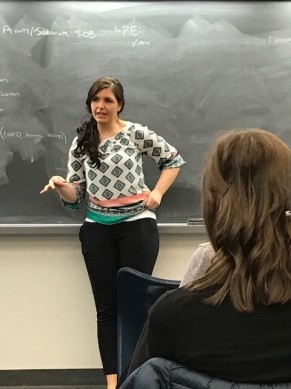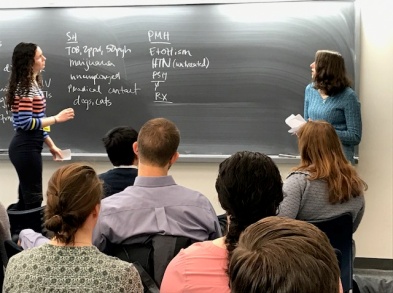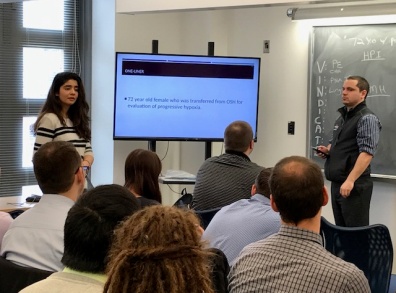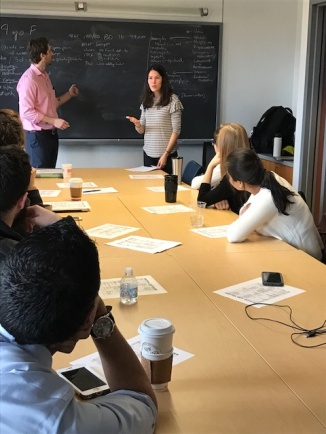 ---
Maine Internal Medicine Interest Group
The Maine Internal Medicine Interest Group (IMIG) continues to flourish and is now a formal collaboration between our medical students from the Tufts Maine Track and UNECOM. The group remains active having hosted a mid spring "Stump the Professor" session with Bob Trowbridge MD FACP in the hot seat and plans are in place for a summer session featuring Tom Gearan MD FACP, MMC Residency Program Director focused on applying for residency.
---
Call for Spring 2018 Board of Governors Resolutions
Are you concerned about a practice or clinical issue or have an idea you'd like to suggest? If so, you might consider submitting a resolution to your Governor or chapter council.
---
Mark Your Calendars
Mark your calendars now for the best educational event of the year!
Maine Chapter ACP
Annual Educational Sessions
"Obesity: Pound for Pound, the Best Learning Ever!"
Atlantic Oceanside Hotel & Conference Center
Bar Harbor ME
September 15 – 17, 2017

Keynote Speaker: Scott Kahan, MD, MPH
Director, National Center for Weight & Wellness
Washington, DC

Topics:
Evidence-Based Obesity Treatment in Primary Care
Non pharmacologic/nonsurgical Management of Obesity
Pharmacotherapy for Obesity
Surgical Options for Management of Obesity
Respiratory Complications of Obesity
Exercise Counseling
Nutritional Counseling
Nutritional Supplements
Cutaneous Manifestations of Internal Medicine
Dermatology Refresher for Internists
Lumps & Bumps: Benign and Malignant
Biopsy & Suturing – workshop – hands on!
Motivational Interviewing
Physician Mindfulness – Prevention of Burnout
Resident Case Vignettes
Leonard Keilson M Keilson MD FACP Memorial Lecture: Travel Medicine
Registration and lodging information available here. See you in Bar Harbor!