You are here
A Message from the Governor Winter 2015
A Message from the Governor Winter 2015

| | |
| --- | --- |
| Winter 2015 | John E. Erickson, MD, FACP, ACP Governor |
---
---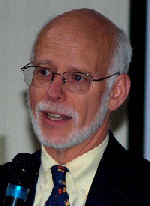 Hard to imagine with recent temperatures in the 50's and low 60's that winter will be coming this year! Despite unusual weather and volatile financial markets, the Maine Chapter and the ACP remain healthy and continue to explore ways to provide "high value" to internists here in the Pine Tree State and across the world. Across the country, and certainly here in Maine, the challenge of preventing opiate abuse and caring for those who've fallen prey to addiction has become a significant challenge for primary care internists as well as internal medicine subspecialists. To help you in your practice, our annual Maine Chapter ACP Scientific Meeting, September 30-October 2, 2016 in Bar Harbor, in collaboration with the Maine Chapter of the Society of Hospitalist Medicine and Maine Infectious Disease Association, will present an up to date series of presentations addressing these challenges. Be sure to also mark your calendars to attend Internal Medicine 2016, May 5-8 in Washington DC this spring; the first of the ACP's second century! It is an honor to serve you and I wish all members, families and friends a joyous and peaceful holiday season.
John Erickson, MD, FACP
---
ACP- Maine Chapter Mission Statement
To foster a community of professionals who pursue excellence and fulfillment in the practice of medicine.
---
Who are we? - A glimpse of statistics from the Chapter Portal
This year there are 1244 internists1 in Maine. 29% are female.
This year 472 Internists2 are ACP members (Master, Fellows, Members, and Resident/Fellow Members). 27% are female.
48% of the general internists in Maine who are working in medicine and not in a training program are ACP members.
21% of the internal medicine subspecialists3 in Maine are ACP members
There are 48 IM Positions in Maine (Categorical slots only including Med Pedes). 100% of the residents in Maine are ACP members.
There are 500 medical students in Maine. Currently 57 medical students in Maine are ACP associates
The above stats from our Chapter Profile represent a small decline from last year in the numbers of full members with slight growth in our student membership.
Looks like we have some work to do! If your colleagues aren't members encourage them to join!
---
Maine Chapter Annual Scientific Meeting September 2015
Yet another outstanding Bar Harbor weekend spearheaded by our Scientific Meeting Chair, Doug Couper, MD, MACP, highlighted terrific presentations, time to catch up with old friends and make new ones as well as enjoy the glories of Acadia National Park. If you'd like, view the PowerPoints of presentations on the Chapter website.
Friday afternoon's presentations led off with a legislative update by Maine Medical Association Deputy Executive Vice President and General Council, Andy MacLean, JD and a review of 2015 Leadership Day by John Erickson, MD, FACP. Rounding out the afternoon were presentations by Emily Wood Demetriou, MD who addressed the ins and outs of testosterone deficiency and replacement, John Devlin, MD, MPH, FACP who reviewed lipid management in the diabetic as well as provided a hands on session with insulin pumps and continuous glucose monitors. ACP resident members from MMC Internal Medicine Residency, student members from Tufts MMC School of Medicine and UNECOM shared outstanding posters during the wine and cheese reception on Friday evening mentored by Kathleen Fairfield, MD, FACP. John Daggett, MD received the award for best poster.
Saturday morning, students and residents shared breakfast and conversation with faculty and GAC members then all were treated to four outstanding case vignettes by MMC Senior Residents and mentored by Steve Hayes, MD, FACP. Chest pain & hypotension after electric cardioversion was presented by Hana Akselrod, MD, Fever in the morning; Fever all through the night by Allison Buttarazzi, MD, A poorly controlled diabetic with elevated aminotransferases by Lesley B. Gordon, MS, MD and Progressive dyspnea: A Case of identifying the key element by Christina Kapala, DO. As always, choosing the winner was a supremely difficult task for the judges, but Dr. Lesley Gordon was deemed best of the best and will be representing the Chapter at the 2016 Resident/Fellow Poster Competition in Washington, DC.
Irwin Brodsky, MD gave an entertaining and useful update on the treatment of Type II Diabetes and keynote speaker from the Joslin Diabetes Center, Osama Hamdy, MD, PhD, FACE discussed cutting edge approaches to the management of obesity.
After a splendid afternoon enjoying the Loop Road, Carriage Trails, hikes up Cadillac Mountain and popovers with tea at the Jordan Pond House, attendees and guests shared conversation and cocktails prior to a delicious banquet and awards ceremony honoring our newest Maine Chapter Laureate, immediate past-governor, Nancy Hasenfus, MD, FACP. Capping the evening was the Leonard M. Keilson, MD, FACP Memorial Presentation given by our Chapter Centennial Legacy Awardee, prior Maine Chapter Governor and past CEO of the ACP, John Tooker, MD, MBA, MACP who gave us a fascinating insider's look at The Centennial History of the ACP.
Sunday morning's presentations included a Town Hall discussion led by Governor John Erickson, MD, FACP with a look at the completed Maine Chapter Strategic Plan, update of the pre-meeting on Internal Medicine Workforce Needs and welcome to new Fellows. The high quality Scientific Sessions continued with The Adrenal Gland: What Do We Need to Know? By Rahfa Zerikly, MD, Inpatient Management of Diabetes by Osama Hamdy, MD, PhD and What We Don't Know About the Thyroid Can Hurt Us by Laura Trask, MD, FACP.
Thanks as always to Warene Eldridge for her incredible work behind the scenes to make this a great conference!
---
Photos from the Annual Chapter Meeting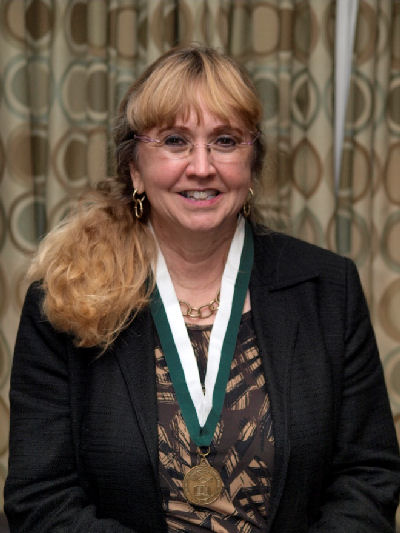 Nancy Hasenfus, MD, FACP
2015 Maine Laureate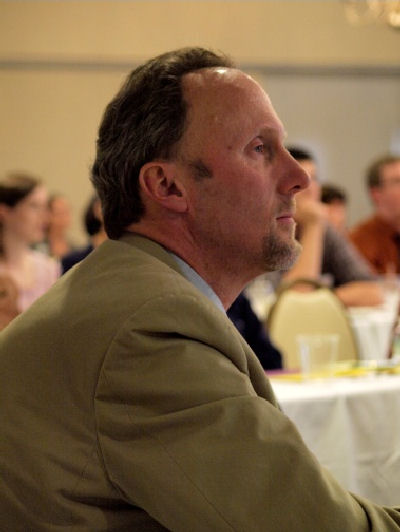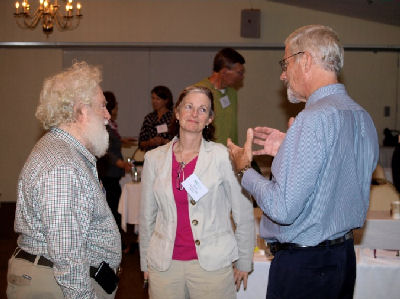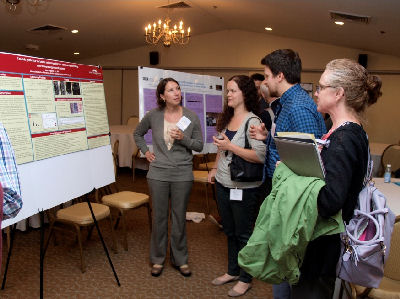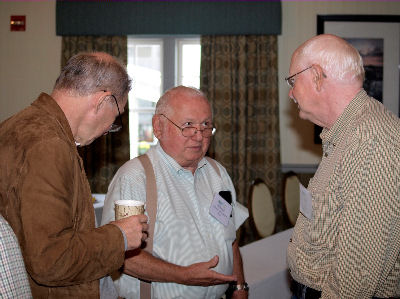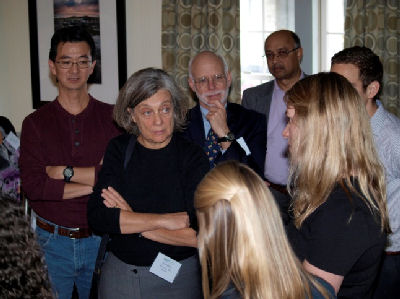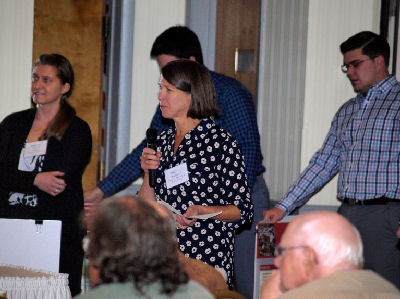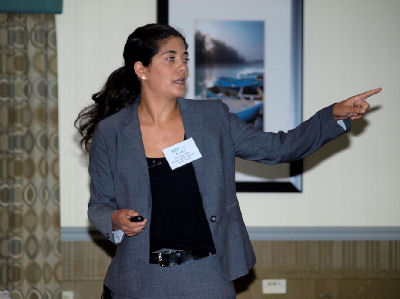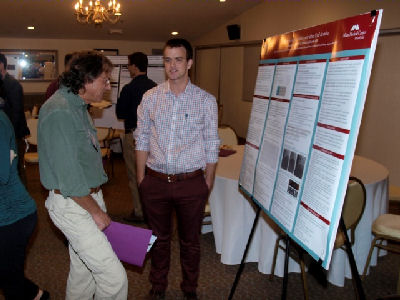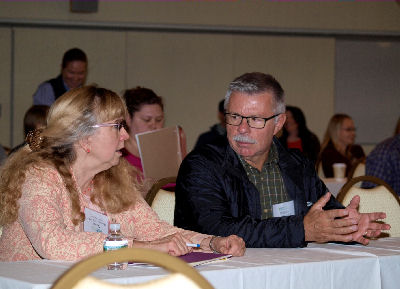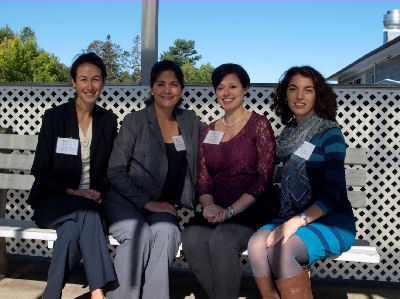 2015 Maine Vignette Presenters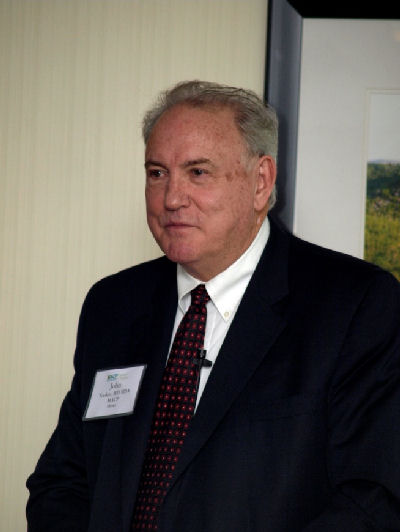 John Tooker, MD, MBA, MACP
Maine Chapter Centennial Legacy Recipient
---
Annual Maine Chapter Pre-meeting Internal Medicine Workforce 2015
As part of the commitment to improving the care of our patients and the professional life of Maine's internists, we have embarked on holding a morning session prior to the Annual Meeting devoted to a single issue of concern. At this year's "Pre-meeting", the Governor's Advisory Council was joined by John Tooker MD MACP representing Tufts MMC Medical School, Tom Gearan MD FACP, Program Director for the MMC Internal Medicine Residency, for a spirited working session addressing the internal medicine workforce needs in Maine. Among issues addressed, Dr. Gearan unveiled exciting plans for a novel "Rural Track" Internal Medicine Residency, co-located in Norway, Maine and MMC, likely to become a reality for the 2017 Match. Other items that the Maine Chapter has agreed to pursue include:
Endorsing the MMC MESP II (Medical Education Strategic Plan) and the MMC Rural Track IM Residency Program
Engaging FAME and Maine Scholars program in discussion around IM workforce needs
Facilitate collaboration between Maine Track TUSM and UNECOM students through the IMIG (Internal Medicine Interest Group)
Serve as convener for IM subspecialists to address collaboration with IM generalists
Explore proposing resolution to the Board of Regents along with other rural states to raise awareness and commitment to rural internists
.
---
Update from the Health and Public Policy Committee
Things have been relatively quiet on the state legislative front since the legislature adjourned in July, but are about to pick up again with the second session starting in January. The legislature will deal with bills carried over from the first session, but very little new.
Carry over bills of possible interest are:
LD 622 which requires training of reporters of child abuse...it is unclear now whether adult providers will be required to get training, nor how often it will be. The Maine Medical Association is negotiating to try to limit this to providers who see children.
LD 690 a bill in cooperation with lay midwives and OB providers to regulate home births. Both sides want to get this passed.
LD1311 a bill to entirely change the malpractice system to a no fault system...opposed by the trial lawyers, malpractice insurers, and physicians...an unlikely group of partners!! This has little chance of success in Maine.
LD 1305 a bill to allow comparison shopping for procedures, with the reduction being split by the insurer and the patient.
LD 633 (not printed yet), but some kind of bill for Medicaid expansion.
Clearly, we will support anything they come up with that reduces the number of uninsured in Maine.
If anyone has an interest in these or other bills, please contact Dan Morgenstern MD FACP.
---
Maine IMIG (TUSM and UNECOM)
With the help of Mike Madaio (UNECOM '18), Sean Lena (UNECOM '16), Conor Walsh (TUSM/Maine Track '17) and Mike Tozier (TUSM/Maine Track '17) as well as MMC IM Chief Residents, Emily Zarookian, MD and Nick Fox, MD, the Maine IMIG (Internal Medicine Interest Group) is off to a great start! More than 20 medical students from Tufts and UNE attended a dinner at the home of John Erickson, MD, FACP to plan events for the year, which will include monthly meetings to explore planning for residency, future career options, group volunteer projects and the potential for a student focused Scientific Program Day. In late November the group had the opportunity to meet and talk with MMC residents Spencer Powers, MD, Chris Winters, MD, Emily Mecklenberg, MD, John Daggett, MD, and Chief Resident Emily Zarookian, MD about preparing for residency, resident life and maximizing medical school experience. Good pizza is clearly a draw, but there is also a great energy and motivation in these future internists! Co-sponsor, Frank Green, MD and I would love to hear from any "senior physician" who would like to host one of the monthly gatherings (the Chapter has budgeted for this so will defray costs).