You are here
In this Issue December 2015
In this Issue December 2015

---
---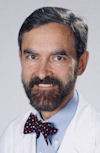 William E. Davis, MD, FACP, ACP Governor
Introduction
Hard to believe that it is already December! I hope that you are closing out a great year. The Chapter has certainly been active, so take a few moments to enjoy catching up with this newsletter.
Welcome our new Executive Director, Cathy Thompson!
LA ACP receives 2015 Chapter Excellence Award
Membership Corner

Congratulations to new Fellows
Welcome new members
Member recognition

LA ACP 2016 Spring Chapter Meeting - mark your calendars and plan to attend the meeting that will be in Baton Rouge on March 11-12 at the Renaissance Hotel.
2015 Laureate's Award Winner
Internal Medicine 2016 - May 5-7 in Washington, DC. Be sure to join us for the LA ACP Chapter reception on May 6, 5:30-6:30 p.m. at the Marriott
Leadership Day 2016, May 3-4 in Washington, DC. Come to Washington before the annual scientific meeting and learn how to advocate for internal medicine!
Governor's Council Update - An update to the bylaws to allow electronic communication and voting will be presented for a vote at the annual business meeting during the Spring Chapter meeting on March 12, 2016.
2016 Louisiana Annual Resident Meeting - Dr. Lee Engel, Chair of the Resident Members Committee, provides an update on the coming years event. Residents and students from around the state have submitted their abstracts and will compete at the meeting on January 19, 2016.
Student Member News: Internal Medicine Excellence Award - congratulations to Marie Claire Lamb, the Ochsner Clinical School winner!
Edgar Hull Society Internal Medicine Interest Group - 2015's "Taste of New Orleans" was another huge success.
Medical Student Essay Contest - be sure to submit your essay by Friday, February 5, 2016.
I Raise the Rates program update.
ACP Resources: Health Care Guide for Congress and the Media. The College has prepared this concise guide as a resource to members who interact with elected officials or the media. It is also gives you helpful information for your work with civic and community organizations.
Have a happy, healthy, peaceful and prosperous and safe 2016!
William E. Davis, MD, FACP
Governor, ACP Louisiana Chapter
---
Welcome to our new Executive Director, Cathy Thompson!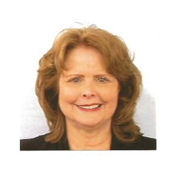 Mrs. Thompson has 25 years of experience working with physicians, including her previous roles as Director of Business Development for Mary Bird Perkins Cancer Center in Baton Rouge, and Senior Membership & Marketing Manager for the Louisiana State Medical Society (LSMS). She is the Executive Director for the Louisiana Psychiatric Medical Association and the Louisiana Council for Child & Adolescent Psychiatrists and continues in that role part time. Many of you know Cathy from her previous work with physician professional organizations, and I know that you share my excitement as she brings her enthusiasm and experience to our Chapter.
Cathy has taken over the role from Kristin Tschirn, who has now been promoted in her "day job" to Director of Continuing Medical Education at Ochsner Health System. I cannot thank Kristin enough for her diligent work on behalf of the Chapter. During the last three and one half years, under Kristin's management, the Chapter has received the Chapter Excellence Award each year, has expanded student and resident membership and activities, and expanded our CME offerings to an annual state meeting with Maintenance Of Certification credit.
Thank you, Kristin Tschirn, and congratulations on your successes!
And welcome, Cathy Thompson! The Chapter looks forward to your expert leadership!
---
LA ACP Receives Chapter Excellence Award for 2015
I am pleased to report that the Louisiana Chapter again received the Chapter Excellence Award in 2015. The award is based on performance metrics set by the College. Chapter recipients receive $2000 to support additional chapter operations. Additionally, award winners are provided a certificate of acknowledgement and are considered leaders who inspire and provide resources to other chapters. The Chapter will be acknowledged by the College during the Awards luncheon at the 2016 Board of Governors Meeting. The award reflects both chapter leadership and committed membership so congratulations to all!
---
Membership Corner:
Congratulations to New Fellows
Congratulations to the following members who advanced to Fellowship in the College:
Ravi Prasad Avati Nanjundappa, MBBS, FACP, New Orleans
Marianne Barnhill, MD, FACP, New Orleans
Otis Barnum, DO, FACP, Natchitoches
Richard D. Guthrie, Jr, MD, FACP, New Orleans
Timothy S. Harlan, MD, FACP, New Orleans
William G. Hebert, MD, FACP, Lake Charles
James M. Jackson, MD, FACP, Shreveport
Khawar Khurshid, MD, FACP, Sterlington
Christopher J. Lege, MD, FACP, New Orleans
Thomas M. Reske, MD, FACP, New Orleans
Stephen R. Salopek, Jr, MD, FACP, Lafayette
Benjamin F. Springgate, MD, FACP, New Orleans
Apply for advancement to Fellowship. Visit for details.
LA ACP Welcomes New Members
Please welcome our colleagues who have joined LA ACP within the last 6 months! Thank you for recognizing the value of LA ACP membership! Please be sure to share your thoughts and let us know if there are things we can do to better meet your needs.
Member Recognition
Join us in congratulating Dr. Dean Lauret who was recently promoted to Associate Program Director for the LSUHSC Internal Medicine Residency Program in Baton Rouge!
Has something exciting taken place in your life? If so, please share it with us so we can celebrate with you. Send information and any photos you want to share to Cathy Thompson.
---
Louisiana Chapter Spring Meeting
2016 Spring Chapter Meeting
March 11-12
Renaissance Baton Rouge Hotel
7000 Bluebonnet Blvd
Group Rate: $139 Cutoff: 2/20/16
225.215.7000
Book your Reservation
Registration is open for the Louisiana Chapter Spring Meeting! This year, the meeting will take place in Baton Rouge, at the Renaissance Baton Rouge Hotel. The agenda will include Continuing Medical Education sessions all day Friday, March 11 and half a day on Saturday, March 12. The Education Committee chaired by Dr. Shaminder Gupta has planned an exciting series of updates for your clinical practice, with excellent, dynamic speakers. Friday afternoon will also include selected resident case vignettes and the ever popular Residency Program Jeopardy competition, in which LSU Shreveport will defend the trophy!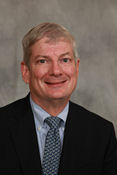 I am particularly excited that Bob Doherty, Senior Vice President of Governmental Affairs and Public Policy at ACP will be our featured guest speaker. Bob has been deeply involved with the College's eventually successful efforts to eliminate the SGR formula that threatened Medicare provider compensation for 17 years. Now that SGR has been replaced by MACRA (Medicare Access and Reauthorization Act), internists will have to make a choice between two more acronyms to get paid; MIPS (Merit Based Incentive Payment System), or APM (Alternative Payment Model). Bob is an expert who will guide us through the new landscape in his entertaining manner when he presents Healthcare Reform 2.0: What to Expect from the Next Generation of Healthcare Reform on Saturday morning.
In addition to the scientific updates, plan to attend the combined Awards Dinner and Laureate Emeritus Dinner on Friday evening, March 11. We are excited to give Dr. Pierre V. Blanchard, FACP, the 2016 Laureate Award, in honor of his outstanding career in internal medicine and contributions to the Louisiana Chapter.
The Annual Business Meeting will take place on Saturday morning, immediately preceding the Town Hall meeting. Amendments to the Bylaws will be presented for approval by the membership.
Thank you to the CME Planning Committee members - Drs. Shaminder Gupta, Chair, Vince Cataldo, Philip Haddad, Angela Johnson and Nicholas Verne.
For additional information or questions contact Cathy Thompson, LA Chapter ACP.
Don't miss out, register today!
---
IM2016: ACP National Meeting, Washington, DC
ACP Excellence in Medical Education
Internal Medicine 2016 will be held May 5 - 7 in Washington, DC. Choose from more than 200 scientific sessions in internal medicine and the subspecialties presented by faculty unsurpassed in their fields. In addition to obtaining CME, please join the Louisiana Chapter at the reception we are hosting jointly with Mississippi/Alabama and for the first time this year Arkansas on Friday, May 6, 5:30-6:30 p.m. at the Marriott Marquis, Mount Vernon Square Room. This is a great opportunity to relax and visit with colleagues and friends as well as to celebrate our accomplishments from the past year.
See you in DC!
---
Leadership Day 2016
ACP Services, Inc., will hold Leadership Day 2016 on May 3-4, 2016. Since this immediately precedes IM2016, consider joining the Louisiana Chapter delegation as we join other ACP members learn how to advocate for internal medicine on Capitol Hill. Leadership Day registration is not included in IM2016 Scientific Meeting registration (the College and the PAC are separate), so if you are interested in attending Leadership Day 2016, please notify Cathy Thompson.
---
Governor's Advisory Council (GAC) Update
The GAC met on September 26, 2015 in New Orleans. In addition to the review of Chapter performance and planning, the Council discussed the need to amend the bylaws to include electronic communications for meeting and voting. Changes have been drafted and will be reviewed for approval at the next meeting of the Governor's Advisory Council, which is scheduled to occur at the Annual Chapter Meeting in Baton Rouge at noon on Friday, March 11, 2016. View the proposed revisions (highlighted in red).
If you are interested in serving on the Council, or would like to nominate a colleague, please submit your recommendation to LAACP2015@outlook.com.
---
Louisiana Annual Resident Member Meeting 2016
Plans are underway for the 2016 Annual Resident Member Meeting for the Louisiana Chapter of the American College of Physicians. This year's meeting will be hosted by the Department of Internal Medicine at Louisiana State University on Our Lady of the Lake Campus on Tuesday, January 19, 2016. This annual event attracts submissions from ACGME accredited residency programs including Chabert Hospital in Houma, University Hospital Lafayette, Baton Rouge General, LSU Baton Rouge, LSU Shreveport, LSU New Orleans, Ochsner and Tulane. Past events have resulted in well over 100 abstracts submissions and 2016 is no exception. Dr. Lee Engel, Chair of the Resident Members Committee (and our Governor-Elect) will guide the process from submission to judging, and the top 26 abstracts will be selected for presentation. The 26 abstracts that are presented at the meeting will be published in the Journal of the Louisiana State Medical Society. A winning abstract will be selected at the associates meeting and that resident or student will be supported by our state ACP association to present at the National ACP meeting in Washington, DC, May 2016.
The Annual Resident Jeopardy Competition will take place in March at our 2016 Louisiana Chapter meeting to be held at the Baton Rouge Renaissance Hotel. LSU Shreveport will defend the title.
We are pleased to announce that Dr. Shane Sanne, Assistant Professor of Clinical Medicine in the Section of Hospital Medicine LSU, has agreed to Chair the Resident Members Program Committee 2017. Dr. Engel has chaired the committee for the past 8 years, and nurtured the growth of resident membership and success of the annual January meeting. Many thanks to Dr. Engel for his dedication to this project and we wish him success as he takes over as Governor in May!
---
Student Member News:
Congratulations Internal Medicine Excellence Award Winner!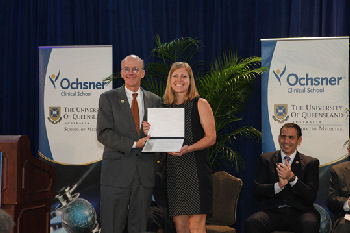 Marie Claire Lamb, MBBS, was awarded the 2015 Internal Medicine Excellence Award at the Culmination Celebration of the Ochsner Clinical School on November 14, 2015. Dr. Lamb was an Ochsner Clinical School Student Ambassador and an officer of the Internal Medicine Interest Group. She was also a founding member of the American Medical Women's Association and a participant in the International Haiti Rotation. Dr. Lamb performed research with Dr. Evan Dvorin, wrote a review with Dr. Carl Lavie and completed a case study with Dr. Russell Steele. She also mentored students throughout medical school. Her hobbies are running races and training for triathlons. She and her boyfriend Alex are also the proud owners of their dog Quincy. She is applying for IM residency at this time.
Congratulations Dr. Lamb for a job well done!
Edgar Hull Society's Taste of New Orleans Party
One of the highlights of the year for the Louisiana State University's Edgar Hull Society Internal Medicine Interest Group is the annual Taste of New Orleans party. Believing that an informal get-together would help encourage students to meet the medicine faculty and consider a career in primary care, Dr. Charles "Bo" Sanders, Chairman of the LSU Department of Medicine, and his wife, Julia, hosted the first Taste of New Orleans party more than ten years ago. Since then the event has grown every year. This event brings together third and fourth-year medical students from the LSU School of Medicine who are interested in internal medicine and provides a forum for them to interact with residents and faculty members in the specialty. The event fulfills all three missions of the Edgar Hull Society by providing medical students with information about internal medicine and its subspecialties, exposing students to several members of the faculty and residents of the LSU Department of Medicine who can provide them with a sense of what it's like to be a general internist or subspecialist, and providing an opportunity for students to learn, network, and relax together in a casual social environment.
Ultimately, the event is intended to boost recruitment for the Internal Medicine, Medicine-Pediatrics, and Medicine-Emergency Medicine Residency Programs.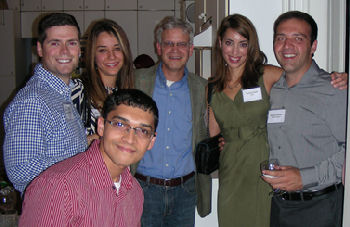 The students clearly enjoyed the opportunity to talk and learn about internal medicine with residents and especially faculty in a festive atmosphere.
This year's Taste of New Orleans was held at the uptown home of Bo and Julia Sanders on October 9, 2015.
The Edgar Hull Society is a highly active and involved student interest group. Its website includes a section of student anecdotes regarding clerkship resources. The Society works hard to continue its mission of promoting primary care as a wonderful career choice.
2nd Annual Medical Student Essay Contest
Attention all LSU-NO, LSU-Shreveport, Tulane, and Ochsner Clinical School Medical Students!
The Louisiana Chapter of the American College of Physicians (ACP) is holding the 2nd annual medical student essay contest. The contest is for students who have an interest in a career in internal medicine. We want to know about your experiences as medical students training in Louisiana!
How to enter: Make sure your ACP membership is current. If you are not yet a member, the process is quick and easy. There are no dues for students, simply click here to complete an application. Submit an essay between 800 - 1000 words via a word document or PDF to Cathy Thompson by Friday, February 5, 2016. Include your name, email, institution, and year in medical school on the document. Be sure your essay is free from grammatical and punctuation errors.
Choose from one of the following topics for your essay:
What single characteristic of your internal medicine mentors do you want to emulate most and why? (Please do NOT include actual names).

Or

What was the most important thing you learned from your patients during your internal medicine clerkship?

Or

What is the future of healthcare in the United States?
First prize is $500, second prize is $250, and third prize is $100! The essay first prize winner also receives a trip to Leadership Day 2016 in Washington, DC and will be published in the Journal of the Louisiana State Medical Society! All medical students who are ACP members and currently attending medical school in Louisiana are eligible to participate. A panel of experts from the Louisiana ACP will judge your essays.
If you have any questions regarding the contest, please contact Dr. Shane Guillory, MD, or (504) 568-6255. Shane has taken over as Chair of the Student Committee. He is currently Assistant Professor of Medicine at LSU. Many thanks and much regret to lose the leadership of Dr. Chad Miller, who moved to St. Louis to become Chief of the Division of General Internal Medicine and Associate Chair of Education at St. Louis University.
---
I Raise The Rates: Initiative to Raise the Adult Immunization Rates in Primary Care
I Raise the Rates is a current initiative designed to raise the adult immunization rates by physicians, healthcare teams, and patients supported by the American College of Physicians' Quality Connect. The goal of this public health initiative is to meet the National Vaccine Advisory Committee's standards for adult immunization. This program is currently being piloted by Louisiana and Arkansas and it will expand to New Jersey and Florida in 2016. Angela Duck, MSN, RN, is the program manager for Louisiana. Twelve practice champions across the state of Louisiana are currently working with their healthcare teams to improve adult immunization rates through educational and quality improvement strategies and interventions. The program offers participants access to communication tools, educational materials, quality improvement coaching, and training modules for residency programs. The champions are currently working in their organizations and community to improve the awareness and importance of adult immunizations at health fairs, in their health systems, and by collaborating with retail pharmacies to provide free influenza vouchers to those in need. ACP Quality Connect hosts monthly webinars to help the champions and their healthcare team across the state. To support the quality improvement activities, champions use CECity's Medconcert portal, a cloud-based performance improvement monitoring platform to compare and evaluate progress. Also, this portal links you to over 125 resources and tools. If you are interested joining this exciting state ACP initiative, email angieduck4@gmail.com for more information.
---
ACP Resources:
Dynamic Health Care Guide for Congress and the Media
The American College of Physicians (ACP) prepared this guide to serve as an ongoing resource for members of Congress and their staff, the news media, and other interested persons on the top health care issues affecting our members and their patients:
- The guide is concise: distilling some of the most complex health care issues to be considered by the 114th Congress into two page summaries with additional resources for those interested in learning more.
- The guide is dynamic: we will continue to update the content and the links for more information as circumstances change.
- The guide is selective: we didn't include every health care issue that this Congress may address; only the ones that we believe will have the greatest impact on internal medicine physician specialists, and their patients, and of those, the ones where we believe that there is an imperative for Congress to act.
- The guide strives to provide an accurate presentation of the issue and its impact on our members and their patients, yet framed in a way that reflects the College's views on each.
Although we are making the guide available in paper version, it will be most useful in digital form because it includes embedded URL links to other resources that will be frequently updated. If you're looking for a quick overview of the important issues, read our summary.
ACP's Six Most Important Health Care Issues
- On April 16, 2015, President Obama signed into law the Medicare Access and CHIP Reauthorization Act of 2015, which permanently repealed the Medicare SGR formula used to calculate physician payments. The new law establishes stable, positive payment updates while transitioning Medicare toward a "value-based" payment system.
- Congress authorized mandatory funding for the Primary Care Incentive Program from 2011 through 2015. Funding for this program is set to expire at the end of this year unless Congress authorizes additional funding to continue it after 2015.
- The pay parity program expired on December 31, 2014. Because the program was not extended, primary care physicians experience an average cut of 42 cents on the dollar for providing primary care services such as office visits for the treatment of chronic diseases like high blood pressure and diabetes to Medicaid patients.
- The number of available residency training positions funded by Medicare has been capped at 1996 levels since the passage of the Balanced Budget Act of 1997. With sharply increasing numbers of allopathic and osteopathic medical students and looming physician workforce shortfalls, especially in primary care, the current "choke-point" in the physician supply chain is residency training. Several bills were introduced in both the House and Senate last Congress that would increase the number of Medicare-supported training positions with preference for primary care and general surgery.
- Access to primary care services is an essential part of everyone's health care. Studies have shown that seeing a primary care physician regularly and having access to preventive services leads to better health outcomes and savings to the system. Independent studies show that the U.S. is facing a shortage of tens of thousands of primary care physicians, and millions of patients in many parts of the country already have poor access to primary care.
- Open enrollment for the 2015 plan year for most people ended on Feb. 15, and the special tax season enrollment period (for the marketplaces operated by the federal government) ends on April 30. In Jan., the House approved changes to the employer mandate work hour definition; the Senate has yet to take it up, and the administration has stated that it would veto the change. The U.S. Supreme Court will issue a ruling in 2015 on the King v. Burwell case, which will decide whether the IRS is permitted to provide premium and cost-sharing financial assistance to individuals in states with a health insurance marketplace operated by the federal government.
Follow us on Twitter
Like us on Facebook