You are here
In this Issue December 2014
In this Issue December 2014

| | |
| --- | --- |
| December 2014 | William E. Davis, MD, FACP, ACP Governor |
---
---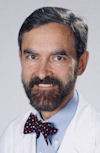 Introduction
It is once again a pleasure to provide an update on the activities the American College of Physicians and our Louisiana Chapter.
I hope that 2014 has been a great year for you. The Louisiana Chapter has had a notable year, so please review our accomplishments highlighted in this newsletter:
Membership Update: Dr. Lee Engel has been elected to become the next Governor of the Louisiana Chapter.
Louisiana Associates 2014 - Dr Lee Engel, Chair of the Associates Committee, gives us an update on preparations. Students and residents from around the state have submitted their abstracts and will soon compete at the meeting in January.
LA/MS 2015 Annual Chapter Meeting - We look forward to seeing you Feb 26-28 at the Roosevelt Hotel in New Orleans
Internal Medicine 2015 - April 30 - May 2 in Boston, MA. This will mark 100 years for the American College of Physicians
Internal Medicine Excellence Award - Congratulations to Kathryn Jones, graduate of the Ochsner Clinical School!
Edgar Hull Society Internal Medicine Interest Group "Taste of New Orleans" 2014 Celebration
LA/MS 2014 Annual Chapter Meeting - The Mississippi Chapter hosted a very successful 2014 at Point Clear Alabama in September
Medical Student Essay Contest submissions due by January 30, 2014.
IRaise the Rates
Membership Survey
Happy, healthy, peaceful and prosperous 2015!
William E. Davis, MD, FACP
Governor, ACP Louisiana Chapter
---
Louisiana Chapter Membership Update: Governor-Elect Lee Engel, MD, FACP
Please join me in congratulating Dr. Lee Engel, who has been elected Governor of the Louisiana Chapter for the term 2016-2020. Dr. Engel obtained his B.S. in biology at The Pennsylvania State University, then a M.S. and Ph.D. in Microbiology, Immunology and Parasitology at LSUHSC in New Orleans where he subsequently obtained his M.D. He trained in Internal Medicine and Infectious Diseases at LSUHSC, and joined the faculty where he practices hospital medicine and currently holds positions as Associate Professor of Clinical Medicine and Associate Program Director for Internal Medicine. He has been an active member of the Louisiana Chapter, serving on the Governor's Advisory Council and chairing the Resident Members (formerly Associates) Committee. He has organized the Resident Members Annual Meeting, and served on the planning committee for the Chapter Annual Meeting.
I am excited that the Chapter can look forward to having a young, dynamic leader like Dr Engel to carry us through the decade ahead. He and I will take advantage of the 2015 transition year to make a smooth handoff of Chapter activities.
I would like to thank Dr. Jay Shames, Chair of the Nominating Committee, and Dr. Richard Deichmann, who also accepted the nomination to run for Governor. Dr Deichmann has been a tremendous asset to the Chapter as Treasurer, Council Member, and Annual Meeting development, and I really appreciate his effort and dedication.
Dr. Frank Incaprera has been awarded the Chapter Centennial Legacy Award. The award celebrates ACP's centennial by recognizing one seminal chapter member whose service to the chapter had a significant impact on the chapter's viability. The nominating committee was unanimous in noting that Dr. Incaprera exemplifies ACP's core values including leadership, excellence, respect, compassion, professionalism, and responsibility. Please join me in thanking him when we present the award at the Annual Chapter Meeting February 27, 2015.
Congratulations to Dr. William M. Cassidy, FACP, who won the election to become our next senator! Dr. Cassidy is one of only three physicians in the senate and the only internist.
Dr. Karen DiSalvo was honored by the Medical Center of Louisiana Foundation with the Spirit of Charity award on October 7, 2014. Dr. DiSalvo is currently the National Coordinator for Healthcare Information Technology.
Dr. Sarah Candler, internal medicine resident at Tulane and Resident Member of the ACP, has been elected to a two year term on the ACP Council of Resident/Fellow Members. Dr. Candler will have the opportunity to represent resident members at the Council meeting in Boston during Internal Medicine 2015, at Leadership Day 2015 in Washington, as well as during Council teleconferences throughout the year. Strong work, Sarah!
Louisiana Chapter member Dr. Lydia Bazzano, FACP, was lead author on a paper published in the Annals of Internal Medicine regarding Low Carb vs. Low Fat diets that received international attention.
---
Louisiana Associates Meeting 2015
Plans are underway for the 2015 Annual Resident Members (formerly Associates) Meeting for the Louisiana Chapter of the American College of Physicians. This year's meeting will be hosted by the Department of Internal Medicine at Tulane on Tuesday, January 27, 2015. The Resident Members meeting has become an annual success, with well over 100 abstracts submitted from the eight internal medicine residency programs in Louisiana. (That's right; we now have ACGME accredited IM programs at Chabert Hospital in Houma, University Hospital Lafayette, Baton Rouge General, LSU Baton Rouge (formerly Earl K. Long), LSU Shreveport, LSU New Orleans, Ochsner and Tulane). Dr Lee Engel, Chair of the Resident Members Committee will shepherd the abstract through the judging process and the top 26 abstracts will be selected for presentation. The 26 abstracts that are presented at the meeting will be published in the Journal of the Louisiana Medical Society, and three abstracts will be selected for presentation in Boston at IM 2015. Your Chapter's support of IM residents is an investment in the future of internal medicine!
---
Louisiana-Mississippi Chapters Scientific Meeting 2015
LA/MS Scientific Meeting 2015
February 26-28, 2015
Roosevelt Hotel
130 Roosevelt Way, New Orleans, LA 70112
(800) HILTONS
Mark your calendars and make your plans for February 26-28, 2015 to attend the 2015 LA/MS Scientific Meeting, being held at the Roosevelt Hotel. The Education Committee, led by Chair Dr. Angela Johnson, has put together an exciting program. Outstanding speakers will provide both general and subspecialty perspectives. The meeting will include the resident winners from the Louisiana and Mississippi Associate competitions, as well as the ever popular and spirited Jeopardy competition. Christine A. Sinsky, MD, FACP, will deliver her much acclaimed presentation "Finding Joy in Primary Care: Practice Innovations." Dave Srignoli, ACP Senior Vice President of Membership Development will give us an update on benefits and services available to members, and Darilyn Moyer, MD, FACP, Chair of the Board of Regents, will provide the college update.
In honor of their outstanding contributions to the ACP and to internal medicine, Dr. Steven Levine and Dr. Fred Lopez will receive the Laureate Award at the Awards dinner on Friday, February 27, 2014. Dr. Frank Incaprera, MACP, will be honored with the Chapter Centennial Legacy Award, in honor of his contributions to the Louisiana Chapter and the ACP over the first 100 years of the American College of Physicians.
The 2015 meeting will include a Laureate Emeritus dinner hosted by both the Louisiana and Mississippi Laureates on Saturday night, February 28th. All Laureates, spouses/guests from both chapters are invited to participate.
For additional information contact Kristin Tschirn, LA Chapter ACP.
---
IM2015: ACP National Meeting, Boston, MA
ACP Excellence in Medical Education

Internal Medicine 2015 will be held April 30 - May 2 in Boston, MA. Choose from more than 200 CME courses in internal medicine and the subspecialties presented by faculty unsurpassed in their fields. This will be the 100 year anniversary of the College! In addition to obtaining CME, please join the Louisiana Chapter at our Chapter reception on Friday, May 1st at 6:00 p.m. This is a great opportunity to relax and visit with colleagues and friends from across the state as well as to celebrate our accomplishments from the past year.
See you in Boston!
---
Internal Medicine Excellence Award
Kathryn Jones was awarded the Internal Medicine Excellence Award at the Culmination Celebration of the Ochsner Clinical School on November 15, 2014. Dr. Jones obtained her BA from Wesleyan University in Connecticut where she also lettered in Women's Lacrosse. She did graduate work at Harvard and has now completed her medical degree with the University of Queensland / Ochsner Clinical School. She is has applied for internal medicine residency through the Electronic Residency Application System and is eagerly awaiting Match Day. While in medical school, she has been a member of the ACP, raised over $2500 for cancer research at the Queenland Institute of Medical Research, tutored for USMLE, led tours as a Student Ambassador, and founded the LGBT Health Interest Group. She was selected by the faculty for the IM Award of Excellence after earning the highest combined GPA in the core rotations of General Practice and Medicine.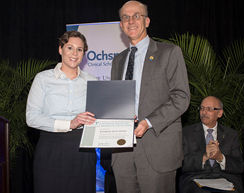 Kathryn Jones awarded the Internal Medicine Excellence Award
---
Taste of New Orleans Party
One of the highlights of the year for the Louisiana State University's Edgar Hull Society Internal Medicine Interest Group is the annual Taste of New Orleans party. Believing that an informal get-together would help encourage students to meet the medicine faculty and consider a career in primary care, Dr. Charles "Bo" Sanders, Chairman of the LSU Department of Medicine, and his wife, Julia, hosted the first Taste of New Orleans party more than ten years ago. Since then the event has grown every year. This event brings together third- and fourth-year medical students from the LSU School of Medicine who are interested in internal medicine and provides a forum for them to interact with residents and faculty members in the specialty. The event fulfills all three missions of the Edgar Hull Society by (1.) providing medical students with information about internal medicine and its subspecialties, (2.) exposing students to several members of the faculty and residents of the LSU Department of Medicine who can provide them with a sense of what it's like to be a general internist or subspecialist, and (3.) providing an opportunity for students to learn, network, and relax together in a casual social environment.
Ultimately, the event was intended to boost recruitment for the Internal Medicine, Medicine-Pediatrics, and Medicine-Emergency Medicine Residency Programs. The students clearly enjoyed the opportunity to talk and learn about internal medicine with residents and especially faculty in a festive atmosphere.
This year's Taste of New Orleans was held at the uptown home of Bo and Julia Sanders on November 1, 2014. It was attended by 19 Medicine faculty, 12 residents, and 28 students.
The Edgar Hull Society is a highly active and involved student interest group. Its website includes a section of student anecdotes regarding clerkship resources. The Society works hard to continue its mission of promoting primary care as a wonderful career choice.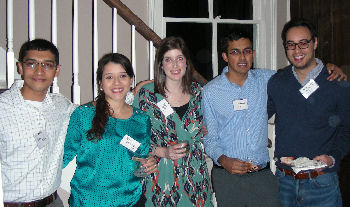 The Edgar Hull Society
---
Medical Student Essay Contest
Attention all LSU-NO, LSU-Shreveport, Tulane, and Ochsner Clinical School Medical Students!
The Louisiana Chapter of the American College of Physicians (ACP) is holding the 2nd annual medical student essay contest. The contest is for students who have an interest in a career in internal medicine. We want to know about your experiences as medical students training in Louisiana!
How to enter: Submit an essay between 800-1000 words via a word document or PDF to Kristin Tschirn, ktschirn@ochsner.org, by January 30th, 2015. Include your name, email, institution, and year in medical school on the document. Be sure your essay is free from grammatical and punctuation errors.
Choose from one of the following topics for your essay:
What single characteristic of your internal medicine mentors do you want to emulate most and why? (Please do NOT inclue actual names).Or
What was the most important thing you learned from your patients during your internal medicine clerkship?Or
What is the future of healthcare in the United States?
First prize is $500, second prize is $250, and third prize is $100! The essay from first prizewinner will be published in the Journal of the Louisiana State Medical Society! All medical students currently attending medical school in Louisiana are eligible to participate. A panel of experts from the Louisiana ACP will judge your essays.
If you have any questions regarding the contest, please contact Dr. Chad S. Miller, MD, FACP or (504) 988-7814.
---
LA/MS 2014 Annual Chapter Meeting
The Mississippi Chapter hosted a very successful 2014 meeting at Point Clear Alabama on September 4-6, 2014. The all-star cast of speakers included, Dr. Patrick Alguire , ACP Senior VP for Education, and Dr. Robert Centor, Chair of the ACP Board of Regents. Attendees took home a wealth of practical information on the new hypertension and lipid guidelines, obesity, advances in anticoagulation, handheld ultrasound, maintenance of certification (MOC), clinical decision making, and much more.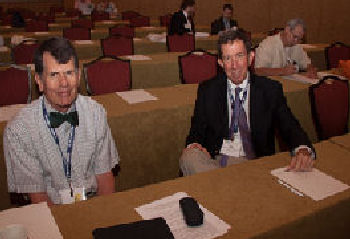 Our 2014 Laureate Award winners were Dr. Patrick Mottram and Dr. Joan Blondin. Both have exemplified the values of the ACP and continue to inspire their patients and colleagues.
Many thanks to Program Chair Dr. Calvin Thigpen, MS Chapter Executive Director Nancy Youngblood and LA Chapter Staff Kristin Tschirn for a fantastic meeting in Point Clear.
---
I Raise The Rates
I Raise the Rates is a new initiative designed to raise the adult immunization rates by physicians, health care teams, and patients supported by the ACP Quality Connect Program. The goal of this public health initiative is to meet the National Vaccine Advisory Committee's standards for adult immunization. Louisiana has been chosen as one of the first state partners. The program will encourage health care providers and practice teams to engage in ACP's Adult Immunization Registry available through CECity's MedConcert® portal, a cloud-based performance improvement platform. With funding from Pfizer and the experience and resources from the ACP and CECity, the program will be piloted in Louisiana and Arkansas with the goal to broaden the effort nationwide. In addition to improving immunization rates of their patients, physicians will gain Practice Assessment points for Maintenance of Certification, Physician Quality Reporting System for CMS submission, and stage 2 Meaningful Use.
At this time the Chapter is hiring a project manager and seeking regional physician "champions" who will participate in the program and promote it to their peers. If you are interested notify me directly. Be on the lookout for more information about this exciting quality improvement opportunity!
---
Membership Survey
At the Chapter Meeting September 6, chapter members discussed the annual meeting schedule. Traditionally the LA/MS annual meetings occurred in March each year, but in the last 3 years the MS hosted meeting has been scheduled in September. Members discussed the potential of an annual March meeting and requested that the Chapter survey the membership and make a proposal for a predictable meeting schedule going forward. Dr Ben Thompson will chair a task force and you will soon receive an invitation to the survey. Please complete the short survey monkey so that your preferences are considered in the proposals that will be discussed at our next Chapter Membership meeting on Saturday morning, February 28, 2015.
---
ACP Resources
Now available: High Value Care module on managing Conflicts of Interest
The latest ACP High Value Care module, part of ACP's High Value Care curriculum, offers three 10-minute lectures covering basic topics and three "unfolding cases" for in-depth learning about direct-to-consumer drug advertising, industry sponsorship of clinical trials, and the art of communicating with patients about sample medication. All content is accessible via desktop, laptop, tablet, or mobile device. Free online CME credits and MOC points are available for both the lectures and cases. Access the High Value Care module on Managing Conflicts here.
Meaningful Use Regulations Released for 2015
CMS has released a new rule on the meaningful use of electronic health records (EHR) systems. The rule added some flexibility to the requirements for reporting in 2014, allowing physicians different options to successfully complete reporting. However, the rule also established onerous requirements for 2015, requiring reporting for the entire year. Under the meaningful use program physicians demonstrate that they are using certified EHR systems in their practice to improve patient care. Read more about what ACP has to say about the Meaningful Use Program and the new rule.
Strengthen Our Chapter: Participate in ACP's Recruit-a-Colleague Chapter Rewards Program!
The American College of Physicians and the Louisiana Chapter encourages all members to help strengthen our chapter by recommending ACP membership to colleagues. By joining the College, your colleagues will enrich their clinical knowledge and skills and have access to all of the ACP member benefits that you enjoy.
To thank you for your dedication to our organization, ACP offers incentives to members and their chapters that recruit new members through the Recruit-a-Colleague Chapter (RACC) Rewards Program.
As with the national Recruit-a-Colleague Program, the RACC Program rewards successful individual recruiters with dues credits for each new full Member or Physician Affiliate member recruited and a chance to win a trip to the annual Internal Medicine meeting. In addition, the RACC Program also provides rewards to the recruiters' chapters, including funding for chapter activities and complimentary registrations to the annual Internal Medicine meeting.
The Recruit-a-Colleague Chapter Rewards Program runs annually from April 1 through March 15.
To participate, simply forward to your colleagues a membership application. To qualify for the program, your name must be listed on the recruiter line of the application, and the form must include the code RACC.
Thank you for your help in strengthening our chapter!
---
ACP's Special Interest Groups
ACP's Special Interest Groups provide members with opportunities to engage in discussions online, share ideas, and support one another professionally and personally.
Participate by joining as many groups as you would like, then connect with ACP members from all over the world with similar interests. Groups include:
ACOs/New Practice Models | African American Members | Caring for Adults with Developmental Disability | Clinical Problem-Solving | Clinical Research | Emerging Technologies | High Value Care | Hospital Medicine | LGBT Health | Maintenance of Certification | Medical Students | MKSAP | Perioperative Medicine | Physician Educators |Re-entry Physicians | Sex- and Gender-Specific Medicine | Small Practices | Volunteerism | Women in Medicine | Work/Life Balance | Working Abroad
Follow us on Twitter
Like us on Facebook