You are here
Kansas Governor's Newsletter August 2017
Kansas Governor's Newsletter August 2017

---
---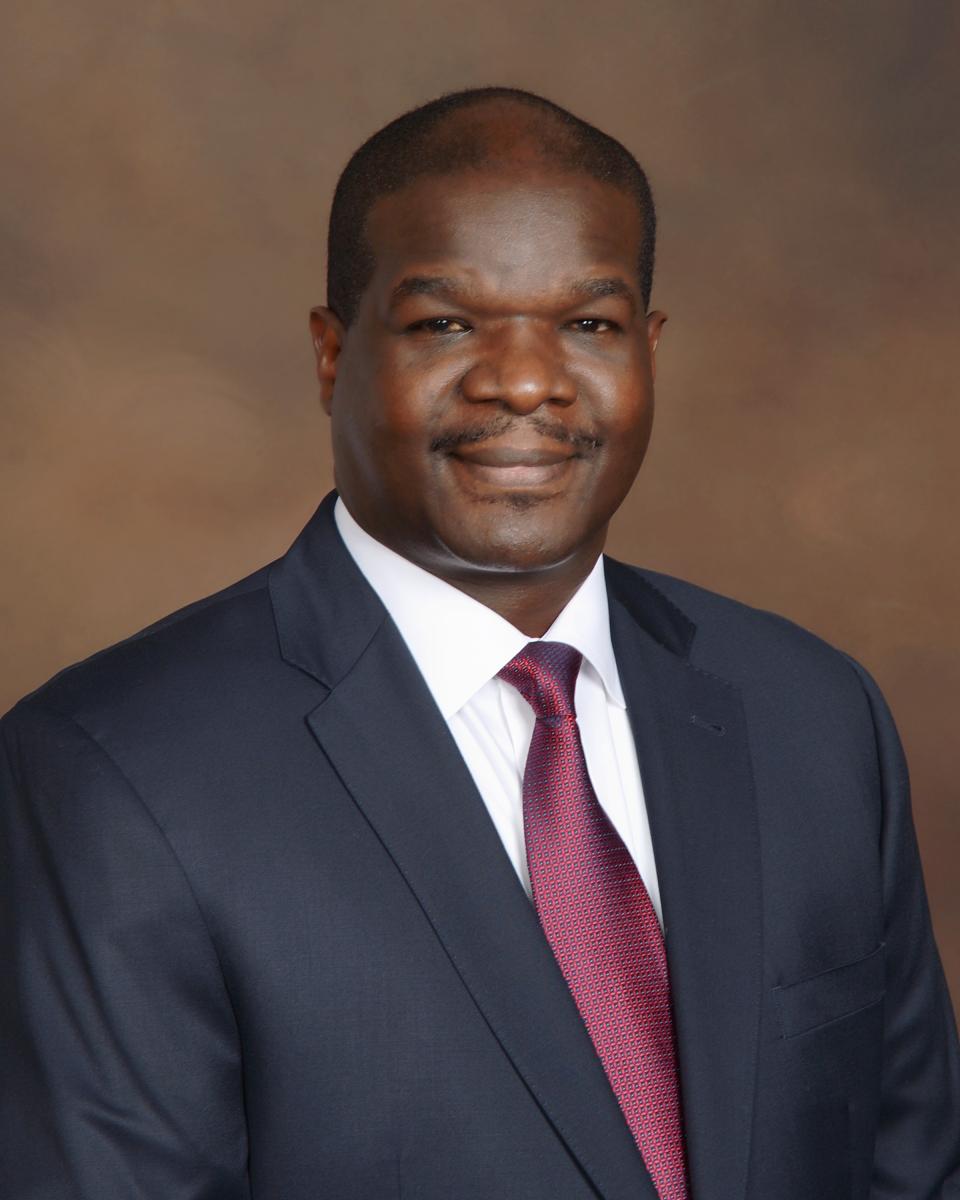 ---
From Your Governor – Isaac O. Opole, MD PhD FACP
Dear Colleagues,
In the past few months, we have seen some of the most frenzied legislative activity in the healthcare arena in recent memory. The resurrection of the efforts to repeal the Affordable Care Act and the subsequent legislative demise of those attempts, are reminiscent of a cat's nine lives. After the dramatic end to the latest attempt with Senator McCain's vote, we hear rumblings of yet another resurrection of the repeal effort, somewhat reminiscent of a Phoenix rising from the ashes. Undoubtedly, there are grave concerns with the sustainability of the Affordable Care Act (ACA), but the discussions around it do not engender much hope for our citizens facing difficult healthcare choices. In the long run, we hope that cool heads will prevail and sensible solutions will be proposed and legislated that promote the vision of good quality and affordable healthcare for all Americans.
As Dr. Ky Stoltzfus describes below, we spent our legislative day on the hill promoting the ACP position with our legislators, including Senator Jerry Moran who, although opposed to maintaining the ACA, did suggest a reasoned approach to formulating healthcare policy. We were in agreement that Kansas, especially the more rural parts of the country, would be hurt by the legislation as proposed, and we were happy to see that he was one of the few holdouts during the initial repeal process. We emphasized a forward-looking, visionary approach to solving the seemingly intractable problems in healthcare, ranging from access and cost to training and tort. It is our hope that in the future, forward-looking visionaries will craft a national healthcare policy that will form a decades-long legacy similar to what was done with Medicare and Medicaid in the 1960s, providing for comprehensive care and access to all our citizens.
This year's annual spring meeting of the college was held in San Diego, CA and we had a good turnout from Kansas members. During the event, we welcomed some of our new fellows who were recognized at the convocation ceremony. Attending the convocation ceremony is always a poignant moment for me, as I witness the recognition of hundreds of dedicated clinicians for their excellence in all aspects of Internal Medicine. I want to take this opportunity to recognize and congratulate our newest fellows: Haseeb Ahmed, DO FACP, Rita Hyde, MD FACP, David Naylor, MD FACP, Sunitha G Rao, MD FACP and Gillian Schmidt, MD FACP.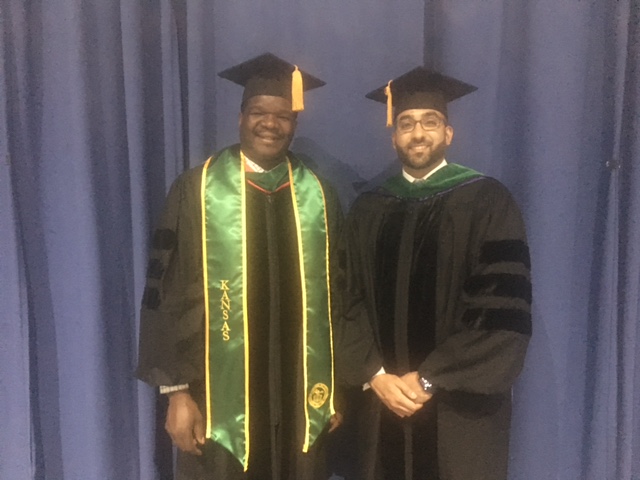 Kansas ACP Governor, Isaac Opole, MD, PhD, FACP and Haseeb Ahmed, MD, FACP at 2017 Convocation in San Diego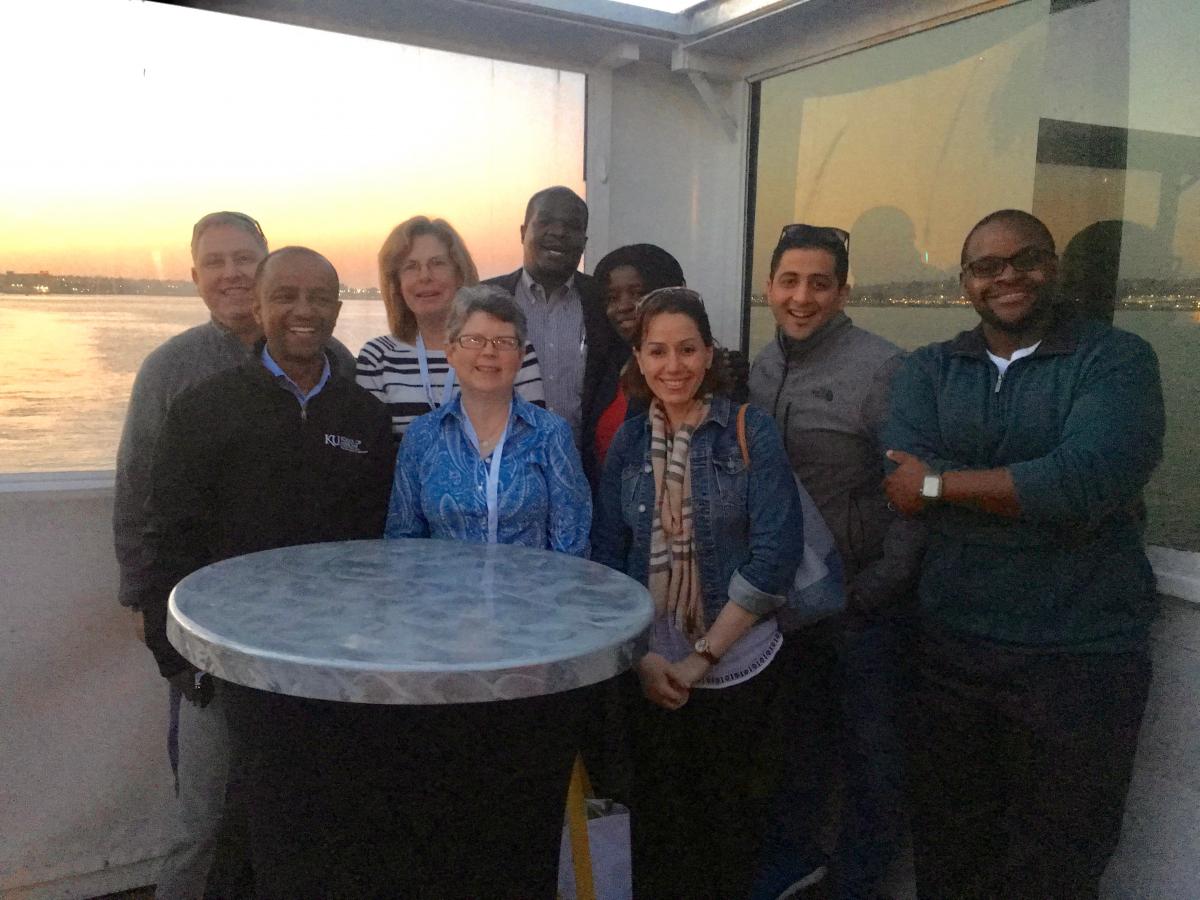 Kansas Chapter ACP Members enjoy cruise of San Diego Bay
At the spring Board of Governors' meeting, our chapter was presented with the John Tooker Evergreen award recognizing our work in multi-chapter strategic planning in conjunction with the Nebraska and South Dakota partners. The award is named in honor of Dr. John Tooker in recognition of his assiduous efforts in advocacy for the ACP, and aims to recognize chapter achievements while improving the sharing of best practices between chapters and encouraging effort and innovation at the local level. I acknowledge my co-awardees Matt Bien MD FACP, Governor, South Dakota Chapter and Marvin Bittner MD FACP, Governor, Nebraska Chapter with whom we have doggedly worked on strategic planning over the last 3 years.
The chapter council continues to represent the interests of the membership, and this year I have had the pleasure of welcoming a few additional members to our council. Jessica Kalendar-Rich, MD joins our council as an ex-officio member, Jesse Richards, MD joins us as a resident member, and Jane Broxterman, MD FACP has volunteered to lead the planning process for the 2019 fall chapter meeting as the Program Chair. My thanks to all these individuals for donating their time, intellect and effort towards raising the quality of our chapter activities. I would also like to thank our outgoing ECP Committee Chair, Sam Antonios MD FACP, for his selfless service over several years.
Whenever I examine our membership roster, I am always amazed at the depth and breadth of our membership. Although we continue to welcome new members, we also lose some members who either let their membership lapse or move out of state. I would like to encourage all our members to maintain their current status, and continue to engage non-members to join our organization. This year, we would like to entend our "Recruit-a-Colleague" program to the fall meeting, where members will receive significant concessions to their registration in addition to the usual incentives if they bring a non-member to register and attend the meeting. Please encourage as many of your practice colleagues as possible to attend!!
Finally, I want to recognize our senior members who have quietly been serving our communities in remote parts of the state for years. Do you know a senior chapter member who has worked/served over 20 years? Is there a colleague who, in your opinion, has provided service to the community and chapter worthy of recognition as a Master of the College? We would very much like to hear from you and recognize our colleagues for their service. Please feel free to contact me directly, or our Executive Director Kris Rahm with any recommendations for recognition. I wish all our members a happy and successful year ahead.
---
2017 KS ACP Annual Meeting Info – Aileen McCarthy, MD FACP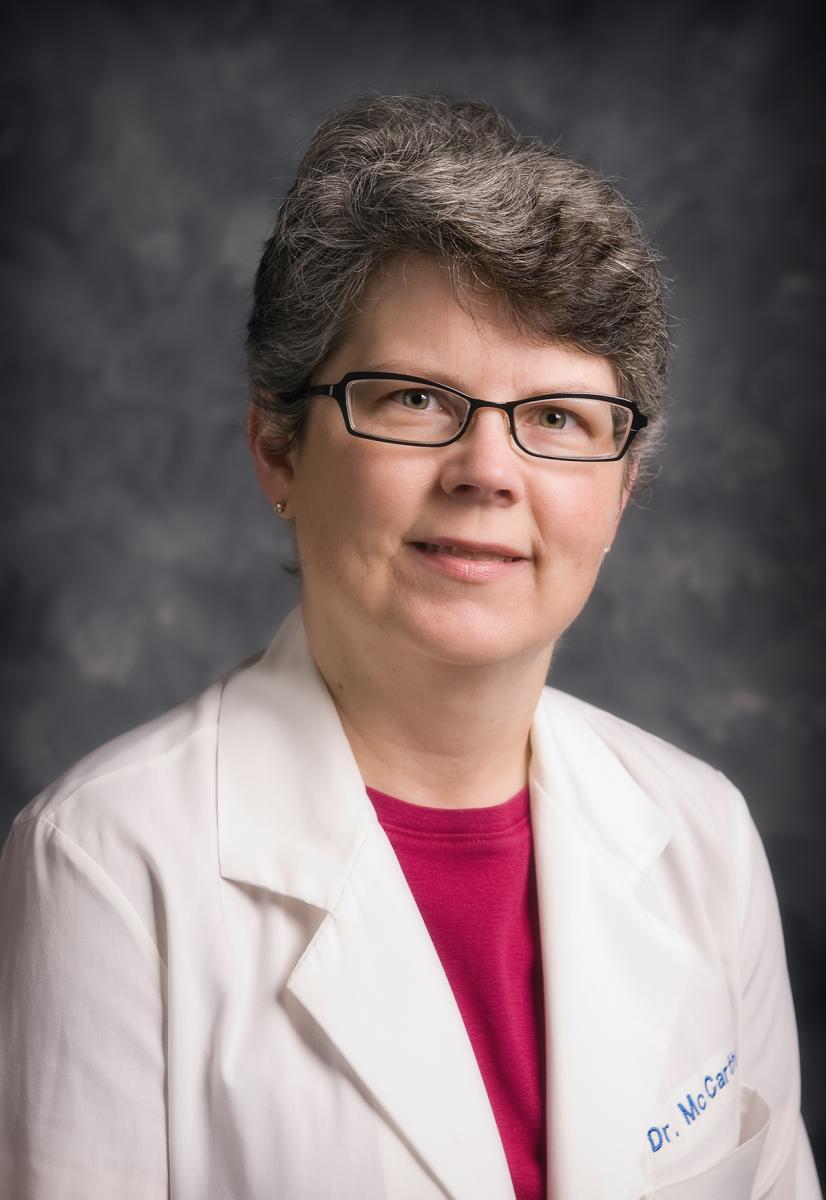 It's time to sign up for the 2017 Annual Chapter Meeting! Last year's meeting in Kansas City was a resounding success, many attendees commented that it was the best annual meeting ever from the interactive courses, to the food and new venue. This year the meeting will be held at the Abode Venue in Wichita. You can peruse the meeting topics via the link below, or at the chapter website
You can register for the meeting and make hotel reservations as well.
Note that the popular ultrasound workshop returns, and many other topics will be explored including improving care for patients at risk for hospitalization, legal pitfalls of the EMR, update in heart failure therapy, NOAC's, human microbiome, weight management in primary care, and many other interesting and timely topics.
There will be interesting case presentations, poster sessions and Doctor's Dilemma presented by students and residents. There will be a Washington Update from Bob Doherty on healthcare policy in this new political era. There will be opportunities to socialize and network with internists throughout Kansas, and awardees to congratulate.
Come and join us for this wonderful meeting!
---
2017 KS ACP Annual Meeting Info – Top 5 Reasons Not to Procrastinate – Kris Rahm
Hello KS ACP Members!
Even though our annual scientific meeting is 53 days away, here are some reasons you shouldn't procrastinate...but should register TODAY:
1) On September 11, hotel rooms being held under KS ACP will be released. If you're going to reserve a hotel room anyway, you might as well register for the meeting now and check both things off your "to do list". That always feels good.
2) If you don't register by October 1st, you'll be charged a late fee. Who doesn't love getting something at a lower price.
3) If you don't attend, you'll have to listen to your colleagues talk about what a great time they had, how much they learned about current hot topics, and how engaging the speakers were. Jealousy is not pretty.
4) You won't be able to get 14.5 CME and MOC hours to fulfill those pesky requirements from your employer. This is that whole two birds/one stone thing.
5) And finally, you won't be able to network with your ACP family/peers….perhaps the ONLY people in your life who truly understand what you are going through and can laugh, or cry, with you. Everyone needs a support group! In addition, I am so looking forward to seeing each and every one of you there. Please don't disappoint me.
Brochure and registration form can be found at this handy dandy link
---
Membership Committee Report – Segan Chase, MD FACP

Greetings! My hope is that you have had a good summer and are looking forward to the ACP KS Scientific meeting in Wichita, October 11-13. In our effort to continue to recruit colleagues to be a part of ACP, we are offering 1/2 price registration to ACP members that bring a nonmember!
This is an offer you can't pass up!! We feel this gives non-members an opportunity to see the value of ACP in their professional career and in their practice. If you are interested in taking advantage of this offer, please email Kris Rahmprior to registration in order to provide her the name of the non-member so each of you can be provided with a coupon code to register.
As you are thinking about recruitment of colleagues, don't forget our mid-level providers as their affiliate membership is vital as well. Please reach out to those that you practice with to discuss the benefits of membership. It allows for them to participate in ACP activities, keep up to date on clinical practice and management information and professionally network with other providers in internal medicine, hospital medicine and subspecialty work.
The membership committee continues in its restructuring and will be convening again soon. While we are dedicated to the growth of the chapter, ultimately it is all of the members that continue to keep our chapter relevant, vibrant and growing. It takes all of us to make this happen, not just a few! Thank you for taking the time to talk to your colleagues, so we can not only grow, but continue to serve the needs of our current members. Looking forward to seeing you at the annual meeting in October!
---
½ Price Registration for You and Your Non-Member Colleague – Kris Rahm
In our effort to continue to recruit colleagues to be a part of ACP, we are offering 1/2 price registration to ACP members that bring a nonmember! This is an offer you can't pass up!!
This offers non-members an opportunity to see the value of ACP in their professional career and in their practice. If you are interested in taking advantage of this offer, please contact Kris Rahmprior to registration in order to provide her the name of the non-member, so each of you can be provided with a coupon code to register.
---
Early Career Physicians – Roy Kamoga, MD
Greetings from the council of Early career physicians. I hope that you have all had a wonderful fun filled summer and took some time off to indulge in vacation time with family and friends. We are very interested at the council and the chapter to continue to engage you as Early Career Physicians (ECPs) to take part in chapter activities and the annual scientific meeting.
I would like to take this opportunity to highlight a few concepts that I hope will resonate well with ECPs. First, ACP is glad to have you and would like you to recommend more of your colleagues to not only join ACP but get involved in activities especially at chapter level. ACP has a lot to offer ECPs, including educational or CME activities, networking and mentorship, practice improvement or sustenance ideas and leadership programs. We also get regular updates regarding our practice environment (population health, medical insurance, malpractice insurance, payment modeling etc) from a legislative perspective both at Federal and State levels and this is a great way to have your voice and opinion heard channeled through ACP.
Secondly, advancement to Fellowship. I would like to elaborate on why one should even want to be a Fellow of the American College of Physicians: It represents an esteemed achievement for a physician. Fellowship represents commitment to practice of medicine, to ACP and exemplary leadership within your practice silo. A common misconception is that it is reserved for those involved in academic practice but this is not the truth at all. Fellowship is open to all physicians whatever your practice, who exhibit exemplary character and commitment to providing excellent care within their communities. Participation in hospital committees, community activities focused on health care delivery, mentorship of young upcoming health care professionals and active involvement in ACP activities. I would like to encourage you all to shine in your respective practice environments and let ACP honor you with fellowship status but keeping us abreast with your activities to advance the practice of medicine. I think all of us should be fellows by the time we graduate from being ECPs (By definition ECP is a physician who has spent <16 years since medical school graduation).
Third, I would like you to get more active as ECPs in chapter activities, we have numerous councils that need your input, we need judges for our annual meetings, we need mentors for our residents and recent residency graduates. ACP becomes stronger with your involvement. If there is a call for your participation, lead with a Yes and ask questions later.
I pray that this information will encourage you to get active in the Chapter. I look forward to seeing you at the annual scientific meeting.
---
KS ACP Chapter Receives John Tooker Evergreen
The South Dakota, Kansas and Nebraska chapters recently won the John Tooker Evergreen Award for Multi-State Strategic Planning. The John Tooker Evergreen Awards Program provides visibility and recognition to those chapters that have been successful in implementing programs that increase membership, improve communication, increase member involvement, enhance diversity, foster careers in internal medicine, and improve management of the chapter.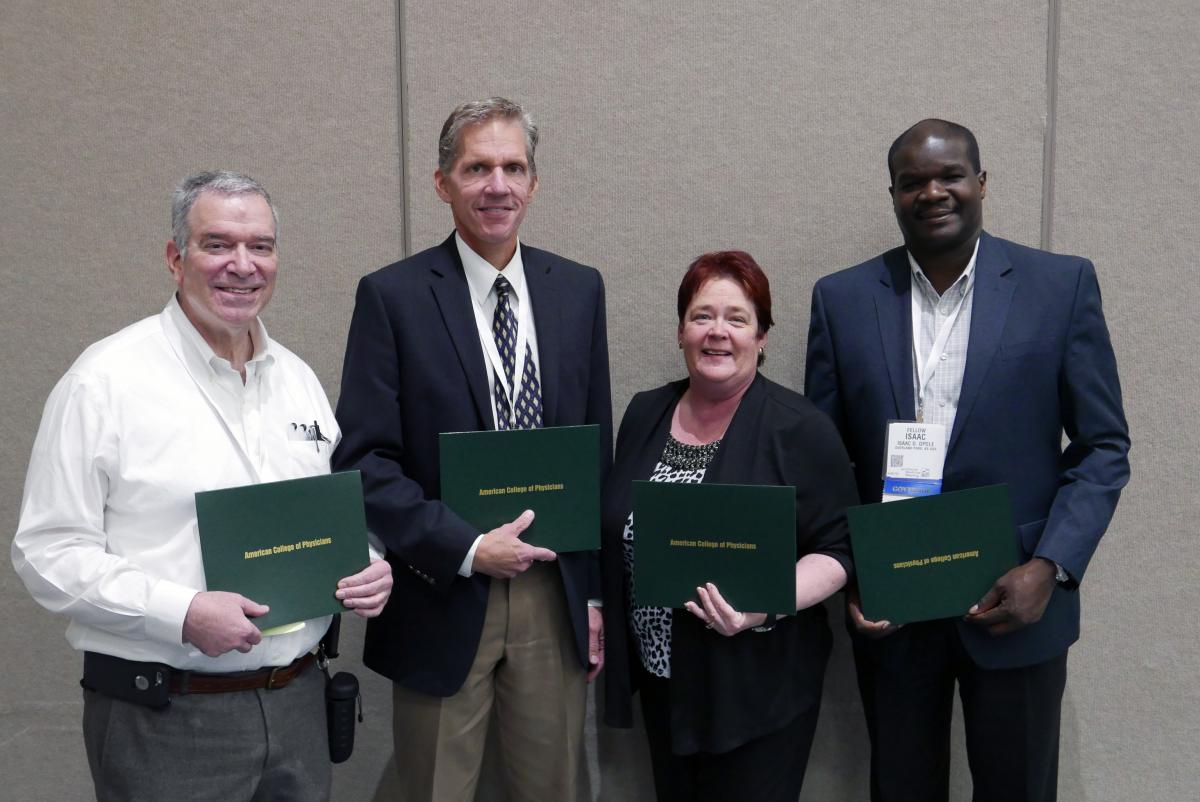 L-R Marvin Bittner, Nebraska Governor; Matt Bien, South Dakota Governor; Kris Rahm, Executive Director; and Isaac Opole, Kansas Governor
---
Health & Public Policy – Ky Stoltzfus, MD FACP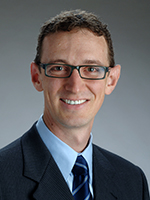 ACP National Leadership Day was May 24 in Washington, D.C. The delegation from the Kansas ACP chapter included Isaac Opole, Ky Stoltzfus and Jesse Richards. We received training on effective advocacy and were briefed on key ACP legislative priorities. We were fortunate to meet with several of our Senators and Representatives from Kansas and with their aides on other occasions. We discussed ACP priorities of maintaining current levels insurance coverage for individuals, maintaining Medicaid funding, lowering costs of prescription drugs, and strengthening TORT reform for medical malpractice. Our discussions were met with mixed responses from legislators but was fruitful in sharing our perspectives as physicians caring for patients. Furthermore, we were able to highlight ACP as a national organization of physicians and enlighten legislators about the important work of primary care and specialty care within Internal Medicine.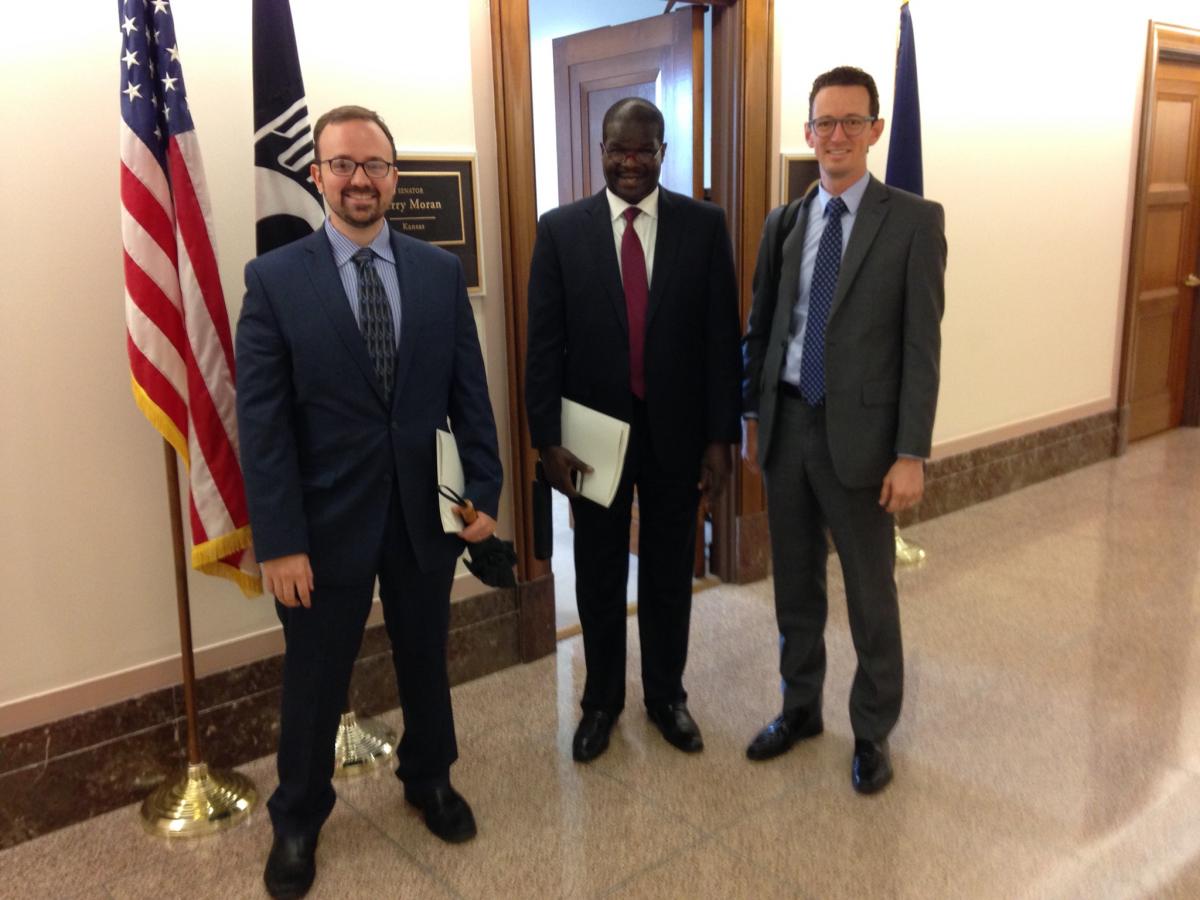 KS Delegation L-R: Jesse Richards; Governor Isaac Opole; and Health and Public Policy Chair Ky Stoltzfus
---
You Can Attend Leadership Day in May 2018
If you are looking for a chance to influence policy and speak directly to our state's senators and representative, then Leadership Day is just for you! There are many benefits to attending this two-day Washington, DC, event:
Updates and orientation on the latest ACP legislative priorities
Training on advocacy skills
Networking with KS colleagues, internists from across the nation, and ACP leadership
Contact Kris Rahm for more information and join us in DC in 2018.
---
But, I'm not Getting any ACP Emails – Kris Rahm
As our fall meeting is fast approaching, I am receiving many phone calls and emails saying "I know our meeting is coming up soon, but I haven't received any information about it". Trust me…regular emails...and reminders…are continually being sent. The most likely reason you aren't seeing them is that you are using a clinic, hospital, or academic email address, and the mass emails are being routed to your spam/junk folders or blocked.
There are two solutions to this dilemma. Approach your organization's IT department and ask them to "white-list" ACP, and/or consider using a personal email address for ACP business. If you choose to change your email, please contact ACP Customer Service at 215-351-2600.
---
Mark Your Calendar
October 11, 2017 (11:30 am) Council Meeting ABODE Venue, Wichita, KS
October 11-13, 2017 Annual Scientific Meeting ABODE Venue, Wichita, KS
April 19-21, 2018 National ACP Meeting New Orleans, LA
October 10-12, 2018 Annual Scientific Meeting TBD
---
New Members
Abdallah Abboud, MD
Ashrita Abraham, MD
Selim Ahmed, MD
Michael Babigumira
Jessica Chia, MD
Daniel J DeJong, MD
Ajoy Lawrence V Dias, MD
Anthony Dominick, DO
Jessica D Eilert, MD
Peter Giangreco, DO
Yonatan Gizaw, MD
Michael S Green, MD
Tamayo S. Jacobs, MD
Kavita K Jadhav, MD
Joseph A Julian, MD
Salam Ajwad Kadhem, MD
Gilbert C Kisang, MD
Anjushree Kumar, MD
Alisa Likhitsup, MD
William T Love, MD
Julian Magadan, MD
Jennifer McRae, MD
Swathi Paleti, MBBS
Sahil M Pandya, MD
Jonathan D Pankow, MD
Asad Pervez, MBBS
Johanna S Peterson, MD
Patrick Ennius Prath, MD
Abdulraheem Qasem, MD
Sabina Safder, MD
Tiffany E Schwasinger-Schmidt, PhD
Akshit Sharma, MD
Preeti Singh, MD
Molly Van Petten, MD
Tiffany Ann Vetter, MD
Quinn Nathaniel Willet, MD
Derek A Young, MD
---
New Fellows
Haseeb A Ahmed, DO, FACP
Rita Hyde, MD, FACP
David G Naylor, MD, FACP
Sunitha G Rao, MD, FACP
Gillian E Schmidt, MD, FACP