You are here
Governor's Newsletter February 2016
Governor's Newsletter February 2016

---
---
From the Governor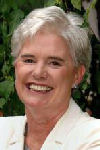 Susan K. Pingleton, MD, FACP, FCCP
Dear ACP member,
I would like to update you on several things. First, the Advocacy Day in Topeka, January 27th. Dr. Isaac Opole, Brad Marples and I attended the Advocacy Day organized by the Kansas Chapter of the American Academy of Family Physicians. Also participating were representatives from the Kansas Chapter of Emergency Room Physicians and the Kansas Chapter of the American College of Surgeons. This is the second year that ACP has participated. It was a very good meeting; the topics covered were Advocacy Briefings from the Kansas Hospital Association, Kansas Medical Society and the AAFP Medical Director for Quality Improvement.
Tom Bell, CEO of the Kansas Hospital Association briefed the group on current topics being considered in the Kansas Legislature. He focused on Kan-Care Expansion (Ie Kansas Medicaid) proposals. Currently approximately 150,000 Kansans are too poor for Medicaid and "too rich" for enrolling in the ACA. Utilizing consultant data from two different organizations, he shared statistics demonstrating the economic impact of expansion including increased jobs as well as net savings to the State. He also discussed the impact of expansion on small rural hospitals. Additionally he supplied data showing that 62 % of Kansans supported expansion. However he also discussed the significant hurdles and obstacles in the current legislature. If you have further questions please contact Mr. Bell.
Jerry Slaughter, CEO of KMS, discussed current proposals for nursing scope of practice regarding nurse midwives in the Kansas Legislature (for a complete list of legislation).
Proposals based in large part on the Consensus Model of Nursing suggest nurse midwives are educationally prepared to serve in a physician's role for uncomplicated pregnancies, including pre and post-delivery care. While this is not an issue impacting on Internists in the State, it does emphasize the continuing issue of nursing scope of practice. If you have questions you can contact Mr. Slaughter.
Sue Pingleton, MD, FACP 913-424-2595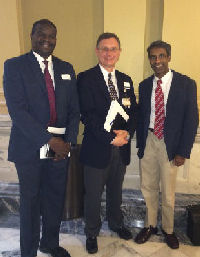 Topeka Advocacy Day – (L-R: Isaac Opole, Bradley Marples and Joshua Hanen)
---
From the Governor-Elect


Isaac Opole, MD, PhD, FACP
Happy New Year to all our members! A new year always gives us an opportunity to reflect on our past performance while evaluating and planning for the challenges coming in the year ahead. While our chapter is quite strong, there are opportunities to improve on our strengths, and we also recognize challenges that we may face and, indeed, overcome in the near future.
One challenge facing us as a chapter is how to grow and maintain our membership. Our membership committee has been working tirelessly to evaluate the status of our current members while identifying barriers that prevent practicing internists around the state from joining the chapter. While we plan to reach out to as many potential members as possible, our greatest strength and resource is still our active members, who are and will continue to reach out to friends and colleagues in their practice region to create a sense of collegiality and community.
On a national front, a perpetual challenge will continue to be healthcare cost and access, issues that have been accentuated in Kansas due to a limited physician work force and policy decisions around the Affordable Care Act. Ballooning drug prices, which have also come under the national spotlight with the "hedge fund-ization" of healthcare products and services, adds to the challenge of caring for our vulnerable populations. Our chapter needs to be a strong voice in conversations around these topics, both at a state and national level, and a robust and engaged membership remains essential.
We recently participated in the annual advocacy day in Topeka, where we again met with our legislators as they began their legislative calendar. In the spring, we will be at the National ACP advocacy day in Washington, DC. Advocacy is a strong priority for the college, and every member is urged to participate, either directly in person, or indirectly by supporting college and chapter initiatives. This year's advocacy day will, fortunately, coincide with the college annual meeting, which will make it easier for members to attend.
I am proud and grateful for the support of our members, and hope to see everyone at the spring meeting in Washington, DC. I wish everyone a prosperous new year.
Isaac Opole, MD, PhD, FACP
(913) 706-8105
---
Kansas Scientific Meeting
Our 2016 planning committee has begun working to provide a quality CME annual meeting this year. New in 2016, our entire meeting can now be used as MOC points for recertification. A detailed brochure will be on our chapter website after May 1st.
---
Early Career Physicians
2015 was a year that brought a lot of change to physicians across the nation. ICD 10 conversion, Meaningful Use, physician quality reporting system requirements, among others, were some of the changes that physician have had to deal with. 2016 brings the same type of changes. It is critical to keep track of all the requirements and deadlines. However, whether running a practice or on the wards, keeping up with the various mandates can be challenging. ACP can help by sending text message reminders about important issues or as certain deadlines are approaching. Signing up is easy. It is an automated system and all you have to do is send the text message "Acptimeline" (one word) to "313131". This will keep you up-to-date with the different reporting dates or links to specific sites that can provide helpful information.
---
Leadership Day - May 3-4, 2016 – Washington, DC
This year we look forward to the annual Leadership Day in Washington DC - May 3-4, 2016., which bookends the 2016 Annual ACP meeting May 5-7, 2016. This has been a great event and everyone is encouraged to consider attending. If interested, please email Kris Rahm so she can add you to the congressional appointment list.
---
Congratulations to Kansas' Newest Masters

Donald W. Hatton, MD MACP, graduated from Kansas University Medical School in 1968. He interned in the Navy and was a General Medical Officer in the Navy until returning to Kansas University Medical Center to complete an internal medicine residency in 1974, serving as the Chief Medical Resident under Norton Greenberger, MD, MACP for the last year of training. Since completing residency, Dr. Hatton has practiced general internal medicine in Lawrence, Kansas, with the Reed Medical Group. He has been involved with the American College Of Physicians since residency. In 1998 he was the Kansas Chapter Laureate. Dr. Hatton became the Governor of the Kansas Chapter in 2004. He held many offices in the College culminating as a Regent from 2010 to 2012. During his term in office he was the chair of the Medical Practice and Quality committee. His greatest interest in serving the College was to promote the role of the Primary Care Internist. He remains in practice at the present time in the primary care practice he joined 42 years ago. Dr. Hatton and his wife, Carol, have three sons, Donald, Jr., married to Stacey, Todd married to Shelly, Chris married to Pamela and five grandchildren, Will, Libby, Hannah, Chloe and Evie.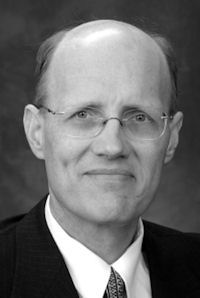 Garold O. Minns, MD MACP, is currently Dean for the KU School of Medicine-Wichita, and Professor of Medicine, Department of Internal Medicine. His current administrative appointments also include Associate Dean for Academic and Student Affairs. Upon receiving his medical degree from the University of Kansas School of Medicine, Dr. Minns completed his postgraduate residency at KU in Internal Medicine. He then completed a fellowship in Infectious Diseases through KU and affiliated hospitals. He is board certified in Internal Medicine and Infectious Disease. He is a Health Officer and Medical Director for the Wichita Sedgwick County Tuberculosis Clinic. Dr. Minns has multiple roles in student and resident medical education. He is a member of the Education Council, Faculty Council, VA Deans committee, MPA Board of Directors, Board Member of the Kansas State Board of Healing Arts, and numerous other committees.
---
Kansas Achieves Chapter Excellence Award
I am pleased to announce that our chapter has received the 2015 Chapter Excellence Award! In order to achieve the Chapter Excellence Award, chapters must meet all basic criteria and seven optional criteria. Criteria include activities such as formulating an effective Governor's Council and committees, communicating frequently with membership, providing educational opportunities, recruiting and advancing members and celebrating membership through local awards. I would like to extend a special thanks to those chapter members who assisted in all of these endeavors! We received this award through your hard work and dedication.
Susan K. Pingleton, MD FACP
Governor
---
Congratulations to our 2015 Annual Award Recipients
Chapter Centennial Legacy Award – Mahlon H. Delp, MD, MACP
Laureate – Jon Schrage, MD, FACP
Early Career Physician of the Year – Melissa Gaines, MD, FACP
Mahlon H. Delp Residents of the Year – Jennifer McRae, MD and Ahmad Rahal, MD
---
Watch, Learn, and Land the Job!
ACP now offers members more assistance in preparing for their job search. Preparing for a job interview can be stressful. There are many factors to consider when making the best possible first impression with a potential employer. Our 20 short CareerSpot videos have you covered whether you need advice in email etiquette, how to prepare for an interview, how to dress, or how to negotiate a fitting salary.
---
Other ACP Resources
Free Access to DynaMed Plus™ for ACP Members
New Online Opioid Education Modules, Video Now Available
---
Kansas ACP 2016 Calendar of Events
Board of Governors
May 2-4
Washington, DC
Leadership Day
May 3-4
Washington, DC
Internal Medicine Meeting 2016
May 5-7
Washington, DC
SD, IA, NE & KS Combined Chapter Reception (Brochure PDF)
May 6
Washington, DC
---
Congratulations to our New Fellows!
Congratulations to the new Fellows in our chapter!
Manuel L. Caga-Anan, MD, FACP
Kevin A. Heath, MD, FACP
Bradley W. Marples, MD, FACP
If you are interested in Fellowship, please contact the Governor or review the various pathways to Fellowship online.
---
Welcome New Members!
These new Members were elected to ACP Membership within the last six months:
Samuel Kilaho Akidiva, MD
Michael Albrecht, MD
Ashraf Alhafez, MD
John A. Bonino, MD
Adnan Z. Choudhury, MD
Stephen M. Hinkin, MD
Prashanth S. Katrapati, MD
Basit A. Malik, MBBS
Thomas B. Thieman, MD
Jorge A. Valdivia, MD
Angela Williams, MD
---
Chapter Contacts
Sue Pingleton, MD, FACP
ACP Governor, Kansas Chapter
Kris Rahm
Executive Director
4904 S. Sweetbriar Drive
Sioux Falls SD 57108
605-339-9804 - office
605-321-1466 - cell
605-271-9227 - fax
Email: krisrahm@me.com
Laurie Braun
Chapter Administrative Assistant
605-331-6995
E-mail: lauriejbraun@me.com