You are here
From the Governor
From the Governor

---
---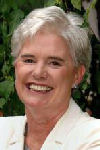 Susan K. Pingleton, MD, FACP, FCCP
Dear Colleagues,
The Chapter is continuing to grow, participate and make progress for our members, you! Information from the national office shows over all chapter growth of 3.26%. We are very pleased about this, as the growth has largely been in students and residents, our upcoming members of the future. In the next year we will be seeking to also continue to demonstrate value to all our members, especially our practicing physicians. Dr. Ky Stoltzfus has agreed to Chair our membership committee. You will likely hear from him in the future about our efforts in this regard.
One of my goals as Governor has been to demonstrate to you the value of the American College of Physicians. There is not better example of this value than our national advocacy work. To that end a group of us attended the ACP National Leadership Day in May in DC. Drs. Donna Sweet, Isaac Opole, Brad Marples and myself attended the meeting. We then met with the staff of various Kansas representatives and senators. Please see Brad's article later in this publication.
As you know the ACP has been unrelenting in support of repealing the SGR (Sustainable Growth Rate), something that has affected all of us. That was finally accomplished when President Obama signed the MACRA (Medicare Access and CHIP Reauthorization Act) on April 16. Repeal of the SGR is an excellent example of the value of the American College of Physicians! No other physicians' organization was as instrumental in this repeal as the ACP. Physician members of the ACP have carried this message to Congress of years, finally with success.
However other work remains. ACP members were detailed and then asked to inform their congressional representatives on the need for Congress to continue the Medicare Primary Care Incentive Payment Program, the restore Medicare Medicaid pay parity and to strategically increase funding for GME (graduate medical education). If you are interested in more detail, I would refer you to Sr. Vice President Bob Doherty's article in the ACP Internist.
Much effort and many plans are being made for our Chapter Annual meeting to being held October 14-16 in Wichita. Another goal of mine has been to grow this meeting for our members as well as support our resident trainees. Our Program Chair, Melissa Gaines, MD has put together an interesting 2-½ day program (see details later in this newsletter).
---
From the Governor-Elect

Isaac O. Opole, MD FACP
It is amazing how time flies! It has been a year since my confirmation as Governor-elect Designee, and the learning curve has been quite steep. Fortunately, I have had a superb Mentor and friend who has provided me ample opportunity early in the process to learn as much as I can about the chapter. This winter and spring, Sue and I both attended the legislative days in Topeka and in Washington DC, and it was eye opening to see the amount of effort that our colleagues have put into pushing for a wholesome healthcare legislative agenda. We traveled to Washington DC just after passage of H.R. 2 (better known as the "Doc Fix") and it was really exciting to see what a concerted, relentless and focused advocacy can achieve. H.R. 2 has been one of the few bipartisan legislative accomplishments of this congress, and it is without question a stunning achievement for physicians as a whole, but particularly for the American College of Physicians, the largest physician representative body in the country.
Passage of H.R.2 is instructive of what we can achieve with strong leadership and representation, collaboration and cooperation across disciplines in medicine, as well as cooperation with other branches and industry. Other challenges exist, particularly in our state, with regards to service provision for underserved, rural and critical access hospitals. We plan to continue our cooperation with our colleagues in Family Medicine, Surgery and Emergency Medicine to push for a statewide solution to the coverage gap. We also hope to learn from our colleagues in other chapters, and just completed a joint two-day strategic planning session with our colleagues from Nebraska and South Dakota. Our greatest challenge will be to provide greater value to our membership while maintaining a tempo of both local and regional representation on behalf of our members and our patients. I look forward to taking up the challenge and carrying on the Torch for our chapter.
---
Health & Public Policy Update
ACP Leadership Day was May 20 and 21 in Washington DC. 287 physicians and medical students from across the country came to learn about advocacy issues and meet with their members of congress. Kansas was represented by Sue Pingleton, MD, FACP, KS ACP Governor, Isaac Opole MD, PhD, FACP, KS ACP Governor elect, Donna Sweet, MD, MACP, former Governor for KS and former Regent of the College and Brad Marples, MD, Chairman of the Health and Public Policy Committee.
We met with the legislative staff members who were responsible for health care in all the Kansas Congressional delegation offices. We thanked the members of Congress for their support in repealing the SGR (except for Rep Huelskamp). Topics discussed with the offices included Medicare Primary Care Incentive Program (10% primary care incentive set to expire at the end of this year), Medicaid Primary Care Pay Parity (which has expired and we pushed HR 2253 and S 737 to ensure Medicaid primary care payments would be equal to Medicare), Graduate Medical Education Funding and funding for Vital Federal Healthcare programs.
Bradley Marples, Chair HPPC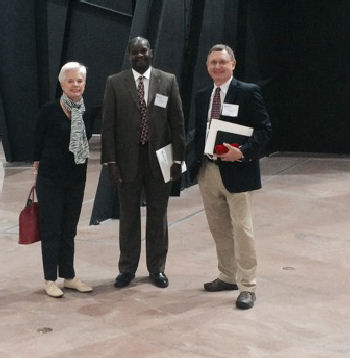 Leadership Day 2015
---
Retain and Recruit
We would like to increase our membership numbers for Kansas ACP. Do you know of an internist in your community who is not currently a member but might consider joining ACP? If so, please talk to her/him about the benefits of ACP membership including MOC help, advocacy regarding physician reimbursement and practice issues, CME opportunities, etc. Each new member recruited will have his/her Kansas Chapter meeting fee waived this year. Under the "Recruit-a-Colleague Program" you will receive a $100 credit toward your 2015-16 annual dues when you recruit a member by March 15, 2015. This also translates to more funds for the chapter to host a high quality chapter meeting each year and continue the work of ACP. You can find more information here.
New members can join online or by calling ACP at 800-523-1546. Your name must be included as the "recruiter" on the registration in order to receive credit.
Ky Stoltzfus, Chair Membership Committee
---
Early Career Physician Council Update
There are less than three months remaining until the transition from ICD-9 to ICD-10 coding for medical diagnoses and inpatient hospital procedures. The Centers for Medicare & Medicaid Services (CMS) (along with the American Medical Association (AMA)), announced efforts to help physicians get ready ahead of the October 1 deadline. CMS is released additional guidance that allows for flexibility in the claims auditing and quality reporting process.
The additional guidance (link) details that "for 12 months after ICD-10 implementation, Medicare review contractors will not deny physician or other practitioner claims billed under the Part B physician fee schedule ... based solely on the specificity of the ICD-10 diagnosis code as long as the physician/practitioner used a valid code from the right family." This 1-year grace period also will apply to codes submitted in connection with the Meaningful Use program as well as quality reporting programs like the Physician Quality Reporting System.
The guidance also said that if there are problems submitting ICD-10 codes, CMS may in some cases authorize advance payments to physicians.
The American College of Physicians (ACP) said in a press release from its Washington office, among other things, "ACP appreciates that CMS has directed the Medicare Administrative Contractors and Recovery Audit Contractors not to reject or deny claims based solely on an error due to the lack of accuracy or specificity within the appropriate code family during this transition."
CMS detailed its operating plans for the ICD-10 implementation. These include setting up an ICD-10 communications and coordination center, learning from best practices of other large technology implementations that will be in place to identify and resolve issues arising from the ICD-10 transition.
It's important to note that, in accordance with the coming transition, the Medicare claims processing systems will not have the capability to accept ICD-9 codes for dates of services after September 30, 2015, nor will they be able to accept claims for both ICD-9 and ICD-10 codes.
CMS will name a CMS ICD-10 Ombudsman to triage and answer questions about the submission of claims. The ICD-10 Ombudsman will be located at CMS's ICD-10 Coordination Center.
CMS' free help includes the "Road to 10" website, aimed specifically at smaller physician practices with primers for clinical documentation, clinical scenarios, and other specialty-specific resources to help with implementation.
ACP offers many resources on its ACPonline website. The resources are extensive and geared towards internists. They are valuable benefits to every ACP member.
Sam Antonios, MD FACP, Chair, Early Career Physicians
---
Annual Scientific Meeting - October 14-16, 2015 - Wichita, KS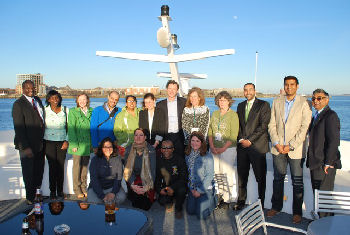 Boston 2015 Reception
It's that time of year again…..time to start planning to attend the Kansas ACP Scientific Meeting. I want to personally invite you to attend. This year our meeting will be October 14-16 in Wichita.
Meeting highlights include:
ABIM MOC module on Infectious Diseases.
ACP Regent Molly Cooke gives a college update and speaks on "Current Controversies in Internal Medicine 2015".
Mahlon H. Delp Lecturer Theodore V. Parran, Jr. presents "Prudent Prescribing of Long-Term Controlled Drugs" and "How to Say No and Still Maintain Strong Patient Satisfaction Ratings".
ACP Sr. Vice President Bob Doherty speaks on what's new in advocacy.
Other topics include Getting to the Point of Adult Vaccines, Non-Invasive Methods for Staging Liver Fibrosis Endoscopic Ultrasound in Pancreatic Cancer, Patient Centered Medical Home, Don't Let Anchoring Sink Your Diagnosis, and New Type II Diabetes Drugs, and many more opportunities to network and share ideas.
Meeting details can be found in our brochure.
A direct link to the registration site
I look forward to seeing each of you in Wichita! Melissa Gaines, MD FACP, Chair 2015 Program Committee