You are here
Doctor's Dilemma Coming to Our Chapter!
Doctor's Dilemma Coming to Our Chapter!
If you attended the Annual Meeting of the ACP in Philadelphia this year, I hope you attended the Doctor's Dilemma®. If you didn't, I hope you'll attend in the future – it's a great opportunity to enjoy a rousing academic competition among resident teams from all over the country and from other parts of the world. If you've ever watched Jeopardy, you'll recognize the format; resident teams of three from different institutions have the opportunity to answer a series of medical questions, often quite challenging, grouped according to category. Teams are awarded points for a correct answer, assuming they hit the buzzer first – and lose points if they answer incorrectly. Add a moderator who is enthusiastic and humorous, and you have an entertaining and educational activity that is first rate and well worth your time.
Every team that competed was comprised of residents from residency programs across the country, as well as teams from other countries with an ACP chapter. The teams that competed in Philadelphia had all won state or regional competitions against their peers. Representing the Iowa Chapter this year (our first time competing in the Doctor's Dilemma®) was a team of academic all-stars from the University of Iowa residency program. The team included Jeremy Steinman, Chris Koehn, and Andrei Schwartz (shown below).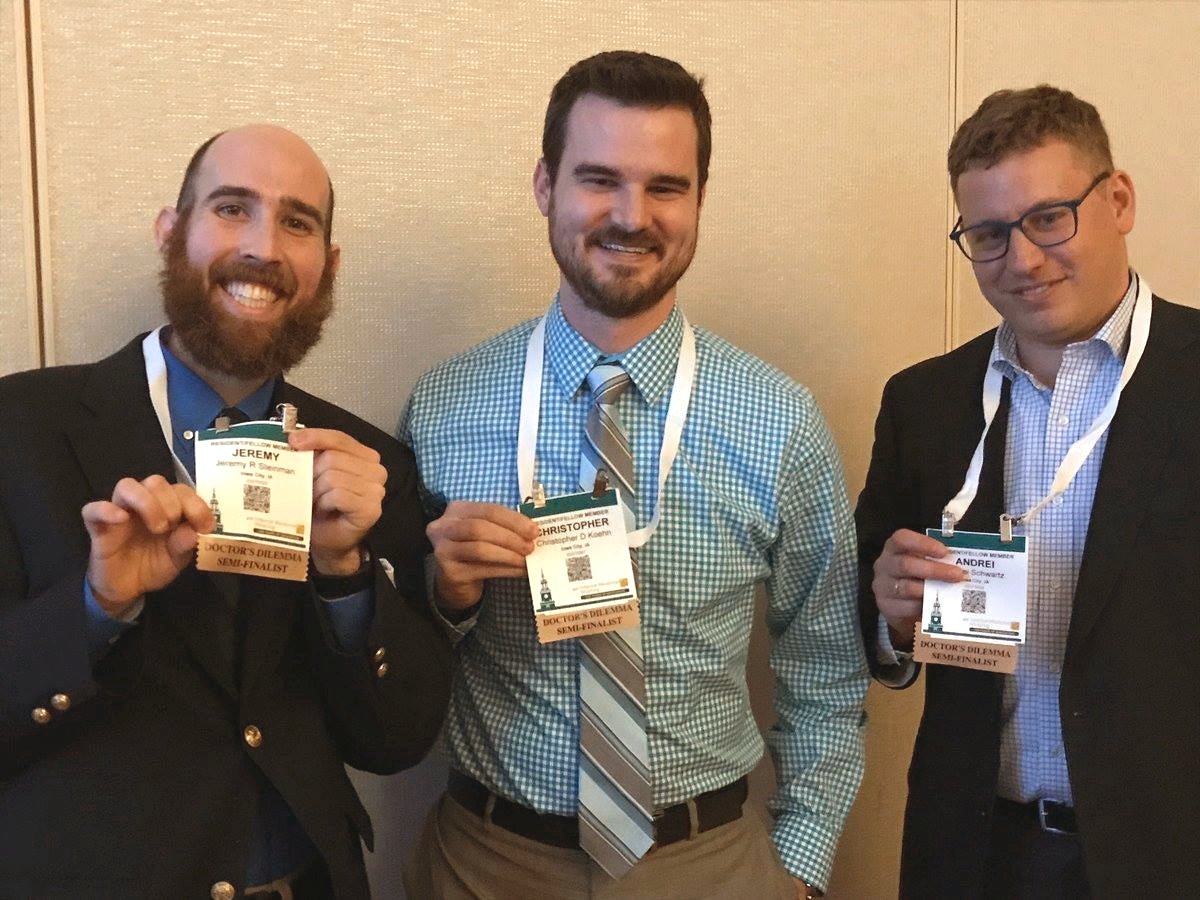 The Iowa team did very well. They dominated the first round, and emerged in first place among five excellent teams. They advanced to the semifinals, where they finished third in their group of five semifinalists – a very creditable top ten finish! Congratulations to an excellent team!
The Chapter has decided to purchase gaming systems identical to those used by the ACP at the annual competition for each residency program. This kind of educational activity is an excellent way to teach the facts that form the bedrock of our discipline, and will also afford ample opportunities for practice for next year's Doctor's Dilemma®! You'll be able to see the state competition among our four residency programs if you attend the Progress meeting in Iowa City in late September. We hope to see you there!
William J. Yost, MD, FACP
Governor, ACP Iowa Chapter