You are here
Governor's Column July 2015
Governor's Column July 2015

| | |
| --- | --- |
| July 2015 | Scott Vogelgesang, MD, FACP, ACP Governor |
---
---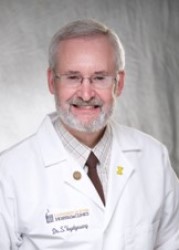 The Iowa chapter is pleased to say a big "thank you" to Mark Purtle for his leadership as the Iowa Governor. He has been a strong advocate for not only the ACP and internists in general but has embodied the excellence of Iowa health care. I hope to continue to tap into Mark's experience over the next 4 years.
---
ACP Internal Medicine
The national meeting continued the tradition of excellence in Internal Medicine continuing medical education but we celebrated with Steve Craig when he was recognized as a new Master of the ACP. The Iowa Chapter was proud of 3 residents (Chad Ward, Maria Story and Snigdha Jain) who presented posters (pictures attached). We also celebrated the graduation/convocation of 15 new fellows with 6 going through the convocation ceremony (picture). The Iowa Chapter shared a reception with Nebraska, Missouri, Kansas, and South Dakota which took place on Boston Harbor. Although it was a little chilly on the water, the conversation and camaraderie was warm as we got to reacquaint ourselves with old friends and meet new ones. Some of the big news discussed at the meeting was the repeal of SGR and the MACRA legislation (an editorial from Annals by Bob Doherty is below.
Photo Gallery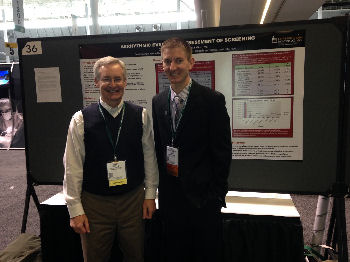 Chad Ward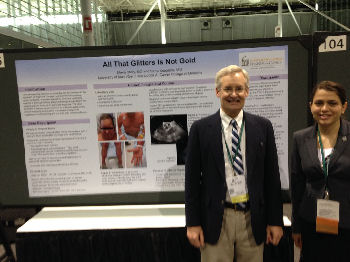 Maria Story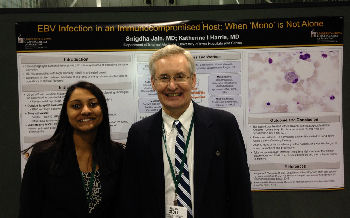 Snigdha Jain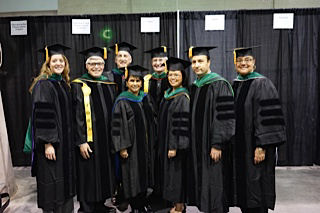 New Fellows at Convocation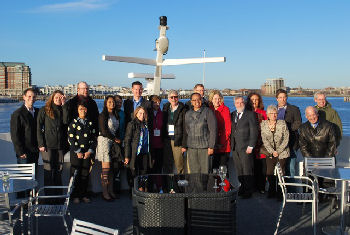 Group photo from Yacht Cruise Joint Reception in Boston
********************************************************************************
Here is the link to an editorial from Annals by Bob Doherty Repeal of SGR and the MACRA legislation
---
Special Interest Groups
ACP's Special Interest Groups provide members with opportunities to engage in discussions online, share ideas, and support one another professionally and personally.
Participate by joining as many groups as you would like, then connect with ACP members from all over the world with similar interests. Groups include:
ACOs/New Practice Models | African American Members | Caring for Adults with Developmental Disability | Clinical Problem-Solving | Clinical Research | Emerging Technologies | Genetics and Genomic Medicine | High Value Care | Hospital Medicine | LGBT Health | Maintenance of Certification | Medical Students | MKSAP | Obesity Medicine | Perioperative Medicine | Physician Educators | Point-of-Care Ultrasound | Re-entry Physicians | Sex- and Gender-Specific Medicine | Small Practices | Volunteerism | Women in Medicine | Work/Life Balance | Working Abroad
Interested in a topic not listed? Contact ACP to ask about forming a new group.
---
Annual Scientific and Business Meeting Update
One important issue that is continuing to evolve is the effort to move the annual Iowa Chapter Business and Scientific Meeting from the spring to the fall. This move was proposed by the council in the fall of 2014, discussed again and received majority support at the business meeting in the spring of 2015. The proposal includes having one combined scientific/CME meeting for the Iowa ACP, the society of hospital medicine Iowa chapter and the CCOM's annual Progress (in Internal Medicine) meeting. The council believes this will be a great opportunity to bring these groups together in one setting while recognizing the challenge of maintaining each group's individual identity. One major advantage to a combined meeting is more learning opportunities. If successful (as we anticipate), this meeting can become the "flagship" of statewide CME meetings and we will have the opportunity to encourage medical student, resident and fellow participation (and participation in the organizations influencing and shaping the future of medicine). We anticipate the same (or similar) awards reception during one of the evenings in addition to an ACP business lunch meeting during the meeting. There are other opportunities: If we move the ACP clinical vignette competition to coincide with the Fall Scientific and business meeting, the chapter can send a clinical vignette winner to the national competition (something we've not been able to do in the past). A fall chapter/scientific meeting will conflict less with the national ACP meeting for those who want to attend both. The council and I are very excited about this possibility but recognize that this is "different" and may have unique challenges. Several of our colleagues have been concerned about having a meeting in the Iowa City area during football season with particular concern about hotel room availability. The Progress organizers have recognized this and because the meeting takes place Thursday and Friday, hotel rooms are available. Those who want to stay in town for the football game (or just to soak in the excitement of a home football game) can do so with a little advance planning.
An additional change is that the combined CME meeting will take place without pharmaceutical industry support. The Progress organizers have successfully done this for the past several years. We will plan to have an ACP booth/table at the fall 2015 Progress meeting and will put together a smaller Chapter/scientific meeting in the spring of 2016. The details of such a smaller Chapter/scientific meeting are still not yet clear and the council would appreciate any input.
I am very excited about what this change can bring to the Iowa ACP chapter but recognize that it is unlikely it will be perfect on the first attempt. I welcome any suggestions you have as we move ahead with the planning and ask you to help the council evaluate this change each year over the next 2-3 years. We will have a good sense of the success of the meeting by then.
---
ACP Leadership Day Summary
Craig Schuring, DO, Jon Van Der Veer, DO and Peter Reiter, MD, FACP attended ACP Leadership Day May 20-21 in Washington, DC (pictures attached). The first day was spent in training on advocacy techniques and briefings on current ACP policy priorities by ACP staff, policy experts and congressional staff. Based on these priorities, our delegation met with representatives of all four congressional offices as well as with both Senator's offices. We were fortunate to be able to meet with Rep. David Young and Sen. Joni Ernst as well as with health policy staff in each office. We were able to extend our thanks to Reps. Loebsack, Young, Sen. Ernst and Sen. Grassley for their votes to repeal the Medicare SGR formula in the Medicare Access and CHIP Reauthorization Act of 2015 (MACRA). This will transition Medicare payments with stable updates to new payment models over the next several years as well as combine all the quality reporting incentives into a single system. ACP has lobbied on this issue for over a decade.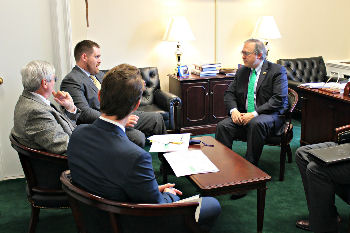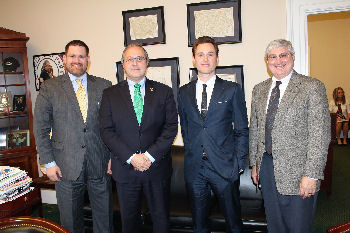 Our advocacy this year was in 2 major areas. The first was to request support for legislation to increase the number and funding of primary care residency slots, including internal medicine. Bills currently in Congress are the Resident Physician Shortage Reduction Act (S.1148 and H.R. 2124), and the Creating Access to Residency Education (CARE) Act (H.R. 1117).
The other major area was to encourage support legislation to extend the Medicare Primary Care Incentive program which is due to sunset on 1/1/16 and to reinstate the Medicaid Primary Care Parity (setting reimbursement for Medicaid at Medicare rates) that sunsetted at the end of 2014. Details about these ACP positions can be found in the Advocacy section of the ACP website.
There seemed to be limited interest in Congress to address any physician payment issues now that the SGR fix has been passed. We were more successful in getting commitment from the various offices to study and consider support increasing GME funding.
Each of us was able to bring a different perspective to the discussions and this seemed to be effective in our conversations with congressional staff. We were able to begin a relationship with three new groups of congressional staff, and these relationships often outlast any given policy debate. We believe this was a valuable effort and appreciate the support of the Iowa Chapter.
Peter J. Reiter, MD, FACP
Chair, Health and Public Policy Committee