You are here
Governor's Column July 2012
Governor's Column July 2012

| | |
| --- | --- |
| July 2012 | Mark W. Purtle, MD, FACP, ACP Governor |
---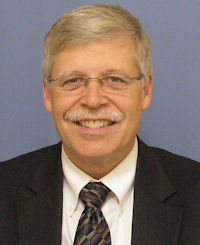 The Iowa Chapter of ACP held the annual Scientific Meeting March 30-31 in Iowa City. One hundred and thirty nine (139) were in attendance including 32 Residents and 27 Students.
This year's program featured new concurrent workshops in areas such as chronic pain management, joint injections, ultrasound for common bedside procedures and end of life care. Other topic areas included CXR interpretation, critical thinking, updates in rheumatology, type 2 diabetes, anticoagulation, hepatitis C and perennial favorites: "Stump the Professor", Associate Clinical Vignette Competition and SEP Modules.
Over one hundred members attended the Friday evening reception providing an opportunity to visit with our colleagues as well as present awards to our distinguished members. Congratulations to our 2012 Laureate Award winners Dr. Dan Allen, Des Moines and Dr. Doug Hornick, Iowa City and to Dr. Janet Schlechte, Iowa City as the ACP Excellence Award winner. These awards honor our Iowa ACP Chapter members who exemplify the ideals of ACP, their accomplishments and dedication to Internal Medicine and the patients and communities they serve.
The national meeting was held in New Orleans this year. As always, the content had something for everyone and touched on the most relevant issues and topics facing Internists in 2012. We congratulate the five Iowa ACP members who were inducted as Fellows at the Convocation Ceremony. Russell Adams, MD, FACP, Waterloo, Erin Ann C. Baldos, MD, FACP, West Des Moines, Melinda J. Johnson, MD, FACP, Iowa City, Ahmed F. Okba, MD, FACP, Le Claire, and Adi Puplampu, MD, FACP, Clinton.
On June 5-6, a five member delegation traveled to Washington, DC for the annual Leadership Day on Capitol Hill. The delegation consisted of Steve Joyce, MD, Sioux City, Jon Van Der Veer, DO, Des Moines, Robert Weiss, MD, Muscatine, Sadia Ashraf-Benson, DO, Marshalltown, and Brian Freeman, MD, Des Moines.
Key legislative issues the delegation brought to our congressman include:
Finally, you may be interested in these facts about the Iowa Chapter:
There are 1490 Internists1 in Iowa. 25% are female.
694 Internists (47%) are ACP members (Master, Fellows, Members, Associates). 26% are female
That ranks us 6 (1st = highest penetration) among all regions.
41% of the general internist in Iowa are members who are working in medicine
and not in a training program3. That ranks you 15 among all regions.
We have 32% of the internal medicine subspecialists3 in Iowa.
That ranks us 16 among all regions.
There are 101 IM Positions in Iowa (Categorical slots only).
We have captured 80% of the residents4 in Iowa. That ranks you 9 among all regions.
We have 1 training programs with greater than 75% of residents who are associates.
There are 1465 medical students in Iowa of which 28% are student members (25th ranking)
There are 7 Masters and 191 Fellows in Iowa
---
Iowa Chapter Scientific Meeting Report
The 2012 Chapter meeting was a great success. In addition to the informative clinical and scientific talks and dynamic hands-on features, there was time for some social interaction as well. The CYP social in particular had a good turnout and was a family-friendly event.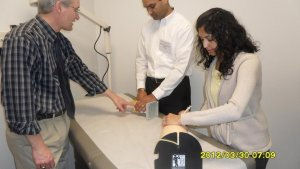 Scott Vogelgesang, MD, FACP, Professor, Clincal Medicine, Department of IM, Carver College of Medicine, The University of Iowa, demonstrating knee injections.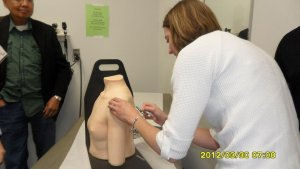 Jill Powers, DO (IM Dubuque) practices injecting a shoulder. Session given by Christopher Goerdt, MD, MPH, Clinical Medicine, Department of IM, Carver College of Medicine, The University of Iowa.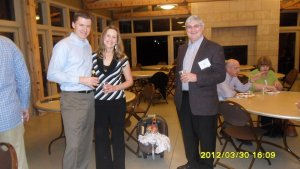 Peter Reiter, MD, FACP (IM Ottumwa) having a conversation with Brian Freeman, MD (Hem/Onc Des Moines) and his wife at the CYP Social.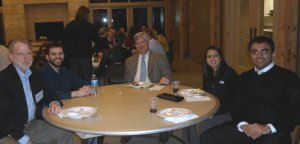 Richard LeBlond MD, MACP, Professor, Department of IM, Carver College of Medicine, The University of Iowa and Bob Doherty, Senior Vice President, Governmental Affairs & Public Policy, ACP, Washington DC are enjoying a conversation with medical student at the CYP social.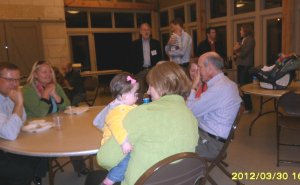 Jay Rosenberger, DO (IM Des Moines) and his wife with Hendrik Schultz, MD, FACP and his wife enoying a conversation. In the background are IM residents from Des Moines with clinical professors.
---
Internal Medicine-2012 New Orleans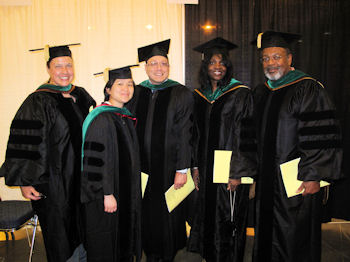 Drs. Melinda Johnson, Erin Baldos, Russell Adams, Ahmed Okba, Adi Pulampu
---
Leadership Day Report
Steven Joyce, MD
ACP Leadership Day occurred June 6-7 and our Iowa representatives were Steven Joyce, Robert Weis, Brian Freeman, Sadia Benson, and Jon Van Der Veer. The first day, as usual, consisted of information sharing and educating those of us preparing to go to Capitol Hill to share ACP's views on specific healthcare issues. Congressional leaders had many other items on their minds, such as the budget, upcoming elections, and the impending Supreme Court ruling on the constitutionality of the Affordable Care Act. Nevertheless, our message was heard. We met with each senator, representative, or their healthcare staffer from our state. The ACP recommended against discussion of the ACA as the Supreme Court had yet to rule on its constitutionality. Discussion at the time would have been premature without knowledge of this ruling. Specific discussion points, therefore, focused on the following:
Elimination of the Sustainable Growth Rate (SGR) and transition to better payment systems. The ACP recommends congress work in a bipartisan manner to enact the Medicare Physician Payment Innovation Act (H.R. 5707), which was introduced last month by Representatives Allyson Schwartz (D-PA) and Joe Heck (R-NV). This bill would eliminate the SGR permanently and provide more than 5 years of stable physician payments as processes are established to transition to new, more effective payment models.
Ensure full funding for essential health programs which are at risk with the across-the-board sequestration cuts scheduled for January, 2013. Such programs at risk are the National health Service Corps, NIH, CDC, and several others.
Begin discussions to enact meaningful medical liability reforms, utilizing pilots on Health Courts and capping awards on non-economic damages in medical malpractice cases.
Fully funding GME, with realignment of the program with the nation's workforce needs. Novel payment ideas may include funding of GME through payments from the private sector.
Our congressional leaders did listen to our messages. Though not all agreed with how these goals are accomplished, I believe there was unanimity that these goals need to be reached. Of course, budgetary constraints will play a large role in the delivery. I urge us all to continue to be in contact with our congressional leaders, emphasizing these and other issues represented by the ACP. It is through these grassroots efforts that incredible things can be accomplished.
Congratulations to Sadia Benson for being selected to receive a Joseph E. Johnson Leadership Day Grant to attend Leadership Day 2012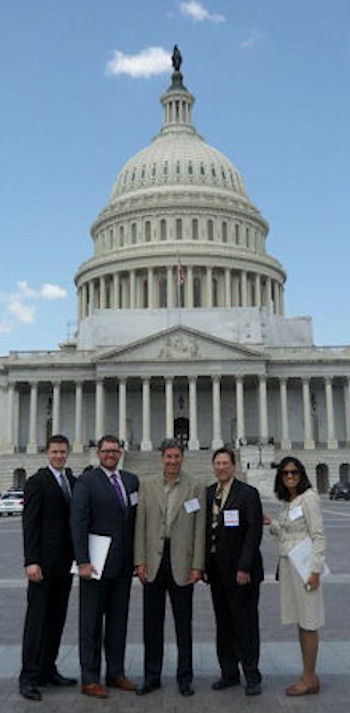 Drs. Freeman, Van Der Veer, Joyce, Weiss, Benson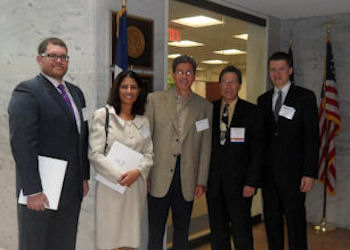 Drs. Van Der Veer, Benson, Joyce, Weiss, Freeman

Drs. Van Der Veer, Freeman, Joyce, (Rep. Latham), Benson, Weiss
---
Young Physicians Report
Sadia Benson and Hendrick Schultz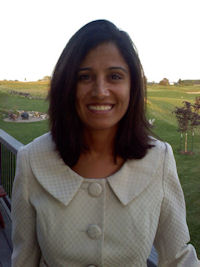 ACP Iowa Chapter has a facebook page! We hope to encourage productive interactions and dialogues with young physicians and medical specialty organizations on issues of common interest. The goal of our page is to provide a quick and easy way to keep up with events that are happening within our chapter. We also upload pictures of our events and have links to other professional sites.
Here is a link to the facebook site.
We also keep updates on our ACP homepage that has many resources.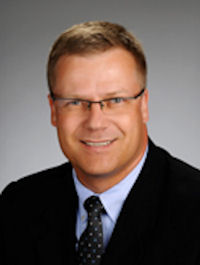 ---
On-the-Road Dubuque
Hendrik Schultz
"The ACP Council of Young Physicians was excited to have Dr. Anke Bellinger from the UIHC Department of Anesthesia on April 30th give a talk about Pain Management at the Mercy Medical Center in Dubuque. Dr.Bellinger outlined the anatomy and physiology of pain and gave an overview about Non-opiod and opiod medications in the management of pain syndromes. She finally presented interventional procedures which are available to primary care providers via anesthesiologists and pain clinics. The meeting was well attended by local physicians and was the first of a series of ACP "On the Road" CMEs planned by the ACP CYP in the Tristate area."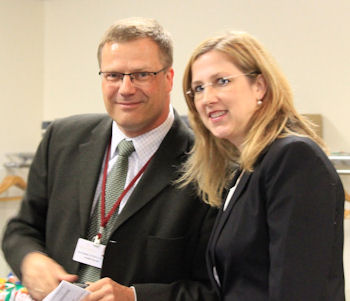 Hendrik Schultz, MD and Anke Bellinger, MD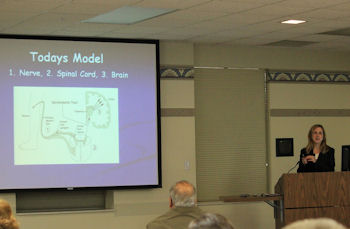 Dr. Bellinger illustrates current concepts of pain medicine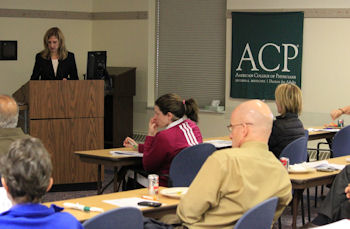 Dr. Erin Kennedy and Dr. Timothy Martin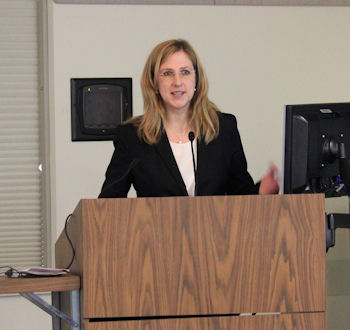 Dr. Bellinger
---
Habitat for Humanity
"What is the essence of life? To serve others and to do good" - Aristotle
Some chapter members recently volunteered their time and effort to help out Habitats for Humanity. Join us in thanking them, and take a moment to read about it!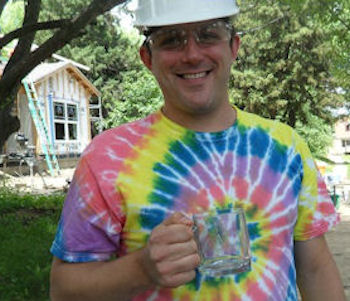 Des Moines resident A. J. Stefani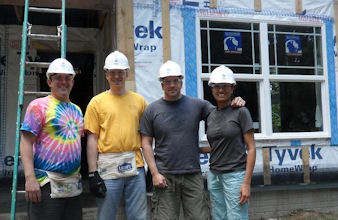 Drs. Stefani, Freeman, and Dr. Benson with husband
Many of us volunteer in spite of our busy professional schedules. We mentor residents and students in our day to day schedule. ACP encourages its members to volunteer as a tenet of medical professionalism.
The Council of Young Physicians held a local event through the habitat for humanity in Des Moines. This was our initial year and would like to make this an annual event.
We had Des Moines IM resident AJ Stefani, DO and Brian Freeman, MD, Hem/Onc faculty for the Des Moines residency. They did a wonderful job of learning how to roof.
Sandra Crosar, MD and her husband also helped out, they learned how to use a miter saw.
All of this was to help build a house for those less fortunate, we even met with the future home owner who was tremendously thankful.
We will plan another volunteerism event next fall. For those of you interested, please let me know.
---
Medical Student Report
Steven Joyce, MD, FACP, FAAP
Mercy Internal Medicine & Pediatrics
Sioux City, IA
Congratulations to the Carver College of Medicine Internal Medicine Interest Group for being the featured IMIG in the June issue of ACP IMPACT.
Congratulations to Andrea Ryan for being awarded the John and Oral Sebelin Award presented to senior students who demonstrate excellence in scholarship and show promise in internal medicine.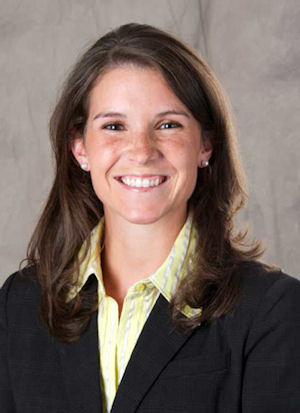 Andrea Ryan
Clinical Vignette Competitions--Correction
The Iowa City Clinical Vignette Student Competition was held in February at University of Iowa Hospitals and Clinics and the winner was incorrectly identified in the previous newsletter.
Congratulations to Lara Voigt the 1st place student winner:
Hepatocellular Carcinoma in a Non- Cirrhotic Patient: A Link Between Obesity and Atypical Presentations, Lara Voigt, M3, Mentor: Antonio J. Sanchez, MD
---
At Large- A word from Northwest Iowa
Stephen Joyce, MD, Sioux City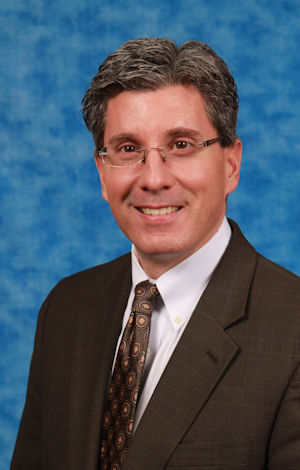 Stephen Joyce, MD
As those of us in practice are well aware, there aren't enough General Internists practicing in our great state. There are several reasons for this, including residents choosing a subspecialty or becoming a hospitalist. There has also been an overall decline in primary care medicine in general. Without question, all of these have contributed to the vast shortage of primary care Internists in Iowa.
Therefore, challenging tasks await those of us who continue to provide primary care internal medicine to Iowans. Iowa is among the leaders nationally in Medicare recipients. Many of these cannot see an internist since there are not enough of us to serve their needs. In addition, healthcare reform is coming and much is still unknown.
Nevertheless, I am sure I speak for a majority of my colleagues in saying that, we love what we do! Yes, there are struggles in recruitment and other demands of our practices. However, when I pause for a moment to think about the big picture, I don't have the slightest idea what I'd be doing if not for primary care Internal Medicine. The individual patient rewards are great, the financial compensation-which must become more competitive--is sufficient, and the lifestyle we get to live in Iowa is incredible-quite literally hard to match. Our cost of living is low and we have great schools. Most of us live in cities that are filled with many amenities and have very low crime rates.
The one certainty is that surely there remains much work to do, locally and nationally. We know many of our colleagues in primary care Internal Medicine are nearing the age of retirement. We also recognize that the number of medical students and residents choosing our field are currently not on pace to adequately replace these retirees. Like many areas in the state, I am currently trying to recruit physicians to our area to join me in practice-it's difficult with few numbers. I personally invite all interested medical students and current Internal Medicine residents to become involved in primary care internal medicine. The challenge is great, as are the rewards. And I challenge my fellow colleagues to continue to mentor them as they become future leaders in our field.