You are here
Governor's Column February 2013
Governor's Column February 2013

| | |
| --- | --- |
| February 2013 | Mark W. Purtle, MD, FACP, ACP Governor |
---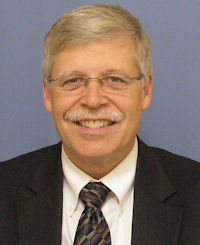 Governor's Column
In this issue, we take a moment to reflect on the partnership which exists between the ACP and its medical student membership-as they begin their career journey-in helping shape perceptions of what this noble profession is about. Our students are actively involved in learning the science of medicine. They've chosen internal medicine as their career path-the doctor's doctor. They totally invest in developing excellence in medicine and thriving in the doctor-patient relationship.
ACP offers our students tools in this important quest and it also provides a larger context for transitioning from medical student, to resident, to young physician, to seasoned physician. This partnership with ACP facilitates learning the art and the "heart" of medicine in addition to the science. Ultimately, the pursuit of excellence requires resources and opportunities to enhance skills and advocate for a better health care system.
ACP recognizes that to continue to be excellent healers, physicians need to be energized by their profession and to remain open minded, engaged, and thoughtful. We celebrate the achievements of medical students and their dedicated teachers and mentors and we invite all our membership to welcome their participation in our mutual journey.
Please remember the 2013 Iowa Chapter Scientific Meeting which will be held on March 22-23, 2013. You will by now have received both a brochure (mailed last November) and a personal invitation (mailed mid-January) for the upcoming Scientific Meeting. Complete meeting information and an electronic registration form are available on the chapter website. You may also call my Administrative Assistant, Fran Blanc, 319/467-5595, and register directly by phone.
Registration rates increase after March 8
only "on-site" registrations after March 15
We look forward to having you join us for an excellent meeting!
---
Iowa Chapter Medical Student Organizations
The Iowa Chapter of ACP hosts two Internal Medicine Interest Groups for medical students, one at the Carver College of Medicine in Iowa City and the other at Des Moines Medical University in Des Moines. The groups provide early exposure to internal medicine during the pre-clerkship curriculum and continue educating in the clinical years as well. Students are given opportunities to see what an internist is and what an internist does, both specialist and subspecialist. They are provided clinical information and educational resources. Personal and professional guidance for medical students includes;
Impact: A monthly online newsletter for medical students with tips for students to succeed in medical school, explanations of current issues facing medical students and public health, profiles of practicing internists, advocacy briefs, and career information
Online internal medicine residency database
Medical student member mentoring programs at the National meetings which students can attend free
Annual Iowa Chapter Scientific Meeting which students can attend free
Medical Student Abstract Competition held as part of the annual national meeting-winners are awarded a monetary prize to offset the cost of attending the meeting
Council of Student Members (CSM) who work with ACP on policy development and advocacy for medical students on matters such as student debt and loan relief
MKSAP for students designed by clerkship directors for all students taking the medical clerkship exam with patient-centered self-assessment questions, answers, and critiques
Internal Medicine Essentials for clerkship students designed to aid medical students during their third-year internal medicine clerkship and containing supplemental learning materials the content of which is based on the Medical Knowledge Self-Assessment Program (MKSAP) and the Physician Information and Education Resource (PIER)
In the Clinic, a monthly feature in Annals of Internal Medicine which many clerkship directors recommend for students on the internal medicine ambulatory rotation
Access to ACP's clinical and ethical guidelines
Opportunity to apply for a Leadership Day Grant and travel to Washington DC with local Chapter
Both of the Iowa Chapter medical student groups are active in recruiting new student members at Orientation Fairs each fall where Power Point presentations and brochures are made available to provide a high-level overview of careers in internal medicine. The message is geared to demonstrate reasons why internal medicine is the essence of medicine and the epitome of why one goes to medical school, with its emphasis on basic science, problem-solving aptitude, communication skills, and becoming someone's doctor. The Orientation Fairs serve as a door inviting medical students to "imagine the possibilities".
Following initial recruitment, each student group schedules a slate of activities throughout the academic year and these include luncheon meetings where clinical cases are reviewed, panel discussions with residents and physicians, procedure clinics, medical school jeopardy sessions, and community service activities. The officers of each group are invited to the two annual Iowa Chapter Council Meetings where they have an opportunity to join in the discussion and engage one-on-one. Funding in support of many student activities comes from both the local chapter and the national organization. The ACP IMIG Sponsorship Program provides an initial sum to participating groups which can be increased by $2.00 per Medical Student Member if the school recruits 30% of the total student body. Similarly, the local Chapter also supplies funding for some of the Chapter activities.
---
Current Carver College Medicine Interest Group Officers and Faculty Advisors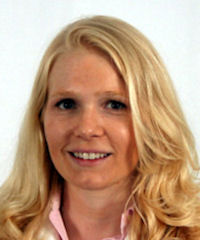 Anne Thompson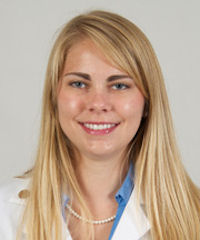 Lindsey Knake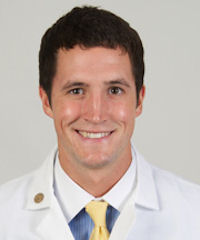 Tony Greco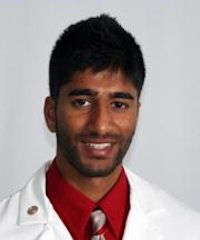 Gautam Reddy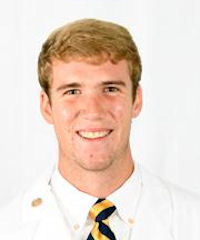 Ben Johnson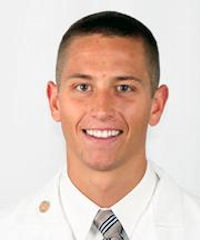 Adam Berneking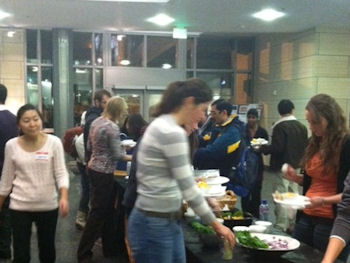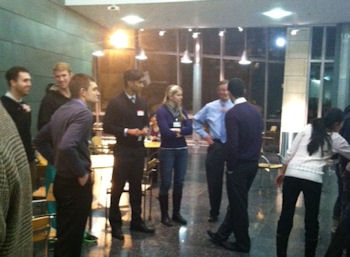 CCOM IMIG Chili Supper
CCOM IMIG has two faculty advisors, Dr. Manish Suneja and Dr. Joseph Szot, who help the student leadership team plan monthly meetings for the medical student community. Drs. Suneja and Szot serve as Associate Directors of the Internal Medicine Residency Program at the University of Iowa Hospitals and Clinics. Thus, both physicians have extensive experience in evaluating and advising students interested in pursuing internal medicine residency programs.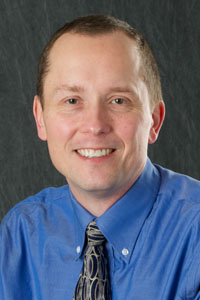 Joseph Szot, MD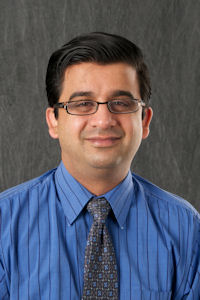 Manish Suneja, MD
---
Current Des Moines University Medicine Interest Group Officers and Faculty Advisor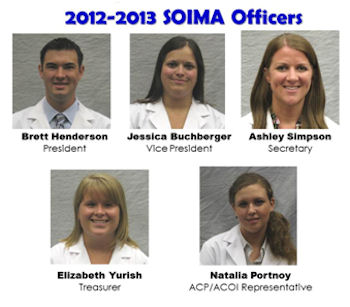 SOIMA Officers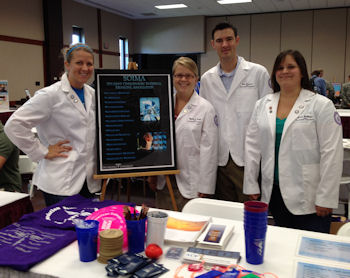 DMU Orientation Fair: Ashley Simpson, Elizabeth Yurish, Brett Anderson, and Jessica Buchberger
Michael Flood, DO, is the faculty advisor for the Des Moines University, College of Osteopathic Medicine, Internal Medicine interest group (IMIG). The Interest Group at DMU is a vibrant student-organized effort that promotes interest in the specialty and subspecialties of Internal Medicine. The IMIG at DMU is quite active both on campus and in the community. The student leadership has been able to cultivate important relationships with a number of key clinician-educators in the greater Des Moines academic community. These clinician-educators have become contributors and stakeholders in the DMU Internal Medicine interest group and have provided excellent classroom lectures and mentoring.
Interest remains high and the potential for growth is present. Osteopathic medicine has traditionally focused on the delivery of primary care to patients. As such, the relationship that has developed between the osteopathic profession and the primary care specialty of Internal Medicine is a natural one. The future of Internal Medicine as a primary care specialty of choice for the osteopathic medical students at DMU is bright.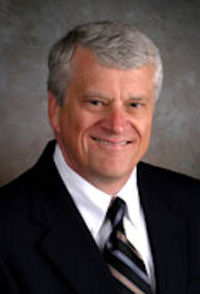 Michael Flood, DO
---
Teacher of the Year Award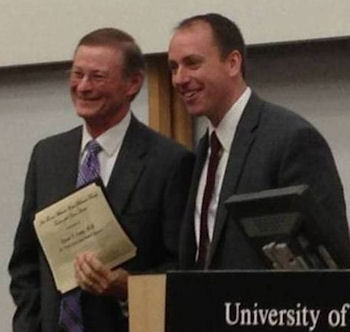 Steven Craig, MD and Christopher Cooper, MD
Steven Craig, MD, named "Teacher of the Year"
The University of Iowa Roy J. and Lucille A. Carver College of Medicine honored Steven Craig, MD, as the 2012 recipient of the John Thomas Milleman and the Milleman Family Teacher of the Year Award during its recent Medical Education Celebration Day. The Milleman family established the award in memory of John Milleman, MD, to recognize excellent teaching and the demonstration of the highest professional standards that inspire medical students.
Craig serves as assistant dean of student affairs and curriculum at the UI Carver College of Medicine and executive director of the Des Moines Area Medical Education Consortium, Inc. Nomination materials called Craig "an exemplar of humanism in medicine, whose "respect for patients, peers, trainers, and allied health professionals is unmatched", who "takes great pride in bringing up the next generation of physicians".
---
2013 Laureate Award Honorees
The Iowa Chapter of ACP is pleased to announce 2013 Laureate honorees. These awards are given as a mark of honor and recognition for achievement of excellence in internal medicine. Congratulations to: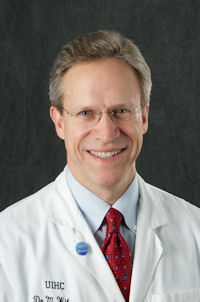 Mark C. Wilson, MD, MPH, FACP
Mark C. Wilson, MD, MPH is a general internist who came to the University of Iowa in 2004 to serve as their first physician Director of Graduate Medical Education. He works to develop the GME experience for 500 resident and 200 fellow physicians to address issues that go beyond meeting accreditation standards. Six years ago, he launched cross-departmental initiatives in Chief Resident Leadership Development and more recently a Certificate Program in Educational Leadership for Program Directors.
His background includes a 3 year fellowship in academic generalism at Johns Hopkins and serving as the Internal Medicine Program Director at Wake Forest for a dozen years. He was elected to the Council of the Association of Program Directors in Internal Medicine, and in his new role has been active in AAMC's Group on Resident Affairs. He is the Chair for the GRA and serves on their Advisory Committee to the GME Leadership Development Program. He also has been an active member of the international Evidence-Based Medicine Working Group, making contributions to the popular Users' Guides to the Medical Literature and multiple educational courses that emphasize practical integration of EBM into overcrowded curricula and busy clinical settings.
At Iowa, he maintains a visible presence in inpatient care and as an Associate Program Director because he's fascinated by the challenges to educate better internists. He appears genetically predisposed to try to illuminate dark alleyways that may be impairing the quality and effectiveness of clinical education and patient care.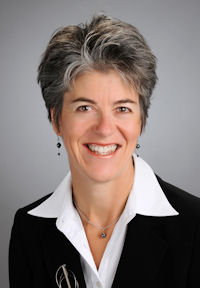 Christine A. Sinsky, MD, FACP
Christine A. Sinsky, MD, FACP, is a general internist at Medical Associates Clinic and Health Plans, in Dubuque, Iowa. She serves on the physician advisory panel for the National Committee for Quality Assurance (NCQA) physician recognition programs, is a member of the Society of General Internal Medicine's Patient Centered Medical Home (PCMH) working group, is a consultant for the John D. Stoeckle Center for Primary Care Innovation at the Massachusetts General Hospital, and serves on the American Board of Internal Medicine. Her practice has been a level 3 Patient Centered Medical Home since 2008. She is also a member of the Institute of Medicine's Committee on Patient Safety and Health Information Technology.
Dr. Sinsky is a frequent speaker on practice innovation, redesign, and the Patient-Centered Medical Home, including for the American College of Physicians, the Institute for Healthcare Improvement, the Patient Centered Primary Care Collaborative as well as private and academic medical centers. Dr. Sinsky received her bachelors and medical degrees from the University of Wisconsin, and completed her postgraduate residency at Gundersen Medical Foundation/La Crosse Lutheran Hospital, in LaCrosse, Wisconsin, where she served as Chief Medical Resident.
---
2012 Excellence Award Honoree
This year's Excellence Award is given in recognition of contributions to the American College of Physicians, The University of Iowa Carver College of Medicine education programs, and the greater Iowa medical community as well as to leadership, to commitment in Internal Medicine, and for dedication to clinical excellence and lifelong learning. Congratulations to: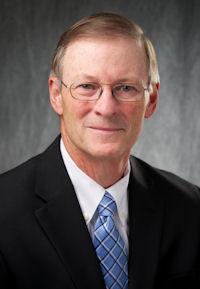 Steven R. Craig, MD, FACP
Steven R. Craig, MD, is Executive Director of the Des Moines Area Medical Education Consortium and Assistant Dean of Student Affairs and Curriculum at the University of Iowa Roy J. and Lucille A. Carver College of Medicine with responsibilities for academic operations at the Des Moines Consortium Branch Campus. The Des Moines Area Medical Education Consortium (established in 1994 as a charitable, scientific, and educational organization with an exclusive academic affiliation with the University of Iowa) has had a long and productive partnership with the UI Carver College of Medicine.
Dr. Craig continues the transformation of the Des Moines Area Medical Education Consortium into a regional medical school branch campus of the UI Carver College of Medicine. During this academic year, 98 students are engaged in medical education in Des Moines-through completing all of their third-year training (15 students); individual third-year clerkships (53 students); and fourth-year student rotations (30 students). The students train at the five Consortium member hospitals-Broadlawns Medical Center, the Veterans Affairs Central Iowa Health Care System, and the Iowa Health Des Moines affiliated hospitals (Iowa Methodist/Methodist West, Iowa Lutheran Hospital, and Blank Children's Hospital).
A long-time Des Moines area physician, Dr. Craig currently serves as an internal medicine faculty physician at Iowa Methodist Medical Center, the VA Central Iowa Health Care System, and Broadlawns Medical Center; Adjunct Clinical Professor of Medicine in the UI Carver College of Medicine; Director of the Transitional Year Residency Program at Iowa Methodist Medical Center; and an active member of the Carver College of Medicine Curriculum Renewal Steering Committee.
He is a past Governor of the Iowa Chapter of ACP. His leadership skills and unparalleled innovative contributions were pivotal in developing and consolidating the goals of the Chapter. He is an alumnus of the University of Iowa and of the UI Carver College of Medicine. Following medical school, he completed internship and residency training at the University of Colorado Health Sciences Center in Denver.