Meet Our Governor
The Iowa Chapter Governor, William J. Yost, MD, FACP started his four-year term as Governor in the Spring of 2019. As Governor, Dr. Yost will serve as the official representative of the College for the Iowa Chapter, providing a link between members at the local level and leadership at the national level. In the meantime. To learn more about Dr. Yost, read his bio below.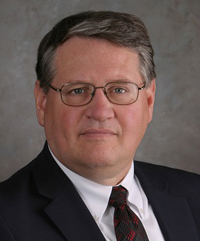 William John Yost, MD, FACP
Education: BS, Biology, Iowa State University, and MD, University of Iowa
Post-Doctoral Training: Internal Medicine Residency, Walter Reed Army Medical Center, Washington, DC
Certification: Internal Medicine
Present Position: Vice President, Medical Education and Research, Unity Point Health-Des Moines
ACP Chapter Involvement and Leadership Activities:
Fellow, American College of Physicians
Senior Mentor, Young Physicians Section, Iowa Chapter of ACP, Fall 2016 - present.
Member of Executive Committee, Iowa Chapter of ACP, past 5+ years.
ACP National Activities:
Fellowship awarded 1995.

Have regularly attended ACP meetings at both state and national level.
Other Appointments/Activities:
I am the Chair of the Clinical Evidence Committee for the UnityPoint Health System.
I also serve on the Board of Directors of the Iowa Medical Society as an At-Large Director, on the Polk County Medical Society Executive Committee, and I co-chair the CME Committee of the Iowa Medical Society.
I serve on the CME Committee for the Hospital and Chair the GME Committee at my institution.
I volunteer at Broadlawns Medical Center every week.
Areas of Professional Interest and Expertise:
General Internal Medicine, including Consultative Medicine
Medical Education