---
Scott A. Vogelgesang, MD, FACP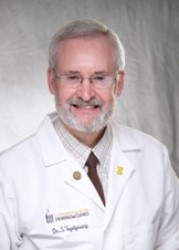 EDUCATION: 1980 B.S. University of Minnesota, Minneapolis, Minnesota, 1987 M.D. University of South Dakota, Vermillion, South Dakota
POST DOCTORAL TRAINING: 1987-90 Resident, Internal Medicine Fitzsimons Army Medical Center, Aurora, Colorado, 1991-93 Fellow, Rheumatology Walter Reed Army Medical Center, Washington D.C.
CERTIFICATION: American Board of Internal Medicine (ABIM) General Internal Medicine, ABIM - Rheumatology
MILITARY: United States Army: 1988 - 1995, Rank obtained: Major
PRESENT POSITION: Clinical Professor, M. Paul Strottmann Family Chair of Medical Student Education and Physician Training, Director, Internal Medicine Residency, Vice Chair, Education, Division of Immunology/Rheumatology, Department of Internal Medicine
ACP ACTIVITIES: Fellowship: 1994, Workshop on Musculoskeletal Physical Examination at ACP national meeting 1999, 2001, 2003, Workshop on joint injection/aspiration, chapter scientific meeting 2005, 2006, 2012
CHAPTER INVOLVEMENT/LEADERSHIP ACTIVITIES: Member of ACP Chapter Council (2002 - present ), ACP Clinical Vignette competition for residents and medical students - organized and judged (2002 - present), Scientific Meeting Planning Committee (2002 - present)
HOSPITAL/COMMUNITY SERVICE: Chair, University of Iowa Health Care GME Committee, Chair, Department of Internal Medicine Medical Education Committee, Pro Bono Work Community Health Free Clinic - Cedar Rapids, Iowa
AREAS OF PROFESSIONAL INTEREST/EXPERTISE: Clinical General Internal Medicine and General Rheumatology Medical Education
Vision Statement
"Medicine is currently in the midst of very significant changes; how to navigate them successfully isn't clear but I see several opportunities for our chapter to embrace. The already successful advocacy efforts will need to be even more active if possible. To support this, communication within the chapter will need to be frequent and effective using multiple modalities. Education will be critical as medical knowledge continues to grow exponentially and the maintenance of certification system evolves. ACP has outstanding educational resources that we will need to use fully as we innovate with the scientific meeting. Following the national strategic plan, our chapter will need to redouble our efforts to engage students, residents and young physicians. We have a rich collection of talent within our chapter and I look forward to working with you in developing our response to these challenges."