Iowa Chapter Council of Early Career Physicians
ACP Governor: Dr. Mark Purtle
Chair: Dr. Sadia Benson
Co-Chair: Dr. Hendrik Schultz
Committee Member: Dr. Brian Freeman
ACP Chapter Staff: Denise Floerchinger
The ACP Iowa Chapter has a Facebook page!
The goals of our Facebook page are to increase our presence amongst our young physicians, associate and student members. It will be a great way to communicate our upcoming events and we will post pictures also. You can communicate with us and let us know your thoughts-hopefully once we have a larger following we can utilize this page as a forum.
We have links to our ACP home page which has many associated links of interest.
Please sign up to become a "fan" or "like" our page so that we can keep in touch with you. Of note for those of us that are not as savvy with Facebook you do NOT need to have a Facebook account to access this page. We have a link on our ACP Iowa Chapter Web site also.
Chapter Council of Early Career Physicians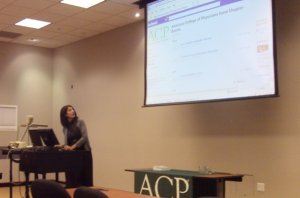 Dr. Sadia Benson, CYP Chair, presents the Facebook page and CYP social to residents and students at Iowa Methodist Medical Center in Des Moines. CYP is focused on promoting recruitment and retention for our residents and students through a more visual presence.