You are here
Indiana Governor's Newsletter October 2021
Indiana Governor's Newsletter October 2021

---
---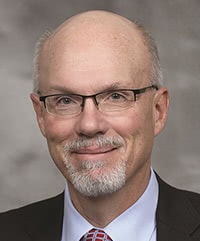 Bradley M. Sutter, MD, FACP, ACP Governor
---
Governor's Message
Dear ACP Colleagues:
As the country and Indiana appear to be turning the corner on yet another COVID19 surge, our hearts are with those who lost loved ones. We remain deeply grateful for the healthcare team members and physicians (i.e., all of YOU) who continue to give their all to patients afflicted by the pandemic virus, despite understandable fatigue and frustration at the preventable deaths and sickness witnessed in this latest surge. ACP and our Indiana Chapter continue to advocate for vaccination for all eligible patients, as well as the continuation of public health pandemic mitigation strategies (masking, social distancing, hand hygiene, and flu shots); and for sharing accurate information with the public and our patients regarding the safety and efficacy of vaccines to finally control the pandemic.
The focus of this newsletter is simply to remind all ACP Indiana members, friends, and other physician colleagues that we are pleased to present our annual Chapter Scientific Meeting on November 19th, 2021, utilizing a virtual format identical to the very successful 2020 Chapter meeting that many of you enjoyed last year. Once again, we are waiving the registration fee for all attendees to honor your efforts and sacrifices to provide outstanding care to all patients throughout the ongoing COVID19 pandemic. We only ask that you pre-register for this free CME event HERE . I also want to remind our student and resident/fellow members that we will be having another Poster Session Competition on November 18th, also free to all registered attendees. The top finishers in the Poster Session will have the opportunity to attend and present their work at the IM Meeting 2022 in late April of next year, in Chicago. Our Chapter is also planning to hold another Doctor's Dilemma session on December 9th, so stay tuned for further details.
Recently, The College has released a bevy of very relevant online knowledge and skills training, well-being and DEI support, practice management tips, and financial guidance information for ACP members that is informative, timely, and useful in dealing with pressing issues that all of us face in our personal and professional lives. I encourage everyone to take a few moments to review these free and very helpful ACP resources: ACP-sponsored POCUS courses, the 2021 ACP Physicians' Financial Preparedness Report, ACP and ANNALS forum on SARS-CoV-2 Immunology, ACP's Emotional Support Hub, ACP's Optimize Your E/M Coding Today, and The DEI Shift and DEI Shift Mini-Series .
Lastly, let me encourage everyone to stay current with your ACP membership, and to recommend to your professional IM colleagues and student/resident affiliates that they maintain and/or renew ACP membership. Membership provides you with access to multiple free online resources as noted above, as well as early-bird registration opportunities for ACP's content-loaded and CME-rich, one-and-only Internal Medicine Meeting 2022-- to be held in Chicago next April. More Information HERE .
Importantly, The College continues to advocate for all of us in every facet of our medical practices. I encourage you to review the latest updates on ACP's legislative efforts in this month's ACP ADVOCATE .
I wish all of you a safe, enjoyable, and memorable upcoming holiday season. I hope to see everyone virtually at our upcoming Chapter Scientific Meeting and Poster Session in November.
Sincerely,
Brad Sutter, MD, FACP
Governor, Indiana Chapter, American College of Physicians
---
ACP and YouTube Partnering on Educational Content to Counter Misinformation Around COVID-19 Treatment and Vaccines
ACP is partnering with YouTube to create new educational content to help combat health misinformation about the COVID-19 virus, vaccination and treatments. The videos will focus on communication strategies for clinicians as well as providing proactive, trusted information in the clinicians' voice.
ACP will provide resources in English and Spanish for physicians on how to assess and address medical misinformation through a series of videos to pro-actively share evidence-based strategies to offer credible information about vaccines for clinicians and the public. In addition, ACP is developing video content for the public to answer their questions about vaccines with trusted information from physicians. The videos will also highlight the challenges around misinformation and focus on where to go for credible medical information.
ACP has expressed its concern about the spread of misinformation about the COVID-19 virus, vaccination and treatments, and its detrimental impact on public health. ACP strongly supports the use of science and scientific expertise, based on the best available evidence, in the fight against COVID-19. The spread of inaccurate and incorrect information about COVID-19 hinders our ability to mitigate the spread of the virus and combat the global public health crisis.
---
ACP's Career Connection Virtual Career Fair
The American College of Physicians will be holding the second ACP's Career Connection Virtual Career Fair on Saturday, November 6, 2021 from 11 am – 2 pm ET. As you may know, ACP's Career Connection is the internists' place for launching their careers or searching and finding their next jobs.
We are currently in the process of registering physicians and residents to participate in this free event.
Physician recruiters representing hospitals and other health care providers from across the United States will be ready to chat with physicians from their virtual booths. During the Virtual Career Fair, physicians will have the opportunity to chat online with the recruiters from facilities that interest them. In addition, we will have an expert in CV preparation available to consult with physicians about their CVs and an attorney who specializes in immigration law available to chat with physicians who have questions about the US immigration procedures.
---
New ACP Paper Calls for Policies to Strengthen Health Care for Our Nation's Veterans
A new policy paper published in Annals of Internal Medicine Health Care for Our Nations Veteran calls attention to the importance of the Veteran Health Administration's (VHA) role in providing essential care for American veterans. ACP says that the VHA is a crucial part of our nation's health care system; however, it faces many challenges that include an aging infrastructure, implementation of a new electronic health records system, and achieving access and care continuity with non-VHA clinicians. The paper offers recommendations on how to address the challenges that hinder the VHA from providing quality care to every veteran in the country.