You are here
Indiana Governor's Newsletter May 2021
Indiana Governor's Newsletter May 2021

---
---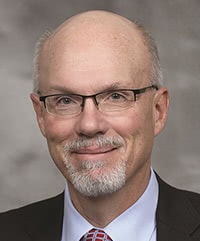 Bradley M. Sutter, MD, FACP, ACP Governor
---
Governor's Welcome
Dear ACP Indiana Colleagues:
May is already upon us, and hope continues to "Spring" eternal in planning for our future chapter activities, and in the effort to finally put the pandemic behind us. Vaccination rates have recently declined in many areas of the US—including Indiana—so it is important that we continue to encourage our patients and communities to be vaccinated. As of this writing, over one-third of Hoosiers have been fully vaccinated, and nearly half of the population of the U.S. has received at least one dose of vaccine. We grieve, however, for the people of India, where COVID19 infections and deaths are currently overwhelming their healthcare system. Those of us who were able to join the ACP Internal Medicine Meeting 2021 on opening day were inspired by Dr. Anthony Fauci, MACP, who once again provided a message of science-based optimism that vaccinations and continued vigilance in regard to social distancing and wearing masks based upon latest CDC guidance were still our best offense and defense against COVID19. He also revealed a sobering fact that makes the above recommendations even more critical: 60% of people who transmit the COVID19 virus are asymptomatic. Dr. Fauci's combined messages of hope and caution were reminders that physicians must continue to encourage our patients, families, and communities to be vaccinated and follow the latest CDC and ACP guidelines regarding the pandemic and prevention of viral transmission. COVID19 educational Toolkits and Materials are available to physicians via HHS's COVID19 "We Can Do This" Public Education Campaign.
The Indiana ACP Chapter wishes to extend its deepest sympathies to our Sikh community, as well as the families of the other innocent victims, after the mass casualty shooting at the Indianapolis FedEx facility in early April. We are once again horrified by this senseless loss of life. Our Chapter continues to advocate for the reasonable firearm awareness and background check policies of the ACP, which can be viewed HERE.
Our Indiana Chapter, like the ACP, continues the necessary work to improve our Diversity, Equity, and Inclusion efforts. Of note, our New Mexico ACP Chapter colleagues have invited us to join them on June 19th (aka "Juneteenth", a critical milestone in our country's history and efforts to combat racism) for additional DEI conversations on racism and systemic oppression. We encourage chapter members to attend this virtual event by registering (free of charge to ACP members) here Likewise, we wish to highlight historically important physicians of color who have made tremendous impacts on the practice of (Internal) Medicine in Indiana, and/or the United States. In keeping with that theme, let me share the story of Dr. Edith Irby Jones, M.D., MACP. Dr. Jones was a sharecropper's daughter and a pioneering African-American physician with genuine concern for and commitment to care for underserved people throughout the world. She had an indomitable spirit and broke through major racial barriers in the 1940's and 50's to eventually become a world-renown cardiologist and primary care internist. Dr. Jones was the first African-American accepted to an all-white medical school in the South, the University of Arkansas for Medical Sciences. She practiced as a primary care internist and cardiologist in Houston, Texas, and was also a civil rights activist. Dr. Jones also dedicated her life to caring for poor and underserved communities in the U.S., as well as in Haiti, Mexico, Cuba, China, Russia, and Africa. She became President of the National Medical Association and Physicians for Human Rights, among many other impressive achievements during her storied lifetime. You may find more information about Dr. Jones' life by clicking HERE.
In the spirit of highlighting Chapter members who "fly under the radar" and yet make incredibly valuable contributions to their communities, we want to salute Dr. Shankaran Srikath from Marion, Indiana, an Internist and ACP Member who was singled out in the Marion Chronicle Tribune newspaper for his tireless efforts to care for patients and his community throughout the COVID19 pandemic. Dr. Srikath worked with several local Marion senior communities to provide critical guidance throughout the COVID19 pandemic. He exemplifies the unsung healthcare hero who prioritized their patients and communities above self during challenging and very uncertain times. Our sincere congratulations to Dr. Srikath for this well-deserved recognition!
Lastly, we are diligently working on finalizing speakers and plans for our upcoming November 19th Virtual Annual Chapter meeting. Please be on the lookout for a "save the date" email and mark it on your calendars. The 2020 Chapter meeting was very well-received, and the Chapter Education Committee is making every effort to produce another informative, relevant meeting that will positively impact your daily practice of medicine. We encourage all of you to continue your ACP membership, so that you may continue to benefit from ACP's extensive educational offerings on a wide range of topics, as well as ACP's efforts to preserve and protect the practice and role of Internal Medicine experts in the lives of our patients and communities. You may read about the latest ACP advocacy efforts HERE.
---
Healthier, Happier, Connected: ACP Wellness 2021
Join us for our ongoing Wellness series! The series includes Wellbeing experts and ACP Champions from around the country. Multiple local chapters are participating in the series, and we hope to learn and grow together.
May 27, 2021: Organizational Culture Change
July 29, 2021: Self Care
August 26th, 2021: Organizational Small Wins
---
ACP - RCP Health Inequalities Webinar
The American College of Physicians (ACP) and the Royal College of Physicians (RCP) are collaborating on their first joint webinar, Health Inequalities and Justice- During COVID-19 and Beyond on June 7, 2021, at 1:00 p.m. ET.
This webinar will be moderated by George M. Abraham, MD, MPH, FACP, FIDSA, President, American College of Physicians, and Andrew Goddard, MD, PRCP, President, Royal College of Physicians. Following engaging and thought-provoking presentations by the speakers on national policies, and strategies across countries, they will all explore why physician leadership is critical in tackling health inequalities. They will highlight the roles and duties physicians have in building more equitable and just communities.
Featured speakers:
Professor Sir Michael Marmot, MBBS, MPH, PhD, FRCP, FFPHM, FMedSci, FBA: Director, Institute of Health Equity, University College London
Eileen Barrett, MD, MPH, SFHM, MACP: Associate Professor of Medicine and Director of Continuing Medical Education, University of New Mexico
---
The News to Know